Are Universal Studios Orlando Tickets Cheaper Online? (Is It Really Cheaper?)
Yes, it is cheaper to purchase Universal Studios Orlando tickets online through the official website.
Due to its popularity and award-winning attractions, Universal Studios can be a costly theme park to visit.
When planning a trip to Universal Orlando, it's not enough to only factor in ticket prices – you'll also need to consider parking, accommodation, food and drinks, and possibly airfare.
Thankfully, there are various ways you can bring ticket costs down.
Is it really cheaper to purchase Universal Studios Orlando tickets online?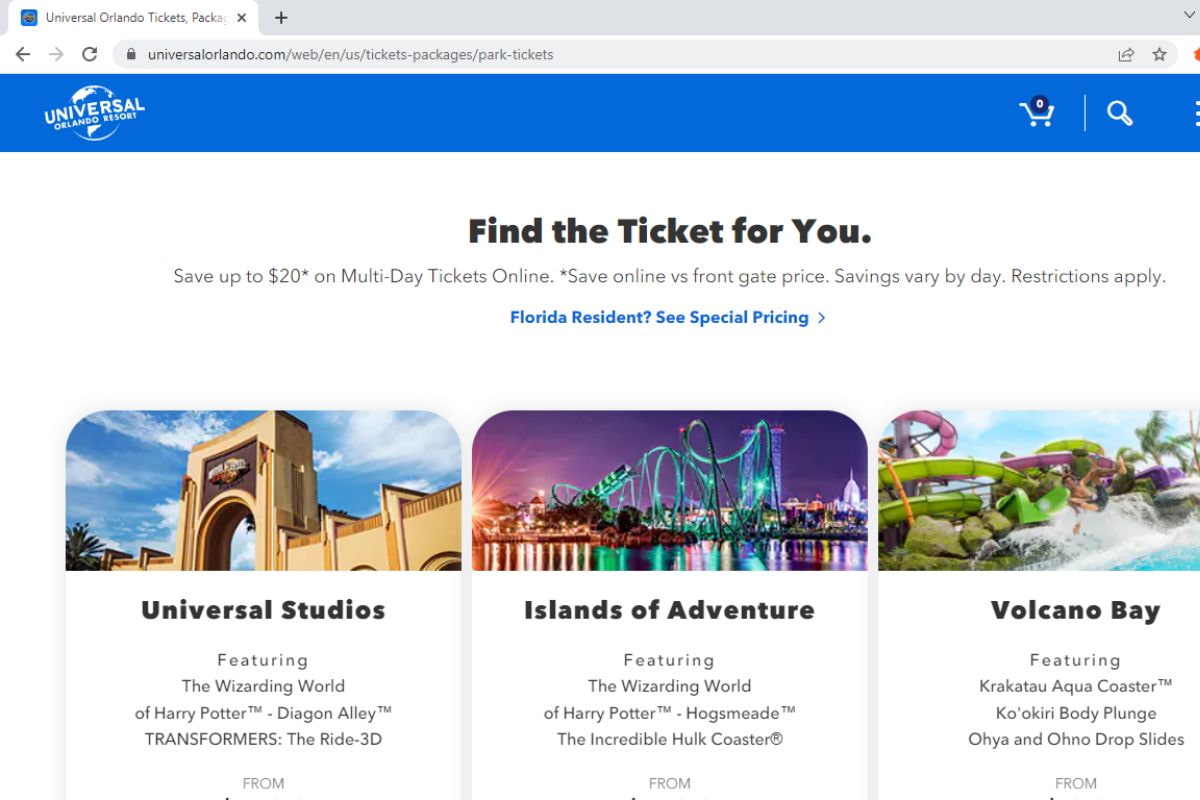 Yes, it is generally more affordable to buy your Universal Studios passes online.
Purchasing tickets online can not only save you money – it spares you the hassle of standing in line to buy at the gate.
Usually, the cheapest place to purchase tickets is through the official park website, and Universal Orlando offers significant discounts to active military personnel and Florida residents.
Another way to save a bit on the price of admission is through affiliates or authorized sellers.
For example, if you're a member of AAA or Costco, these clubs frequently carry discounted Universal Studios vacation packages and tickets.
If you've gathered award points through other groups such as American Express, Hilton Honors, IHG Rewards Club, Regal Crown Club, Chase Ultimate Rewards, Southwest Airlines Rapid Rewards, etc., you may be eligible to use your points to reduce costs as well.
It's still recommended to check out the official Universal Studios Orlando website for up-to-date availability and prices.
Just FYI, Universal Orlando has a Best Price Guarantee, so if you've already bought tickets and find a lower price online, they may refund you the difference! (Contact them for more details).
When is the cheapest time to visit Universal Studios?
Universal Studios Orlando ticket prices vary by season and by day and can be categorized into three date ranges: value, regular, and peak.
Peak seasons, such as Easter, US spring break, the summer, and holiday celebrations in November/December, lead to higher ticket prices.
You'll find less expensive tickets in January, February, late April, early May, late August, and early September.
Universal Studios also periodically offers deals on less busy days, such as 'an extra day free with a one-day ticket' or 'annual pass for the price of a one-day ticket.'
If you're flexible or unsure when you want to visit, you can always sign up on the Universal website to receive updates about special offers.
How else can I reduce the ticket price?
Multi-day tickets
Universal Studios Orlando is actually three different theme parks covering an area of 840 acres, so it's physically impossible to see everything in a day.
To experience every single thing the theme park has to offer, you'd need to spend 3 or 4 days there.
Thankfully, Universal sells a range of multi-day, multi-park tickets to keep your costs down.
A multi-day ticket is more cost-effective as the daily price decreases the more days you add.
Universal Orlando vacation packages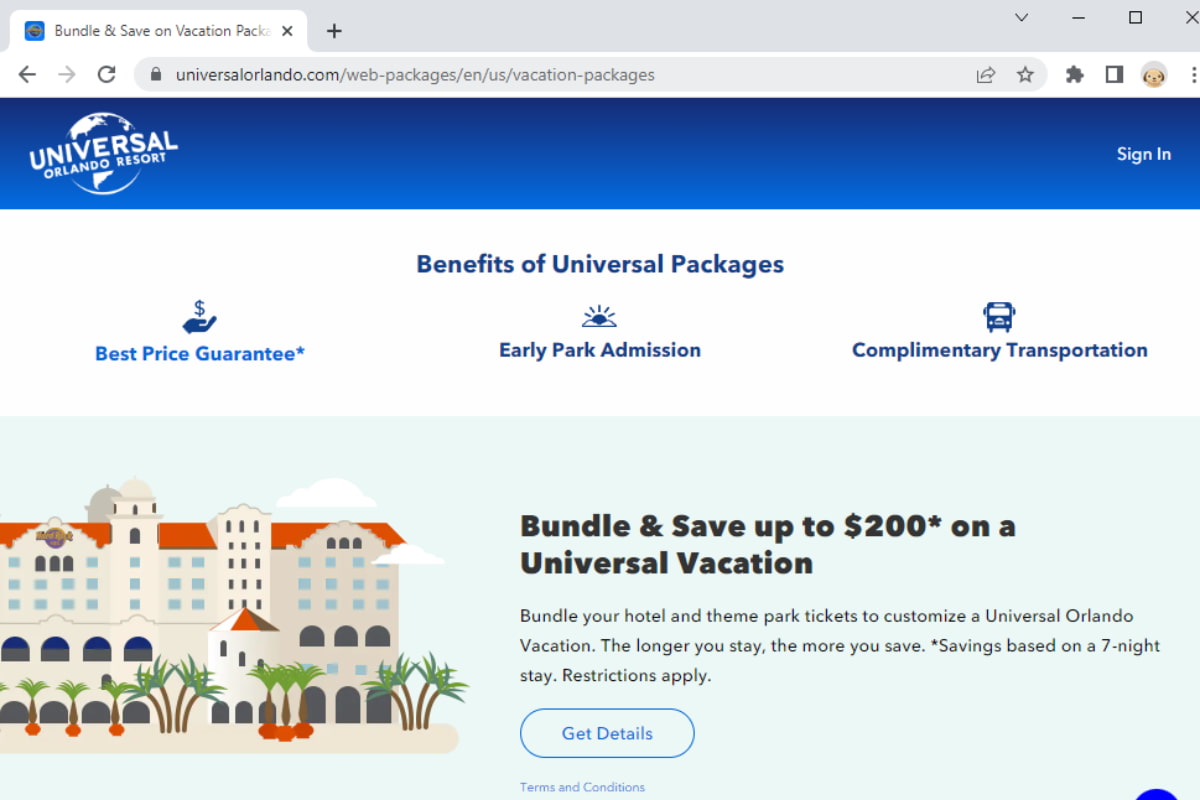 You can also lower the cost of your tickets and accommodation by booking Universal Orlando vacation packages.
Depending on the on-site hotel, these packages usually offer cheaper theme park tickets and various value-added benefits.
These benefits could include early admission to Volcano Bay and The Wizarding World of Harry Potter; charging privileges all over the Universal Studios resort; free transport to the other theme parks; and a free Universal Express Unlimited pass.
(With a Universal Express Unlimited pass, you can skip the line for the rides as many times as you want.)
Group discounts
If you intend to travel with a large group, it's worth noting that Universal Studios offers discounts for groups of 20 or more on all types of tickets.
Younger age groups of 15 or more from Florida, Canada, and Puerto Rico are also eligible to receive reduced admission on various types of tickets.
Visit the official website or contact Guest Services to get further details on group reservations.
How to be wary of scammers?
Almost everyone looks for discounts on the internet, but unfortunately, the internet isn't always a safe space.
You should definitely be cautious when purchasing your Universal Studios tickets from an unofficial online source.
If there's a discount offer that looks too good to be true, it probably is.
I wouldn't consider Facebook, Craigslist, and eBay legitimate sites to purchase Universal tickets online, as these platforms don't usually possess authorized or reputable sellers.
It's also important to remember that Universal Studios passes are non-transferable, so if someone is trying to sell you a partially used ticket, or a ticket already in someone else's name, it's a scam.
Also, avoid purchasing tickets from gas stations, malls, and ticket booths near and around Universal Studios.
Those places, over the years, have become infamous for selling bogus tickets to unsuspecting tourists.
Where should I buy Universal tickets then?
You can buy Universal tickets from an authorized Universal ticket seller, a legit travel agency, or, most preferably, directly from Universal's website.
Conclusion
Although Universal Studios Orlando tickets can be expensive, there are a few things you can do to bring the costs down.
For a start, I'd advise you to purchase the tickets online in advance instead of standing in line to buy tickets at the gate.
To buy at the cheapest price point, I'd recommend you plan your visit around the least busy days of the season.
Double-check your memberships or awards programs to see if they offer deals for Universal Studios.
If you're coming from out of town, consider staying at a Universal Resort that includes special pricing for park passes and perks.
Most importantly, remember that the best, most reliable platform to purchase Universal Studios tickets online is through Universal's official park website.