What Is The Best Way To Buy Tickets For Universal Studios Orlando? (3 Ways)
With so many options available for purchasing tickets to visit Universal Studios Orlando, the decision can be daunting.
And if you've been searching online, there may be more options than you ever realized.
We've delved into the various ways to purchase tickets for the theme park and found out what you need to know.
Buying tickets for theme parks has never been more simple, but with this simplicity comes certain challenges.
If you're wanting to lock in your tickets for Universal Studios Orlando, the best way to buy them is through Universal's website.
Visiting their website you should be able to save money and ensure limited tickets don't sell out.
Universal's specials tend to run at lower prices than third parties or even at the gate.
You also don't have to check your booking agency to make sure they're legitimate like you do with third-party vendors.
3 Ways to Buy Tickets for Universal Orlando
1. At The Gate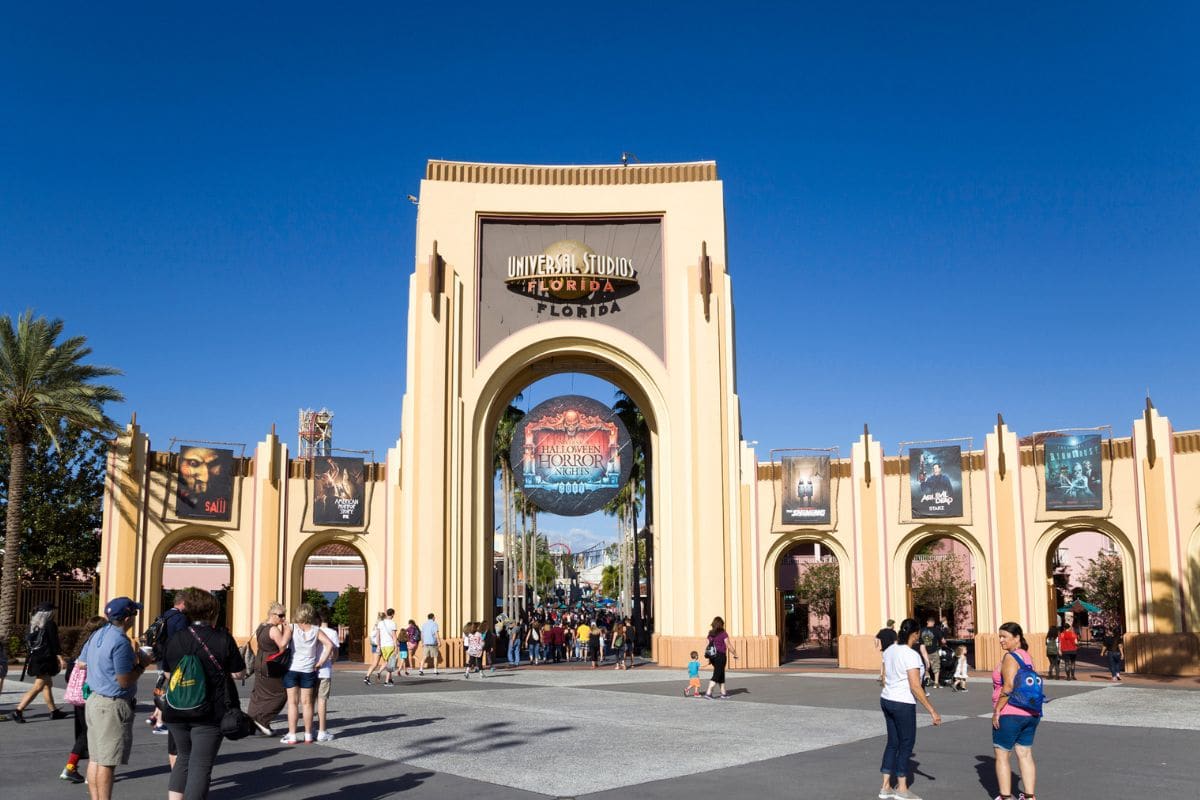 One of the simplest ways to buy tickets for Universal Orlando parks is right at the entrance to the park.
Universal has ticket booths outside the entrance to allow guests to pay for entry right on site.
Ticket booths are also available inside the park to let you upgrade your tickets with add-ons.
The downside to buying at the park is that tickets are almost always cheaper online and you'll have to stand in line to get your tickets.
The upside to buying at the park is that there is no chance of your tickets being a scam and you don't have to plan far in advance to go.
2. Online Directly From Universal Studios
Universal Studios Orlando offers ticket sales right on their own website.
They run web-only discounts on tickets here, as well as give you immediate access to your tickets.
It's recommended that you print them off, but you can download them on your phone and use it as a pass at the entrance as well.
The downside to buying online through Universal is that you can't bundle the tickets with other attractions that aren't part of the resort and you need to plan the trip as far in advance as possible.
The upside is that you can save money, and time, and always have access to your tickets.
3. Online Through a Third Party
Universal Studios Orlando tickets are available through many tour agencies and third-party entities like hotels, travel sites, and tour companies.
It's important to be careful who you book through, as some places aren't legitimate.
The downside to buying tickets with a third party is that it could be a scam.
The upside to using a reputable company is that you can package tickets for Universal with other attractions around Orlando and possibly save money doing so.
Which Tickets Are Right For You?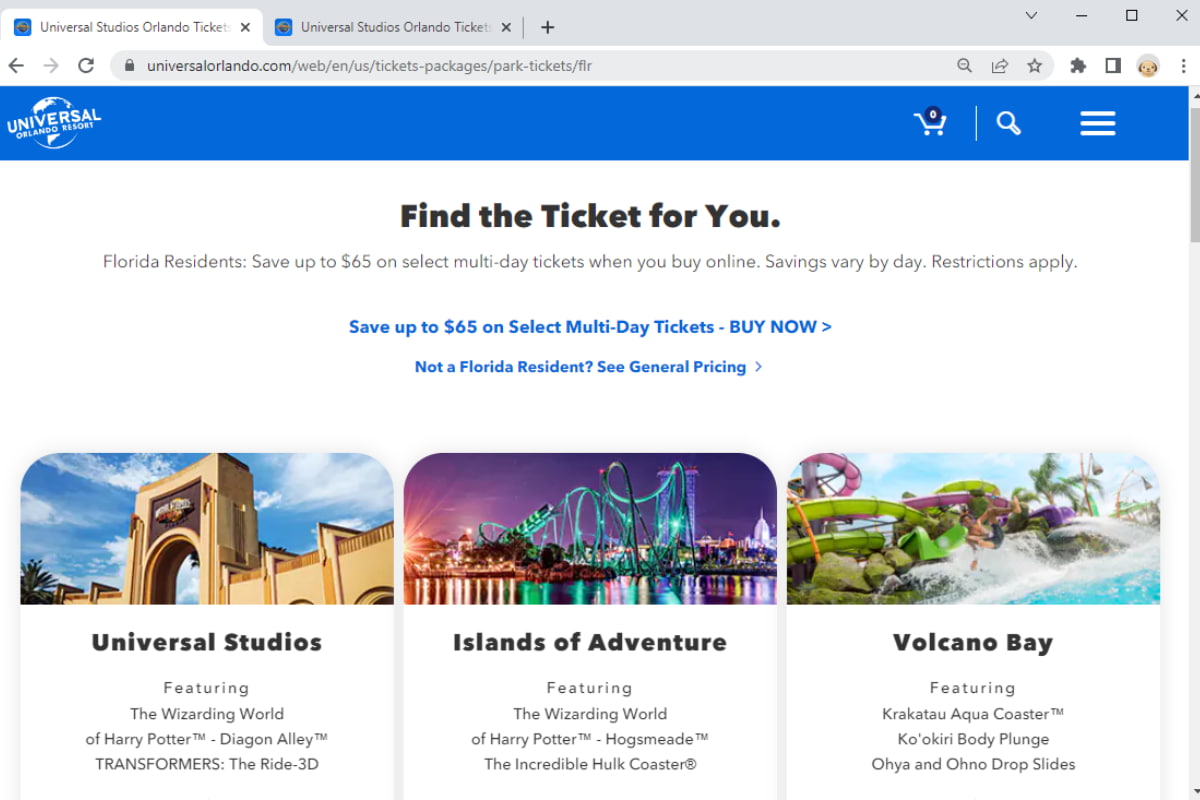 It's probably not a surprise that Universal Studios offers multiple tiers of access with their tickets and offers tickets that allow entrance on multiple days.
Universal Studios Orlando is made up of three parks: Universal Studios, Universal's Islands of Adventure, and Volcano Bay.
Each requires different tickets to enter, though multi-park tickets are available.
The simplest way to break tickets down is into single-day and multi-day tickets, as well as single-park or multi-park.
A single-day, single-park ticket allows you to enter one of the parks for a single day.
Multi-park tickets give you access to each park printed on them and multi-day tickets allow you to enter the parks for more than one day.
The length of your vacation and how much time you plan to spend in the parks should point you to the appropriate ticket.
Multi-park passes are the best option here, as you can ride the Hogwarts Express between Islands of Adventure and Universal Studios, visiting both.
Upgrades for tickets are also available, with Express Passes offering the most value.
These add-ons allow you to use an expedited line for participating rides and attractions.
Be aware that they come in a limited and unlimited tier, and can sell out for the day.
While Express Passes cost about as much as an entry ticket, they cut down queue times for rides quite a bit.
On average, you'll wait less than 15 minutes for the attraction, instead of standing in line for up to an hour.
The Verdict
The best, most consistent way to buy tickets for Universal Studios Orlando is through their website.
Whenever possible, try to book well in advance of your vacation so you can pounce on web-only specials and ensure limited tickets can't sell out.
This is especially important for big events like Halloween Horror Nights.
FAQ
Is it cheaper to buy tickets online for Universal Studios?
It's almost always cheaper to buy tickets online instead of at the gate.
Universal runs web-only promotions quite often, offering discounts on tickets for days that are expected to be less busy.
Even on those busier days, you're likely to find cheaper tickets on their website than you can get at the entrance.
On top of this, you won't waste valuable time inside the park standing in line to buy your tickets.
How far in advance should you buy Universal Orlando tickets?
Generally, you want to buy your tickets as far in advance as possible.
Planning in advance gives you time to snatch up tickets when they go on sale and scan booking sites for deals.
Whenever possible, it's best to buy tickets at least a month in advance.
Two months is better, but as long as you aren't waiting until the last minute, you should be able to score a pretty good deal on your tickets.
What is the cheapest month to go to Universal Studios?
January, February, and September tend to be the slowest months for the park.
To compensate for this, Universal runs special pricing on tickets that can save you quite a bit.
While September in Orlando is incredibly hot, you can beat the muggy Florida heat by visiting the park in the winter.
As long as the Volcano Bay water park isn't at the top of your attraction list, this is one of the best times to go visit the park.
How Many Days Should You Plan for Universal Studios Orlando?
The Universal Studios Orlando Resort is massive, second only to Disney World when it comes to Orlando theme parks.
Each of the three parks in the resort takes more than a single day to fully experience, so the more time you can spend there the better.
Attractions like The Wizarding World of Harry Potter are worth a full day on their own.
Factoring in wait times in line for attractions, it's easy to end up spending multiple days in the parks.
You should plan at least two days to go through Universal Studios and Islands of Adventure.
This can feel slightly rushed, but with Express Passes and leaving out a few attractions, it's entirely doable.
While it is possible to do the park in a single day, it's incredibly rushed.
You'll miss out on most of the attractions and have to have a very specific itinerary to pull it off.