Should You Buy Universal Studios Tickets in Advance?
Planning a vacation to Universal Studios can be incredibly stressful, especially if you and your family have certain rides or attractions you want to see.
You may be wondering if it may help to purchase your tickets in advance.
We've looked at the benefits of advance ticket purchasing at Universal and found some answers for you.
Yes, lining up tickets and transportation when visiting Universal Studios can save you a lot of headaches.
It guarantees that the tickets you're after won't sell out before you get there, saves you money, and reduces stress that can ruin a vacation.
Overall, it's smarter to buy Universal Studios tickets in advance.
We'll discuss the pros and cons of buying your tickets ahead of time to give you a better understanding of why it's a good idea to buy them early.
We'll also go over the types of tickets Universal offers, the best time to buy them, and if it's cheaper to purchase online or in person.
Buying Tickets in Advance: Pros and Cons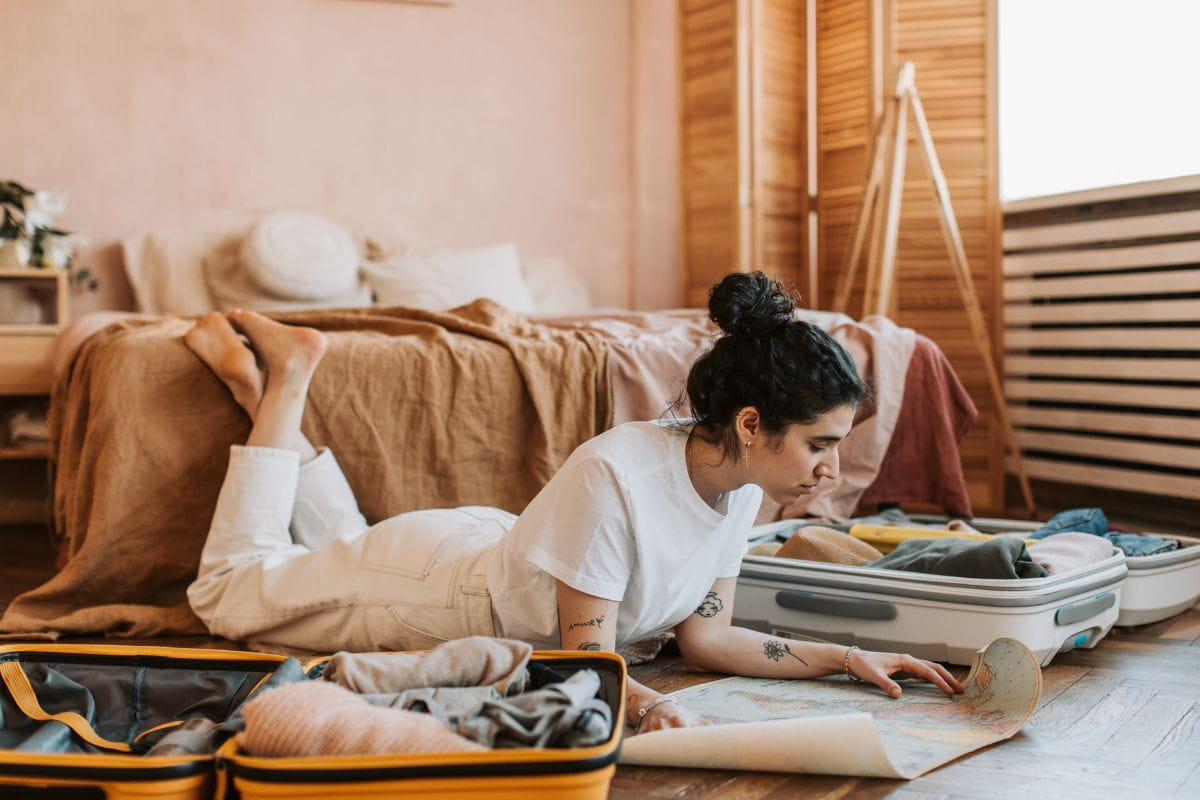 Planning a vacation in advance is a great way to get yourself locked into deals on tickets and guarantee that you can get into attractions during the busiest times of the year.
Assuming you can get firm dates for your vacation, buying tickets in advance is a bit of a no-brainer.
The time it takes to queue at the entrance is time lost inside the park and certain kinds of tickets like Express Passes can sell out. Booking in advance guarantees you the experience you're after.
Pros
Save money by catching a deal.
Online prices are cheaper than at the gate.
Guarantees special passes that can sell out.
No wasted time buying tickets at the entrance.
Upgradeable once inside the park.
Cons
Lack of flexibility on travel dates.
Tickets can not be refunded and only certain ones can be used on different dates than listed.
Discounts aren't always the best; timing can be crucial.
Upgraded tickets don't include upgrades on everything.
The Verdict
You should buy tickets for Universal Studios in advance. Not only will you be able to save money and time, but it will also take a lot of the stress out of your vacation.
The downsides to buying tickets in advance are almost always situational and they are easily outbalanced by the upside.
If you can't commit to specific dates, don't buy tickets until you can be sure when you will go. You won't get a refund on tickets, so be careful that your favorite attractions are included when you buy the upcharge.
Which Tickets Should I Buy?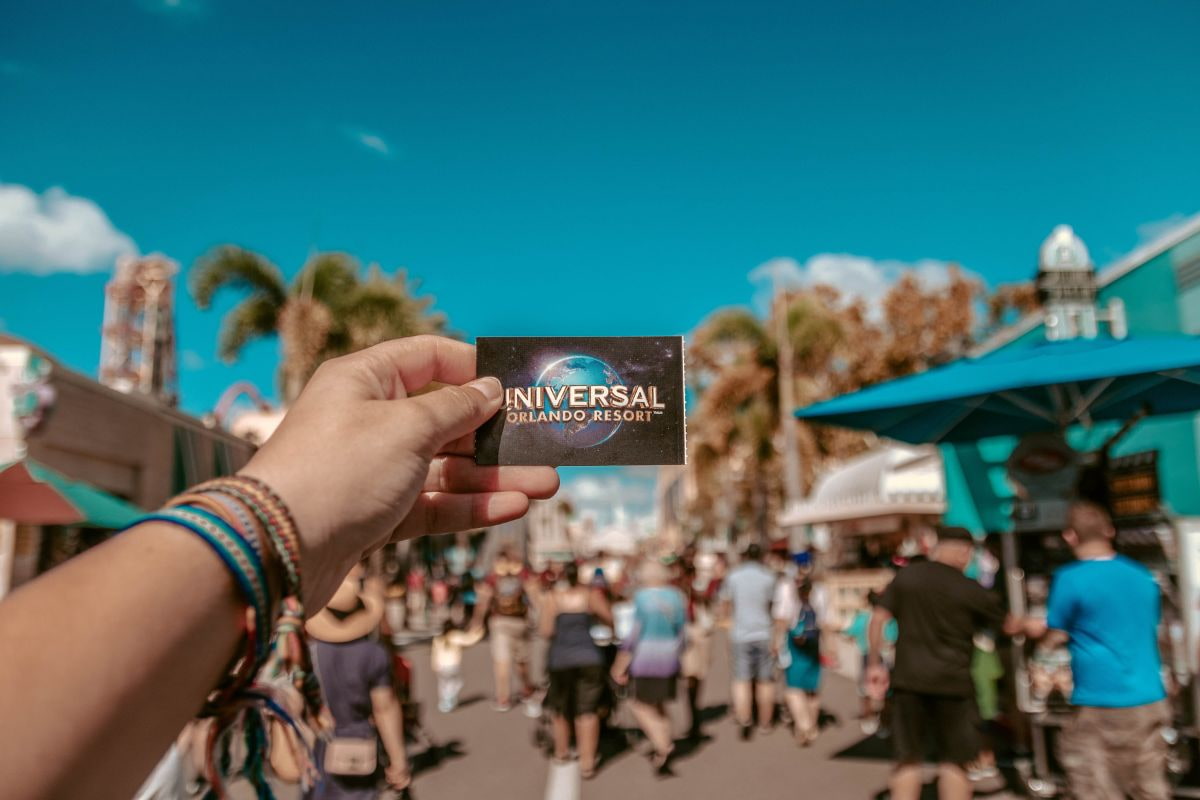 Universal Studios parks have quite a few kinds of tickets that all have different upgrades, access, and costs associated with them.
Which park location you go to also affects which tickets are available, since the Orlando park is actually three parks, while the Hollywood location is one park.
Tickets range from a single day of entry up to five days and annual passes. We'll try to break them down as simply as possible so you can choose the ones that work best for your trip.
One Day – One Park Tickets: Allows unlimited entrance for one Universal park on the day printed on it. The ticket expires after the expiration date on the ticket.
Two Park – One Day Tickets: Allows for entrance into both Universal Studios and Islands of Adventures for one day between the date printed and the expiration date on the ticket.
Two Park – Two Day Tickets: Allows for entrance to both parks for two days in a period of five days before the expiration date. You can freely move between the parks.

One Park Per Day – Two Day Ticket: This allows you to enter one park per day for two days with similar time frames to the previous ticket. You cannot visit more than one park on a single calendar day.
Additional add-ons can upgrade your ticket and help you cut a few lines.
Universal Express Pass: This allows you to use the express line for participating rides and attractions once, per day, at both parks.
Universal Unlimited Express Pass: This allows you to use express lines for participating rides and attractions and an unlimited number of times in both parks during your visit.
Photo packages, VIP experiences, and seasonal events are all additional add-ons that you can purchase should your visit line up with the events.
You'll likely want to plan for at least two days to do everything in Universal Studios.
Express Pass upgrades can help you cut down your queue times and let you get around the park faster if you're rushed into a single day at the park.
Are Upgrades on Tickets Worth It?
Upgrades on tickets can make a huge difference in your experience, especially if you're trying to do the whole park in a single day.
Express passes cut wait times for participating rides from up to an hour to around 15 minutes.
Check that the most important attractions for you do accept those passes so you don't end up surprised, as some attractions don't.
Other upgrades like a free-refill souvenir cup, photo packages, or VIP experiences are much more a matter of whether it's worth it to you to pay extra.
You can save some money on drinks and not worry about taking pictures yourself with these.
Seasonal events are amazing and worth visiting if possible. Halloween Horror Nights are the most famous one, but it's also one of the busiest times of the year.
Note that you'll deal with extended queue times and more people, so definitely book these tickets in advance.
How Far in Advance Should I Buy Tickets?
The best time to buy your Universal Studios tickets is when a promotion is going on.
Check the park's website and Orlando theme park tour sites regularly for web-only promotions. That being said, the farther out you can book your tickets the better.
Tickets can be booked over six months in advance. If you have the confirmed dates for your vacation, it's suggested to begin looking at prices as soon as possible.
Once a deal pops up, snatch it to guarantee that your Express Passes and upgrades won't sell out for those dates.
January, February, and September are typically the slowest months for Universal Studios.
Planning a trip for these months will help you find the best deals on hotels, park tickets, and additional packages that would be more expensive during busier times of the year.
Is It Cheaper to Buy Online or in Person?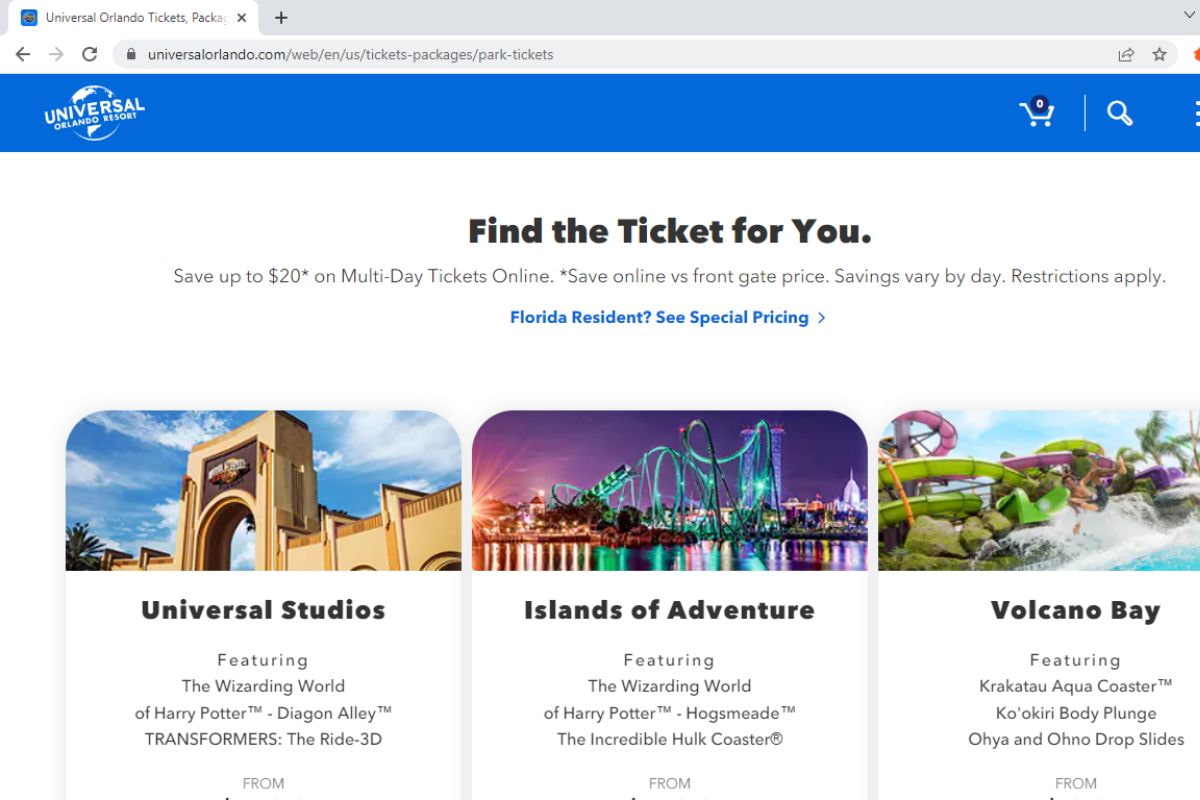 It's always cheaper to buy Universal Studios tickets online than it is in person. Web-only sales are used to help the park get accurate expected visitor numbers to know when upgrades should be sold out.
You can purchase tickets from your phone or on the computer. Printing tickets out is recommended, but digital tickets on cell phones are accepted at the entrances.
Conclusion
Buying Universal Studios tickets in advance is the best option for most people.
If you can confirm your vacation dates, you'll be able to save money and guarantee that the tickets you want won't sell out for those days.
The only time it's better to buy at the gate is when you can't nail down the time of your vacation.