What To Do at Universal Studios Orlando While Pregnant? (9 Things To Do)
Theme parks aren't usually thought of as being full of safe things to do for pregnant women so you may be wondering what Universal Studios has to offer for those who are expecting.
Here we'll discuss things you can do at Universal Studios Orlando while pregnant, give some tips for how to make sure you have a good time, and answer some common questions you may have.
While the bigger rides may not be the right choice, Universal Studios Orlando still features plenty of amazing experiences that guests can do while pregnant.
Let's take a look at some of the things Universal has to offer expectant mothers who are visiting the park.
9 Things to Do At Universal Studios While Pregnant
1. Explore The Wizarding World of Harry Potter
One of the biggest draws at Universal Orlando is the two Wizarding Worlds of Harry Potter.
Both Universal Studios and Islands of Adventure have one, and they're both simply amazing.

Universal Studios has a full-size Diagon Alley area complete with shops, restaurants, and rides.
You can get matched with a wand at Ollivander's, have dinner at the Leaky Cauldron, and visit Gringott's Money Exchange.

In Islands of Adventure, you can step into Hogsmeade Village for a drink at the Three Broomsticks and explore the grounds of Hogwarts.
2. Sit and Watch the Shows
Universal Orlando runs a set schedule of shows throughout the day that caters to a wide range of tastes.
The Bourne Stuntacular is a fantastic stunt show that features special effects, pyrotechnics, and even a few gunfights.
The musically-inclined guests have plenty to see as well. Visitors can check out a Blues Brothers Show, Celestina Warbeck and The Banshees, or catch live music events at the parks.
The Universal's Horror Makeup Show and Animal Actors on Location are other excellent options that will let you catch your breath and enjoy an entertaining rest.
3. Ride the Hogwarts Express
The Hogwarts Express is a train ride that ferries park guests between Islands of Adventure and Universal Studios.
The two platforms are both parts of the Harry Potter Worlds at the park, Hogsmeade Station and King's Cross respectively.

The train serves as a peaceful ride that anyone can enjoy, especially if you're spending the entire day exploring the Wizarding World areas of the parks.

King's Cross Station is an attraction to itself as well. Featuring the legendary Platform 9 ¾.
Guests can run through a solid wall to reach the train platform, putting you squarely in the footsteps of your favorite witches and wizards.
4. Ride Some Safe Rides
Universal has a reputation for big, fast, and scary rides. Fortunately, not every ride is off-limits when you're pregnant, so ride lovers still have a few options while at the parks.
These should all be safe options when you're pregnant, but always consult with a doctor before going to the park and if you have concerns, don't get on rides.
Caro-Seuss-el
The Cat in the Hat
Hogwarts Express
One Fish, Two Fish, Red Fish, Blue Fish
Storm Force Accelatron
Harry Potter and the Forbidden Journey (castle tour only, not the ride)
Kang & Kodos' Twirl 'n' Hurl
5. Check out the Parade
Every evening, Universal puts on their Superstar Parade. The event is chock full of characters, colorful floats, and performers.
While it will draw a crowd, you can safely watch and enjoy the parade while in the park.
6. Meet Characters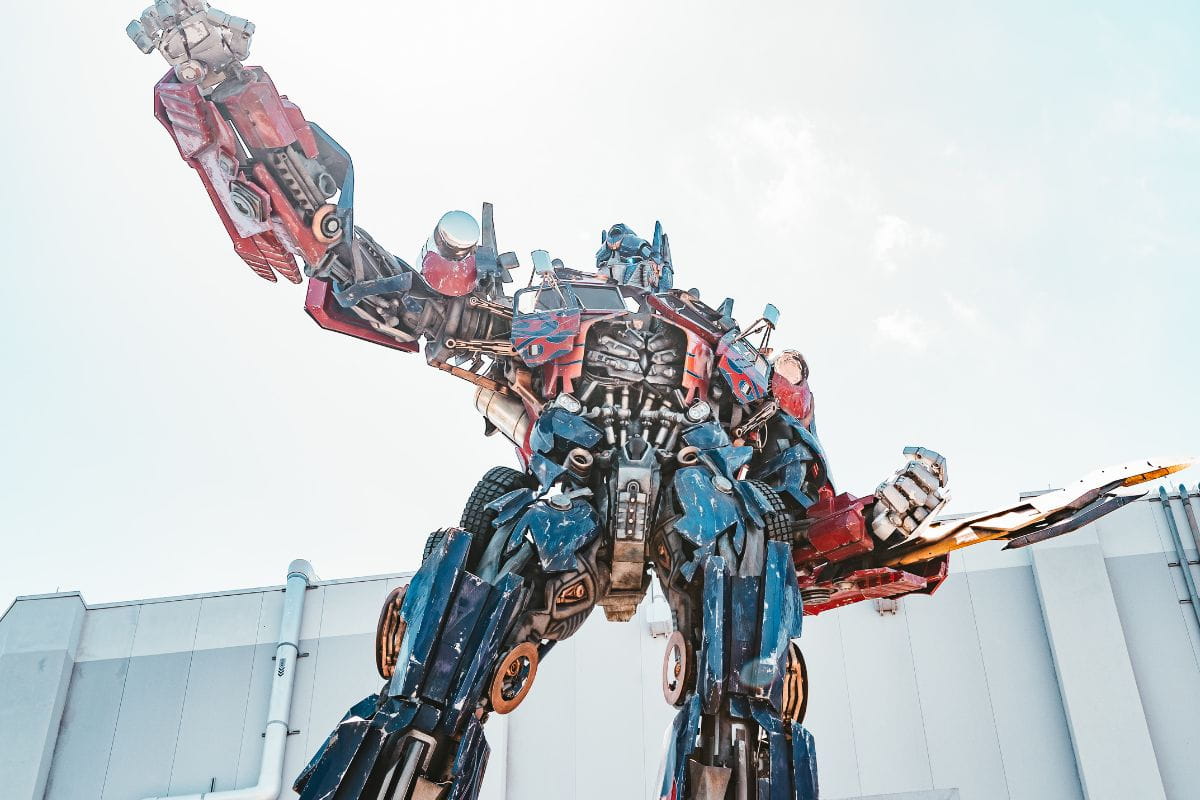 Speaking of characters, there are plenty of them to meet and snap a photo with at Universal Orlando.
Whether you want your picture next to characters from the Transformers movie, Spongebob Squarepants, or a six-foot-tall Minion, Universal has plenty of opportunities to do it.
7. Stationary Seating Attractions
Some of the attractions at Universal are a combination of rides, simulations, and shows.
These are usually 4D rides that either move on tracks or simulate motion while guests are seated in a theater.
The good news is that many of these attractions offer stationary seating that makes them perfectly safe for expectant mothers.

Be sure to ask for stationary seating when you're in line for:
Despicable Me Minion Mayhem
Shrek 4D
Fast And Furious – Supercharged
You'll get the same 3D glasses and see the same show, but your seat won't be moving.
8. Play Games
Aside from rides and shows, Universal Orlando has some fantastic games to play.
The best part is that the arcades are fully indoors and air-conditioned, making them a great way to beat the Florida heat.

Universal Studios has the Palace Theater Arcade and Islands of Adventure has a Jurassic Park Arcade and Kingpin's Arcade.
You can step inside of them to play some classics like air hockey, claw machines, pinball, and racing simulators.
There's also a classic amusement park section of the Simpsons area that features a carnival-style midway.
Try games like whac-a-mole, ring toss, and most of the things you remember from trips when you were a kid.
9. Walking Experiences
The Wizarding World of Harry Potter may be the biggest walking attraction, but it isn't the only one in the parks.
Once you're done walking around Diagon Alley and Hogsmeade, you can take a stroll through New York, shop and dine at CityWalk, or take a Hollywood backlot tour.
Tips to Help Expectant Mothers Enjoy Themselves
Amusement parks can take a toll on expectant mothers, so it's important to make sure you're protecting yourself and your baby.
With a few tips and some advance planning, you can have a stellar time at the park and avoid feeling bad while you're there.
Consider staying at a resort hotel. You can leave and reenter the parks as often as you want, and staying on-site makes it easier to head back to the room and rest whenever you need to.
Stay hydrated throughout the day. During the warmer months, the Florida heat can exhaust people who don't have any limitations.
Make sure to stop and rest, drink plenty of water throughout the day, and take time to cool off.
If you're experiencing morning sickness, avoid the simulation rides. Motion sickness will only compound the morning sickness you're already going through.
Schedule an appointment with your doctor ahead of your trip and get properly advised about what you should and shouldn't do.
Depending on how far along you are, your body can react differently to traveling and the park attractions.
Consider purchasing a Universal meal plan and front-of-the-line passes.
These will limit the amount of time you'll be standing in lines for attractions and let you grab a snack any time you want throughout the day.
Conclusion
Generally, theme parks aren't the friendliest place for expecting mothers to visit.
Universal Orlando has plenty of things to do that don't involve rides and some great accessibility options that will help you enjoy your day.

Remember to consult a doctor before your trip. If going to the park stresses you out or you don't want to miss out on some thrilling rides, don't go.
The park will still be there later when you can enjoy it without stressing yourself out.