Are Universal Studios Orlando Rides Scary? (10 Scariest Rides)
Universal Studios built its reputation on fast-paced roller coasters and rides, with most of them at least having one "in-your-face moment."
For people with low-thrill tolerance, their rides may seem intense. So let's take a look at some of the features of Universal's rides and determine just how much of a fear factor they might have.
Some of the rides in Universal Studios are incredibly thrilling and might even be considered scary for some people due to the speeds they travel and the heights they reach.
These particular rides have strict safety precautions. Universal also has plenty of rides that are not considered scary so there's an option for everyone in your group.
We'll go over the scariest, most intense rides in Universal Orlando. For people who aren't sure if they can handle it, don't worry. We'll also provide some of the tamer rides that are just as fun.
10 Scariest Rides at Universal Studios Orlando
1. Jurassic World Veloci-Coaster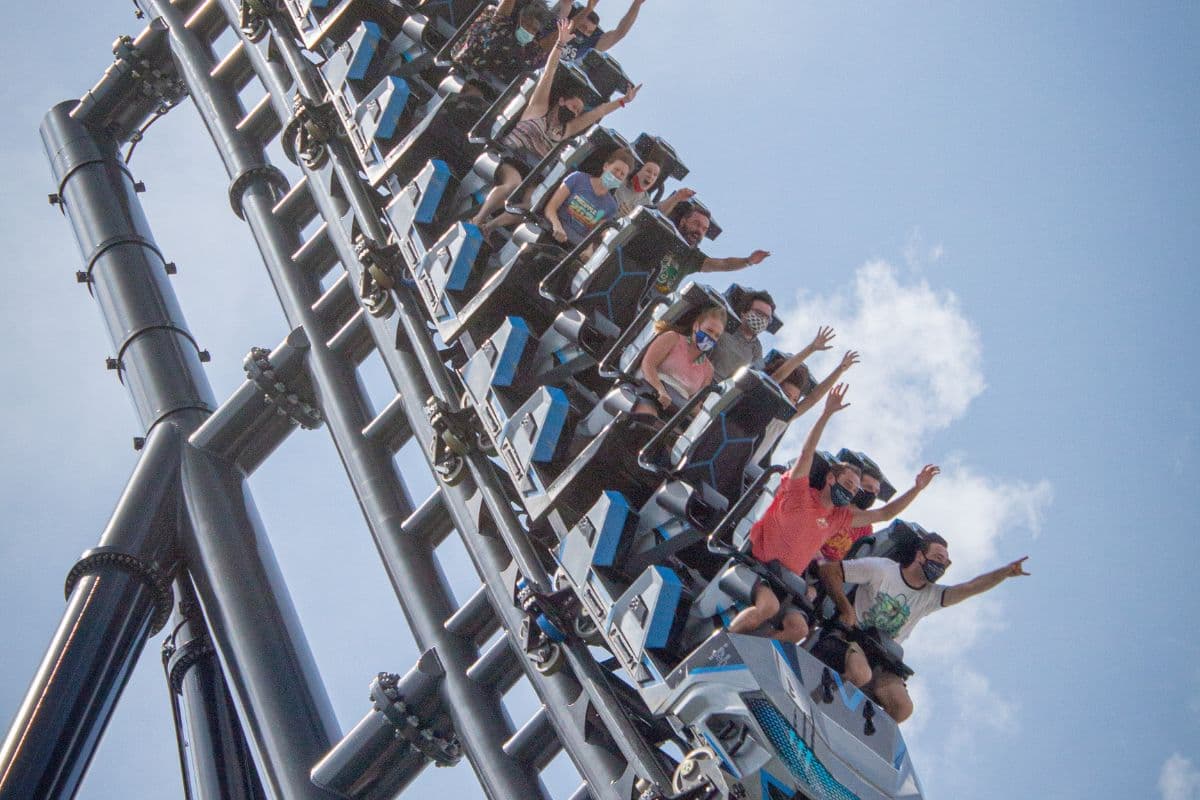 Located on the Islands of Adventure and launched in 2021, the Veloci-Coaster is the fastest and most thrilling ride in Universal Orlando. The coaster reaches speeds of over 70 miles per hour (110 km/h) and features a 155-foot-tall (47 m) drop.
On this ride, you'll race alongside hunting raptors and experience two high-speed launches. One section of the ride inverts passengers for over 100 feet, giving them the feeling of weightlessness.
The minimum height requirement is 51 inches (130 cm).
2. The Incredible Hulk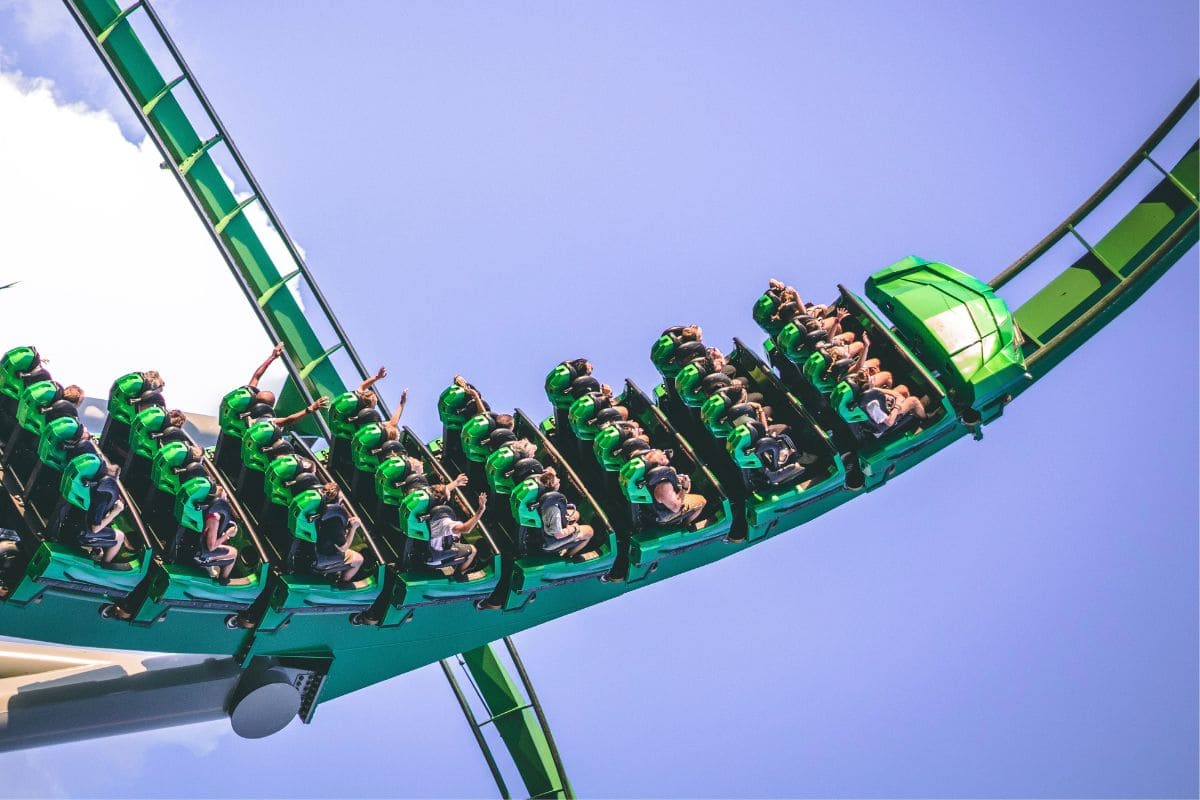 In the first few seconds of The Incredible Hulk, riders are accelerated up a tube and turned upside down as they emerge. The ride features multiple inversions, wicked turns, and plenty of extra G-force.
The ride is themed as you helping Bruce Banner with an experiment, but a blast of gamma radiation changes everything. It launches riders to 67 miles per hour and rarely slows down throughout the ride.
The minimum height requirement for this ride is 54 inches (138 cm).
3. Hollywood Rip Ride Rockit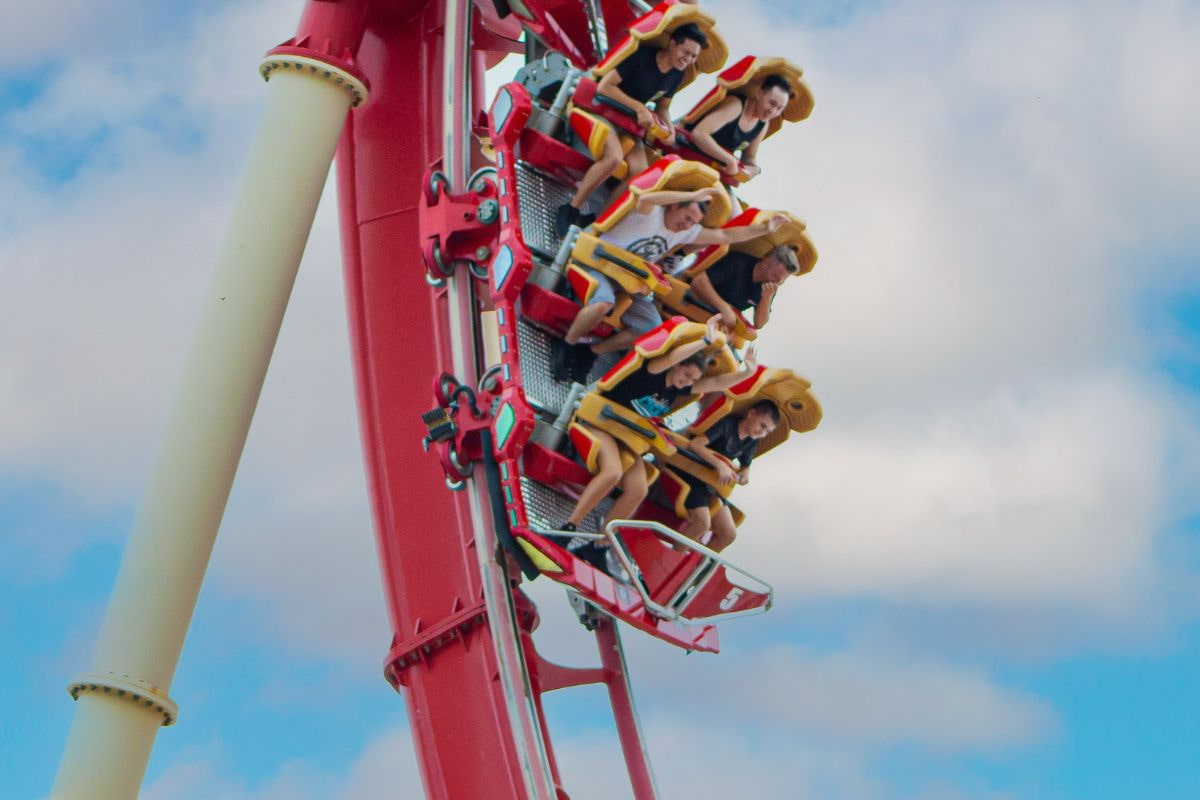 While it doesn't actually flip passengers upside down, the Rip Ride Rockit isn't for the faint of heart. The ride hauls passengers up a 17-story vertical hill and then sends them screaming down the other side at 65 miles per hour. At least you get to pick the song that plays while you ride it.
The twisting track doesn't go upside down, but it gives the illusion that it does. If you can stop screaming and enjoy the scenery, it goes through the New York Backlot and right past those beautiful buildings.
The minimum height requirement for this ride is 51 inches (130 cm).
4. Revenge of the Mummy
Revenge of the Mummy is like a good horror movie in that it builds suspense before delivering the scare. The first half of the ride features animatronics and a near pitch-black atmosphere. The second half sends you plunging into the black abyss.
The ride doesn't feature any inversions, but hurtling forward through the dark can be pretty intense. Especially when you're fleeing from the evil Mummy Imhotep. Will you escape the Pharoah's tomb or be trapped forever?
The minimum height requirement for this ride is 48 inches (122 cm).
5. Dr. Doom's Fearfall
If you happen to be afraid of heights, don't hop on Dr. Doom's Fearfall. While it may be a standard tower-drop ride, the feeling of blasting off from the ground and freefalling can be terrifying. At the top, the ride reaches 184 feet, but you never know how far you climb before dropping.
The minimum height requirement for this ride is 52 inches (132 cm).
6. Hagrid's Magical Creatures Motorbike Adventure
Hagrid's Motorbike Adventure takes you through the Dark Forest and introduces you to some of the creatures that reside there. The animatronics on the ride are top-notch and it's one of the best-themed rides in the park.
The ride also plunges through completely dark sections, features multiple launches, and reaches a 65-foot tall vertical spike that you drop down backward. It's plenty exciting and not the best ride to take on for non-thrill seekers.
The minimum height requirement for this ride is 48 inches (122 cm).
7. Dudley Do-Right's Ripsaw Falls
Half coaster, half flume ride. Ripsaw Falls sees riders race around a track while having the experience narrated by laughable Royal Canadian Mountie, Dudley Do-Right. Don't let the comedic part fool you, the ride is absolutely blistering around turns and features a 75-foot drop to the water beneath.
The minimum height requirement for this ride is 44 inches (112 cm).
8. Jurassic Park River Adventure
Another ride you'll be getting wet on, the Jurassic Park River Adventure forces you to face down a hungry T-Rex. The only escape option is an 85-foot drop over a waterfall that also happens to be pitch black.
The minimum height requirement for this ride is 42 inches (107 cm).
9. The Amazing Adventures of Spider-Man
The Spider-Man ride can be a little intense thanks to a simulated free fall from the top of a skyscraper. The ride itself incorporates 3D and 4D film elements with moving vehicles to let you fly around just like The Amazing Spider-Man. While it's tamer than the major coasters, it can still be scary for some.
The minimum height requirement for this ride is 40 inches (102 cm).
10. Ko'okiri Body Plunge
Ko'okiri Body Plunge is a bonus ride located in the Volcano Bay water park section of Universal Orlando. The water slide drops riders with a falling floor, sending them careening down a 125-foot water slide that goes down at a 70-degree angle. The best part is that the slide goes directly through a simulated active volcano.
The minimum height requirement for this ride is 48 inches (122 cm).
Which Universal Studios Rides Aren't Scary?
While Universal Orlando is home to some very intense, sometimes scary rides, it also has much more tame options that even people who don't like rides should give a try. Here are a few of the best, most easy-going rides in the park.
Hogwarts Express
Transporting you between the Harry Potter World in Universal Studios and the one in Islands of Adventure is the Hogwarts Express. Take the time to ride the train from the famous movie franchise and experience everything King's Cross Station has to offer. It's a ride and experience wrapped into one.
Harry Potter and the Forbidden Journey at Islands of Adventure
Combining a ride and a movie, the Forbidden Journey lets passengers fly around the Hogwarts School of Witchcraft and Wizardry. It's a fairly slow-paced ride, doesn't go upside down, and doesn't have any very intense moments.
You'll soar through quidditch matches, past dementors, and around the school during the ride. Outside of the slight motion sickness that comes with watching a screen while moving, the ride is very tame.
Men in Black Alien Attack
For a faster-paced ride that isn't gut-wrenching, try Men in Black Alien Attack. You'll be shooting at targets on aliens as you zip through the streets of New York, competing for high scores against other cars. Only a couple of quick spins occur during the ride, making it far tamer than the looming coasters around it.
Despicable Me – Minion Mayhem
Made for kids, Minion Mayhem is fun for the whole family. You're launched on a trip through Gru's secret laboratory after a failed experiment meant to turn you into a Minion. There are no scares, no intense movements, and above all, it's a ton of fun.
Is Universal Just Roller Coasters?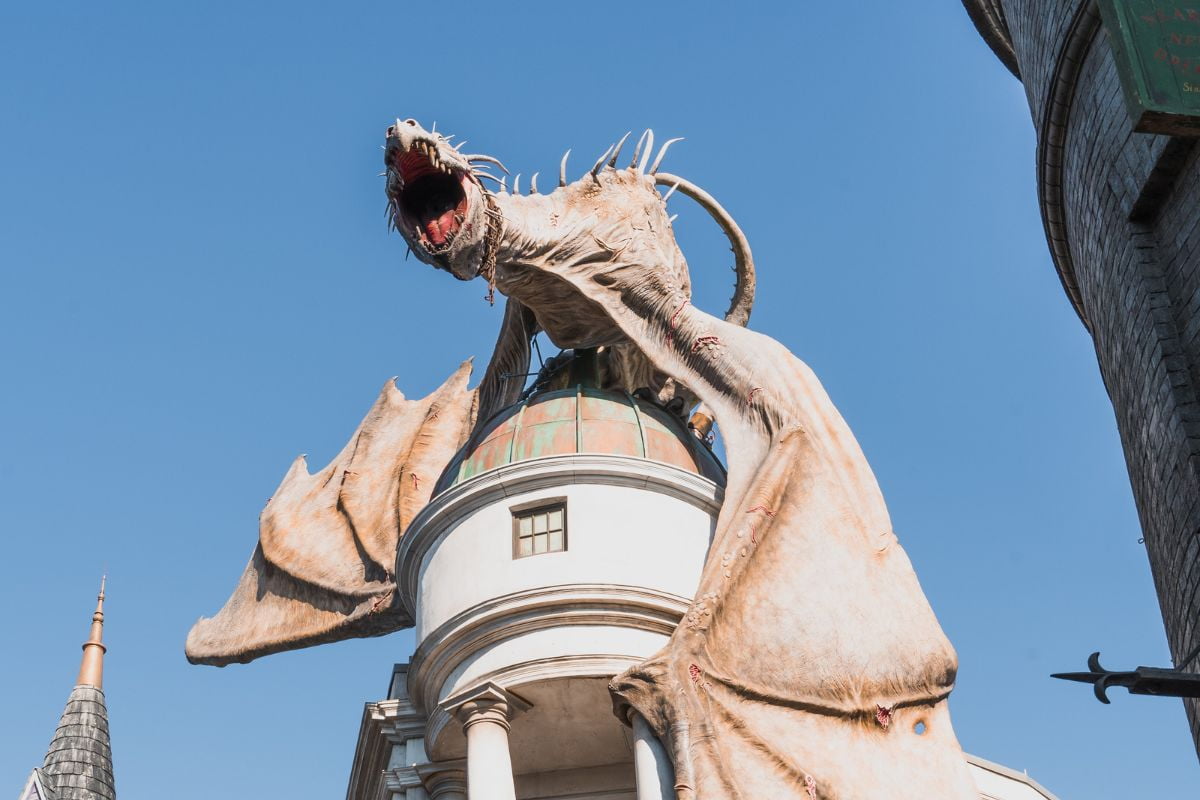 While Universal Studios is known for roller coasters, the park has so much more to offer than that. It's full of attractions for people of all ages and thrill tolerance.
The park has plenty of amazing shows to take in. Whether you want to see a musical show like the Blues Brothers or a thrilling one like the Jason Bourne Stuntacular, there's something for everyone.
Experiences are a big part of Universal as well. The Orlando parks have not one but two Harry Potter Worlds, allowing you to step foot in Diagon Alley, London, and Hogsmeade.
Be chosen by a wand at Ollivander's, grab a butterbeer at The Three Broomsticks, or eat dinner at the Leaky Cauldron.
Character encounters are another huge part of the park.
You can meet and get your picture taken with a plethora of your favorite characters including Shrek, the Transformers, Spongebob, Minions, or even a raptor from Jurassic World.
Conclusion
Universal Studios Orlando has some scary rides and even some of the less intense rides have some blood-pumping moments.
Despite this, there are plenty of attractions that any visitor can enjoy and if you feel a little bit daring, you can take on some of the most insane coasters in the world.