Should You Stay On-Site at Universal Orlando?
Universal Orlando isn't just a group of theme parks, it's a full-service resort. You can spend an entire vacation on-site, without ever leaving until you get back on a plane to go home.
So should you stay on-site at Universal Orlando?
If your vacation is centered around Universal and spending time at the parks, you should definitely consider staying on-site. There are many benefits to staying at a resort hotel, and the hotels are a standalone experience unto themselves.
We'll discuss the best reasons to stay at a Universal Orlando Resort hotel, as well as explain when staying at one of these hotels isn't the right choice for you.
Why Stay On Site At Universal Orlando?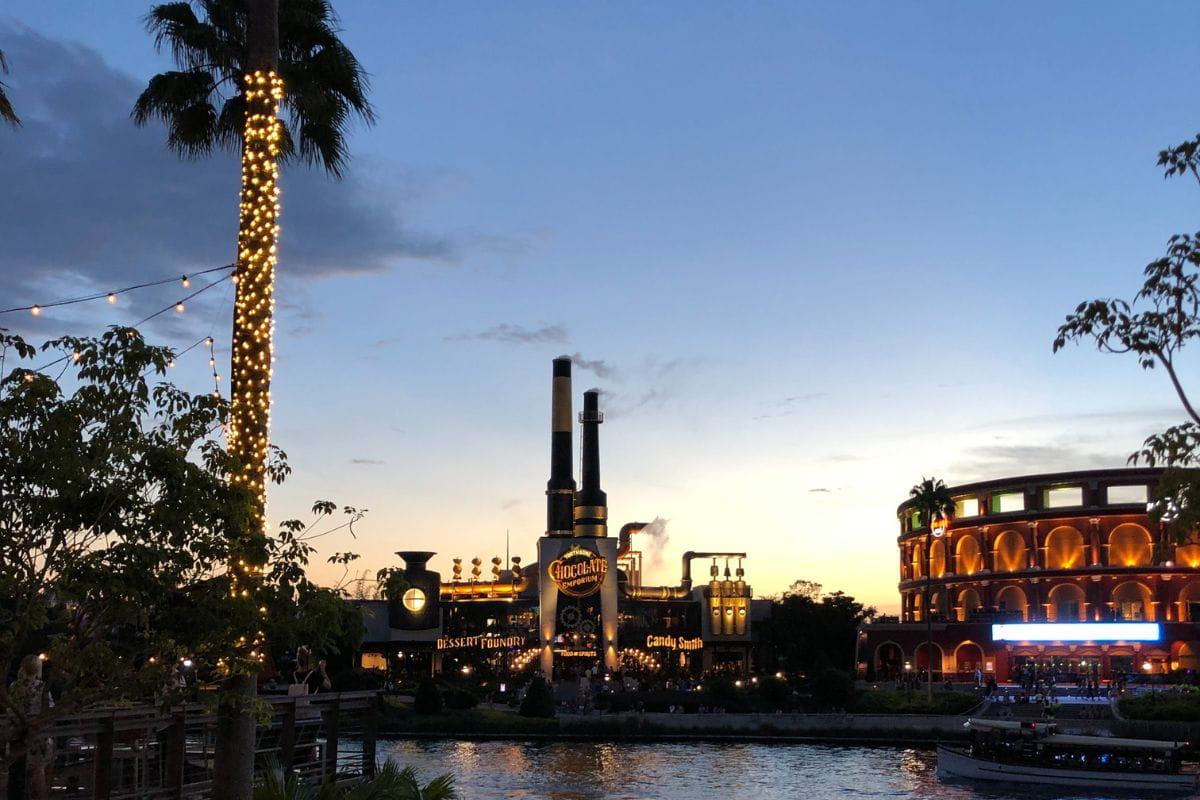 Orlando is the theme park capital of the world. Located in Florida, the city sees millions of visitors every year.
Because of those high numbers, there are hundreds of places to stay that fit into almost anyone's budget.
The bigger resorts like Universal and Disney World aren't just theme parks.
Both are full resort areas that contain their own hotels, entertainment districts, and amenities on top of the theme parks.
But is it worth it to stay on-site at Universal when there are so many other options in the Orlando area? For the most part, it's going to be worth it to stay on-site.
This is especially true if you're a Potterhead or plan to spend the majority of your vacation exploring Universal Orlando's parks.
Staying on-site takes out all of your transportation costs once you get to the resort.
Shuttles run from the airport to the resort, and you can easily get to the park entrances from any of the resort hotels you choose. This makes staying on-site incredibly convenient.
Guests staying on-site get access to fabulous hotels and benefits while they're inside the parks.
Though the nightly costs might be more than staying off-site, transportation and parking will eat into those savings.
Not to mention, park tickets and hotel rates can be bundled to help save additional money.
But that's not the only reason to stay on-site.
What Hotels Are Available?
The eight on-site hotels are split into categories based on their nightly rate. Here are a few options:
Premier Hotels
Hard Rock Hotel ($358/night)
Loews Portofino Bay Hotel ($372/night)
Loews Royal Pacific Resort ($312/night)
Preferred Hotel
Loews Sapphire Falls Resort ($202/night)
Prime Value Hotels
Universal's Aventura Hotel ($132/night)
Universal's Cabana Bay Beach Resort ($132/night)
Value Hotels
Universal's Endless Summer Resort — Surfside Inn and Suites ($91/night)
Universal's Endless Summer Resort — Dockside Inn and Suites ($91/night)
*Prices accurate as of October, 2022*
Each hotel has a distinct theme and attractions to help enhance your stay. They all have their own pools, on-site amenities, and activities for families.
Shuttle buses run from each of the hotels to the parks every 15 or 30 minutes. They start one hour before the parks open and run until the parks close that evening.
Some of the hotels also have a water taxi, if you'd like to take a boat ride to the parks. This service is offered at all Preferred and Premier hotels.
All of the hotels are within walking distance of each of the parks as well.
For a breakdown of travel times and transportation schedules, you can check their site for a complete schedule.
What Benefits Do You Get By Staying On Site?
While one of the main benefits of staying on-site at Universal Orlando is convenience and proximity to the parks, that isn't the only bonus you get for staying on-site.
Premier hotel guests get unlimited access to express lines for all rides in the parks. These let you skip the regular line and wait in a shorter queue.
Premier guests can also get priority seating at some restaurants, lowering wait times significantly.
No matter which hotel you stay at, on-site guests can get into the parks before they open to the general public.
This free, early admission starts at Universal Studios, Universal's Islands of Adventure, and Volcano Bay one hour before official opening times.
Having a room key is a big perk at the parks as well. You can leave your wallet safely tucked away in your room and avoid carrying cash inside the parks by charging any food, drinks, or souvenirs to your room number.
Your on-site hotel stay means you can shop without having to carry merchandise around. Universal will deliver your merchandise purchases to your hotel room free of charge if you stay on-site.
Generally, staying on-site will save you money for your total vacation cost. Bundling park tickets with hotel rooms gives discounted rates for each.
For the most part, this is fairly close to how much you could save staying off-site, once you pay for parking, gas, rental cars, etc.
Annual or seasonal pass holders should take advantage of their status as well. Pass holders get a 30% discount on nightly resort hotel rates.
When Is It Not Worth It To Stay At The Resort?
While there are plenty of benefits to staying at a Universal Orlando Resort Hotel, it isn't always the right option.
Many of the discount bundles have prices based on minimum stays. If you're only going to be visiting for a day or two, it probably isn't going to be worth it trying to stay at a resort hotel.
For example, the hotel prices listed on Universal's site are based on a four-night stay and don't factor in taxes. In Florida, hotels are charged an additional tax that gets added on top of sales tax.
It's also probably not worth staying at Universal if you plan on doing multiple things around the Orlando area.
Orlando has plenty of resorts and attractions, not just Universal Orlando. Disney World, Sea World, The Kennedy Space Center, and eco-tours are all available in the area.
Unfortunately, you won't find complimentary transportation from your Universal Resort hotel to these other attractions, and while Universal parks are within walking distance, nothing else is.
Many of the non-resort hotels in Orlando do offer shuttle services to other attractions. That makes staying elsewhere a better option if you'll be visiting multiple parks or resorts.
As an example, if you plan to visit both Disney World and Universal Orlando, you probably shouldn't stay at either resort's hotels.
Forgoing a vehicle for the convenience of the resort can save on parking and gas, but also leave you a little stranded.
Outside of big parks and resorts, smaller attractions like Medieval Times are worth a visit, but you won't be able to get to them without a vehicle.
Finally, while it isn't a dealbreaker, prices for everything will be inflated inside the resort. Food, beverages, merchandise, and everything else will cost more on-site than off-site.
Generally, if you can afford the vacation, you won't have any problems. If you're pinching pennies for the trip though, those prices can be a reason to stay elsewhere.
The Verdict
Overall, you should stay at an on-site hotel at Universal Orlando if you're spending most of your time at Universal parks, want to bundle your vacation, and want to enjoy the benefits of staying at their hotels.
If you plan on doing a lot of things in the Orlando area or you'll only be staying for a short time, it probably isn't worth it and you should look elsewhere for accommodations.