What To Do At Universal Studios Orlando Besides Rides? (Top 10 Things)
If you're planning to visit Universal Studios Orlando this year and have different ages and personalities in your group you may be wondering if there's anything else to do besides hopping on one of their well-known rides.
We're going to find the answer by looking at all the theme park has to offer so you can cater your visit to everyone in your group.
Universal Studios theme parks are known for being a thrill-seeker's paradise. Some of their most famous attractions are heart-pounding roller coasters and rides, but not everyone enjoys these kinds of attractions.
Outside of rides, Universal Studios Orlando has plenty of things to do, including shows, character interactions, and entertainment options.
Top 10 Universal Attractions That Aren't Rides
1. Harry Potter World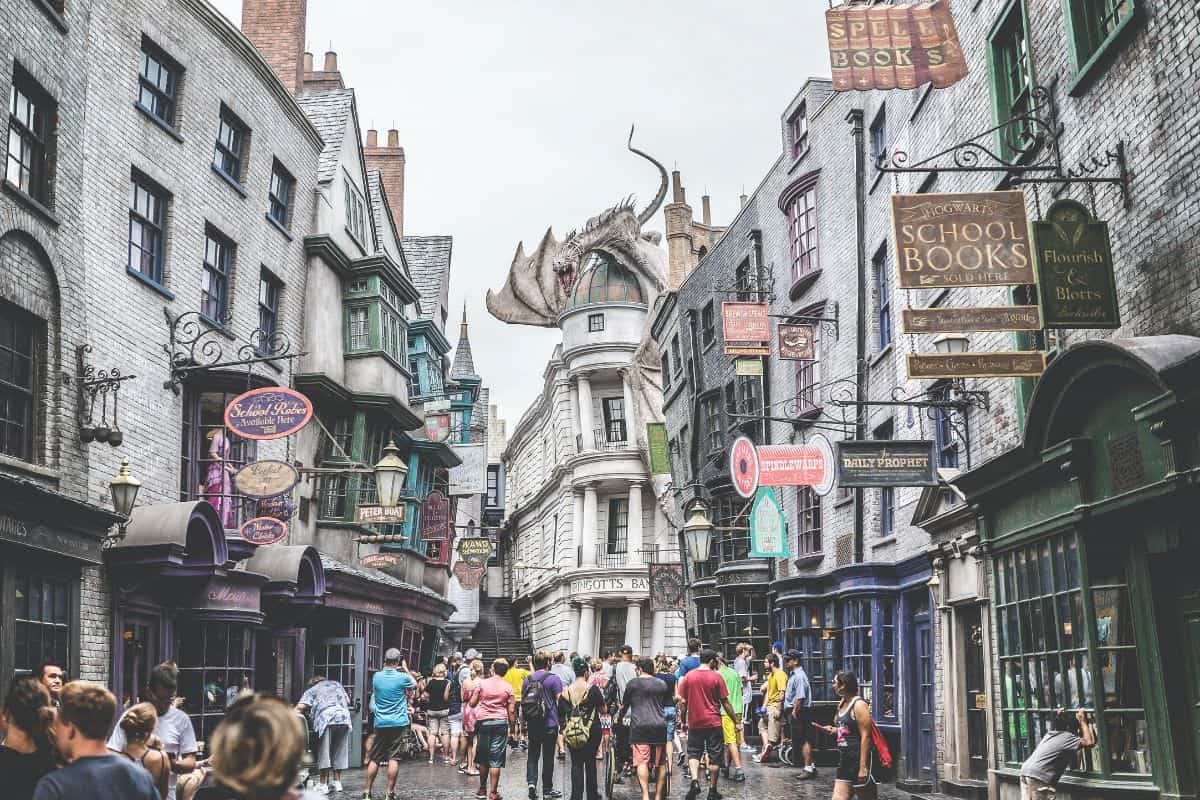 The Wizarding World of Harry Potter has become the number one attraction at all of the Universal Studios parks.
It features vast, immersive areas made to let you walk through both Diagon Alley and Hogsmeade from the movie franchise.
It doesn't stop at being a one-to-one replica though, as you can shop or dine in many famous places from the series.
You can visit Ollivander's wand shop and watch a wand-choosing ceremony before purchasing your own wand that interacts with other shops.
Stop in for a butterbeer at the Three Broomsticks, grab food at The Leaky Cauldron, or knock on the door at No. 12 Grimmauld Place.
While the area has a few Harry Potter-themed rides, you can spend hours checking out the different shops and enjoying the Wizarding World without going on them.
2. Springfield
Springfield is the Simpsons fan's version of Harry Potter World. The area is a replica of the show, allowing you to meet your favorite characters or grab food and drinks while you're there.
Stop in at Moe's Tavern and order a Flaming Moe, eat a huge pink doughnut from Lard Lad, or get tacos from Bumblebee Man's taco truck.
For adults, you can sample Duff beer in the "breweries" beer garden.
3. New York City
Universal Orlando has a "little New York City" area that serves as a functional movie production backlot. When not actively in use, you can walk around a smaller version of the Big Apple and enjoy the sights.
The backlot is home to a variety of attractions that include an Antiquity Museum from the Revenge of the Mummy, live street performers, and the Blues Brother's show we'll discuss later.
While you're there, stop in at Louie's Italian Restaurant for some food on the go and enjoy the restaurant featured in The Godfather.
Ben and Jerry's and Starbucks also have locations in this area of the park.
4. The Bourne Stuntacular
One of the most exciting shows to take in at Universal Orlando is The Bourne Stuntacular.
Combining cutting-edge effects and death-defying stunts, the show follows Jason Bourne as he is chased across the world by shadowy special agents.
The main features of the show include seeing him dangle from a helicopter in Dubai, race across rooftops, and a spectacular motorcycle chase scene.
Fistfights and shootouts occur throughout the show as well. This show runs throughout the day, so check showtimes in advance of going to the park.
5. Universal's Horror Makeup Show
The Horror Makeup Show combines live entertainment with interactive demonstrations.
It's a great chance to see top artists show off their special effects and makeup skills, as well as get a behind-the-scenes look at how horror characters are brought to life for the big screen.
It also features a small museum-style section to give you some background and history of how the art has changed over the years.
Be sure to watch the kids once you get back home since the show does teach you how to make movie-quality fake blood.
6. The Blues Brother's Show
Located in little New York is an amazing blues music show performed by the Blues Brothers, Jake, and Elwood. It's a great way to get your funk on and relax a little away from the hustle of the park.
Shows run daily in the park, so check showtimes before going in.
7. Simpsons Games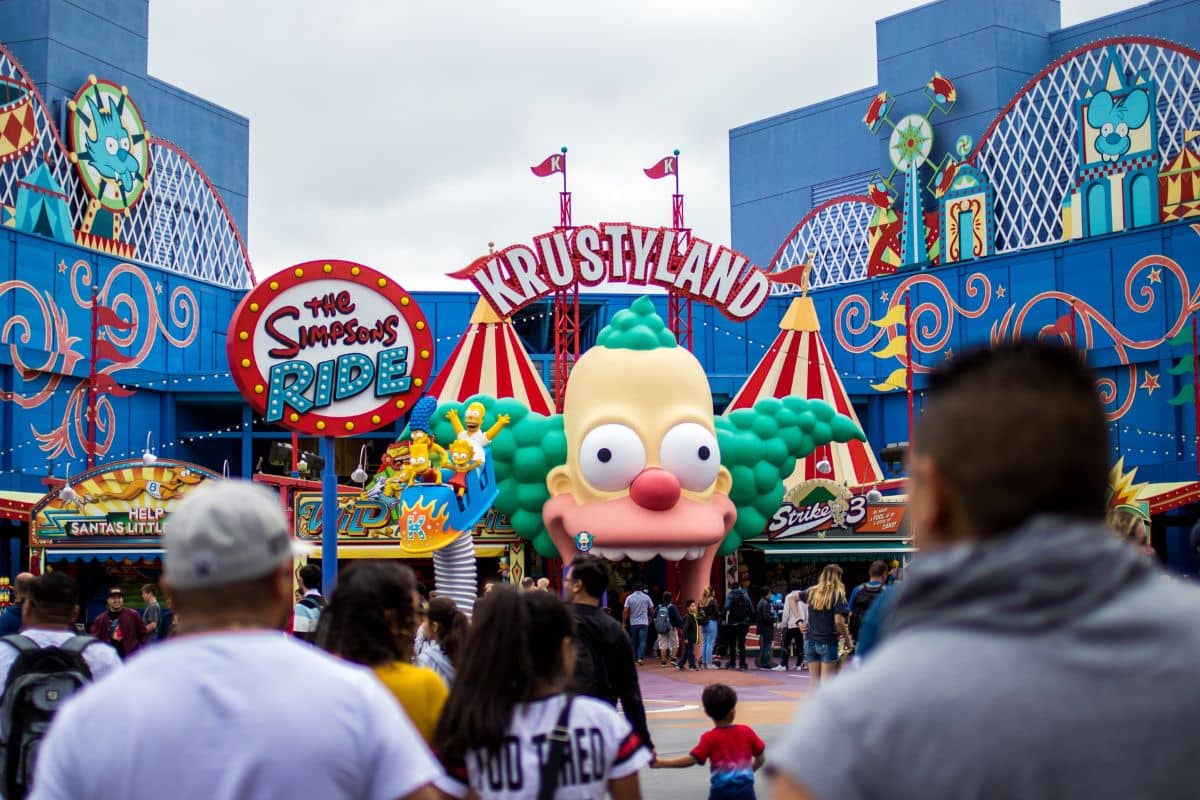 Classic carnival games with a bit of a Simpsons twist are found right on the boardwalk in Universal Orlando. Step up and test your luck with games like Whac-A-Rat, Dunk or Flunk, or Mr. Burns' Radioactive Rings.
The area is a good place to blow off steam and try to win some souvenirs. For lovers of classic fair and carnival games, it's a must-visit spot in the park.
8. Palace Theater Arcade
Florida is hot and muggy in the summer, so what better way to kill some time and cool off than playing classic arcade games in an air-conditioned building. Palace Theater Arcade features classic games like pinball, air hockey, racing simulators, and claw machines.
9. Kid's Playgrounds
Going to theme parks can be exhausting, especially for parents. Take a break and let the kids play at one of the two kid's playgrounds in the park.
Curious George Goes To Town and Fievel's Playland are the two available playgrounds.
The Curious George-themed playground features a water play area, foam ball launchers, and a cartoon building to explore.
Fievel's playground is inspired by the movies, An American Tail and Fievel Goes West and is filled with oversized props.
The main features of the playground include a 30-foot spiderweb, rope bridges, and a 200-foot long water slide.
10. Character Encounters
While at Universal Orlando, you should get your picture taken with your favorite movie characters. From a raptor encounter to Dreamworks Studios and Spongebob to the Transformers, there's something for all ages.
In addition to regular character meeting spots, Universal has events for characters that feature in their Superstar Parade and ones that are only around for a limited time.
Check who you can meet before going to the park so you can plan accordingly.
Honorable Mentions
Outside of the above can't miss attractions, Universal Orlando still has plenty of things to do for people who don't want to go on rides.
The Studio Tour is an hour-long tram ride that shows you real production studios and backlots.
Along the way, you might see some famous faces, as these are active-filming locations. The tour has a 4D theater and while it is a tram ride, isn't a traditional "ride."
The City Walk is an entertainment district accessible from the park. It has plenty of shopping and dining opportunities such as Sephora, Fossil, Hot Topic, Bubba Gump Shrimp, and Voodoo Doughnut.
The area also has an 18-screen movie theater showing the newest films.
Rides to Consider, Even if You Don't Like Coasters
People who don't like rides usually think of fast-paced roller coasters. While Universal is famous for those, it does have some rides that are much more tame and enjoyable.
Here are just a few rides you should consider, even if you don't like going on rides.
Hogwarts Express
Step into King's Cross Station and onto Platform 9 ¾ to ride the train that takes Hogwarts students to school.
The train serves as transportation between Harry Potter World on Islands of Adventure and the one in the main park but is an attraction in itself.
Run through a fake brick wall, relax on the train, and transition between London and Hogsmeade seamlessly with the Hogwarts Express ride.
Men in Black Alien Attack
This isn't your average ride, as instead of zooming around on tracks you'll be shooting down an alien invasion.
Compete against other cars for the highest score as you go through the streets of New York and eliminate over 120 kinds of aliens.
While it isn't a coaster, the ride is faster-paced and spins around quite a lot. It's much tamer than most of the major rides and if you can handle it you'll have a blast with the target shooting.
Harry Potter and the Forbidden Journey at Islands of Adventure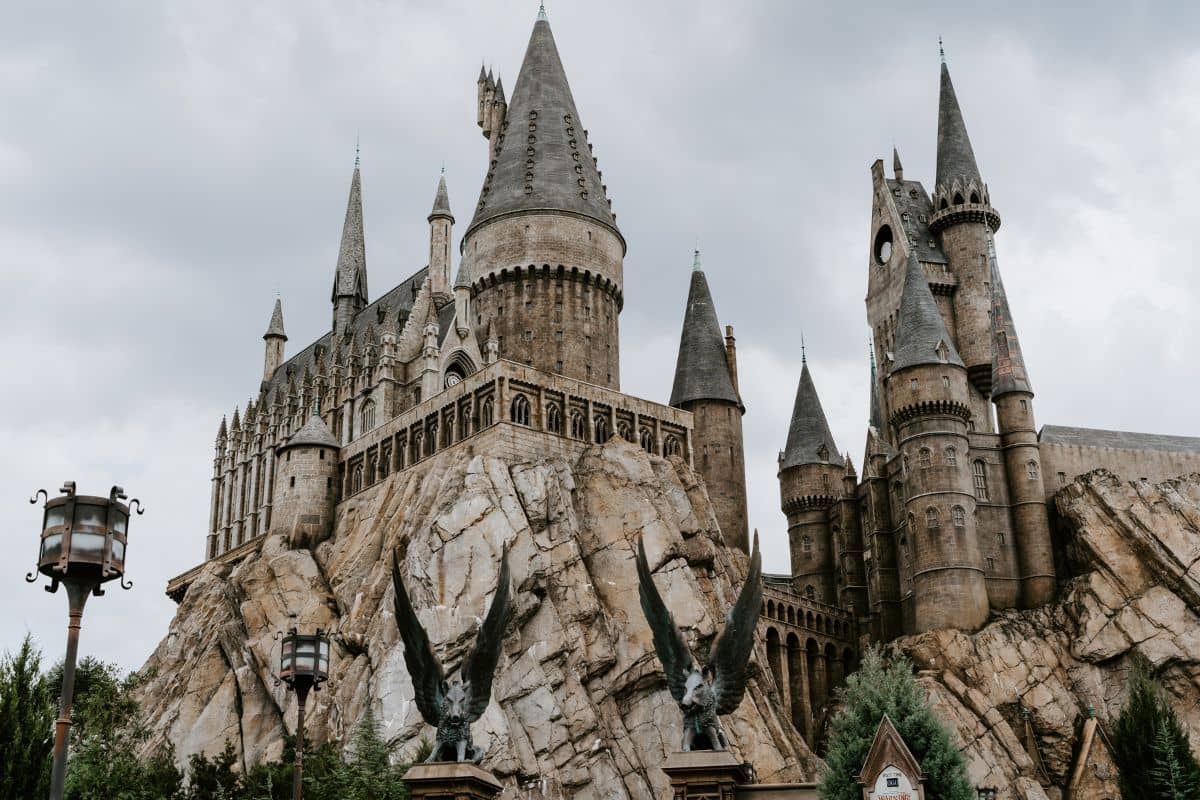 Part ride, part movie, the Forbidden Journey lets you fly around and explore the grounds of Hogwarts like never before.
The ride lets you catch a quidditch match, fly by dementors, and around Hogwarts castle.
The ride has no drops and is slow-paced, making it bearable even for people who don't like coasters.
If you can handle being tilted on your back briefly, the ride is a breathtaking experience that you shouldn't miss.
Conclusion
Universal Studios Florida is a massive theme park that's famous for its roller coasters.
Even if you don't like rides and prefer not to go on them, the park has plenty of attractions to enjoy throughout your day and is worth visiting.