Are Universal Studios Orlando Pools Heated?
Heated swimming pools are one of the best things about staying in a fine hotel, especially if you're visiting a resort like Universal Studios and you're coming from a cooler climate.
But if this is your first trip to the theme park you're probably wondering if Universal's pools are heated since it's located in sunny Florida.
Here we'll look into the pool situation there and find out if they're heated or not.
Universal Studios Orlando has its own water park, water rides, and play areas.
Every hotel on the resort has at least one pool as well.
Thankfully, all of them are heated, though not year-round. Some places only turn on the heater during the few colder months that Florida experiences.
The good news is that no matter what time of year you visit Universal Orlando, you'll be able to hop into a heated swimming pool.
We'll discuss which pools are heated and when they're turned on, as well as answer some commonly asked questions about the pools in the resort.
Heated Pools At Universal Studios Orlando
How Warm Are The Pools at Universal Studios Orlando?
Generally, you should expect the pools in the resort to be heated to around 80 degrees Fahrenheit.
Talking a dip in the morning, the pool will be cooler, as they are only heated during operating hours.
When Are The Pools Heated?
All of the pools at Universal Studios are heated pools, but this doesn't mean they are heated year-round.
For the most part, the pools are always heated in the winter.
Some hotels won't turn on the heating system in the summer, as it can be incredibly hot outside already.
The most popular pools are always heated, as long as lifeguards are on duty and it's during the pool's operating hours.
Universal's Water Rides, Heated or Not?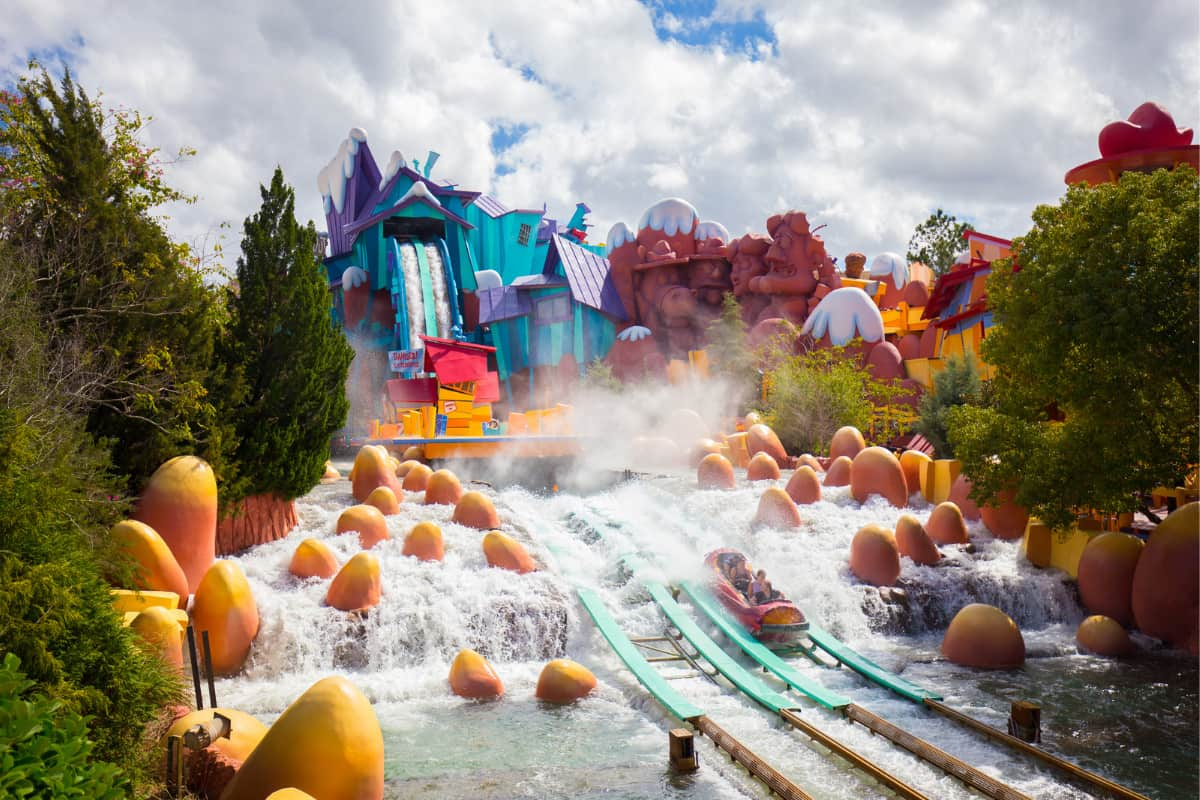 The water rides at Universal Studios parks do not seem to have heated water in them.
You should expect to get wet if you plan on riding Dudley Do-Right's Ripsaw Falls, Jurassic Park River Adventure, or Popeye & Bluto's Bilge-Rat Barges.
In the winter, this can be incredibly uncomfortable, mostly due to the air temperature after you get out with no easy way to dry off.
These rides may also be closed for refurbishment during the colder months, so hotel pools or Volcano Bay are your best bets for a watery adventure.
Volcano Bay Heated Pools
Volcano Bay keeps its water heated to around 80 degrees Fahrenheit year-round.
This includes almost every waterslide, river, pool, and ride.
This heating system is the main reason the park can operate year-round and only closes when it gets cold enough to be dangerous for guests.
What swimming options are available other than pools in the resort?
All five of the hotels in the resort have their own pool(s), but that isn't the only water attraction on site.
Universal's Cabana Bay Beach Resort features two heated pools.
The north pool is 10,000 square feet and has a white sand beach, a 100-foot waterslide, and poolside cabanas to rent for the day.
The south pool is 6,000 square feet and features a lazy river that runs through a botanical garden, as well as its own sandy beach.
Hard Rock Hotel features a 12,000-square-foot pool with an underwater sound system.
The 260-foot waterslide is a ton of fun and the hotel puts on poolside live music events.
Loews Sapphire Falls Resort has a 16,000-square-foot pool with two white sand beaches, hot tubs, water slides, a poolside bar, and a kid's play area.
Loews Royal Pacific Resort has a pool made to mimic a lagoon and beach.
The water is of course heated and offers plenty of activities including pool basketball and ping pong.
There are hot tubs and an interactive play area for kids as well.
Loews Portofino Bay Hotel has three themed swimming pools.
The Beach Pool comes with a waterslide made to look like a Roman aqueduct, the Villa Pool offers cabana rentals, and the Hillside Pool offers a private environment, themed more for adults.
FAQ's
Are pools open year-round in the resort?
Pools stay open year-round thanks to the mild winters Florida experiences and the heating systems for the pools.
Do check for regular maintenance that may close the pool at the hotel you plan to stay at in the resort.
Volcano Bay theme park is open year-round.
The park reserves the right to close on particularly cold days when it would be unsafe to operate the water park, but these are usually few and far between.
Can I pool hop in Universal Orlando?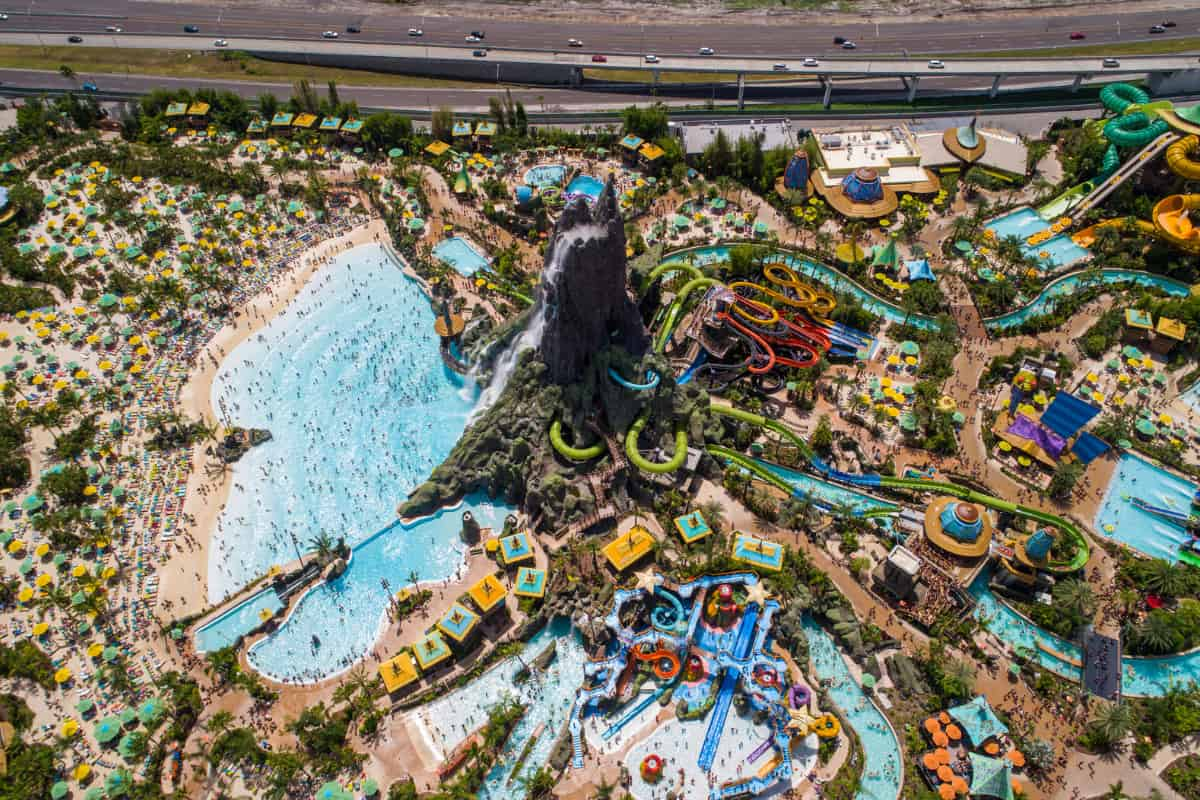 One awesome thing about staying at a Universal Orlando Resort hotel is that no matter which one you stay at, you have access to all of the other hotel pools.
Guests of any hotel can freely hop between hotel pools, allowing you to experience all of them and decide which one is your favorite.
Does Universal Studios provide towels?
Resort hotels do provide towels to guests.
You can bring them from your room or request them from the front desk.
One thing to keep in mind, Volcano Bay does not provide towels for park attendees.
You'll need to bring your own towel to this park.
Conclusion
Universal Studios Orlando is the perfect winter resort to get away from the cold weather at home.
Warmer weather, heated pools, and plenty of family-friendly fun make it an ideal winter vacation for the whole family.