Can You Pool Hop At Universal Orlando Hotels?
When visiting accommodations with multiple properties like Universal Orlando Hotels and Resorts, it's natural to be curious about the amenities at other nearby resorts and hotels.
Pool hopping is a fun way to see other properties and get the most out of a resort vacation, as guests can enjoy the perks that each pool offers.
Guests can pool hop at Universal Orlando hotels if they stay at a premier, preferred, or prime hotel. Those who stay at an Endless Summer resort hotel cannot pool hop.
This article will explain pool hopping at Universal Orlando Resorts and Hotels. It will then describe the pools at Universal properties, including those at the Endless Summer resort hotels.
What Is Pool Hopping?
If you know what bar hopping is, you know what pool hopping is.
Pool hopping is visiting more than one pool, possibly in a day, to experience the different amenities available at each property.
Unlike bar hopping, which typically occurs in a single evening, many people pool hop over the course of several days.
Can I Pool Hop at Universal Orlando Hotels?
Guests can pool hop at Universal Orlando hotels if they stay at a premier, preferred, or prime hotel.
Visitors staying at an Endless Summer hotel are not permitted to pool hop.
The following on-site hotels allow pool hopping at any other property on the list:
Universal's Cabana Bay Beach
Universal's Aventura Hotel
Loews Sapphire Falls
Loews Royal Pacific
Hard Rock Hotel
Loews Portofino Bay
How Do I Pool Hop at Universal Orlando Hotels?
To pool hop at Universal Orlando hotels, just show your valid hotel key card to the staff on duty, and they will let you in.
Pools at Universal Orlando Hotels
Each pool at Universal Orlando is a little different, so here are some details about them to help create the perfect pool-hopping itinerary.
Universal's Cabana Bay Beach
The jewels of the Cabana Bay Beach pool are the luxury cabanas that accommodate up to six people.
Every cabana has an LCD TV, telephone, table, armoire, and refrigerator for ultimate comfort. They also come with a personal safe, so guests don't have to worry about valuables and belongings.
When guests aren't hanging out in their cabanas, they enjoy the retro-style pool, dive tower-themed water slide, and one of the hotel's many fire pits and picnic tables.
If you get hungry, you can head to the Atomic Tonic poolside restaurant, where you can order sandwiches, salads, kebabs, wine, beer, and more.
The Cabana Bay Beach hotel also houses a second pool with a lazy river, sand beach, and even more fire pits.
This second pool also has its own restaurant, The Hideaway, which serves snacks and cocktails.
Universal's Aventura Hotel
Although the pool at Aventura is much more standard than many of the others at Universal, it does have a splash zone, making it great for young kids.
Aventura's pool area also has fire pits and plenty of tables and chairs.
After relaxing in the sun, guests can eat, drink, and be merry at the poolside bar Bar Sol.
Loews Sapphire Falls
At 16,000 square feet (1,486 sq m), Loews Sapphire Falls features the largest pool at Universal Orlando.
But that's not the only reason Sapphire Falls' pool stands out.
This hotel also boasts a hot tub, so guests can take a relaxing soak while the kids play in the pool or the children's area.
Visitors can also rent a cabana and relax around the sandy beach or enjoy the woodsmoke from the many fire pits.
Visitors feeling more adventurous can try out the pool's water slide or participate in the many activities in the pool area, such as hula hoop contests or ping pong tournaments.
After working up an appetite, guests can walk to the on-site restaurant, the Drhum Club Kantine, for seafood, burgers, nachos, and sandwiches.
Loews Royal Pacific
As a tropical-style hotel, the pool at Loews Royal Pacific features pristine white sand and plenty of picturesque palm trees.
And if that isn't enough to get you in the island mood, you can rent a cabana with a ceiling fan, TV, fridge, and complimentary fruit bowl.
For some kid-free time, guests can relax in one of the pool's two hot tubs while watching the little ones play at the Royal Bali Sea interactive water area.
To enhance the tropical experience, visitors can get a fish taco, cocktail, or a Kona Half Pound Burger at the poolside Bula Bar and Grille.
Hard Rock Hotel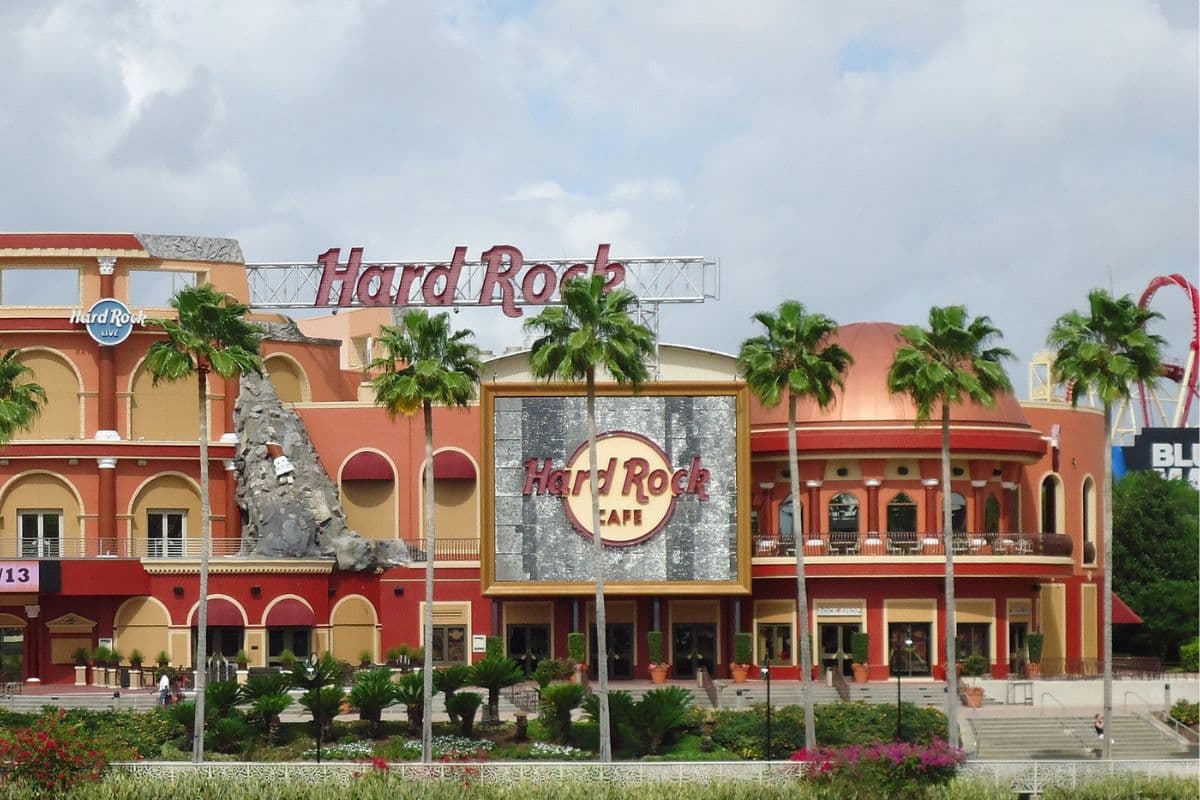 The Hard Rock Hotel's pool is an absolute must-see for music fans.
Not only does the pool have a monthly rock concert where musicians like Eddie Money and Joan Jett have played, but there's even an underwater sound system.
Guests can hang out in one of the pool's hot tubs while jamming to live music or work up a sweat at the volleyball court.
And if that's not enough, how about gliding down a 260-foot (79 m) waterslide into a 12,000-square-foot (1,115 sq m) pool?
Plus, pool guests don't even have to get out of their chairs to eat!
With poolside service, visitors can order snacks and drinks from the beachclub restaurant and have them delivered right to their seats.
Loews Portofino Bay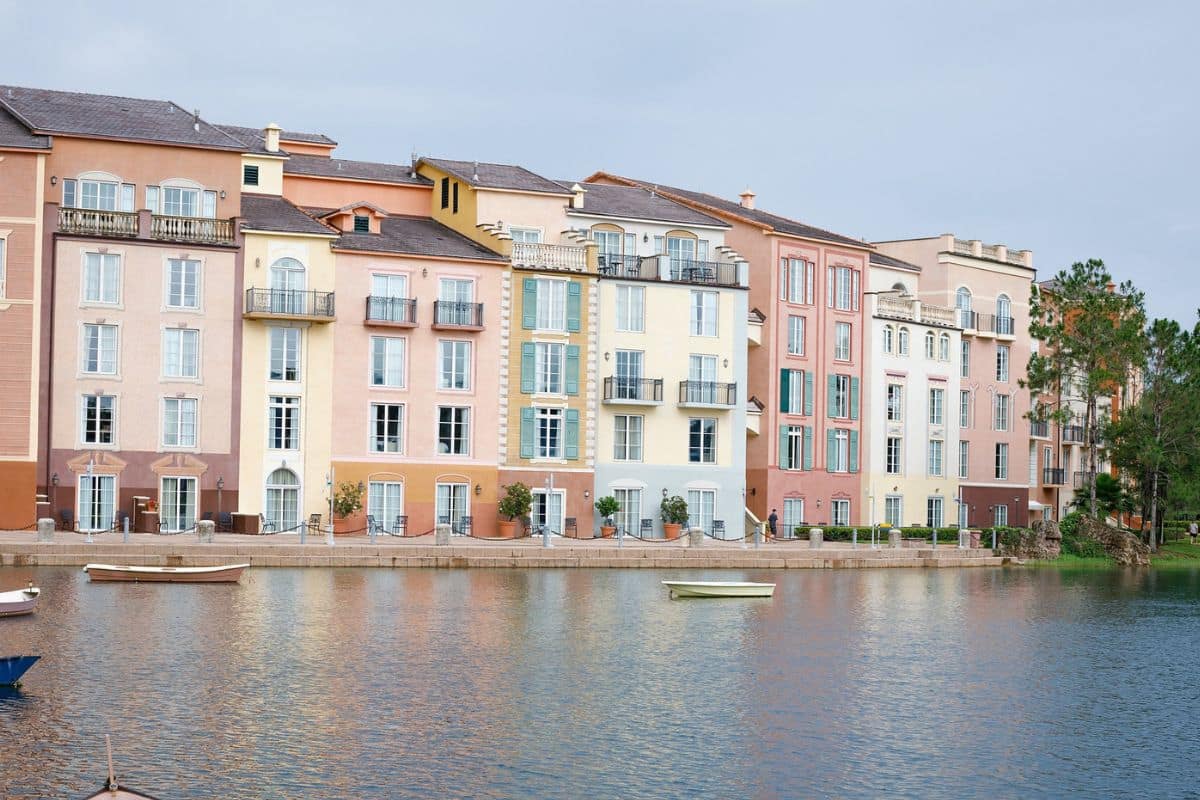 Portofino Bay's main pool, the Beach Pool, allows guests to enjoy the Florida sun while delivering the experience of a European vacation.
With a waterslide in the style of a Roman aqueduct and beautiful scenery inspired by the Italian Riviera, this pool offers the most luxurious soak at a Universal Resort.
Portofino Bay's pool also has three colorful cabanas, two hot tubs, a sand beach, and children's pools so everyone can spend their time just as they wish.
And while you're enjoying yourself, don't forget to try a burger from the Splendido Bar and Grill or a beer or cocktail from The Thirsty Fish.
Do the Endless Summer Resort Hotels Also Have Pools?
Both Endless Summer hotels, the Dockside and Surfside, have pools, but these pools don't offer the same amenities as the other six properties mentioned above.
Guests at Dockside can still have a blast at the hotel's two pools, and younger kids can enjoy the children's play area.
Dockside guests can also grab a bite at one of the two restaurants on site: The Wave Maker's Pool Bar and The Oasis Beach Bar.
Similarly, Surfside guests can hang out in the surfboard-shaped pool and try out some of the alcoholic beverages at the poolside Sand Bar.
Conclusion
When staying at a Universal Orlando premier, preferred, or prime hotel or resort, guests can take advantage of the pools at other similar properties.
Every pool at a Universal Orlando hotel or resort is different, offering visitors a unique experience at each property.
Guests at an Endless Summer Hotel cannot pool hop but are encouraged to enjoy the pools and amenities offered at their resort.