Disney Springs vs Universal CityWalk: What Is The Difference?
Walt Disney World and Universal Orlando offer two major shopping districts where guests can eat, drink, shop, and find live entertainment.
Disney Springs and Universal CityWalk have many similarities and differences, so deciding which one to visit can be challenging.
Disney Springs and Universal CityWalk have restaurants, shops, boutiques, and shows that appeal to guests of all ages. Disney Springs delivers more of everything, especially in terms of live entertainment, and even offers family-friendly rides. In contrast, Universal CityWalk is easier to access because it's connected to the entrance of Universal's theme parks.
Disney Springs and Universal CityWalk offer an exciting taste of the Disney or Universal experience without visiting a theme park.
It can be tricky to make the most out of a trip to these areas, and this article details all the fun things available in each entertainment district.
What Does Disney Springs Have to Offer?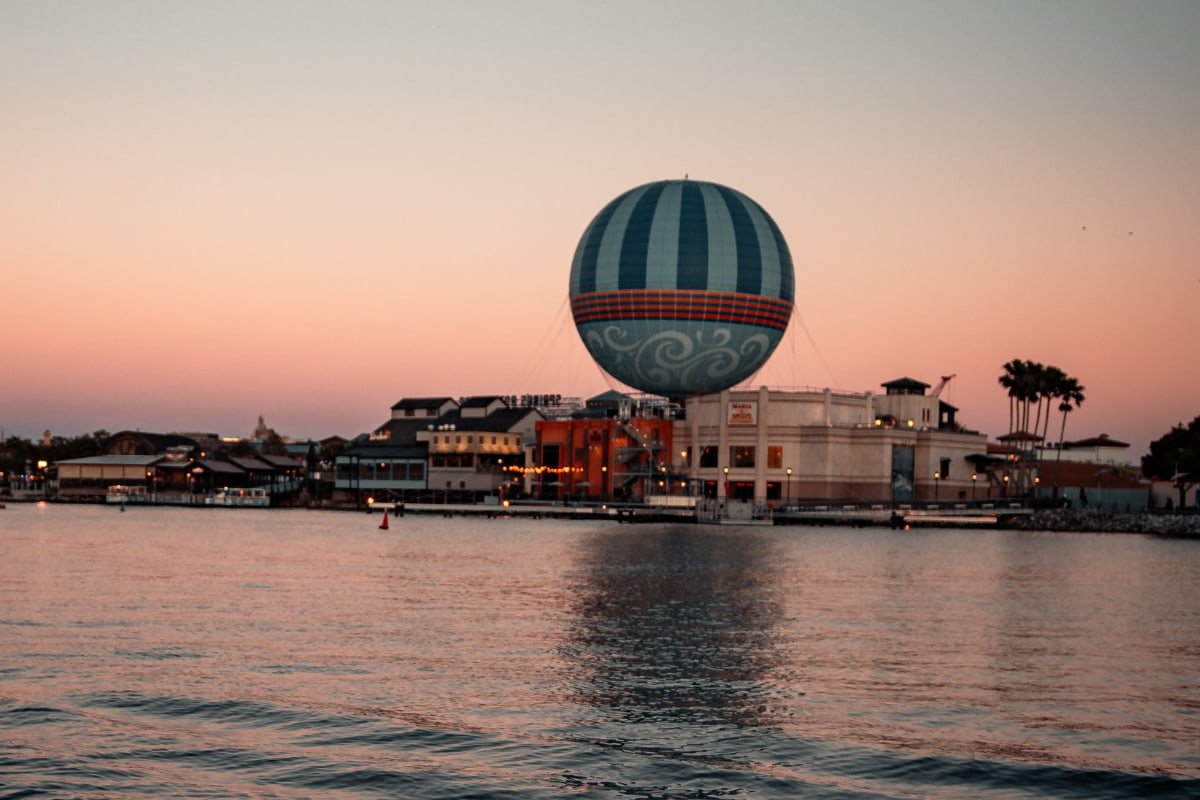 Disney Springs includes 66 places to dine, 103 shops, pop-ups, pavilions and boutiques, and 29 attractions and entertainment venues.
The property is spread across four distinct areas – Town Center, West Side, Marketplace, and The Landing – and the entire district is available to Orlando visitors, regardless of whether they have tickets to Disney's theme parks or water parks.
Unfortunately, Disney Springs is separate from the Disney World parks, and visitors must drive to reach it.
Self-parking is free to all guests, and valet parking is available on a limited basis for $20 plus tax.
While there are quite a few places to park at Disney Springs, self-parking spots fill up fast during events.
Guests should arrive at least an hour before an event to increase their chances of finding a parking space.
Dining at Disney Springs
Disney Springs hosts a wide variety of dining experiences that suit every taste. 
Visitors can find dine-in restaurants and quick-service locations throughout the property offering American, Asian, Italian, and Irish cuisines, such as pizza, burgers, barbecue, sushi, deli sandwiches, snack foods, and ice cream.
Table service restaurants offer guests a place to sit and enjoy a full meal surrounded by the magic of Disney without stepping foot in the theme parks.
Highly-rated restaurants at Disney Springs include:
Frontera Cocina
The Boathouse
Morimoto Asia
Paddlefish.
Quick service establishments include bars, food trucks, dessert places, snack shops, pizza places, and fast food.
Popular quick-service restaurants at Disney Springs are:
Disney Food Trucks
Cookes of Dublin
Dockside Margaritas
Amorette's Patisserie
The Polite Pig.
Several options for dining with a show are also available at Disney Springs.
Guests can try excellent food while partaking in a variety of entertainment at:
Animated Evening – Drawn to Life Prix Fixe
AMC Disney Springs 24 Dine-In Theatres.
Shopping at Disney Springs
Disney Springs is one of the premier places to shop in Orlando, with over a hundred stores, boutiques, kiosks, and pop-up shops available. 
Whatever souvenir, gift, or memento a person wants, they can probably find it here.
Retail locations selling art, clothing, shoes, jewelry, toys, health and beauty products, housewares, gifts, and collectibles are scattered throughout every area in Disney Springs.
Popular brand-name stores at Disney Springs include:
Coach
Lacoste
Harley-Davidson
Pandora
Lego
Lululemon
Anthropologie.
In addition to the popular name brands, Disney Springs also contains several shops specifically geared toward Disney fans, including:
Bibbidi Bobbidi Boutique
Disney PhotoPass Studio
Disney's Pin Traders
Disney's Candy Cauldron
Disney's Days of Christmas
Disney's Wonderful World of Memories
DisneyStyle
Art of Disney
Goofy's Candy Company
Star Wars Galactic Outpost
Star Wars Trading Post
World of Disney.
Entertainment at Disney Springs
Disney Springs is also one of the best places in Orlando for entertainment, with bars, nightclubs, karaoke, concert stages, and more.
Some attractions at Disney Springs are family-friendly rides, like the Marketplace Carousel, Marketplace Train Express, Vintage Amphicar tours, and Aerophile – The World Leader in Balloon Flight.
Other attractions are perfect places to relax, such as Splitsville Luxury Lanes, AMC Disney Springs 24 Dine-In Theatres, Drawn to Life Presented by Cirque du Soleil and Disney, and the Coca-Cola Polar Bear Photo Op Experience.
More mature visitors can find adult-only fun in the Wine Bar George and the Stargazers Bar.
Live shows occur at several locations in Disney Springs throughout the day and night.
Guests looking for live entertainment can head to the following venues:
Riverboat Square
Raglan Road Live Music – Patio Stage
Sunshine Highline
The Edison Live Entertainment
Waterview Park
House of Blues
Paradiso 37 Entertainment
Exposition Park
AdventHealth Waterside Stage.
Visitors can dance to live music at The Edison Live Entertainment, sip cocktails, and witness performances by aerialists and others.
Riverboat Square hosts street performers and magicians, and dance performances occur daily outside the Raglan Road Irish Pub and Restaurant.
Anyone who visits Disney Springs can find plenty to enjoy, no matter their age, interests, or tastes.
What Does Universal CityWalk Have to Offer?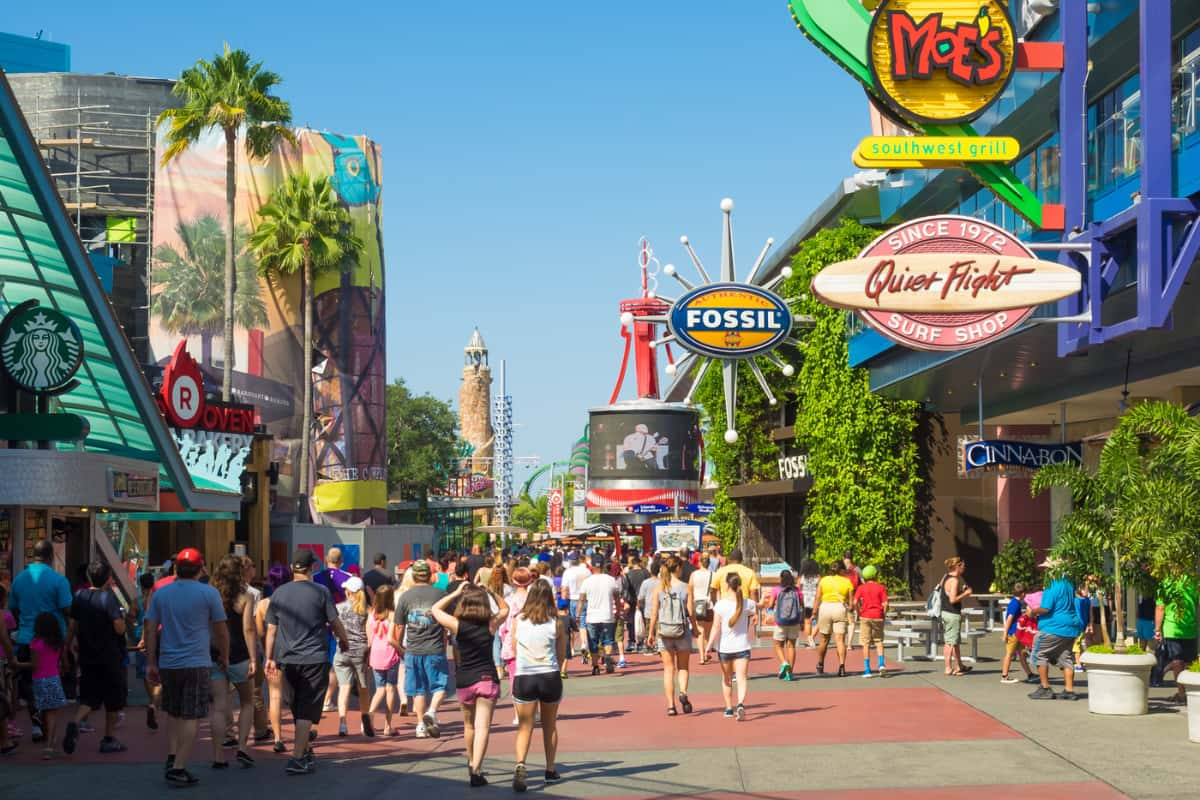 Universal CityWalk is the gateway to two big theme parks – Universal's Islands of Adventure and Universal Studios Florida.
Because visitors to these parks have to stroll through CityWalk to reach the front entrances, it is easy to visit this shopping district.
CityWalk contains many things to do, but the area is smaller than Disney Springs, containing 29 restaurants, seven shops, five nightclubs, a movie theater, and two venues that host live concerts.
Parking at Universal CityWalk is free after 6 pm, except during Halloween Horror Nights events.
Before 6 pm, Regular Parking is $27, and Prime Parking is $40 to $60, depending on the season.
Visitors to CityWalk who see a movie at the Universal Cinemark Theater can park for free between 11 am and 6 pm when purchasing at least two matinee tickets.
Dining at Universal CityWalk
The restaurants at Universal CityWalk offer a variety of dine-in and quick service options that serve diverse cuisines, such as Mexican, Asian, Italian, and American.
Table service restaurants at CityWalk are well-known places such as The Cowfish Sushi Burger Bar, Bubba Gump Shrimp Company, Hard Rock Cafe Orlando, and Jimmy Buffett's Margaritaville.
Quick-service restaurants at Universal CityWalk are also famous, including places like Menchie's Frozen Yogurt, Auntie Anne's, Cinnabon, and Voodoo Doughnut.
Shopping at Universal CityWalk
With only seven shops at Universal CityWalk, it is easy to peruse each store.
Universal Orlando offers two shops outside the parks, the Universal Legacy Store and Universal Studios Store, where visitors can purchase themed souvenirs before or after visiting the parks.
Guests can buy keepsakes from favorite restaurants, like Hard Rock Cafe Orlando, Jimmy Buffett's Margaritaville, and the Toothsome Chocolate Emporium.
Two other shops – the Hart and Huntington Tattoo Company and the Quiet Flight Surf Shop – have cult-like followings.
Visitors flock to these famous specialty brands to purchase
Entertainment at Universal CityWalk
Universal CityWalk has several entertainment options for visitors.
Five nightclubs stay open until 1 or 2 am, each delivering different late-night experiences.
Most of the clubs offer food and drinks along various themes, including Mardi Gras with dueling pianos at Pat O'Brien's, Jamaica at Bob Marley – A Tribute to Freedom, and Margaritas at Jimmy Buffett's Margaritaville.
Guests can live out their dreams of being a diva at CityWalk's Rising Star in front of a live audience, where they can be the lead singer of a band, complete with backup singers.
In addition to the nightclubs, Universal CityWalk also hosts live concerts at the Hard Rock LIVE stage, and family-friendly entertainment includes two themed mini golf courses at Hollywood Drive-In Golf, open from 8 am to 1 am.
Conclusion
Orlando isn't just the home of world-famous theme parks – it also hosts excellent places for shopping, dining, and entertainment.
Disney Springs is Disney World's shopping complex, where visitors can find a wide variety of restaurants, over a hundred shops and boutiques, and plenty of attractions to entertain guests of all ages.
While Disney Springs is not close to any of the theme parks, it offers free parking and plenty of Disney magic outside of the parks.
Universal CityWalk is the gateway to Universal's Islands of Adventure and Universal Studios Florida – making it easy to access before or after a day at the parks.
While CityWalk doesn't have as many restaurants, shops, and attractions as Disney Springs, it does have several excellent nightclubs that stay open until 1 or 2 am.
Parking is not free until after 6 pm, except for matinee moviegoers at Universal's Cinemark Theater.
The big-name shops and restaurants at CityWalk make this entertainment district a must-see for visitors wanting to experience something special.
Disney Springs and Universal CityWalk each have their own unique style and vibe, and travelers to the Orlando area should try to check out both.