Why Is Universal Studios Orlando So Expensive? (5 Reasons)
Universal Studios Orlando is expensive because the demand to go there is high.
People from all over the world travel to this famous theme park to enjoy the thrilling rides and see their favorite movie and television characters come to life.
5 Reasons Why Universal Studios is So Expensive
1) High Demand
Even if Universal were to raise their ticket prices annually, they would still have enough visitors willing to pay whatever the cost was to enter.
Between Harry Potter fans, rollercoaster enthusiasts, and people who just love movies, Universal Studios Orlando has something for everyone and delivers on the experience.
It's why the park hosted close to 11 million people in 2019 – that's over 30,000 people every single day!
2) Maintaining an Enjoyable Experience
Universal Studios has to balance its business needs with guest experience, and the cost of admission reflects this.
If they charged too little, they would have to increase capacity, which could compromise the enjoyment of everyone at the park.
More people equals longer wait times for rides or restaurants, messier facilities, and generally decreases the quality of amenities available.
Ultimately, Universal prices the theme park's tickets so they can turn a profit and keep things rolling while still preserving an unforgettable experience for their guests.
3) Operating Costs
Universal Studios also has to keep a keen eye on operating costs (e.g., wages, insurance, upkeep, landscaping, fireworks, material costs, etc.).
As a matter of fact, ticket sales/admissions aren't the main profit-generating mechanisms for Universal Orlando – these income streams only pay for maintenance and daily operations.
In truth, Universal makes the most money from food and games, and the profits are used to cover costs and keep the park exciting and entertaining.
4) Paying for New Attractions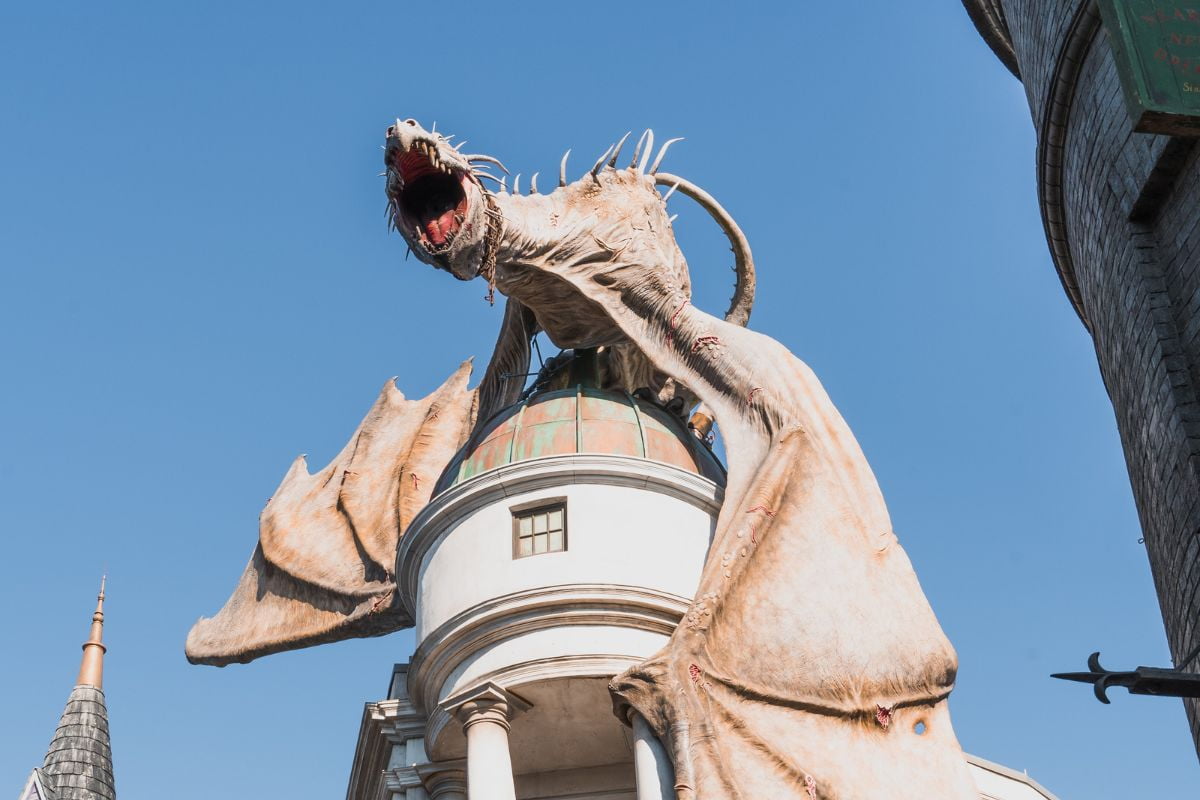 While Universal Studios truly is great as is, it does have to build new attractions to keep up with the competition and stay fresh.
In the past, outside sponsors and organizations spent big money advertising in theme parks, helping to offset Universal's innovation costs.
Unfortunately, with the advent of internet marketing and social media, this is no longer the case.
So, to keep people coming in and help cover the cost of new attractions, Universal Studios prices its tickets accordingly.
5) Seasonal Ticket Prices at Universal Studios
The admission rates at Universal Studios Orlando vary and are often categorized into three dates as per the demands of the season: value, regular, and peak.
This means ticket prices fluctuate depending on the time and date you visit the park.
January, February, late April, early May, late August, and early September are the least expensive times to visit Universal Orlando.
You will also find Universal Studios less busy than usual after Spring Break in the US or in early November before the winter holiday celebrations.
The peak season is usually around Halloween, from Christmas to New Years, during Easter, and throughout the summer months.
Buying your tickets in advance (instead of purchasing them at the gate) can also be quite cost-effective as there's usually a discount for buying your tickets online.
In addition to the calendar, other factors play a part in determining Universal Studios' ticket prices.
The rates also vary according to the number of days you intend to stay, the number of parks you'll be visiting in one day, and any extra perks you add, such as the Express Pass option.
A basic, 1-Park, 1-Day ticket starts from $109 for adults (ages 10 and up) and $104 for children (aged 3-9).
Fortunately, the theme park offers multi-day tickets on a sliding per-diem scale, meaning the per-day costs decrease the more days you spend at the park(s).
For instance, a 2-Park, 2-Day Pass (One Park Per Day) starts at $214, saving you around $4.
But the savings aren't its main selling point – it's the fact that you can visit both Universal Studios and Islands of Adventure (each on a different day, though).
The most expensive ticket option is the 3-Park, 3-Day, Park-to-Park Pass, which starts at $335 for adults; $325 for children.
This ticket allows you to bounce between all three Universal parks at any time during any of the three days you're there.
If you're not in the mood to wait in lines, you're welcome to buy an Express Pass, but your overall costs will increase.
The Universal Express Pass, which allows you to skip the lines once per ride, starts at $80 for one park.
The Universal Express Unlimited Pass, which allows you to skip the ride lines unlimited times, will set you back $110 for one park.
Extra Expenses to Consider
Airfare
If you don't live in Orlando, Florida, the location of Universal Studios, you'll need to get there.
If you live anywhere in the U.S, a flight ticket to Orlando will cost you somewhere between $250 and $300.
Meanwhile, budget flights from Canada start at about $450 and increase depending on starting location and date of travel.
Understandably, flights from Europe are more expensive and cost upwards of $700 per flight.
As most of us know, the cost of air travel varies significantly depending on the route and the time of year, so it's definitely something to factor in when considering a trip to Universal Orlando.
Accommodation
In addition to airfare, you'll also need accommodation.
Thankfully, there are on-site Universal Studios Orlando hotels for every budget, and one night can range anywhere from $100 to $300.
What makes the on-site hotels a tempting choice for accommodation is that they offer attractive perks.
For example, you can get Early Admission to Volcano Bay and The Wizarding World of Harry Potter, free transportation to the Universal Studios theme parks, charging privileges all over the resort, delivery of souvenirs right to your room, etc.
A room at an on-site Premier Universal Studios hotel will also get you a free Universal Express Unlimited pass and priority seating at selected restaurants.
Parking
If you plan to drive to Universal Studios, you'll need to include parking costs.
There's only one parking complex for guests at Universal Orlando, where general parking costs $27 a day.
However, a Prime Parking option is available for visitors at $60 per day.
As its name suggests, Prime Parking gives you better access, allowing you to park closer to the entrance.
Conclusion
While it's fair to say that a base rate of $109 for adults is not nothing, it's not so much that Universal Studio tickets are overly expensive for what they offer.
What makes Universal Studios Orlando an expensive getaway are the other factors (e.g., airfare, accommodation, parking, and of course, food, drinks, and souvenirs).
It all comes down to whether you believe the rides and attractions at Universal Studios Orlando are worth the price of admission.
No pun intended.