Which Universal Orlando Park Is Better For Harry Potter Fans?
Attention all witches and wizards!
We've received a question straight from the Owl Post and are ready with our answer.
Universal Studios Florida and Universal Islands of Adventure both channel the magic of the Wizarding World – but guests who can only visit one have a big decision to make.
Harry Potter fans who must choose between the Universal Orlando Parks will need to consider the kind of experience they're looking for. For thrill-seeking Potterheads, Islands of Adventure's Hogsmeade might be the better choice. For Potterites craving an authentic and nostalgic experience, Universal Studios' Diagon Alley might just fit the bill.
While both parks have magical rides, immersive worlds, and mystical amenities, they each offer unique experiences.
To help park-going witches, wizards, and muggles decide between Hogsmeade and Diagon Alley, we've compiled a summary of what each park offers and tips for making this tough choice.
What Does Each Park at Universal Orlando Have to Offer Harry Potter Fans?
Even though both Universal Studios Florida and Universal's Islands of Adventure do an amazing job of bringing The Wizarding World of Harry Potter to life, they each have distinctive features that could sway fans one way or the other.
This section breaks down each park's magical offerings to make the decision (somewhat) easier.
Universal Studios Florida's Diagon Alley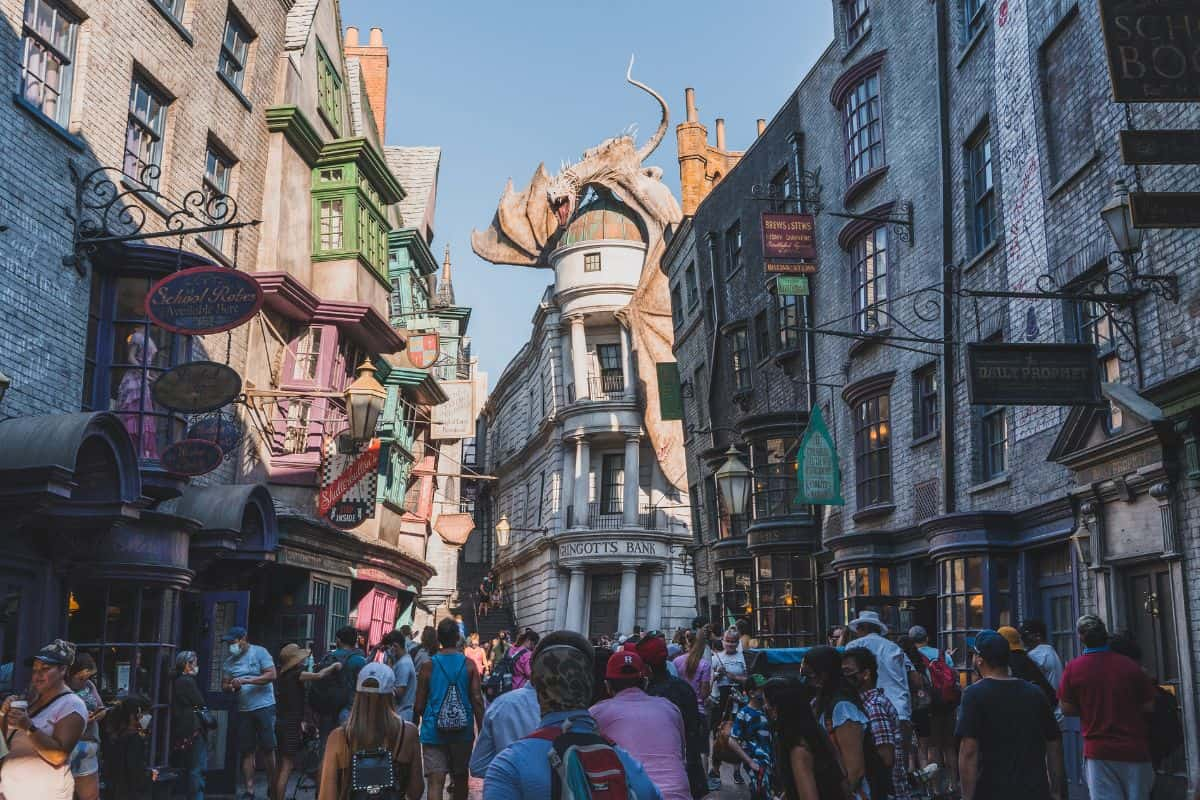 Although smaller than its counterpart, The Wizarding World of Harry Potter – Diagon Alley in Universal Studios Florida is cozily packed with enchanted encounters and stunning accuracy that super fans will appreciate.
Rides
Diagon Alley offers two rides for guests to try: Harry Potter and the Escape from Gringotts and Hogwarts Express: Kings Cross Station.
Harry Potter and the Escape from Gringotts certainly leaves its riders in awe.
With its eerie goblins and decadent architecture, this multidimensional motion-simulated ride allows fans to experience a dark and narrow escape from the wrath of evil.
The Hogwarts Express: Kings Cross Station offers a calm yet magical experience amongst beautiful scenery and enchanting creatures.
Immersive Worlds
Before boarding the Hogwarts Express at Kings Cross Station, visitors walk through the brick wall at Platform 9 ¾ just like Harry and his friends.
To feel all the more like Harry, guests can find their perfect wand at Ollivanders and take it for a spin at specified medallions throughout the park.
These medallions allow budding witches and wizards to practice their magic with the help of wizarding mentors there to support younger spell casters.
This spell-casting experience is special at Diagon Alley because there's also the opportunity to wander into Knock-Turn Alley, where darker magic dwells.
Between the park's witches and wizards going about their day among the muggle tourists and the opportunity to witness magic around every corner, guests at Diagon Alley will truly feel as though they've been written into the novels.
Amenities
The top tier amenities at Diagon Alley are the food and beverages as well as the shopping.
Restaurants
The restaurants featured at Diagon Alley include:
Leaky Cauldron
Florean Fortescue's Ice Cream Parlor
Eternelle's Elixir of Refreshment
The Fountain of Fair Fortune
The Hopping Pot
At the Leaky Cauldron, guests can indulge in English favorites like fish and chips or bangers and mash, then gobble up traditional or uniquely flavored ice cream at the top-rated Florean Fortescue's Ice Cream Parlor.
Wash these savory meals or tasty treats down at Eternelle's Elixir of Refreshment, where water transfigures into delicious brews, or stop by The Fountain of Fair Fortune for alcoholic and non-alcoholic drinks, including the famous Butterbeer.
Those on the go will enjoy The Hopping Pot's walk-up counter, serving ice cream and regular or frozen beverages.
Shopping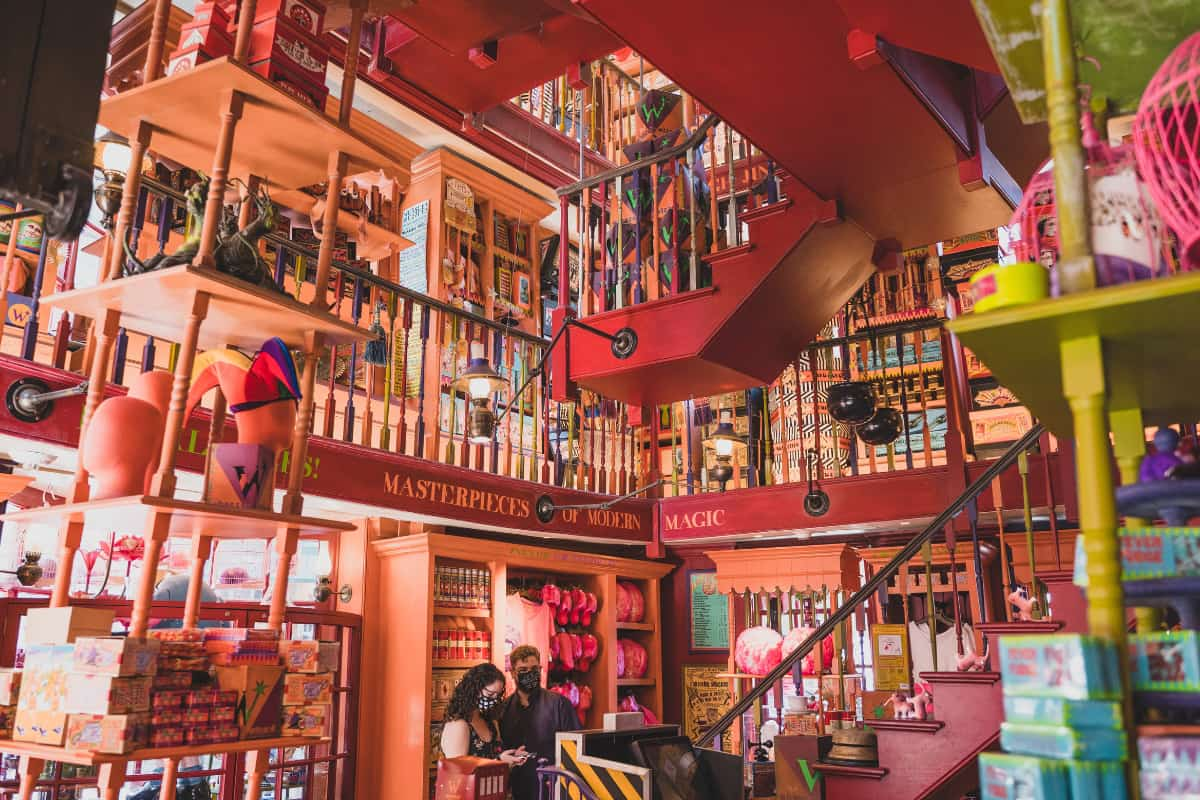 Diagon Alley's shopping experience is beloved because of its variety and authenticity.
The shops featured include:
Borgin and Burkes
Globis Mundi
Gringotts Money Exchange
Madam Malkin Robes
Magical Menagerie
Ollivanders Wand Shop
Quality Quidditch Supplies
Scribbulus
Sugar Plum Sweet Shop
Wands by Gregorovitch
Weasleys' Wizards Wheezes
Islands of Adventure's Hogsmeade
With its Wizarding World stretched far and wide, Islands of Adventure's Hogsmeade charms visitors with its daring experiences.
Rides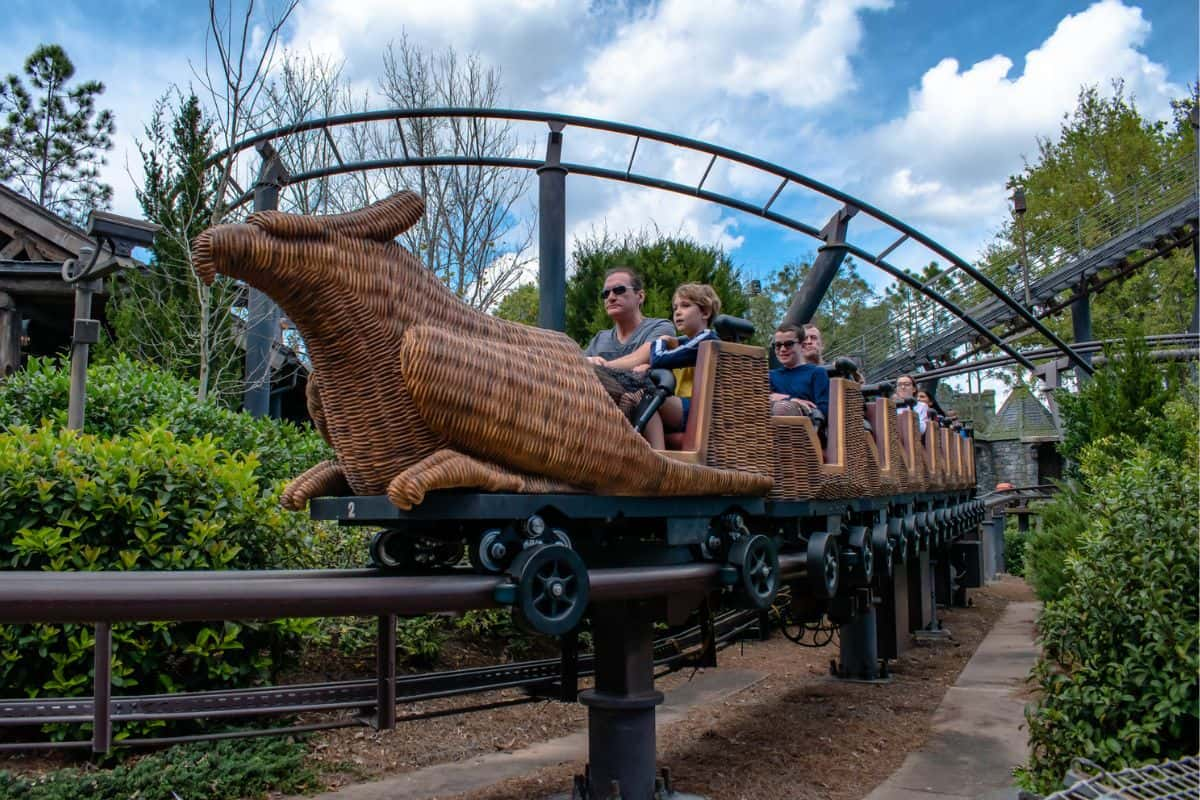 Those coming to The Wizarding World of Harry Potter for the rides will be astonished by Hogsmeade's larger selection.
Hogsmeade's rides include:
Thrill seekers will rave about Hagrid's Magical Creature Motorbike Adventure and its daunting 1-mile (1.6 km) track and will adore Harry Potter and the Forbidden Journey's motion-simulated adventure into Hogwarts.
For a gentler riding experience, Harry Potter fans will enjoy the family-friendly Flight of the Hippogriff or the quaint and magical ride on the Hogwarts Express back to Diagon Alley.
Immersive Worlds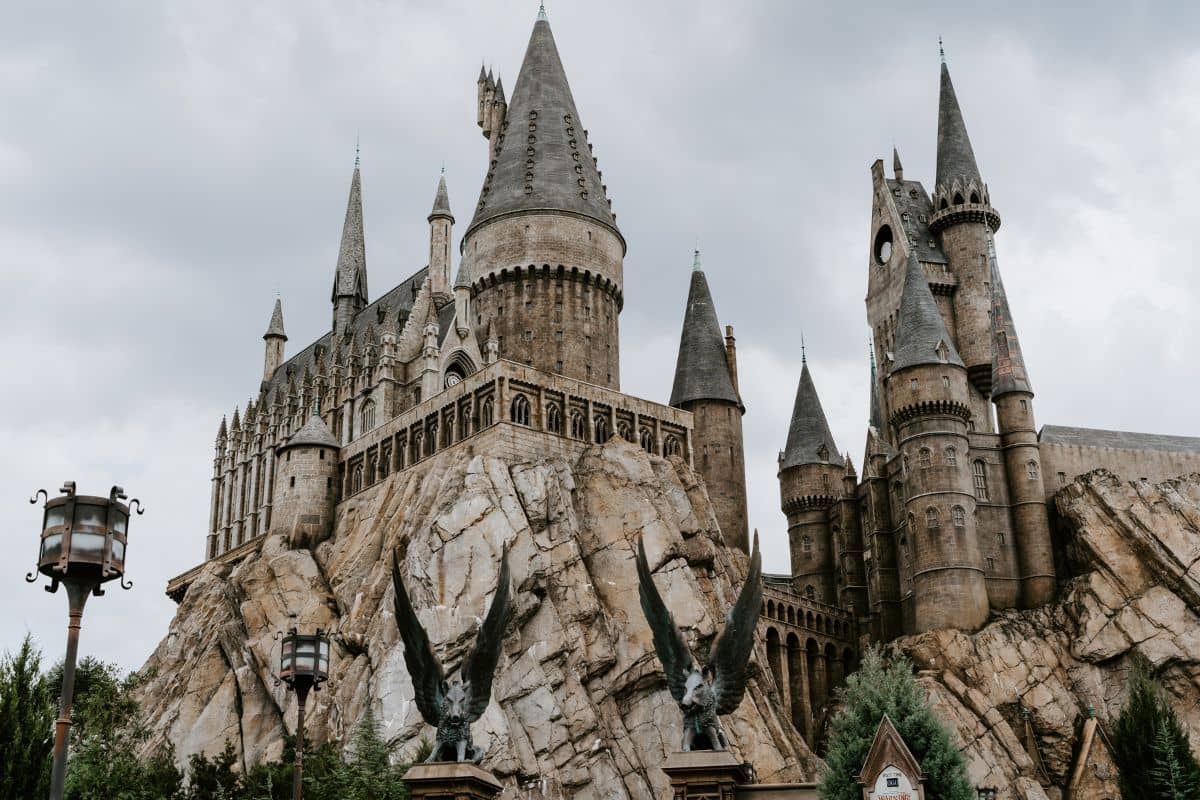 Identical to the Christmas village in the novels, Hogsmeade is frosted with snow and scattered with encapsulating attractions.
At Hogsmeade, novice witches and wizards can also try out their wands at dedicated medallion locations.
These locations are more dispersed and offer more complex spells for the savvy learner.
Arguably the main attraction of the Harry Potter series is Hogwarts Castle, and Hogsmeade lets visitors bask in its towering presence and enter its mysterious hallways.
With its expansive grounds and phenomenal backdrops perfect for photo ops, Hogsmeade is an excellent choice for any Harry Potter fan.
Amenities
The great amenities at Hogsmeade include the restaurants and shops.
Restaurants
Guests can't go wrong at any of the following Hogsmeade eateries:
The Three Broomsticks
Hogs Head
Honeydukes
Butterbeer Kiosks
Try out the fan-favorite The Three Broomsticks for traditional British fare, or head to the back and enter the Hogs Head for some Butterbeer and other alcoholic or non-alcoholic beverages.
Honeydukes is sure to satisfy any sweet tooth with magical tasty treats like the famous Chocolate Frogs and Bertie Bott's Every Flavour Beans.
For a quick Butterbeer fix, hit up the outdoor Butterbeer Kiosks in front of The Three Broomsticks or beside the bridge overlooking Hogwarts Castle.
Shopping
The three shops at Hogsmeade include:
Dervish & Banges
Filch's Emporium of Confiscated Goods
Owl Post
Fetch a broomstick or Hogwarts uniform from Dervish & Banges, collect seized treasures from Filch's Emporium, or write a postmarked letter from Hogsmeade at the Owl Post.
While there are fewer shops in Hogsmeade compared to Diagon Alley, they are more spread throughout the park and make for an adventurous shopping experience.
Do You Need to Visit Both Harry Potter Parks at Universal Orlando?
At some point, guests should try to visit both Universal Studios Florida and Universal's Islands of Adventure to get the full Harry Potter experience.
The Wizarding World was designed so guests could enjoy both halves together – ideally with multi-day Park-to-Park admission that grants access to the Hogwarts Express.
That said, picking either park will still give fans a satisfying slice of this magical world.
How Do You Decide Which Park is Best for You?
When deciding which park is best, guests should consider which aspects of the Harry Potter franchise resonate most with them and who they are traveling with.
If seeing Hogwarts is important, then Hogsmeade would be the ideal choice.
However, guests keen on grabbing their wand from the authentic Ollivanders may want to choose Diagon Alley.
The hyper-active immersive world of Diagon Alley, with simple magic lessons and fewer rides, might be a better fit for families with children.
On the other hand, the multiple thrilling rides at Hogsmeade will pique the interest of anyone looking to spike their adrenaline levels.
Conclusion
Universal Studios Florida's Diagon Alley and Islands of Adventure's Hogsmeade offer captivating and memorable visits to The Wizarding World of Harry Potter.
Diagon Alley is often commended for blurring the lines between fantasy and reality.
Hogsmeade is a more action-packed experience for those wishing to embark on the most daring aspects of The Wizarding World.
Harry Potter fans faced with picking one park over the other will have to weigh their options and choose which one offers the right combination of attractions and amenities.
Ultimately, if potential parkgoers can't decide between Diagon Alley and Hogsmeade, we suggest flipping a coin – fans can't go wrong no matter which park they choose.