Is Volcano Bay Open Year Round?
The constant warm climate in Florida has made Universal's Volcano Bay a popular destination since it opened in 2017.
As Universal Orlando's newest water-based theme park, Volcano Bay offers kids, adults, and everyone in between the chance to relax by the pools, enjoy exciting water slides, and much much more.
Just like the Florida sun, visitors can enjoy Volcano Bay any day of the year. The park's hours vary depending on crowd sizes and the season, and it only closes for unexpected weather and seasonal maintenance on select dates.
If you're planning a visit to Volcano Bay, keep reading to learn more about the park's year-round operations.
This article will detail opening hours, weather policies, and seasonal park amenities.
What Does Volcano Bay Have to Offer?
Volcano Bay is Universal Orlando's very own tropical-themed water park offering a variety of amenities and attractions all year round.
With 19 different water-based rides ranging from roller coasters to lazy rivers, the park has something for everyone to enjoy.
Visitors looking to skip the lines at participating attractions can purchase Universal Express Passes as an add-on to their park admission.
Upon entry to the park, Volcano Bay gives its guests a wearable device called a TapuTapu, which allows guests to join Virtual Lines and use TapTu Pay, the water park's cashless payment system.
All the restaurants at Volcano Bay are island-inspired and provide a relaxing environment for parkgoers to fuel up for more fun.
The theme park offers diverse menus and can accommodate guests with dietary restrictions and food allergies.
Volcano Bay also rents out Premium Seating and single and family-sized cabanas to those looking for a more private space to unwind, order food, and cool off in luxury.
For even more information about what Volcano Bay has to offer, check out Universal Orlando's official website.
What Are Volcano Bay's Operating Hours?
Volcano Bay's hours vary between the peak season and the off-season and depend on anticipated crowd sizes, day length, and the reliability of the weather.
One thing visitors can count on no matter the time of year is Early Park Admission.
Volcano Bay opens half an hour early all year round for those with the perk included with their tickets (e.g., Universal Orlando hotel guests or Annual Passholders).
Regular operating hours slowly transition during spring and fall as outside temperatures shift and the days get longer or shorter.
The park's busiest season is during the summer when crowds are large, and temperatures are at their hottest.
Beginning in May, Volcano Bay typically opens at 9 am and closes at 8 pm.
As summer progresses, the park stays open until 9 pm to accommodate higher attendance and longer days.
When the winter season begins, the park opens later and closes earlier.
By the middle of winter, Volcano Bay generally opens at 10 am and closes at 5 pm.
Volcano Bay does close on select dates throughout the year for seasonal maintenance.
Most of these dates are in winter, and guests can view Volcano Bay's current hours of operation on Universal's official calendar before planning their visit.
Does Weather Affect Volcano Bay's Operating Hours?
While Florida winters are warm enough for Volcano Bay to stay open and busy all year round, the weather still affects the park's hours.
Volcano Bay's weather policy allows most rides to remain open regardless of whether it rains; however, for safety reasons, the park will close if there is any thunder or lightning in nearby areas.
If there is thunder or lightning while guests are in the park, they're escorted to protected areas to wait out the weather.
Unfortunately, Volcano Bay does not offer ticket refunds due to weather closures.
It's always best to check the weather before entering the park – that way, guests can change their visit date if necessary.
Another reason Volcano Bay may close is if the temperature drops below 60ºF (15.5ºF).
At this temperature, it can be uncomfortable and unsafe for guests to be in the park.
Is the Water Heated Year Round?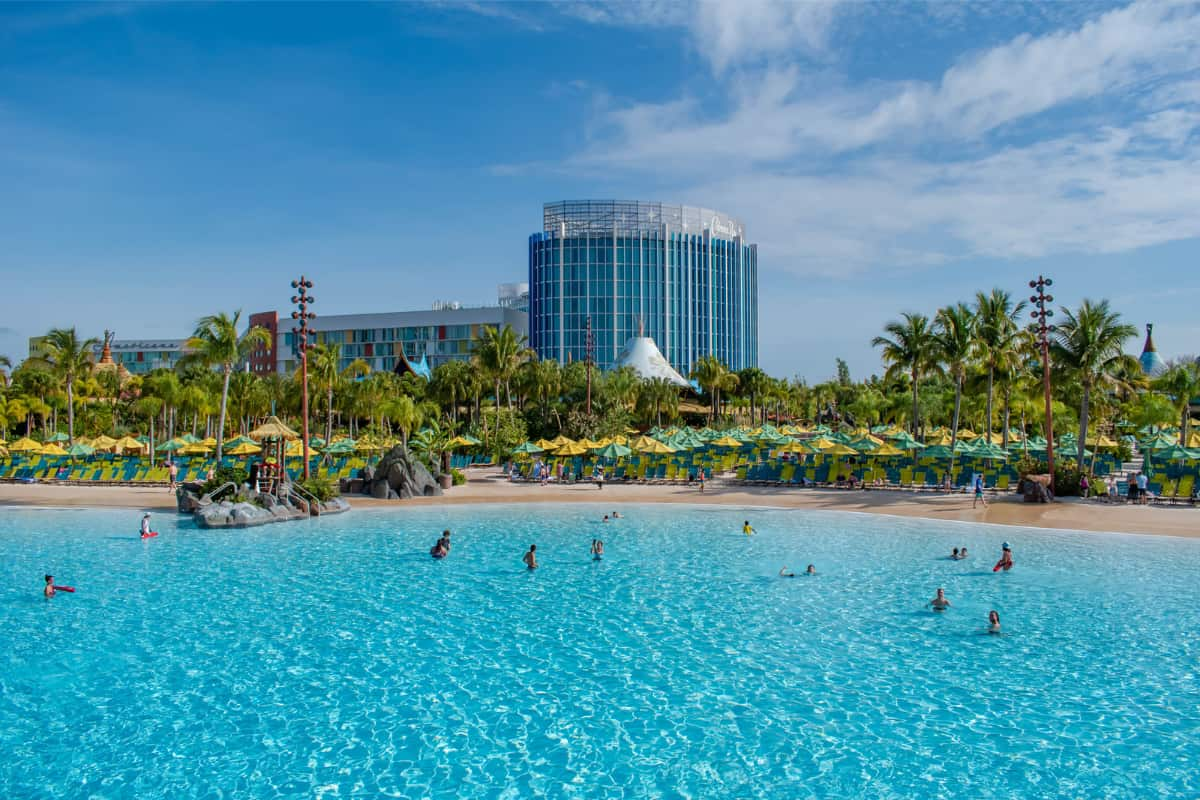 Visiting a water park in the winter can be intimidating for one very big reason: the potential for the water to be cold.
Don't worry, though; Volcano Bay has its visitors covered.
All the water in all the roller coasters, pools, rivers, and slides is heated to 80ºF (26.6ºC) year-round.
By heating the water 12 months a year, Volcano Bay can keep its guests comfortable regardless of the weather.
Are Volcano Bay Tickets the Same Price Year Round?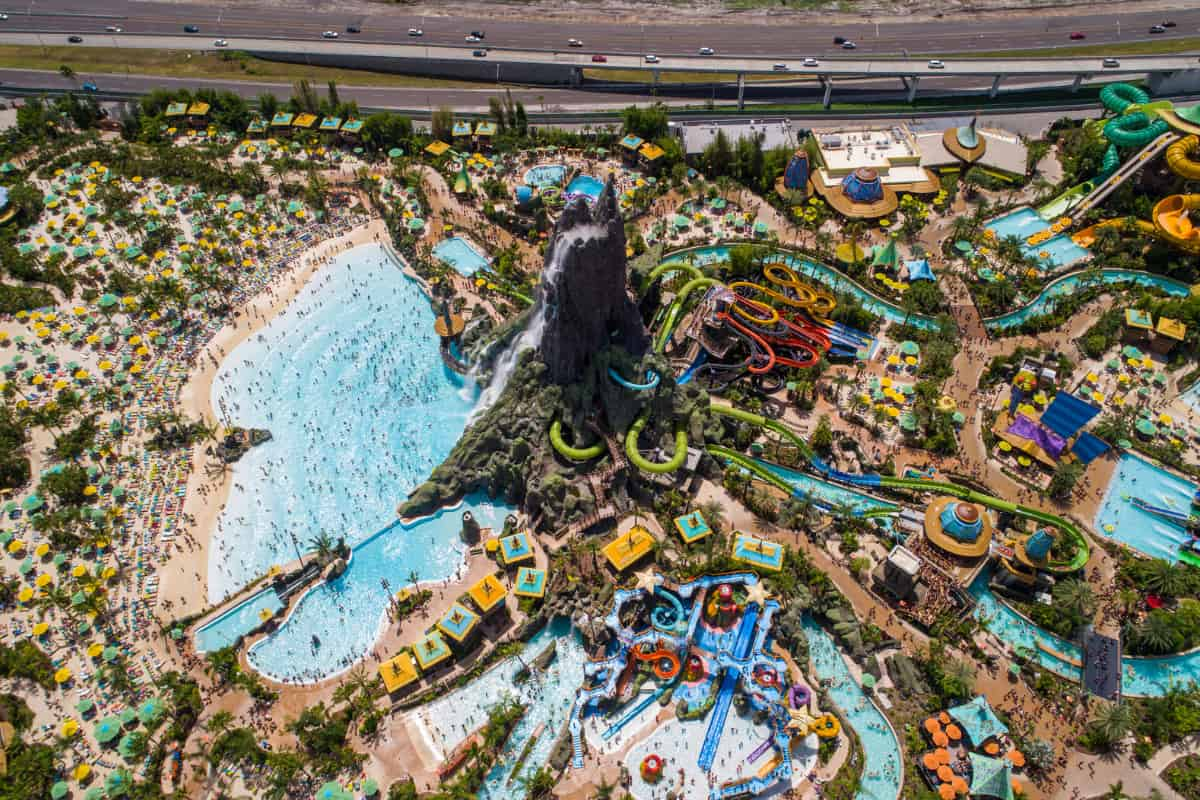 As with all theme parks, Volcano Bay's ticket prices fluctuate based on the season.
Generally speaking, tickets are more expensive during the peak season and decrease in price during the off-season.
Luckily, a one-day, single-park admission ticket only varies in price by about $5 between the peak season and the off-season.
When purchasing Volcano Bay tickets, guests can choose between single-park, multi-park, or Annual Passes.
Multi-park tickets and Annual Passes allow parkgoers to visit two or more of Universal Orlando's theme parks with the same ticket and differ in price based on which option guests choose.
Additionally, multi-park tickets are offered as One-Park-Per-Day or Park-to-Park passes.
One-Park-Per-Day tickets restrict visitors to a single theme park daily, whereas Park-to-Park passes are more expensive but allow guests to visit more than one park in a day.
Prices can change without notice, so confirm current pricing on Universal Orlando's official website.
Conclusion
The warm Florida climate and the constantly heated water in its rides and attractions allow Volcano Bay to stay open most days of the year.
Whether floating down the lazy river or barreling down one of their incredible waterslides, visitors of all ages can soak up the fun.
The park does close in the event of lightning storms or cold temperatures, so it's best to check the weather before visiting the park.
There are also several days each year when the park also closes for maintenance or other reasons.
By planning ahead and knowing the weather, parkgoers can plan a relaxing and memorable trip to Volcano Bay any time of year.