Do You Get Wet At Islands Of Adventure?
Universal Orlando is home to three distinct theme parks: Universal Studios Florida, Universal's Islands of Adventure, and the waterpark, Volcano Bay.
While guests expect to get wet when visiting Volcano Bay, visitors don't always know there are water rides at the other parks.
Islands of Adventure hosts three water-based rides, two in the Toon Lagoon and one in Jurassic Park.
Guests visiting the water rides at Toon Lagoon and Jurassic Park will get wet – and not just a little bit. It's impossible to stay dry at these attractions. Universal provides free lockers to keep personal items dry and people-sized dryers at the end of each ride.
These sections of Islands of Adventure are a must-visit for park-goers looking for a fun and easy way to escape the Florida heat.
Keep reading to learn more about these attractions and some tips for keeping dry and comfortable while enjoying the park.
What are the Water Rides at Islands of Adventure?
There are three water-based attractions at Islands of Adventure. Here's a brief run-down of each:
Dudley Do-Right's Ripsaw Falls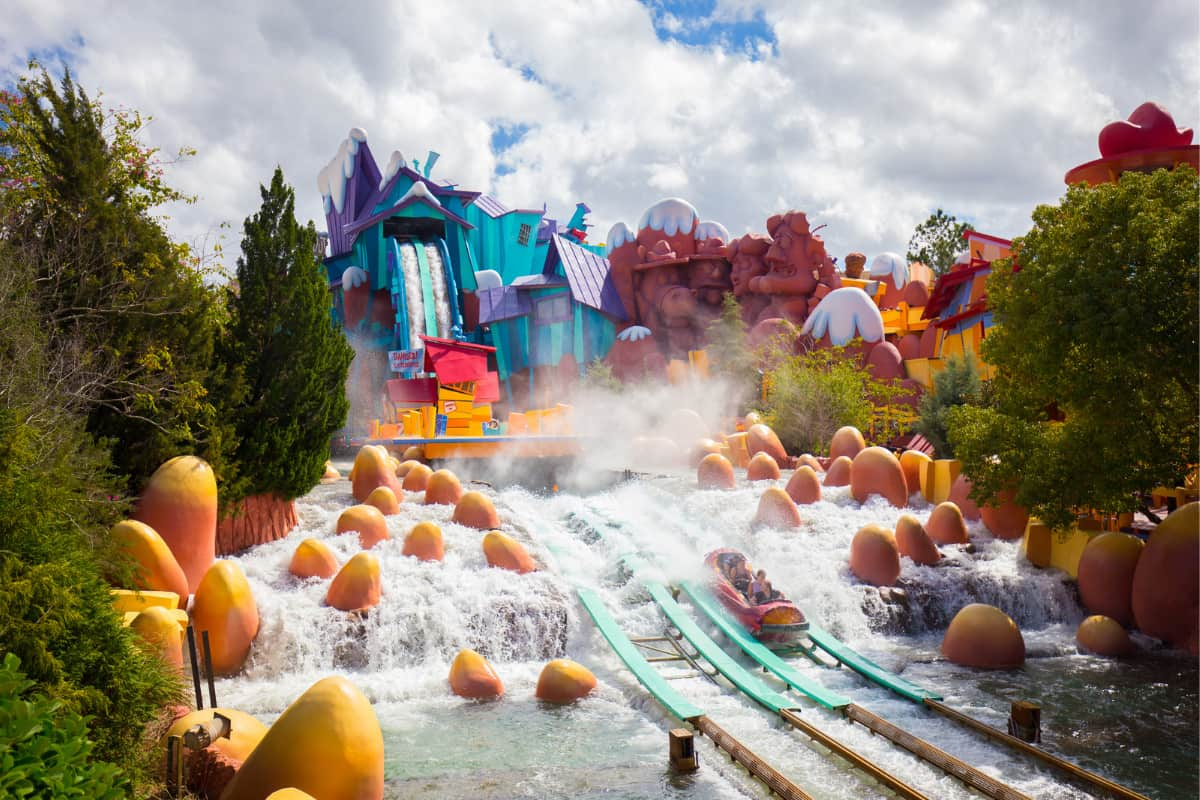 Dudley Do-Right's Ripsaw Falls is a popular attraction in the Toon Lagoon.
It's part rollercoaster, part water ride, and features many twists and turns accompanied by the lovable Royal Canadian Mountie, Dudley Do-Right himself.
This ride may be based on a vintage cartoon, but it's certainly not for the faint-hearted.
A nail-biting 75-foot drop at the end of the course naturally encourages a huge splash!
This ride is suitable for the whole family as long as everyone is taller than 44 inches (112 cm).
Children under 48 inches (122 cm) tall will need to ride with a supervising companion.
Popeye & Bluto's Bilge-Rat Barges
This next Toon Lagoon water ride features the brave Popeye taking on an 18-foot Octopus, all to stop his arch nemesis Bluto from making off with his girlfriend, Olive Oyl.
Guests will need to hold on tight as they make their way through raging rapids, and yes – they're sure to get soaked!
Unlike Popeye, you won't need spinach to make it through this ride, but you will need some courage as it's very fast and very wet, especially with landlubbers firing water cannons at you from the Me Ship, The Olive in the children's play area.
The minimum height requirement for Popeye & Bluto's Bilge-Rat Barges is 42 inches (107 cm), and children under 48 inches (122 cm) need to be accompanied by an adult.
Jurassic Park River Adventure
If you think water rides are tame, this one will certainly prove you wrong!
The Jurassic Park River Adventure starts as a calm journey in a rubber raft, but before you know it, you're hurtling towards an 85-foot drop at top speed.
Throughout the journey, you're being chased by a giant T-Rex, so getting wet is the least of your worries!
This attraction is based within the Jurassic Park area of Islands of Adventure, and children under 48 inches (122 cm) require an adult companion.
Unfortunately, guests under 42 inches (107 cm) tall are not permitted on the ride.
Can I Get Dry Easily at Islands of Adventure?
With three water rides at Islands of Adventure, guests may have questions about what to do after getting soaked on a ride – no one wants to walk around a theme park in wet clothes all day.
The good news is that it's very easy to get dry at Islands of Adventure as there are large people dryers at the exit of each of the water rides.
People dryers are essentially large pods that comfortably fit up to three people and blow warm air to dry guests off.
The dryers cost $5 for 3-5 minutes, and guests can exit the people dryer at any time from either side. It's a fairly pleasant experience because it's not claustrophobic.
Some visitors choose to dry off in the Florida sun, but that can take longer and be slightly more uncomfortable than 5 mins in the dryers.
How to Keep Dry on the Rides at Islands of Adventure
Here are a few of our top tips for keeping dry when riding some of the big soak rides.
Ponchos
Even though Orlando is known for its hot, sunny days, the weather can be unpredictable, and it can rain at any time of year.
Bringing a plastic rain poncho is highly recommended when visiting Universal Orlando, and even if it doesn't rain, you can use it on a water ride to help you stay somewhat dry.
Guests can bring their own ponchos, or there are many on sale for about $10 at stores throughout the park.
Shoes
Guests concerned about walking around in wet shoes after a water ride can either remove them before the ride or bring an extra pair for after.
Some guests also choose to wear or bring waterproof shoes so they can enjoy the water rides without wet feet later.
Conclusion
Guests who visit Dudley Do-Right's Ripsaw Falls, Popeye & Bluto's Bilge-Rat Barges, and the Jurassic Park River Adventure are guaranteed to get wet.
These water attractions at Islands of Adventure are made to shake you up and spit you out soaked through and through.
Fortunately, visitors won't have to spend the rest of their day dripping on the sidewalk – there are plenty of people-sized air dryers next to the exits of each ride.
Guests can also try to stay dry by wearing rain ponchos and removing their shoes (or bringing waterproof footwear).
There are lockers at each attraction so personal belongings can stay safe and dry while everyone enjoys the ride.