How To Get to Universal Studios Orlando Without a Car? (5 Ways)
A big plus when traveling to Orlando is you don't need a car to get around the city.
Renting a car is always an option if you want to control your transportation and travel routes, but there are alternatives available like ridesharing apps, city shuttles, and taxis.
Universal Studios is also in one of the most accessible parts of Orlando, so getting there should be stress-free for the most part.
Some transport options are preferred over others, and your ultimate choice will have to factor in budget, luggage, and the number (and age) of the people you're traveling with.
If you're trying to plan a trip to Universal Orlando, here are some of the main transportation options you should consider:
5 Ways to Get to Universal Studios Orlando Without a Car
1. Ridesharing Apps (Uber or Lyft)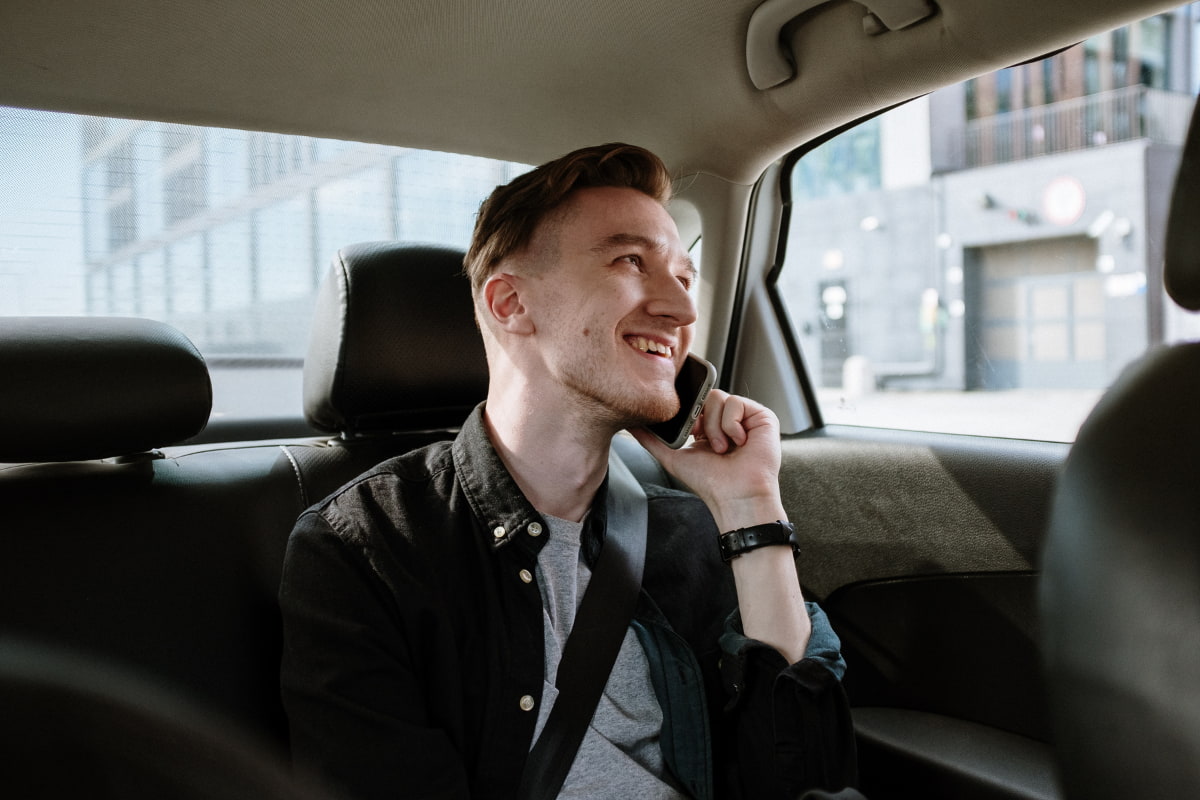 Right off the bat, ridesharing apps are the best alternative to renting a car – they're efficient, budget-friendly, and hassle-free if you're with your family.
They also save time compared to most other options on the list.
You can get a ride to Universal Orlando right from your hotel, but you first need to download Uber or Lyft and create an account.
It's common to download both as one company might charge less depending on the area and time of day.
Next, put in your pick-up location and drop-off destination.
If you have both apps, see which ride is closer to you.
If the difference is minimal, pick one and wait for your car to arrive.
The app shows you how long until your driver arrives (usually less than 10 minutes), and you will receive a notification when they do.
Keep in mind that these services tend to charge more when demand is high. This is called surge pricing.
For example, if you're in Orlando at the end of October, don't be surprised when prices skyrocket on Halloween.
Uber and Lyft are also available from the Orlando International Airport (MCO), and you can get a ride straight to Universal for roughly $28 – $35.
If you're a young family, Uber offers Car Seat Service, where drivers provide car seats for little kids who need them.
The ride will cost more, but you can also bring your own car seat to avoid the extra expense.
2. The I-Ride Trolley
The I-Ride Trolley is an affordable option to get around the International Drive (I-Drive) Resort Area.
If your hotel is on I-Drive or you're staying at the Universal Resort (also in the vicinity), it's an option to consider.
Though inexpensive, the trolley may not be the most favorable option when traveling with small children.
However, if you're on your own or traveling with older kids, teenagers, or other adults, it's a fun and unique way to explore the I-Drive area.
One trolley has a maximum capacity of 54 people and seats 41 riders, including two (2) spaces for wheelchairs that can be boarded using an ADA-specified hydraulic lift system.
Restricted to the International Drive Resort Area, the trolley system runs from 8:00 am to 10:30 pm and consists of 18 trolleys on two lines: the Red Line and Green Line.
The Red Line Trolley arrives about every 20 minutes, and the Green Line Trolley, taking a longer route, comes every 30 minutes.
Ask your hotel for an I-Ride Trolley map to check out the routes and stops.
There are over 100 locations on I-Drive where you can get your I-Ride Trolley passes, and you can also buy them online.
Note that passes are not sold on the trolleys.
You can pay cash for your trolley ride, but exact change is required, as drivers don't carry cash and can't make change.
Below is a list of the fares:
I-RIDE Trolley Cash Fares:
Single Adult fare (ages 10 to 64) – from $2 per ride
Child fare – $1 per ride (ages 3 to 9 with a paying adult)
Senior citizens (65 and over) – $0.25 per ride
I-RIDE Trolley Unlimited Ride Passes:
1-Day Pass: from $5 per person
3-Day Pass: from $7 per person
5-Day Pass: from $9 per person
7-Day Pass: from $12 per person
14-Day Pass: from $18 per person
Check out some reviews and what Orlando residents think of the system for a more in-depth look into the experience.
3. Shuttle
Shuttles are popular all over the country, but they may not be the best option depending on where you're going.
In this case, a shuttle to or from Universal Orlando costs about $21 for adults.
When comparing the budget and comfort level, you're sometimes better off getting an Uber (or Lyft).
If you're still contemplating using a shuttle, Mears Transportation Group operates the largest service around the area.
It costs about $11 (to/from Universal) for children ages 4 to 11, and it's free for kids 3 and under.
SuperShuttle is also a popular option as their fares are slightly cheaper, costing about $18 one-way to Universal and about $32 for a roundtrip ticket.
You can also get a shuttle at the Orlando International Airport.
The buses/vans travel to all destinations around the Central Florida area, and you can find them in Terminal A and B on Level 1.
Some are cheaper than an Uber, but you'll also have to factor in the size of your luggage and that you'll be sharing a ride with others.
If you do use a shuttle, don't forget to tip the driver.
4. Taxi Service
Taxi is not dead… yet.
But when comparing Uber with a traditional taxi, Uber wins hands down.
That said, using any rideshare app comes with logistical issues.
You need good cell service or a strong internet connection to download the app and request your ride, which are things you're unlikely to have if you're in a place with no WiFi or don't have a US data plan.
This, of course, is not the only situation to choose a taxi – some people just prefer taxis over other transport options.
Fortunately, Orlando has a reputable taxi service system run primarily by Mears (Yellow Cab Company, Checker Cab Company, and City Cab Company).
They're probably the only taxis you'll spot in the city.
You can usually get a taxi right outside your hotel or hail one at the airport.
It costs about $45-$50 from MCO to the International Drive Resort Area.
Depending on the vehicle, a taxi can accommodate four to nine passengers, providing plenty of room for a family.
However, it's more expensive than an Uber if your party comprises four or more people.
You also have to factor in extra charges if you plan on making stops or get caught in traffic.
As with the shuttle, it's standard to tip the driver.
5. Rent a Car
You don't have to, but you can rent a car if you're familiar with the city and want to get around on your own terms.
Most rental companies in Orlando offer both short and long-term rentals.
You can find them at the airport after you land or pick them up at varying locations around the Central Florida area, including I-Drive.
Like shuttles and taxis, rental car kiosks are located in Terminal A and B at MCO on Level 1.
However, getting your car at neighborhood locations is often cheaper than at the airport because Orlando International adds additional taxes and fees that increase overall charges.
Companies like Avis, Budget, and Enterprise are up to $200 cheaper when renting at a neighborhood location.
If it's not a big deal for you (and your party), take an Uber, Lyft, or Taxi to your hotel and pick up your rental car from around the area.
If you choose to rent your car at the airport, make sure you have lower-denomination currency with you, as the toll roads you must pass through won't accept anything larger than a $20 bill.
Getting Around Universal Orlando
Universal Orlando is not nearly as big as Disney World; however, sometimes, you need a way to get around the area that doesn't involve walking.
Universal offers a water taxi service that uses a dock in CityWalk as the heart of the system.
Getting from a hotel to a theme park is hassle-free, whereas moving between hotels requires switching boats.
If you do choose to walk, it takes about 20-35 minutes, depending on your speed and destination.
Don't worry, though. The pathways are full of visually appealing sites to take your mind off the distance.
Conclusion
You don't have to worry about not having a car when traveling to Universal Studios.
Getting to the theme park is easily possible through any of the above-listed options.
In my opinion, the ridesharing apps are the best choice overall, but any of the others will do the trick depending on your budget and situation.
If you have any questions, don't hesitate to ask Universal directly.
All off-site hotels should also know how to get to Universal and will help ensure you have the best experience possible.