Do Disney World Gift Cards Expire? (Updated 2023)
Disney gift cards are great alternatives to cash and credit cards on your Disney vacation.
You can use your gift card to pay for almost anything, including park tickets, food, and those classic Mickey Mouse ears.
Best of all, a Disney gift card doesn't expire or lose its value if left unused for a long period of time. As long as you got it from a reputable source, your gift card is valid no matter how old it is or how long it's been since you last recharged it.
If you're sure you won't use your gift card again, you can contact Disney World and ask them to cancel it.
Is There a Limit To How Many Disney Gift Cards I Can Own?
No.
You can own as many gift cards as you please, and you can load up to $1000 per card.
Depending on how you're going to use your gift cards, I recommend having two or three as your 'primary' cards.
This way, you won't have to worry about card limits interfering with your fun.
If you want to use the Disney Gift Card website to manage your cards, you can add up to six (6) cards to your account.
If you want to buy Disney Gift Cards in bulk, consider Disney's corporate gift card program.
Mainly catering to organizations, this program has a minimum purchase of 10 cards (or $1000) and offers volume discounts for spending $25,000 and above.
However, it's important to note that Disney gift cards are only valid for use in the United States.
If your organization is outside of the US, you'll have to contact Disney directly to receive approval to participate in their Corporate Sales Program.
Can I Transfer Funds From One Disney Gift Card To Another?
Yes, usually.
A few cards don't allow the transferring of funds, but those are exceptions.
If you need to transfer funds between your cards, log into your account at disneygiftcard.com and go to 'My Cards.'
Next, input the 16-digit account number and 4-8 digit EAN/Security Code of each card.
Finally, choose the card you want to transfer funds to and click 'Transfer Funds to This Card.'
Follow the outlined instructions.
Keep in mind that Disney Gift Cards have a maximum value of $1000, so the balance on one card can't exceed that amount.
You also can't partially transfer funds between cards – you have to move the total balance from one card to another.
Can I Transfer Funds From a Canadian Disney Gift Card To An American Disney Gift Card?
Yes.
Transferring funds from a Canadian gift card to an American one is as easy as going to the official Disney Gift Card website and following the steps described above.
The funds are automatically converted into USD based on the previous day's exchange rate.
The process can save you 2-5% compared to using a Canadian credit card, as most banks have a higher exchange rate and include a conversion fee.
Just know that you don't need to transfer funds from your Canadian gift card to use it at the park.
When you make purchases with your gift card, they are automatically converted to US dollars, but your balance will still be reflected in Canadian dollars.
The only Disney-related purchases difficult with a Canadian gift card are theme park tickets (when you're not physically at the park).
Contact Disney if you want to buy your park tickets with a Canadian Disney Gift Card.
Can I Use Disney Gift Cards To Purchase Theme Park Tickets?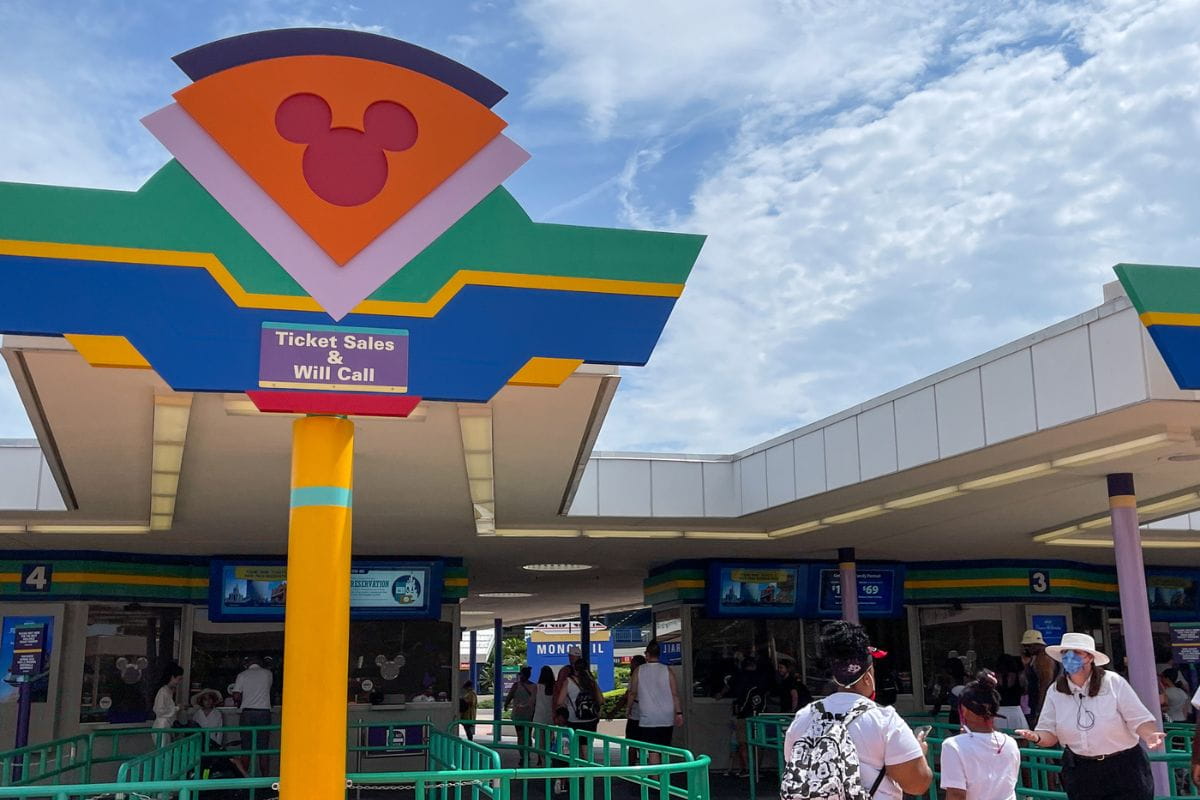 You can buy theme park tickets with Disney Gift Cards, but you have to make the purchase using only one card.
So, if your primary card has insufficient funds but the rest have enough to make up the balance, consolidate them using your online account.
Also, because Disney allows only a maximum of $1000 on a single card, you might find it hard to get your tickets if your total exceeds that amount.
If you know you're going to spend more than $1000, contact Disney directly at (407) 939-7679, and they'll happily assist you.
For large gift card purchases at Disney, you will likely have more success over the phone than online.
Can I Use Disney Gift Cards As My Primary Payment Method at Disney World?
Yes.
While you will still need some cash for tips and similar expenses, you can use Disney Gift Cards as your primary payment method at Disney World.
Their most significant advantage is how easy they make budgeting!
If you have a daily limit of $100, you can add $100 to each card and use one every day of your visit to Disney World.
The only downsides to using gift cards are that the transactions can be time-consuming, and they're not accepted everywhere.
Other than that, they're one step ahead of cash as a reliable payment method at Disney World.
Can I Redeem Disney Gift Cards for Cash?
Unless required by law, you can't redeem the balance on your Disney Gift Card for cash.
If an old card still has funds, you can use it for Disney-related purchases at a Disney Store or review your state's specific laws regarding converting gift cards to cash.
My Disney Gift Card Doesn't Have a Security Code/EAN. Is It Valid?
Yes, gift cards without Security Codes/EAN Codes are still valid, but you may have some issues with certain types of purchases.
Some gift cards come without an EAN code, depending on where they've been purchased.
For example, gift cards from Target had some issues in the past because they didn't come with these security codes.
Cardholders could make purchases but couldn't add their cards to the Disney Gift Card website, meaning they couldn't perform simple transactions like fund transfers or check their balance(s).
If your card doesn't have an EAN code, you won't be able to make online purchases (for example, at shopDisney.com).
Contact Disney World or the gift card provider if your card doesn't have a security/EAN code.
They'll email you the unique number, and you'll be able to use your card to its full potential.
Can Someone Else Use My Disney Gift Card?
Yes.
Anyone who possesses your Disney Gift Card can make purchases with it.
This system has positives and negatives.
It's great in that anyone you're with can make purchases with your card, and you don't have to worry about IDs or extra security.
The issue is that if you lose your card, anyone can use it until you report it lost.
What Should I Do If My Disney Gift Card is Lost/Stolen?
If your gift card is lost or stolen, report it to 1-877-650-4327.
You will be asked to recite the first 12 digits of your card to confirm that you're the rightful owner.
Once confirmed, Disney will freeze the card to prohibit any further purchases.
You can ask to transfer the funds to another card, but be prepared to provide receipts for proof of purchase.
Conclusion
You can use Disney Gift Cards almost anywhere at Disney World.
Like both cash and credit cards, they have their pros and cons, so whether you decide to use them is a matter of preference.
If you buy a gift card and decide it's not for you, Disney will allow you to return it as long as you haven't made any transactions and can provide proof of purchase (i.e., the receipt).
The best part is that Disney Gift Cards don't expire, so if you've got one with a little money left, you can use it another time or save it for a return visit to the park.