Can You Bring A Backpack To Universal Orlando Parks?
Before any visit to a theme park like Universal Orlando, planning ahead is essential to ensure everything runs smoothly.
Preparations include deciding which rides to visit, what shows to see, what to wear, what to pack, etc.
When deciding what to pack, knowing what can and cannot be brought along is crucial, and many guests wonder if they can bring a backpack to Universal Orlando parks.
Visitors are allowed to bring a backpack to Universal Orlando. However, before they get to the parks, they should consider that backpacks are not allowed on rides, that the size of their backpack may lead to locker fees, and that all bags are subject to inspection before park entry.
For guests planning on bringing a backpack to Universal Orlando, this article will cover all the ins and outs of what they can expect.
Follow along for backpack regulations, tips on alternative bag options, and where to store backpacks safely.
What are the Bag Regulations at Universal Orlando?
At Universal Orlando, all bags, backpacks, purses, and other items are subject to x-ray and/or additional inspection before entering the CityWalk or the theme parks.
Remember that any bags or suitcases with wheels are not allowed in the park.
Is it Worth it to Bring a Backpack to Universal Orlando?
Whether or not guests should bring a backpack to Universal Orlando depends on how much they need to bring and what their budget is for the day.
Visitors should consider which essential items they will need and how much they want to spend on storage if necessary.
Pack More
Larger families or groups might have more things to pack, such as reusable water bottles, snacks, sunscreen, camera equipment, or baby items.
Under these circumstances, a backpack would come in handy.
Even for visitors traveling light, bringing water bottles and snacks from home can save money throughout the day.
For guests planning to bring a backpack, please note which items are acceptable and unacceptable to pack:
Acceptable Items
Water bottle (maximum 2 liters)
Prescription medications and painkillers
Sunscreen
First-aid items, such as bandages or Bactine
Small snacks that don't need to be heated
Food required for medical purposes or special dietary needs
Baby food or formula
Soft-sided insulated bags no larger than 8.5" wide x 6" high x 6" deep (21 cm x 15 cm x 15 cm).
Prohibited Items
Glassware or glass containers
Any open containers or drinks containing alcohol
Hard-sided coolers
Soft-sided coolers that are larger than 8.5" wide x 6" high x 6" deep (21 cm x 15 cm x 15 cm)
Picnic lunches (food that requires heating or refrigeration)
Folding chairs
Any explosives, weapons, or items that can be used as a weapon or have the appearance of a weapon
Illegal items or substances.
Locker Usage and Fees
Guests planning to bring a backpack should note that they are not allowed on rides.
The size of their backpack could also subject them to locker fees.
Universal Orlando offers three types of ride lockers: complimentary, pre-paid, and all-day.
Visitors can access and open all lockers by scanning their park tickets at their designated rental station.
Complimentary Ride Lockers
Complimentary lockers can be found at Universal Studios Florida's Hollywood Rip Ride Rockit, MEN IN BLACK Alien Attack, Revenge of the Mummy, and Harry Potter and the Escape from Gringotts.
Likewise, Islands of Adventure has complimentary ride lockers for Harry Potter and the Forbidden Journey, Hagrid's Magical Creatures Motorbike Adventure, The Incredible Hulk Coaster, and the Jurassic World VelociCoaster.
These attractions offer two different locker sizes: standard and large.
Standard Lockers
The standard locker is free and measures 5.5" high, 14" wide, and 16.9" deep (13.9 cm x 35.5 cm x 42.9 cm). This locker can fit small purses and bags, wallets, and cell phones.
Standard lockers are complimentary for the duration of the ride's wait time and the duration of the ride. Afterwards, there is an additional charge of $3 per half-hour to a maximum of $20 daily.
Large Lockers
Large lockers fit larger backpacks and purses or can accommodate a whole group's belongings. Large lockers measure 13" high, 12" wide, and 16.9" deep (33 cm x 30.4 cm x 42.9 cm).
Due to their size, these lockers are $2 per ride (including the wait time), with an additional $3 fee for every half hour above the allotted time up to a daily maximum of $20.
Pre-Paid Ride Lockers
There are no complimentary lockers at Islands of Adventure's Jurassic Park River Adventure, Dudley Do-Right's Ripsaw Falls, or Popeye & Bluto's Bilge-Rat Barges.
For cases like these, guests can consider using the pre-paid short-term lockers located at participating attractions.
These lockers cost $4 for a standard size and $5 for a large locker for the first 90 minutes.
The same extra fees apply – $3 per additional half an hour to a $20 daily maximum.
All-Day Lockers
Visitors who bring a lot of stuff but don't need to carry these items with them all day should consider an all-day locker.
These lockers are located by the entrances of the parks and can be visited anytime throughout the day.
All-day lockers have two sizes available: large and family-sized.
The large lockers have the same dimensions as those featured at the rides (13" high, 12" wide, 16.9" deep/33 cm x 30.4 cm x 42.9 cm) and cost $12 for the day.
Family lockers measure 16.25" high, 12" wide, and 16.9" deep (41 cm x 30.4 cm x 42.9 cm), and cost $15 a day.
Note that all-day lockers are emptied one hour after closing.
Is There a Better Bag Alternative?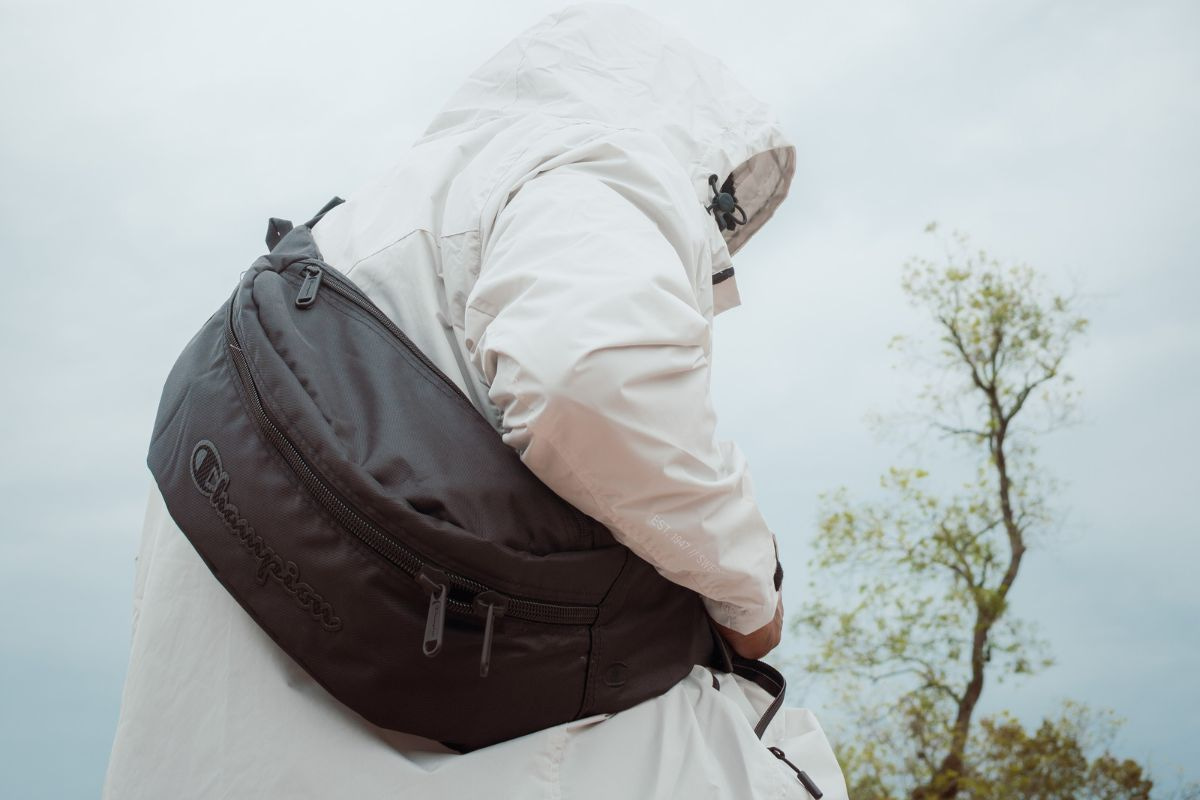 Anyone not traveling with a large family or large items should consider swapping their backpack for a fanny pack.
While fanny packs will limit snack space and may only accommodate a collapsible water bottle, they can still carry the necessities like a wallet, cell phone, or any travel-sized products.
Are Fanny Packs Allowed on Rides?
Most rides will allow riders to wear a fanny pack that is secure, sealed, or that can be tucked underneath clothing.
There are even rides that have space for riders to tuck away their small belongings.
For example, Bilge-Rat Barges has a covered compartment in the middle of the raft that can hold small bags and personal items.
Carry-on items are prohibited for some rides, such as The Incredible Hulk, Hollywood Rip Ride Rockit, and the VelociCoaster.
Don't worry, though – fanny packs should be small enough to fit into the complimentary lockers.
Read More >> Can You Wear Fanny Packs on Rides at Universal Studios?
What are Some Features to Look For in a Fanny Pack?
Some features to consider in a fanny pack are various pockets for optimal storage and water-resistant fabric for wet rides.
Following Universal Orlando requirements, fanny packs also require a 3-pronged clip.
To make sure a fanny pack will be a convenient alternative to the backpack, guests should compare the dimensions of their pack to the standard locker size.
Conclusion
As long as it follows Universal Orlando's bag requirements, backpacks are allowed inside the parks.
Guests can decide if bringing a backpack is right for them based on their travel needs, group, and budget.
If guests require a larger backpack, they will need to pay a small fee for locker storage if they plan to go on rides.
Parkgoers who can condense their belongings to a small fanny pack will receive complimentary locker space and carry-on privileges at certain rides.