Can You Wear Flip Flops To Islands Of Adventure?
When visiting any theme park, comfortable clothing is essential for a stress-free and enjoyable experience.
Between walking all day and the Florida heat (or rain), guests at Universal Orlando will benefit from planning a wardrobe that maximizes their comfort.
Because it can be so hot and humid in Florida, especially during the summer, many guests opt for sandals or other open-toed footwear when visiting Universal's Islands of Adventure.
There aren't any rules against open-toed shoes or flip-flops at Islands of Adventure, but they may not be the ideal choice. Visiting any Universal Orlando park involves a lot of walking, which may be difficult for some guests wearing flip-flops or other loose-fitting footwear. There's also a risk these shoes can come off on some of the faster rides.
In this article, we'll discuss which shoes and clothing are best for a day at Islands of Adventure, highlight other possible restrictions, and detail what clothing is most comfortable for visiting a theme park in Florida weather.
What are the Best Shoes for Islands of Adventure?
The best shoes for a day at Universal's Islands of Adventure are any that guests can walk in comfortably for long periods of time.
Usually, this means tennis shoes or sneakers that are broken in and don't cause sore feet or blisters.
There aren't any specific rules on Universal's website regarding flip-flops or other loose-fitting sandals.
Guests can enter the park and hop on most of the rides wearing them, so technically, flip-flops are permitted at Islands of Adventure.
Unfortunately, that doesn't mean flip-flops are the best option.
Firstly, flip-flops are not good walking shoes.
Islands of Adventure covers around 100 acres of land, and guests to the park can easily rack up 5 to 10 miles (8 to 16 km) of walking in an average day just by going between the rides and attractions.
Visitors are also on their feet most of the day. Of course, there are places to sit and rest, but they'll be standing while in line and while going between rides.
Flip flops don't offer much support for your feet. Between all the standing and walking, your feet will hurt.
Secondly, it's important to note that Islands of Adventure's main attractions are big, fast roller coasters.
You can clench your toes to hold your flip flops on your feet, but you risk them falling off on a ride. Going upside down is especially risky when it comes to losing your shoes.
Some things are prohibited on certain rides, such as long, loose hair, baggy clothing, and bags or personal items, so guests can't drop them or get them caught on anything.
While there aren't any general restrictions on flip-flops, regulations for individual rides can vary. Check the restrictions for all the rides at Islands of Adventure to ensure you comply with any protocols.
There are some minor benefits to wearing flip-flops, though. Florida is hot most of the year, and flip-flops are cooler than tennis shoes or sneakers and can be more comfortable when walking short distances.
If guests still want to opt for open-toed shoes, consider a pair of sandals with a heel strap like Crocs or Tevas.
They offer better support than flip-flops while staying just as cool, and the heel strap will help keep them on your feet during Islands of Adventure's thrill rides.
Best Clothing to Wear to Islands of Adventure
It isn't only shoes visitors should think about when going to Islands of Adventure. Wearing the wrong clothing can make the day unnecessarily difficult.
There are some clothing restrictions guests need to know.
Loose-fitting clothing is a no go at the park. Extra-long sleeves, extremely oversized clothes, and accessories that can flow away from the body are all restricted.
You don't want to get caught on anything while on a ride, nor do you want something flying off your person and striking another visitor.
You should also be aware that long hair can also be a problem. You'll need to tie it up or tuck it into your clothes to go on some of the fastest rides.
So What Should You Wear to Islands of Adventure?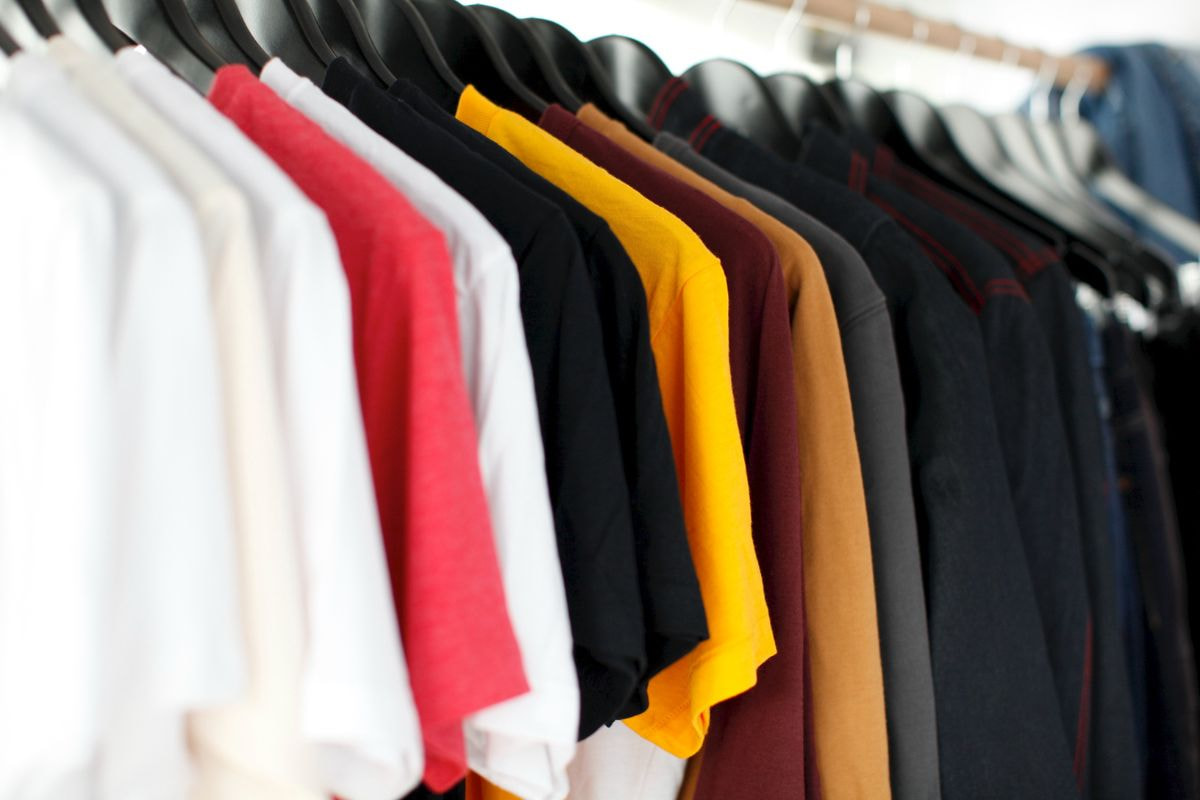 Outside of December, January, and February, it will be warm and humid at Universal Orlando.
In the summer, expect Islands of Adventure to be unbearably hot. Florida weather can also change very quickly, sometimes even raining on you while the sun is still out.
It can be fatiguing and uncomfortable if you aren't used to the weather, and you'll want to wear breathable clothes.
Light colors are preferable because they aren't as hot under the Florida sun. Lighter-colored pants are a decent option, but typically shorts are better.
They are more breathable and are a lot cooler than jeans. Sweatpants aren't a good option unless it's a cooler day in the winter.
T-shirts are a good option as they're light, breathable, and fairly cool. Guests can opt for tank tops but ensure they're family-friendly and not too revealing.
Also, too much exposed skin may be problematic on rides with certain restraints.
Even in winter, it shouldn't be too cold in the park. Carry a sweatshirt or jacket for the cooler mornings and evenings.
It does rain quite a bit in Orlando, so it's a good idea to check the weather the day of your visit and pack extra clothes or rain gear accordingly.
Other Restrictions To Know About
There are a few other things that aren't allowed on rides.
Cell phones, purses, cameras, keys, umbrellas, and backpacks should all be stored in a locker or left with someone who isn't going on the ride.
Some rides are quite fast with a lot of movement, and loose items can fall out of your hands, pocket, or the ride car and injure you or other guests.
Regarding clothing, don't wear anything with offensive language or questionable images. Universal reserves the right to ask guests to change clothes or can deny entry if certain items are deemed inappropriate.
Always check the warning signs at ride entrances. Don't try to sneak anything onto the rides – you can be asked to leave the premises and won't be refunded.
In general, there are some common-sense restrictions on items guests can't bring into the parks.
For example, weapons, explosives, and drugs are forbidden on the property, and security staff can confiscate or ban anything that seems potentially disruptive or dangerous.
For a full list of restricted items, refer to the official Universal Orlando website here.
Conclusion
There are no official restrictions on footwear at Islands of Adventure.
Guests can wear flip-flops to the park, though it isn't a great choice.
Tennis shoes or sneakers are much better for walking and standing all day, and they won't fall off when riding the thrill rides the park is known for.