Can You Walk Around Universal Studios For Free?
You cannot walk through any of the Universal Studios locations without paying for a ticket or pass.
Even if you're not going on any rides or enjoying any attractions, you still have to pay the full price of admission.
Many guests who don't want to ride the rides (but want to watch their friends and families have fun) are disappointed to learn they must pay to enter the parks.
Even if you don't enjoy theme park rides, there's still plenty to see and do inside the park that is included with your park admission.
The exception is Universal Studios CityWalk, located at both Universal Orlando and Universal Hollywood, which is separate from the theme parks and has no cost to enter.
I'll tell you about CityWalk Orlando later, and you can find info about CityWalk Hollywood on their website here.
How Much Does It Cost To Enter Universal Studios Theme Parks?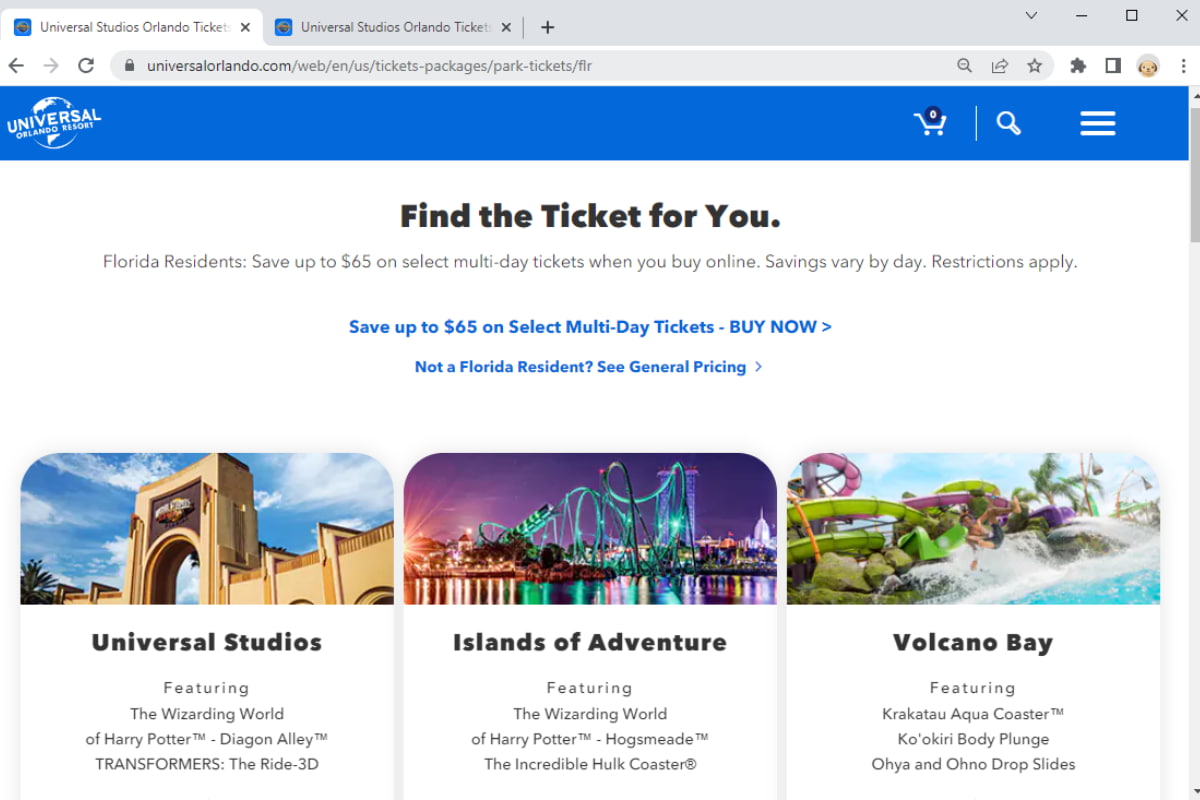 Ticket prices can vary from one park to another, as do the discounts and promotions available at the time of your visit.
On average, you can expect to pay the following for your tickets to Universal Studios parks:
Annual passes, multi-day access, and park-to-park tickets are more expensive.
If you are a military veteran, have AAA, or have a membership to certain clubs and organizations, you may also get discounts on admission to Universal Studios parks.
What Can You Do Inside A Universal Studios Park Besides Ride The Rides?
While the thrill rides are a huge appeal to most guests visiting Universal Studios theme parks, there are many other things to enjoy inside the parks as well.
Once inside a Universal park, you can browse the dozens of shops for some exclusive Universal Studios-themed gifts, souvenirs, and merchandise.
You can shop while the rest of your group visits the rides and attractions, and you'll find many unique items related to the park and your favorite Universal movies and characters.
Food is another huge part of the Universal Studios experience.
You'll not only find the traditional amusement park favorites like hotdogs, popcorn, pizza, etc., but you can also find various other unique food and drinks.
The different sections of the parks often have foods that correspond to the theme of that area, and some even have food and drinks that go with your favorite movies.
Is There Special Pricing For Seniors Or Infants?
Universal Studios offers special senior discount pricing to anyone over the age of 55.
The price of these tickets varies by park, but it is usually between 10% and 20% off the regular admission price.
There is also a discount for infants and toddlers – children under the age of three get free admission to Universal Studios.
What Is There To Do At Universal Orlando CityWalk?
CityWalk at Universal Studios Orlando is a huge entertainment complex that offers numerous restaurants, shops, and attractions, and there's plenty to see and do for people of all ages.
Here are some notable attractions to consider:
The Toothsome Chocolate Emporium & Savory Feast Kitchen
If you are a foodie or happen to be traveling with one, you may want to check out this restaurant at CityWalk.
In addition to the delicious milkshakes loaded with sweet treats and stacked high with toppings, you can also enjoy delightful savory food items that you may have never tried before.
Mini-golf is fun for the whole family, and you will find a great course at CityWalk.
The course features a space theme and a haunted house theme, and you can choose to play one or both.
There are a lot of fun and challenging holes to enjoy, and the entertaining themes make it even more amusing.
Satisfy your sweet tooth with these delicious doughnuts.
You can pick the icing and toppings, and you can buy one or a whole dozen to share with your travel companions or enjoy all to yourself.
There's often a long line here, so be patient if you want to partake.
Unleash your inner rock star with this special attraction where you take the stage for karaoke with a live band playing right beside you.
Sing your heart out to your favorite hits and put on the show of your life.
There's always a crowd, and it's ideal for anyone who loves music and performing.
What's a trip to Universal Studios Orlando without some awesome souvenirs or Universal Studios merchandise?
At the Universal Studios Store, you will find all kinds of items like t-shirts, shot glasses, postcards, photo frames, keychains, and more to take home to friends and family (or keep for yourself!)
Another delicious food stop is The Cowfish Sushi Burger Bar.
Here you will find a plethora of cocktails and spiked milkshakes as well as delicious food options.
Whether you love sushi, burgers, or other unique food choices, you will find it here.
Water Taxis
You don't have to have a destination in mind to enjoy a cruise in a Water Taxi at Universal Orlando's CityWalk.
These quirky rides offer an amazing view and perspective of the complex, and best of all – they're free!
At the Hardrock Cafe, you can grab a bite to eat, listen to some awesome live music, attend special events, and explore the restaurant to check out the props, outfits, and accessories that once belonged to many amazing musicians and artists.
You can also grab some souvenirs in the gift shop while you're there.
Is Parking Free At CityWalk Orlando?
Parking at Universal Studios Orlando CityWalk is free for guests visiting after 6 pm.
There is a fee for parking during certain evening events, such as the Halloween Horror Nights, regardless of the time of day.
There is also a fee for parking if you visit CityWalk before 6 pm.
Conclusion
If you plan to attend a Universal Studios theme park, you should expect to pay to enter the park grounds, even if you don't intend to ride the rides or enjoy any of the other attractions.
There are discounts available, so before planning your vacation, check which ones are an option for you and save yourself some money off the price of admission.
Universal Studios Orlando (and Universal Studios Hollywood) has an entertainment complex called CityWalk that is free to enter, but the attractions and restaurants cost extra to experience.
If you just want to walk around and get a taste of the Universal Studios experience, CityWalk is the best way to do this without having to pay to get into the parks.