How Long Is The Walk Around Islands Of Adventure?
Theme park veterans know that a day at a park means a whole lot of walking around.
But how long does it take to walk around Universal Orlando's Islands of Adventure?
If you don't stop for any attractions, you can walk around the loop at Islands of Adventure in fifteen to twenty minutes. The full park loop runs for 1.2 miles (1.9 km). At an average walking speed of 3 or 4 miles per hour (5 to 6 km/h), you should be able to walk the entire loop in under thirty minutes, no matter how busy the park is.
In this article, we'll go over the walking distances inside Islands of Adventure and discuss how much time you'll spend in the park, on average.
How Long Does it Take to Get Around Islands of Adventure?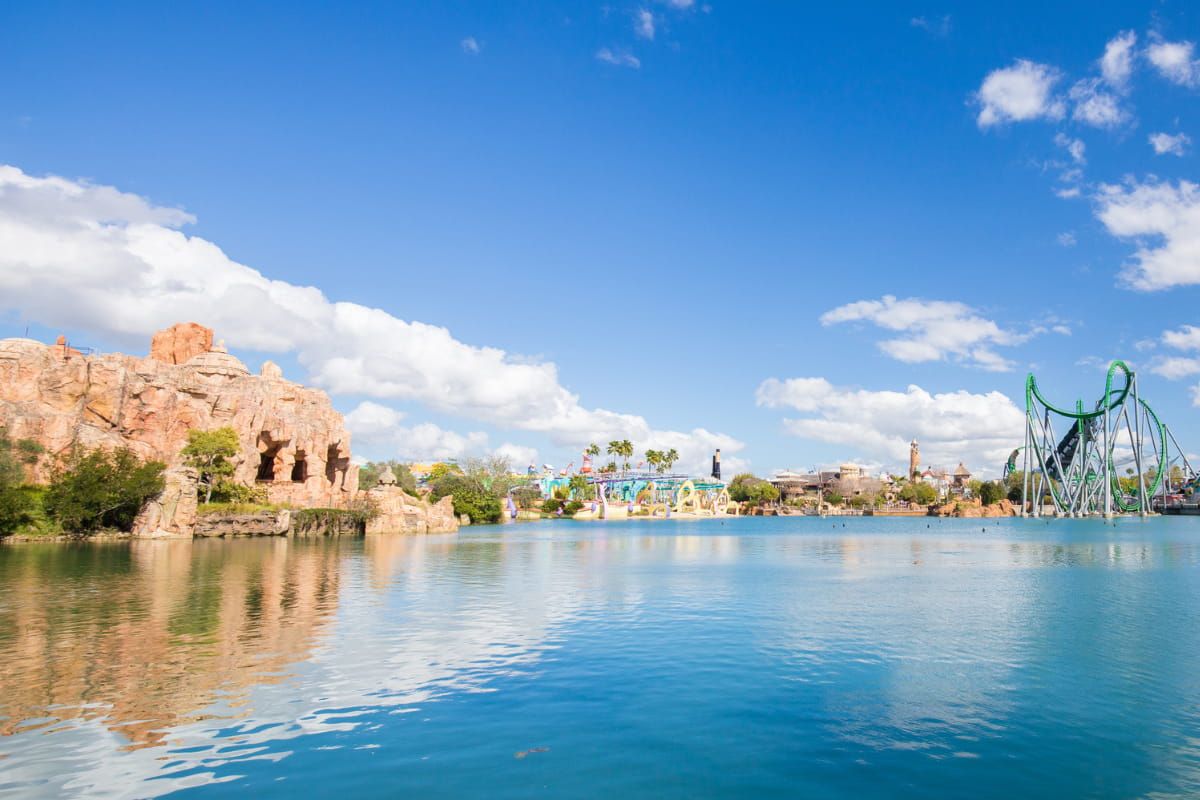 Islands of Adventure is a theme park at Universal Orlando covering around 100 acres.
That's a lot of space for rides, attractions, restaurants, and shops which means a lot of walking for guests.
Like most theme parks, the walking paths and attractions are arranged in a big loop to help make navigating the park much easier.
The overall loop of the park, starting from the entrance gate (and back), is 1.2 miles (1.9 km).
If you don't stop for attractions or amenities, you can walk the loop in 15 to 30 minutes, depending on how busy the park is and how fast you walk.
For extra reference, the walk from the main entrance gate to Hogwarts Castle is about half a mile (0.8 km).
While walking the park loop doesn't take too long, visitors should expect it to take much longer.
Any stops to hop on a ride will extend this time a lot. Most rides will have a minimum wait time of 15 minutes, even with Express Passes, and more popular rides can have a wait time of two hours on busy days.
Stopping to get food or drinks, or exploring the sites along the way, will make the walk longer and more time-consuming.
Universal Orlando Travel Times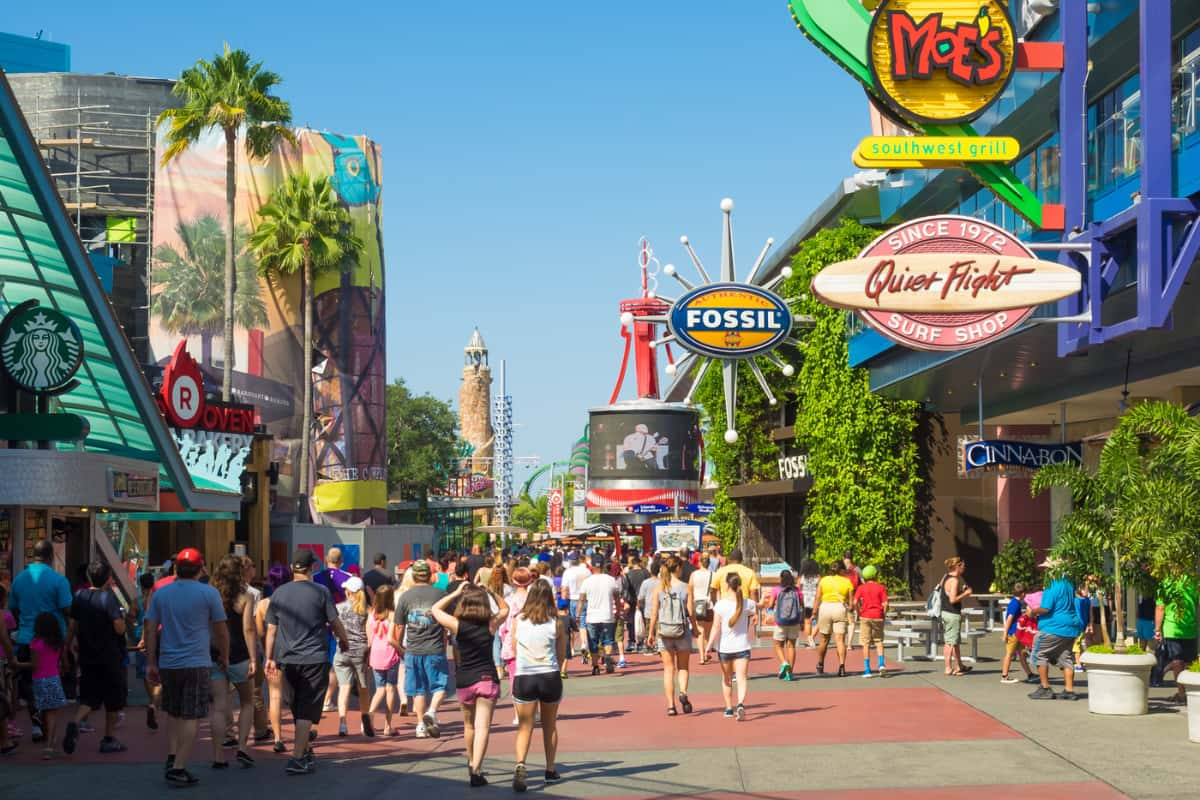 Universal Orlando is set up so guests can walk from any point to another. On top of that, there are additional transportation options like shuttle buses and boat cabs.
Walking paths cross the resort, linking the three theme parks, all the hotels and resorts, and the entertainment district, CityWalk.
It takes 5 to 35 minutes to get from an onsite hotel to any of the parks, depending on where you stay and where you're going.
Guests who want to visit both Islands of Adventure and Universal Studios Florida on the same day need a Park-to-Park ticket.
The good news is that a quick walking path links the entrances of the two parks in about 10 minutes.
It cuts right through City Walk and passes Universal Orlando's parking garage.
The garage isn't far from the park entrances either, and guests don't have to walk if they don't want to.
A complimentary shuttle bus runs from the parking garage to Volcano Bay and only takes about 10 minutes.
The parking garage also features moving sidewalks, elevators, and escalators to help visitors get around easier.
How Long Will I Spend In Islands Of Adventure?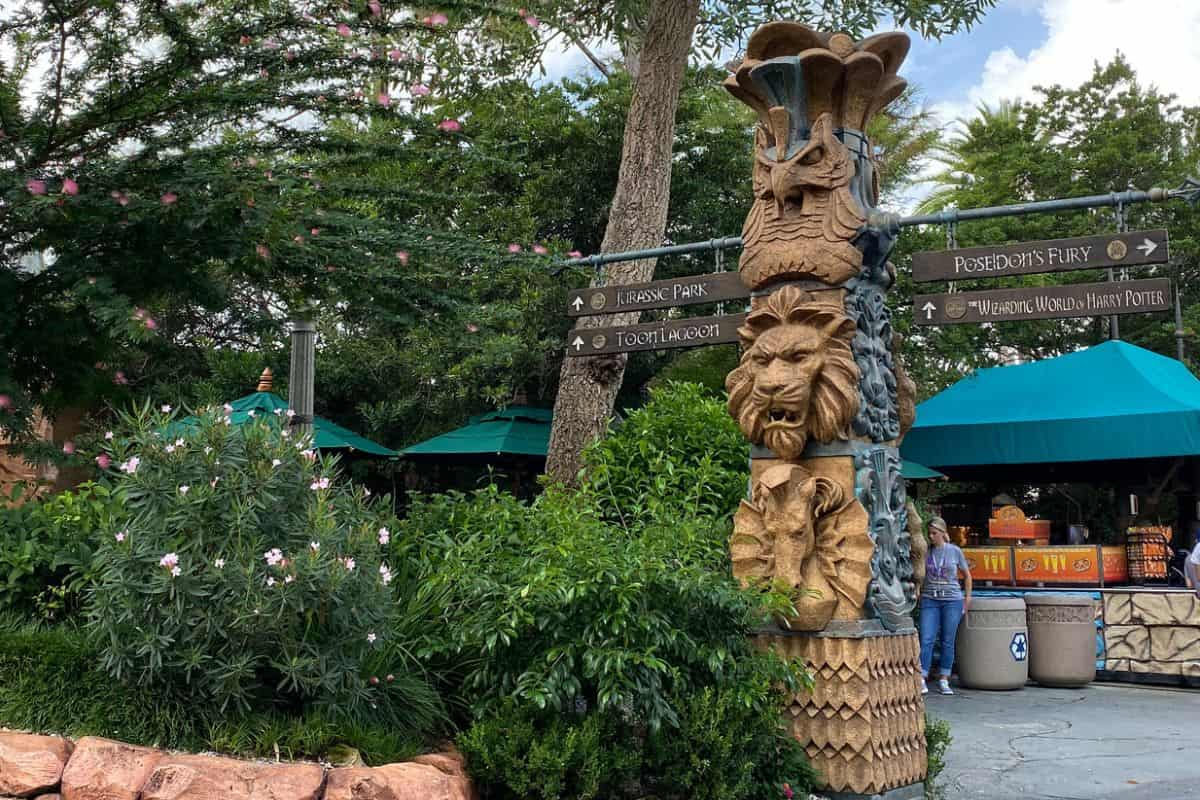 Visitors should plan to spend a full day (at least) at Islands of Adventure. An average day at the park is around eight hours, but some guests spend more.
Typically, the park is open from 9 a.m. until 8 p.m., but hours can change without notice.
Early Park Admission starts an hour before official opening times if the option is available.
How long you'll need inside the park depends on how thorough you want to be. If you want to do absolutely everything, you'll need two full days.
A big chunk of the time at Islands of Adventure is spent waiting in line. Queues depend on how busy the park is, which can vary quite a bit.
Weekdays and winter are usually slower, while weekends, special events, and the summer are packed with crowds.
On a slower day, visitors might only wait fifteen minutes for each ride. On busier days, the line can take up to two hours.
Keep in mind that the more popular rides have longer lines.
It's also not wrong to say that Harry Potter fans could easily spend an entire day in The Wizarding World of Harry Potter and not see any other area of the park.
Ambitious guests who try to do all 16 rides at Islands of Adventure can expect to wait (on average) 30 minutes for each ride.
That's 9 hours total and doesn't include time for walking between attractions, eating, resting, using the bathroom, shopping, or seeing any shows.
To really get the most out of a trip to Universal Orlando, it's better to spend multiple days in each park.
Universal Studios Florida is about the same size as Islands of Adventure, so it also takes several hours to experience the entire park.
A typical vacation at Universal Orlando lasts four to five days for a few reasons.
Guests who spread their visit over multiple days don't feel rushed inside the parks, can see and experience more, and don't have to skip attractions.
Additionally, there are usually discounts on park tickets and hotel rates when booking multiple days.
Conclusion
It takes 15 to 30 minutes to walk the main loop of Islands of Adventure without stopping for rides, attractions, breaks, or amenities.
A full-day experience at the park can take 8 to 10 hours, depending on how busy the park is and how many rides, shows, and shops guests choose to visit.
Most visitors can experience everything Islands of Adventures has to offer in two to three days at the park.