Is Universal CityWalk Free? The Truth About Admission Fees
Anyone who's visited Universal Studios Florida or Universal's Islands of Adventure has wandered through CityWalk on their way to the parks.
This outdoor shopping district welcomes guests with an incredible selection of stores, restaurants, and entertainment, and with additions like Hollywood Drive-In Golf and Universal's Great Movie Escape, CityWalk is a versatile destination all on its own.
CityWalk at Universal Orlando is free to enter and does not require park admission to enjoy; however, parking and most activities typically come at a cost. Guests visiting the area should expect to spend money eating out, shopping, or enjoying CityWalk's entertainment.
This article provides an overview of what to expect at Universal CityWalk, what activities the area offers, and gives a quick rundown of parking options.
What Is Universal CityWalk?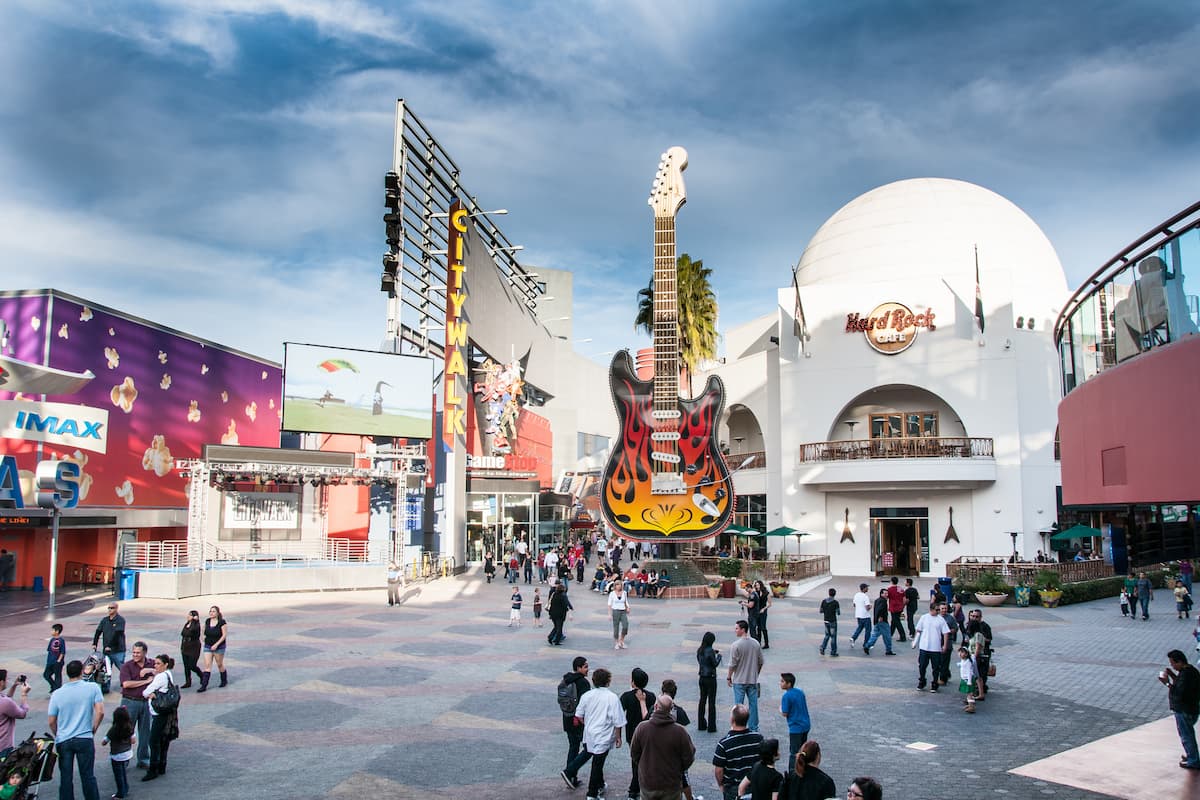 Universal CityWalk is a large shopping complex located at the entrance to Universal Studios Florida and Islands of Adventure.
The property has a little bit of everything, making it a great pre- or post-park stop or full-day destination.
Aside from fantastic restaurants, bars, shopping, and entertainment, CityWalk also has a movie theater and mini golf course.
Parkgoers travel through CityWalk on their way to and from the theme park entrances, allowing them to stop for a snack, grab a drink, or pick up any last-minute souvenirs.
Guests taking water taxis from a Universal Resort or Hotel are also dropped off at the end of CityWalk, giving them a chance to enjoy the area as well.
Is Universal CityWalk Free?
CityWalk is free to enter, and anyone can visit, whether they're headed to a theme park or coming by for a day of shopping.
While entering CityWalk is free, most activities within the complex are not, and unless they're window shopping, guests can expect to spend on food, drinks, and merchandise.
What Is There To Do at Universal CityWalk?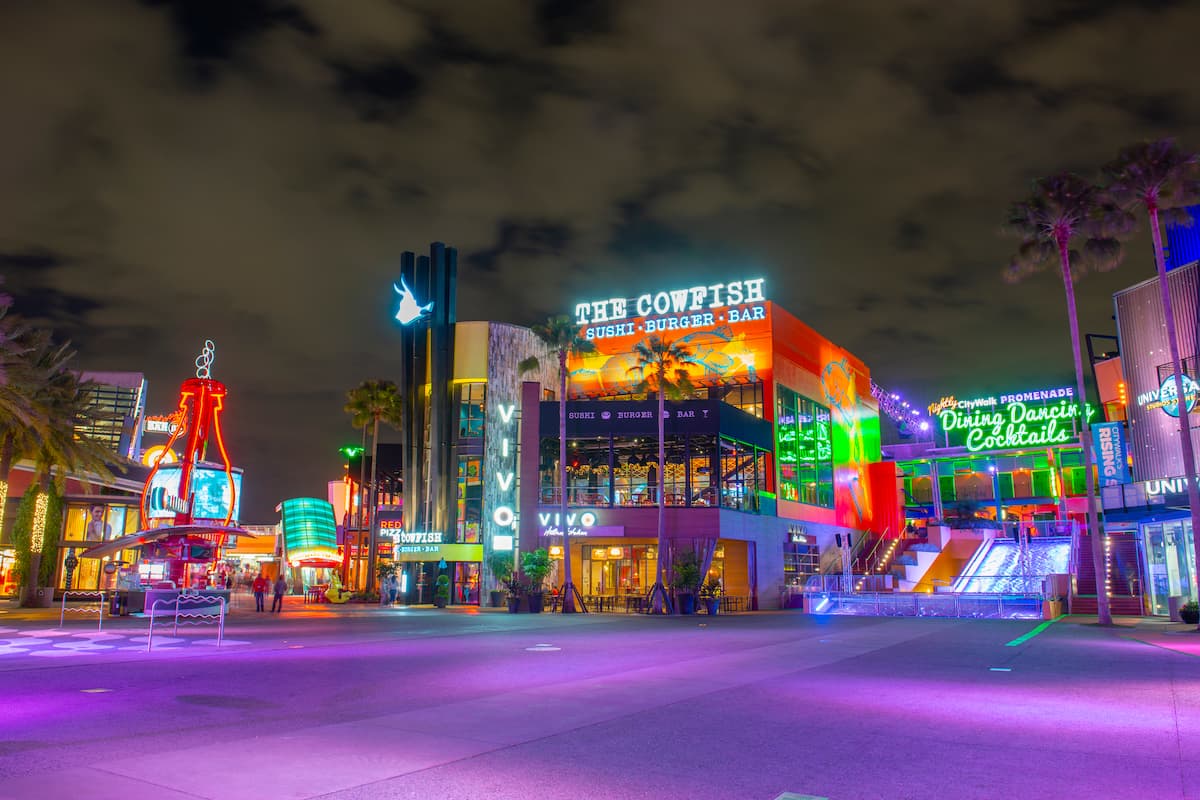 It's easy to fill up a day at Universal CityWalk, especially since it's open until at least midnight every night.
These extended hours allow park guests, Orlando area residents, and tourists to experience wonderful dining, shopping, live entertainment, nightlife, and mini golf into the early hours.
Dining at Universal CityWalk
Visitors to CityWalk can explore the area's many restaurants and dining experiences.
From quick stops like Panda Express to sit-down options such as Antojitos Authentic Mexican Food, guests have plenty of delicious spots to choose from.
Universal CityWalk is also home to a Florida staple, Jimmy Buffett's Margaritaville, and anyone looking for a sweet little snack should check out the wild creations at Voodoo Doughnut.
Shopping at Universal CityWalk
Parkgoers searching for a last-minute souvenir can visit CityWalk's Universal Studios Store or the Universal Legacy Store for everything under the Universal sun.
Because CityWalk is the gateway to the theme parks, guests can plan their purchases around park visits to avoid carrying extra stuff during the day.
If Universal merchandise isn't a top priority, visitors can pick up something perfect for hot Florida days at the Quiet Flight Surf Shop.
Last but certainly not least, those brave enough to walk on the wild side can pop into Hart and Huntington Tattoo Company and get a souvenir that will truly last forever.
Entertainment at Universal CityWalk
Universal CityWalk has a few venues for live entertainment or seasonal shows.
‌Hard Rock Live has an ongoing lineup of concerts from the biggest names in music past and present, or visitors can head to Bob Marley – A Tribute to Freedom to catch DJs and live reggae music inspired by the man himself.
Guests may need to purchase a ticket for live concerts at CityWalk and should check the Universal website for details on admission.
Nightlife at Universal CityWalk
The nightlife at CityWalk is one of the main draws for parkgoers not quite ready to go home after a day at the parks.
Adult visitors won't be disappointed with the music, dancing, and inspired beers and cocktails at the Red Coconut Club.
Alternatively, the Rising Star Karaoke Club welcomes guests in to sing their hearts out.
Entrance to the club is free, and kids are allowed to join in the fun on select dates.
Parents should check with the venue for more information on all ages Karaoke Nights.
Activities at Universal CityWalk
Hollywood Drive-In Golf is one of the more popular attractions at CityWalk.
This family-friendly mini golf course features two different putting greens: The Haunting of Ghostly Greens and Invaders from Planet Putt, and guests can play one or the other or combine both for a rousing 36-hole adventure.
Visitors can also kick up their feet (literally!) and catch a movie in a luxury recliner at Universal's Cinemark Theater.
The theater boasts 20 state-of-the-art screens showing the latest films, creating the ultimate movie-viewing experience.
Those who've dreamt of entering the movies can pass the time at Universal's new Great Movie Escape.
This Escape Room has two thematic options – Jurassic Park or Back to the Future – where the savvy among us join beloved characters on a mission to unlock clues and get out of danger.
Current pricing for these activities can be found on the CityWalk website or the Universal Orlando mobile app.
Parking at Universal CityWalk
At CityWalk, normal parking rates apply until 6 pm most days.
Parking is priced per day and varies depending on the tier and the time of year.
Regular Parking is $27 daily, Prime parking costs between $40-$60, Prime Upgrade parking is $13-$33, and RV/Bus parking is $32 daily.
Free Regular Parking is available for Universal Cinemark patrons seeing a matinee movie between 11 am and 6 pm.
Moviegoers must buy two or more tickets to qualify and will be reimbursed when leaving the parking lot upon providing proof of purchase.
Free self-parking is also available for all guests after 6 pm, excluding Halloween Horror Nights and select black-out dates.
Prices and availability can change without notice, so check the Universal website or call Guest Services for up-to-date information.
Conclusion
Universal's CityWalk is a fun-filled destination all in itself with restaurants, stores, music venues, and a vibrant nightlife.
Despite being chock-full of activities and attractions, there is no cost to enter – however, free activities are few and far between, and guests are likely to spend some money while wandering around.
CityWalk's main attractions include mini golf, escape rooms, and a luxury movie theater, in addition to its bars, restaurants, and retail outlets.
Whether visiting Universal Orlando for the day or staying at one of the park's resorts, CityWalk is a great one-stop shop offering a little bit of everything.