Can You Take An Uber To And From Universal Orlando?
People visit Universal Orlando from all over the world, and many travelers to the Orlando area don't have access to a personal vehicle while on vacation.
Visitors who aren't staying at a Universal hotel or resort often look for alternative ways to get to the theme parks.
Parkgoers can take an Uber to and from Universal Orlando easily. There is an Uber Zone in the North Parking Garage (near Jurassic Park), where visitors can be dropped off or queue up to catch a ride. This area is a First In, First Out Zone for drivers and their passengers.
Uber and Universal Orlando teamed up to create a less hectic and more organized way to get in and out of the park.
This article will discuss how to catch an Uber to/from Universal Orlando and explain alternative transportation options available to Universal Orlando guests.
How Do I Take an Uber to Universal Orlando?
Taking an Uber to and from Universal Orlando has improved over the years.
Uber is the Preferred Rideshare Partner of Universal Orlando, and visitors can log in to the Uber app to order a ride to/from the property.
The cost of an Uber ride depends on several factors, including the vehicle type and time of day.
Uber users can choose the type of Uber they want, including UberX, Black, and Uber XL, and each class of vehicle has a different cost.
Sometimes during the day, the price of an Uber changes.
Fares usually increase during peak times, including morning hours when most people are trying to get to the parks.
Uber drivers must drop off Universal Orlando parkgoers at the Guest Drop-Off and Pickup Zone on the 5th floor of the North Parking Garage in Jurassic Park.
There are signs directing drivers to the appropriate location, and they are not permitted to take passengers anywhere else, including Universal Boulevard.
Occasionally, during Special Events at Universal Orlando, there are more guests than usual, and the park may add additional drop-off locations to accommodate the crowds.
When that happens, signs will direct Uber drivers and their passengers to the valet lot.
How Do I Catch an Uber From Universal Orlando?
In the old days, catching an Uber from Universal Orlando was difficult.
Universal had designated a specific location for Uber drivers, but many struggled to find it, leading to canceled rides and stranded guests (and their tired children).
The Uber and Universal Orlando partnership has worked to improve the ride-share pickup experience.
Now, when guests leave the park, they can enter the pickup line in the Uber Zone at the Jurassic Garage.
The cost for an Uber from Universal Orlando is slightly more than a regular ride as there is a $4 surcharge.
This additional fee encourages drivers to pick up fares from the park and will eventually fund new signs, additional drivers, and a nicer place to wait.
Additionally, after the parks close at the end of the day, there is an increased number of people requesting pickup.
As a result, Uber surge pricing may occur, where the normal rates double (or more) in price until enough drivers are in the area and surge pricing ends.
Parkgoers should plan their exit strategy in advance so they are not surprised or inconvenienced by the Uber rush at the end of the day.
There will be long lines at the Jurassic Garage Uber Zone, and the wait times can be long.
What are Other Transportation Options Available To and From Universal Orlando?
During peak season, finding an alternative way to get to and from Universal Orlando may be a good idea.
When thousands of extra people descend on Orlando during the busy seasons, Ubers may be difficult to find, and surge pricing may occur more frequently.
Universal Orlando guests should explore alternatives to using Uber to avoid long waits of an hour or more.
Some of these transportation options are better than others, depending on the situation.
Walking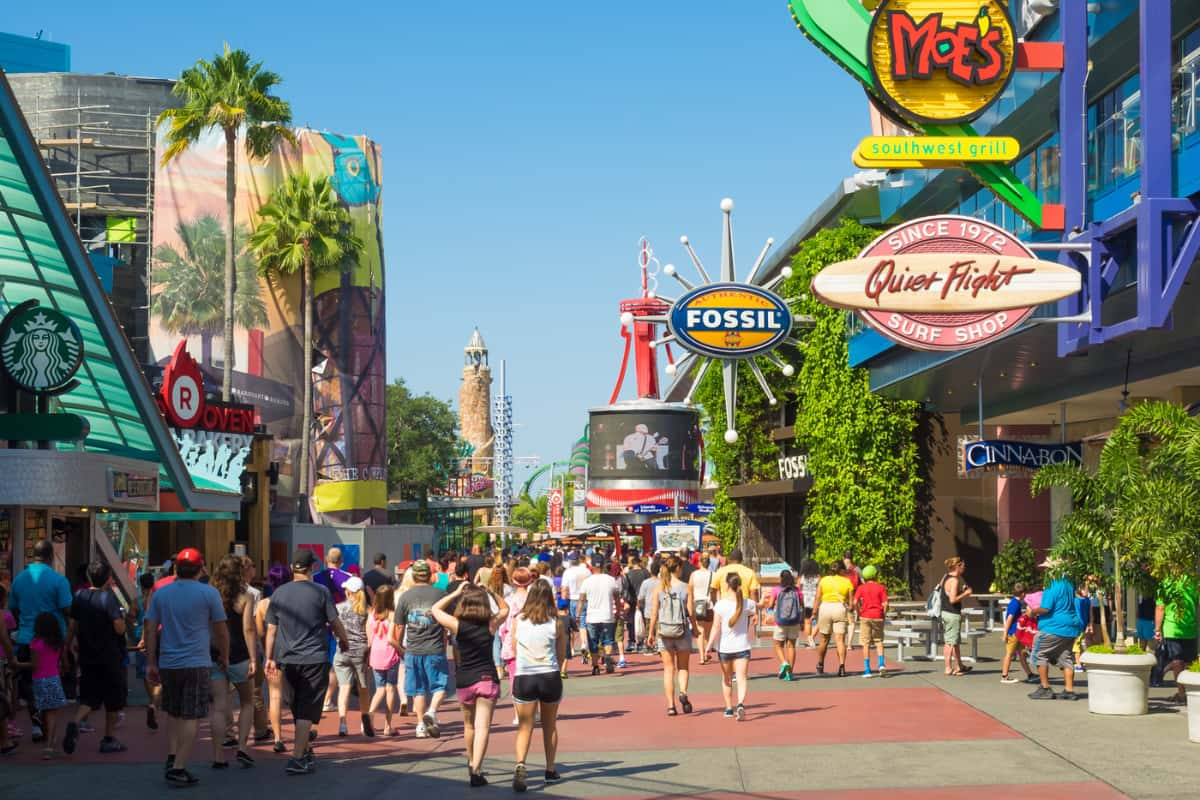 Walking is an easy and free method to get to and from Universal Orlando, especially when staying at an onsite hotel.
Many hotels are within a manageable walking distance of 1 to 2 miles (1.6 to 3.2 km) from the Universal CityWalk Entrance.
Walkers are not dependent on any schedule but their own, making this mode of transportation flexible and stress-free, and Orlando is a relatively safe city, even at night.
Walking back to a hotel at the end of the day may be tiring, but it is often faster than any other mode of transportation.
Taking a Bus or Taxi
The Lynx public bus system has a stop inside the Universal Orlando parking garage.
The bus that stops at the parks is the Raleigh Street/Kirkman Road/Universal Orlando route; however, it doesn't stop at Universal after 8:15 pm on Fridays and Saturdays.
The taxi pickup and drop-off location is near the bus loop and the Universal parking garage.
This pickup and drop-off area is different from the ride-share section for Uber, so guests who prefer taxis should keep this in mind.
Driving a Car
Visitors can drive themselves to Universal Orlando and park in one of the parking garages.
Prices are as follows:
Regular parking: $27 per day
Prime Parking: between $40 and $60 per day
RV and Bus Parking: $32 per day
Valet parking:
Before 6 pm: $27 for 2 hours/$65 to $75 for over 2 hours
After 6 pm: $27 for 2 hours/$40 to $75 for over 2 hours
Regular Self-Parking is free after 6 pm (except for Halloween Horror Nights).
Guests visiting Universal's Volcano Bay must park in a designated area.
Using a Hotel Shuttle
Universal Orlando Resorts and Hotels have complimentary shuttle services to and from the entrance to CityWalk.
The shuttles run often, and parkgoers usually don't have to wait long – but the service can be crowded before the parks open and after they close.
Other hotels in the area also offer free shuttle services to and from Universal CityWalk.
Guests staying at off-site hotels should check with their front desk to see how often these shuttles run.
Conclusion
Visitors to Universal Orlando can take an Uber to and from the park fairly easily.
The designated pickup and drop-off location for ride-share vehicles is on the 5th floor of the North Parking Garage in the Jurassic Park section.
When crowds are large or surge pricing is in effect, parkgoers may consider alternative transportation to and from the parks, such as buses, taxis, or hotel shuttles.