How Much Time Do You Need at Each Disney World Park?
The Walt Disney World Resort is the largest theme park in the world, spanning an impressive 27,000 acres (11,000 hectares).
Arranging a trip to Disney World requires some logistical planning, and figuring out how many days you'll need is one of the main things to consider.
Disney World houses four primary theme parks. Magic Kingdom is the most popular, and it takes about two days to see most of it. EPCOT isn't as popular, but you'd also need two days to enjoy its many activities. Animal Kingdom and Hollywood Studios aren't quite as involved, and you can easily experience the highlights in one day.
While these are my recommended timeframes, it's not always possible to plan a 5 or 6-day vacation to Disney World.
If you're short on time, cut the days in half: spend one day each at Magic Kingdom and EPCOT and half a day each at Animal Kingdom and Hollywood Studios.
How Many Days Do You Need at Disney World?
Seven is the magic number of days for the ultimate Disney World experience.
Planning to visit for a week allows you to see a good chunk of every park while providing enough time for breaks so you don't feel rushed.
Disney World's size makes it impossible to see every single thing in 7 days, but this timeframe leaves you satisfied, relaxed, and, if you enjoyed it, eager for your next visit.
Preparations are a big part of a Disney vacation, and having an itinerary goes a long way to maximizing your experience.
The Disney Genie+ pass is also a lifesaver as it allows you to bypass the lines at certain rides, saving you a lot of time.
If you don't want to buy a Genie+ pass, you can choose to avoid the queue at select attractions using Disney's a la carte Lightning Lanes option.
With the Lightning Lanes, you pay a one-time fee to enter the 'fast lanes' at specific rides, significantly reducing your wait time.
Combining a week-long trip with the Genie+/Lightning Lanes helps you make the most of your time at Disney World while leaving enough room for spontaneous activities when you feel like going off-book.
How Much Time Do You Need at Magic Kingdom?
Magic Kingdom is technically the smallest park at Disney World, but it hosts the most rides and attractions.
It's also the most popular park because of its sentimentality and overall 'Disney-esque' atmosphere.
This makes it the most important park for first-time visitors, and it requires more time than the other three.
A two-day visit to Magic Kingdom is enough, but superfans tend to spend longer at the park due to its association with the most iconic Disney films, including Cinderella, Aladdin, and The Little Mermaid.
The rides, characters, and atmosphere also make it the most kid-friendly park at Disney World.
Only 6 of its 34 rides and attractions have height requirements, meaning they're geared towards guests of all ages. (If you're looking for a more thrilling experience, head to Hollywood Studios.)
It's worth pointing out that the Walt Disney World 50th Anniversary Celebration is happening throughout 2022 until March 2023.
If you're planning your trip during Disney's golden anniversary, you'll get to experience more than usual.
Overall, if you're in Orlando and want to check out Disney World for a day or two (and it's your first time), Magic Kingdom is the only park I'd say you shouldn't miss.
How Much Time Do You Need at Animal Kingdom?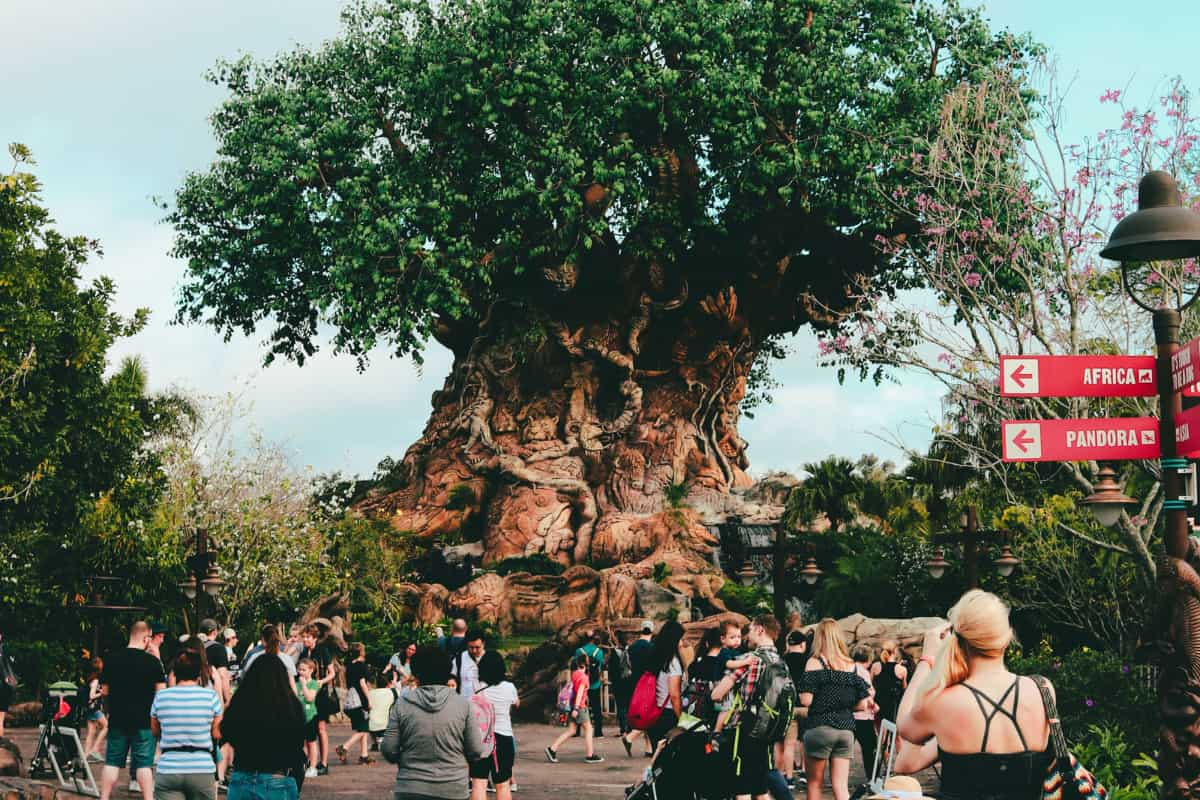 Enjoying your experience at Animal Kingdom is based on how much you love wildlife and, to some extent, Mother Nature in general.
It's easily the park to skip for some and a mandatory destination for others, making it difficult to recommend a set number of days. So, I'm playing it safe by suggesting one full day at the park is enough.
Don't get me wrong – anyone can have a great time at Animal Kingdom – but it is fairly niche.
If you've always wanted the Safari experience but haven't had the chance to visit the Serengeti, you'll have a blast at Animal Kingdom.
Aside from animals like giraffes and flamingos, the park also houses popular rides like Avatar Flight of Passage and Expedition Everest.
It's also the second most kid-friendly park at Disney World.
If you're not convinced you'll enjoy a nature-based theme park, covering Animal Kingdom in half a day is more than doable, especially if you have less than four days to spend at Disney World.
How Much Time Do You Need at Hollywood Studios?
Disney World's Hollywood Studios is the second smallest park after Magic Kingdom, and it doesn't have nearly as many rides or activities. It also takes less time to cover, but that could change in the near future.
I still say one day is enough, but the park's popularity grows daily.
When you combine increased crowds with a smaller property, you get the most crowded park at Disney World.
People flock to Hollywood Studios because many of Disney World's most popular attractions are there, including Star Wars: Rise of the Resistance and Mickey & Minnie's Runaway Railway.
Hollywood Studios also houses the most exhilarating rides at Disney World, increasing its appeal to tweens, teenagers, and young adults.
If you're going to visit the park, the middle of the week (Tuesday to Thursday) is best as weekends are always packed, and Monday is the official rebound day for those avoiding the weekend.
It's still quite busy mid-week, but it's slightly better than the other days.
If the high energy and large crowds at Hollywood Studios aren't your cup of tea, you can easily cover it in half a day or skip it altogether.
How Much Time Do You Need at EPCOT?
EPCOT has a lot going on.
It doesn't have nearly as many rides as Magic Kingdom, but I still recommend a two-day visit because of the number of activities available.
EPCOT is known for its food and entertainment scene, which is the best at Disney World and explains why it's more popular with older guests.
Disney's famous festivals are also hosted at the park, including EPCOT's Food and Wine Festival, EPCOT's Festival of the Arts, and EPCOT's Flower and Garden Festival.
Visiting with other adults is likely to take the full two days as there's no limit to what you can do.
You can go from scouring the location for different cuisines to listening to live music at the United Kingdom Pavilion.
However, visiting EPCOT with children (especially those under ten) is a whole other experience.
Since rides (and character meet-and-greets) are usually the main focus for kids visiting Disney World, you can easily cover EPCOT in a day or less because there aren't that many on offer.
How to Make the Most of Your Time at Disney World
The water parks at Disney World (Typhoon Lagoon and Blizzard Beach) aren't as crucial to the experience as the four land-based theme parks, but they do have a place in making your Disney Vacation complete.
A 7-day trip provides an extra day or two that you can spend relaxing in the waves and working on your tan.
A week also gives you time to visit Disney Springs, the official Disney World shopping district.
Disney Springs hosts several shops and restaurants, exposing you to goodies and cuisines you're unlikely to find elsewhere on the Disney property.
If you're planning to spend more than seven days, give yourself a day (or two) to chill at your resort in between parks.
These rest days help break up the trip, providing a more relaxing experience.
Of course, not everyone has the time or budget to spend many days at a high-end theme park, highlighting the importance of efficiency if you have three or fewer days to visit.
It will require doing some research and planning your itinerary at least two weeks before your trip.
However, while you should be prepared, definitely move at your own pace.
There's no point in whizzing through the parks if the only thing you'll remember is being tired and sore.
Conclusion
If you have 6-7 days to spend at Disney World, I recommend the following schedule:
Magic Kingdom – 2 days
EPCOT – 2 days
Animal Kingdom – 1 day
Hollywood Studios – 1 day.
If you have 3 or 4 days, I'd suggest:
Magic Kingdom – 1 day
EPCOT – 1 day
Animal Kingdom/Hollywood Studios – half-day each.
Everyone's experience is different, so plan your vacation around your preferences to make the most out of your time at Disney World.