What Happens If It Rains At Universal Studios Orlando?
Unless thunderstorms are expected, when it rains at Universal Studios Orlando, it's business as usual – the rides, attractions, and restaurants remain open to visitors.
All things considered, rainy days shouldn't ruin your trip as there's a lot you can do to maximize your experience.
There are fewer people than usual as most guests return to their hotels and call it a day.
And Floridians don't have to go to the park in bad weather (they can visit at a later time).
With the right rain gear, fewer people, and open rides, the sky's the limit!
How Frequently Does it Rain in Orlando?
If you've never been to Universal Studios Orlando (but are planning to go soon), picturing your visit in rainy weather is closer to reality than you'd expect.
In other words, it rains quite a bit in Orlando.
Weather rankings put Florida as the 5th rainiest state in the US, receiving an average yearly rainfall of 53.7 inches.
In comparison, the national average is around 30 inches.
The rainy season generally runs from May to October, with hurricane season occurring from June to November.
Though there haven't been actual hurricanes for some years now, this period can bring strong winds amidst the rains.
If your trip to Universal Orlando is during those rainy months, double-check the weather reports to decrease your chance of surprises.
Also, bear in mind that during the rainy season, it's pretty much guaranteed to rain at some point in the day, every day.
As with anything, expect the best but plan for the worst.
You can always reschedule your trip if things are looking seriously waterlogged.
Do Rides at Universal Orlando Close When it rains?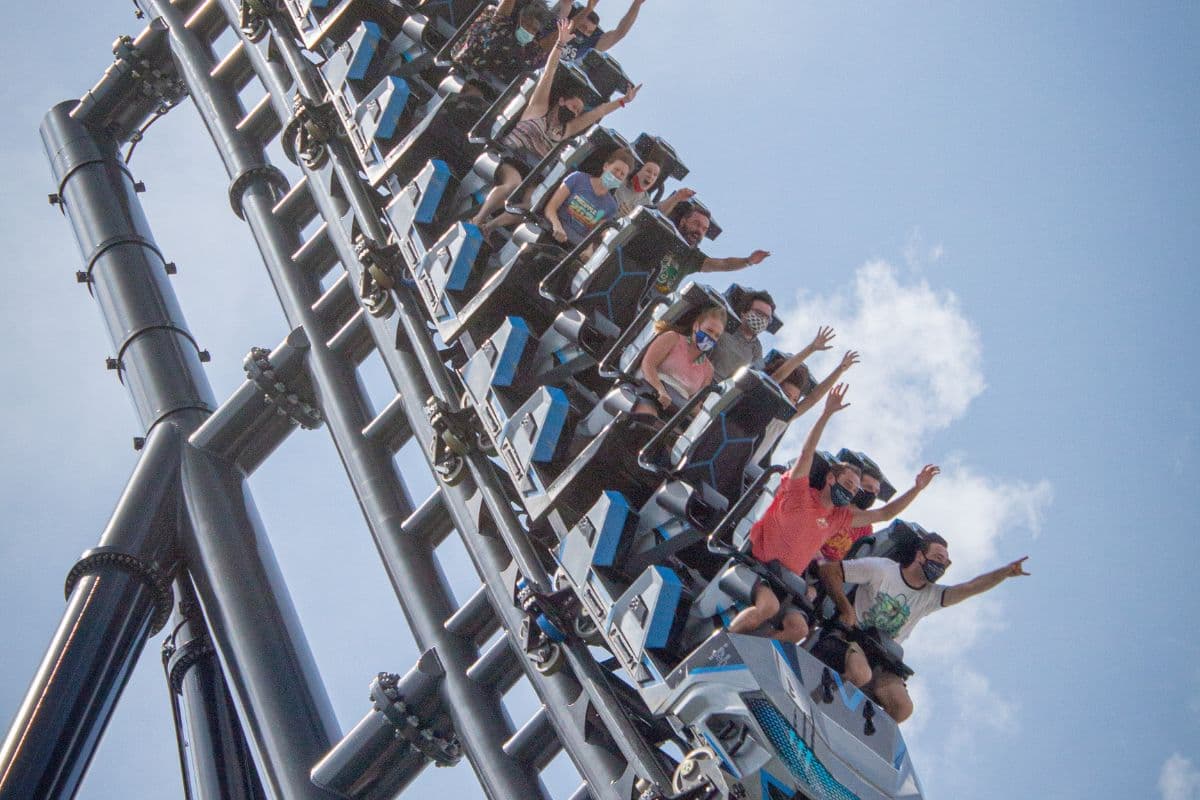 The rides at Universal Orlando don't usually close in rainy weather.
Lighting and thunderstorms raise the probability of temporary shutdowns, but even then, bigger attractions like roller coasters are more likely to be closed before anything else.
If it's raining during your visit, you can still have a great day at Universal Studios Florida because many of the attractions in that park are indoors.
Most outdoor rides are at Universal's Islands of Adventure, so plan your visit accordingly if heavy rain is in the forecast.
Fortunately, you can buy a 1-day, 2-park pass, allowing you to quickly switch from one place to another if you've not come prepared for bad weather and aren't ready to return to your hotel.
How To Prepare for a Rainy Day at Universal Studios Orlando
1. Bring a Poncho
An umbrella has its purpose, but it shouldn't be your only gear.
Umbrellas can be awkward to carry as you walk around the park, and they can turn against you in the face of strong winds.
Your umbrella might fly away or flip inside out, leaving you fumbling for cover while you stand there getting soaked.
On the other hand, a plastic rain poncho is light, easy to carry, and keeps you mostly covered.
While a poncho is more useful than an umbrella during a downpour, seeking shelter indoors is better than continuing through the park.
2. Bring an Extra Pair of Shoes (and Socks)
Your poncho has kept you nice and dry, and you're at one of Universal's excellent restaurants enjoying a hot beverage.
Looking down, you realize your shoes and socks are soaked because you didn't think to bring rubber boots to Florida in the summer.
Now it's Choose Your Own Adventure time.
Do you: a.) wait out the rain with wet feet, b.) go to the shops and maybe find a new pair of shoes, or c.) pay for your half-drank beverage and rush back to your hotel room?
None of these scenarios are ideal.
It's better to just have an extra pair of shoes on hand if you happen to get caught in the rain.
Then your whole body stays nice and toasty warm as you wait out the weather at a restaurant or indoor site.
Conveniently, Universal Orlando has All-Day Locker Rentals (with unlimited access), so you can easily store your extra gear.
Lockers are provided on a first-come, first-served basis and are available to rent near the park entrances of Universal Studios Florida and Universal's Islands of Adventure.
Family-size lockers are also available if you need a little extra space.
What To Do When It Rains At Universal Studios
The possibilities are endless for what you can do in rainy weather.
The lines are shorter, and crowds are almost non-existent.
You can enjoy your day without long waits in queues or trying to maneuver through groups of people in the streets.
1. Explore the Indoor Attractions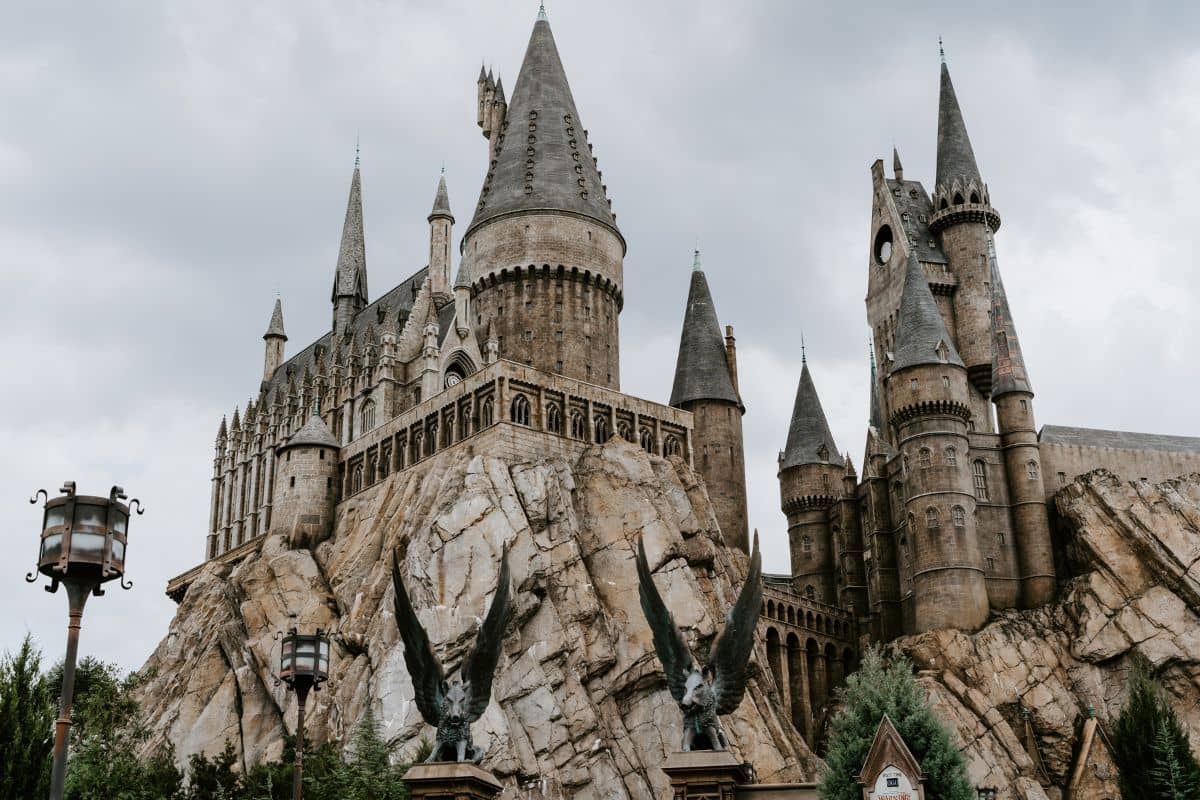 There are still many rides you can go on in the rain, from Men in Black Alien Attack to Transformers: The Ride-3D.
The lines will probably be shorter, so you can double your fun riding them as many times as you'd like.
Just remember that other visitors might be as clever as you, and they too may know Universal Studios hosts more indoor sites.
That said, most of the time, the waits are nowhere near usual, so you can still have a great experience while avoiding the rain.
2. Relax at the Restaurants
If you're not in the mood for high-energy activities, you can seek cover at one of the restaurants and wait out the rain while enjoying good food.
Universal Studios has great sites like Finnegan's Bar & Grill and Moe's Tavern from The Simpsons.
Islands of Adventure also houses the famed Three Broomsticks in The Wizarding World of Harry Potter – Hogsmeade.
Here you can have the well-known Hog's Head Brew while embracing the eerie, wizardly vibe emanating from the place.
3. Visit the Water Slides
It's raining – you might as well visit Universal's water park Volcano Bay and make the most out of it.
Islands of Adventure also hosts some cool water slides like Jurassic Park: River Adventure and Dudley Do-Right's Ripsaw Falls, allowing you to take advantage of the weather if you're already wet.
When Does It Rain the Least in Orlando?
Though it rains through most of the year, Florida prides itself on its near-perfect weather during the winter months.
December, January, and February offer the best possible temperatures, with most of January and early February being the best times to visit Universal Studios.
Christmas and New Year's pull large numbers of people to the parks, so while the weather is on your side, you might not enjoy your experience if you aren't prepared to battle crowds.
The summers in Florida are unpredictable as while it rains the heaviest during this time, you're likely to experience extremely high temperatures when it doesn't.
Mainly the message is to plan accordingly if weather is a significant factor in enjoying your theme park experience.
Conclusion
Don't let a little (ok, a lot) of rain ruin your chances of fun at Universal Studios Orlando.
If you come prepared, you can make the most out of it and end your trip on an even higher note than in sunny weather.
Who doesn't love a good "caught in the rain" story?! Yours could have Harry Potter Dragons in it.
If you've already planned your trip but the weather feels like too much to handle, you can contact Universal Orlando and ask for a rain check.
If the downpour is ferocious, they will happily let you visit at a later date for free (within 30 days of your planned visit), allowing you to enjoy the park when the weather's right for you.