Does Disneyland Offer Senior Discounts?
Everyone loves a discount.
And since seniors get discounts at most theme parks, you may wonder if Disneyland has a similar deal.
Unfortunately, Disneyland does not offer a senior discount. There are currently no offers for discounted tickets, hotels, or anything else for seniors. However, Disneyland is constantly changing the deals they offer, so you should look out for senior discounts that may appear.
Does Disneyland Offer Any Senior Discounts?
Currently, as of May 2022, Disneyland is not offering any senior discounts.
But, Disneyland does have special deals that they are always changing, so you can check their Special Offers and Discounts page to see if they've added anything for seniors.
Are There Other Ways to Get Discounts for My Disneyland Trip?
Below, I will explain some of the ways you can get discounts at Disneyland.
Military Discounts
Disneyland usually always offers discounts for military members.
And the current deal applies to all active or retired military personnel.
Basically, current or retired military members can choose either a 3-day or 4-day Park Hopper ticket, which they will get at a discounted rate.
They can also add the Disney Genie+ Service to their ticket for an extra fee.
The Genie+ Service lets you skip the line on certain attractions and gives you unlimited PhotoPass digital downloads.
Eligible personnel for these tickets includes anyone who is or was a member of the US military and also includes those who are or were members of:
The National Guard
Reservists
The US Coast Guard
The US Space Force
The Commissioned Corps of the Public Health Service
The Commissioned Corps of the National Oceanic and Atmospheric Administration
If you are eligible for these tickets, you will need to purchase them through a participating US military base ticket office because Disneyland does not sell them directly.
Additionally, these same people listed above can get discounts on Disneyland Resort hotels.
To get your hotel discount, you need to call (877) 372-6820.
Costco Vacation Packages
Famous for its great vacation deals, Costco didn't forget about Disneyland.
Costco's current vacation bundles give you free Disney gift cards totaling up to $245.
And their Spectacular Spring Package also offers up to 25% off on select rooms at on-site Disneyland hotels.
Further, the current packages throw in an eVoucher that grants you discounts on specific merchandise and dining.
Plus, all guests over two years old will receive a collectible Disney lanyard and pin.
However, unfortunately, Costco no longer offers individual discounted tickets for sale.
You can only get their discounts and deals when you buy an entire vacation package.
AARP
The AARP (American Association of Retired Persons) is another place where you may be able to get discounted Disneyland tickets or other deals on your Disneyland vacation.
To see the AARP's current deals, you need to go to the AARP's Travel page or call 1 (800) 675-4318.
Discount Disney Gift Cards
For those who aren't familiar, you can pay for almost anything in Disneyland, including park tickets, with Disney gift cards.
And you can get these cards at a discount.
If you are a member of Target, Sam's Club, or BJ's Wholesale, you can purchase Disney gift cards at up to 5% off their standard price.
Thus, if you get 5% off a $100 gift card, you will only pay $95, but you'll be able to spend the whole $100.
AAA
If you are a AAA (American Automobile Association) member, you can get discounted tickets by asking about the available offers at a participating AAA branch.
Best Disneyland Rides for Seniors
For most of us, the older we get, the less we want to go on rides that bump and shake us around.
But, many people assume that theme park rides are only either for thrill-seekers or children, while everyone else just has to sit back and watch.
Well, for some amusement parks, this is true, but not Disneyland.
Both Disneyland Park and California Adventure Park have tame rides that are fun for people of all ages so that seniors can make the most of their park tickets too.
Some of these rides that are perfect for seniors include:
Jungle Cruise (Disneyland Park – Adventureland)
Mr. Toad's Wild Ride (Disneyland Park – Fantasyland)
Pinocchio's Daring Journey (Disneyland Park – Fantasyland)
Alice in Wonderland (Disneyland Park – Fantasyland)
Buzz Lightyear Astro Blasters (Disneyland Park – Tomorrowland)
Finding Nemo Submarine Voyage (Disneyland Park – Tomorrowland)
The Disneyland Monorail (Disneyland Park)
The Disneyland Railroad (Disneyland Park)
Goofy's Sky School (California Adventure – Paradise Gardens Park)
Pixar Pal-A-Round (California Adventure – Pixar Pier)
Toy Story Midway Mania! (California Adventure – Pixar Pier)
Tips for Seniors Visiting Disneyland
It can be easy to assume you'll have no problem traversing Disneyland, but you should remember that Disneyland is one of the biggest theme parks in the world.
Thus, anyone can get worn out when walking the park all day, especially if they are staying at the resort for several days.
So, seniors, and everyone else, really should consider following these tips to have the best possible time in the park and to get their money's worth for their ticket.
Rent a Wheelchair or Mobility Scooter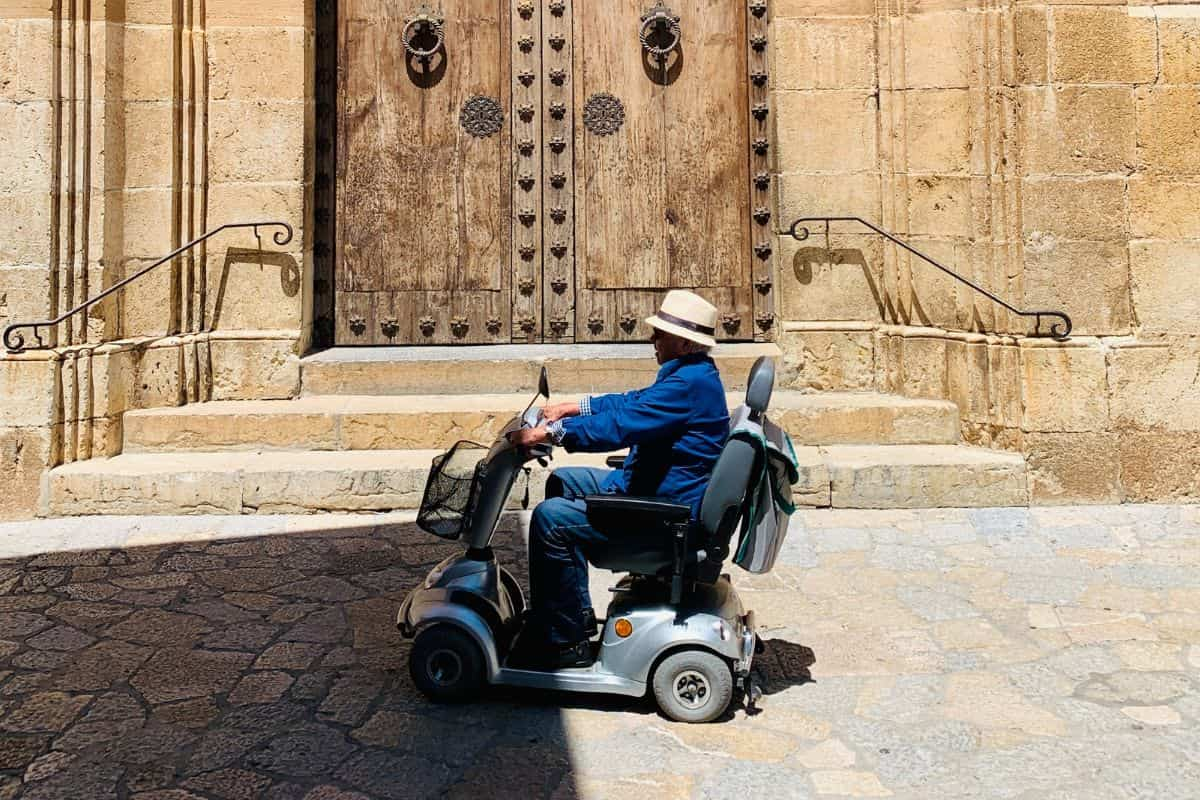 For most people, age comes with decreased mobility or at least more discomfort when walking long distances.
Luckily, though, you can rent a wheelchair or mobility scooter when you're at the park to make getting around easier.
Pay Attention to the Weather
When you visit Disneyland, you should pay attention to the weather report to understand the possible hazards you could face.
For instance, check the UV index to determine if you'll need sunscreen.
Also, make sure you dress appropriately for the weather and don't linger too long in the direct heat.
Take a Break
If you need a break, take a break.
You know your body, and if you're starting to feel tired or in pain, find a place to rest.
Conclusion
Unfortunately, Disneyland does not offer senior discounts.
However, there are plenty of ways to get cheap, discounted tickets and hotel stays.
Also, don't feel that Disneyland has nothing to offer you just because you aren't a kid anymore.
Disney knows how to make sure everyone has fun when they visit the park.