Can You Wear Water Shoes at Volcano Bay?
Water parks like Volcano Bay at Universal Orlando are one of the best ways to cool off on a hot summer day – but parkgoers can easily burn their feet on the walkways without adequate protection.
Water shoes are a great option for visitors who want to protect their feet or don't want to keep track of their shoes while lounging in the pools.
Guests can wear water shoes throughout most of Volcano Bay, but select attractions, including the slides and tube rides, require visitors to remove them before getting on the ride. Each attraction will have a sign showing the restrictions, including if footwear is allowed.
Keep reading to learn more about the ride restrictions at Volcano Bay and to get tips on maximizing the experience at Universal Orlando's wettest theme park.
Are There Restrictions For the Rides at Volcano Bay?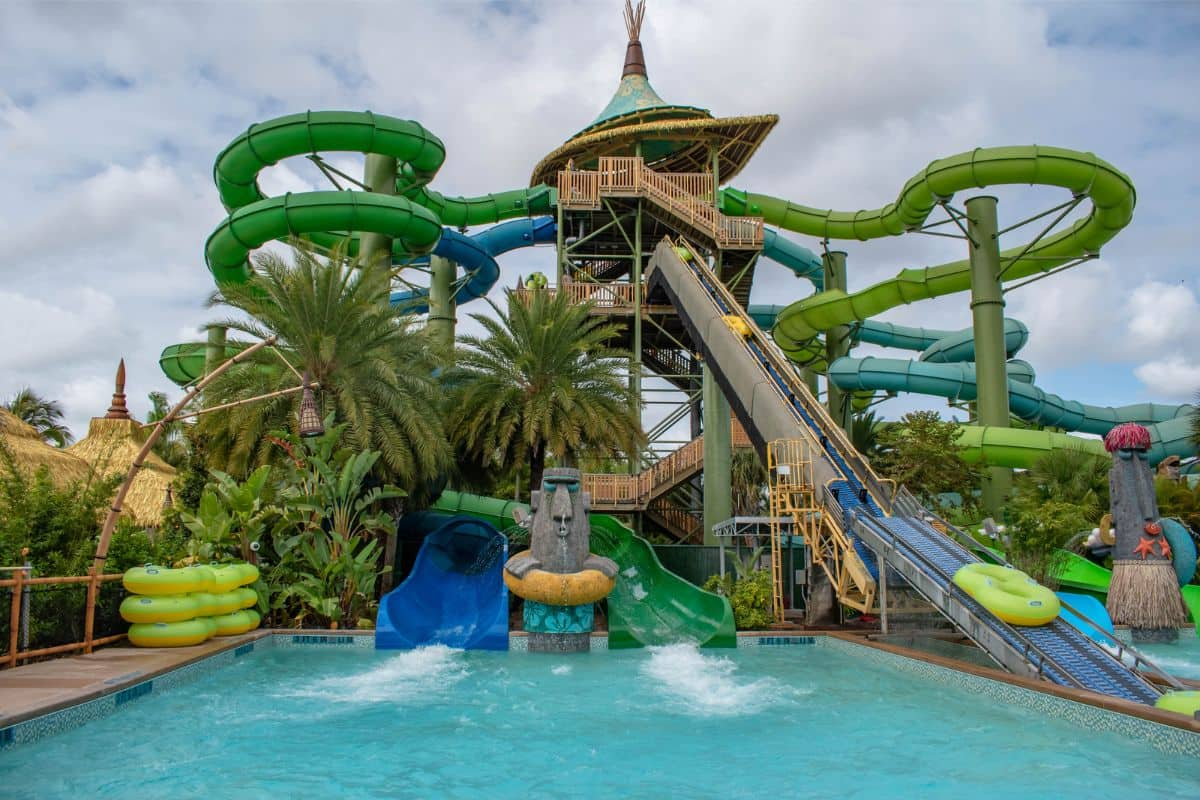 Like all theme parks, Volcano Bay has certain rules guests must follow to be allowed on the rides and attractions.
Throughout Volcano Bay, guests can wear water shoes, including on the sidewalks, in the pools, and in the lazy rivers.
However, certain attractions containing tubes or slides require guests to remove their shoes.
For convenience, lockers are placed near the entrance to the attractions that don't permit footwear so riders can store and retrieve their shoes easily.
Most of the rides at the water park also have height requirements.
Restrictions range from a minimum of 42" (107 cm) up to 54" (137 cm) tall.
Some slides also include a maximum height limit to ensure the safety of riders.
On raft rides, children under 42" (107 cm) may be required to wear a life vest.
Due to the nature of tube and sled rides, a few require guests to be able to sit up and support themselves throughout the ride.
In pools and lazy rivers, young children may be required to have a life vest or floaties.
Other ride restrictions can apply, just like in a normal theme park.
It's recommended that expectant mothers, the elderly, and people with heart conditions or severe physical disabilities avoid several attractions to ensure their comfort and safety.
Volcano Bay posts warnings throughout the park to ensure all guests understand what they can and cannot do.
What Are the Best Tips For Enjoying a Trip to Volcano Bay?
Water shoes are a big tip for the park that many people don't consider, but they aren't the only thing to keep in mind before a trip to Volcano Bay.
Don't Forget to Bring the Right Stuff
The first thing to remember when visiting Volcano Bay is to pack appropriately.
Other than a swimsuit, guests should not forget to bring sunscreen – a bad sunburn can ruin an entire vacation and the hot Florida sun can be relentless in the summer.
It's also a good idea to bring an extra change of clothes.
Wearing wet clothes all day can be incredibly uncomfortable, and it's almost impossible not to get wet while inside a water park.
Additionally, Volcano Bay does not provide complimentary towels unless visitors rent a Cabana.
Guests who don't reserve a Cabana can rent towels for $5 plus tax or bring their own.
Parkgoers staying at a Universal Orlando hotel may be able to grab towels from their resort but should check with the concierge to see what the options are.
You Don't Need to Go on Rides to Have a Good Time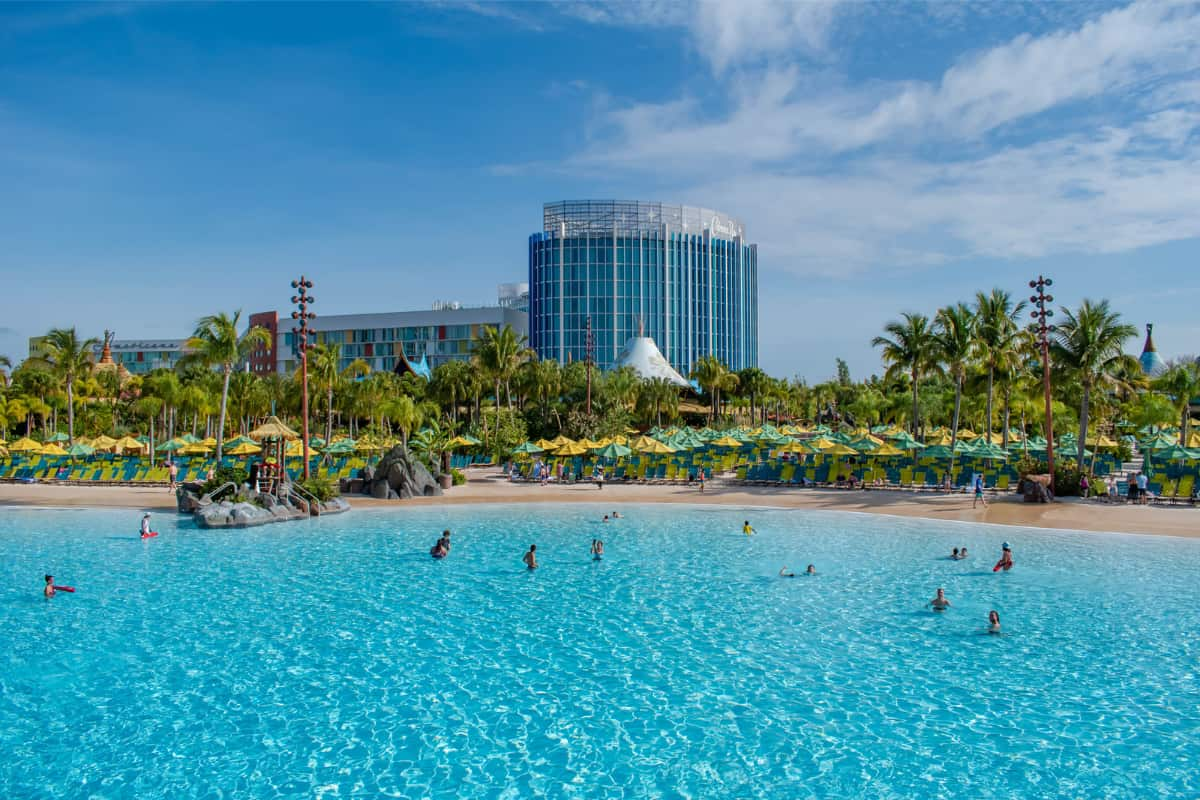 Visitors that aren't fans of rides or waterslides still have plenty to do at Volcano Bay.
There are multiple pools including wave pools and sand beaches, as well as meandering lazy rivers to relax in.
Premium seating is available to rent for guests who want a guaranteed spot to relax and enjoy the atmosphere.
Single or Family-Sized Cabanas are also a great option for visitors who want to relax by the pools in private luxury rather than go on rides. 
With Premium Seating and Cabana rentals, parkgoers receive exclusive benefits, including waiter service and complimentary lockers.
Just keep in mind parkgoers need to reserve in advance and during the summer, these amenities can go quickly.
Take Advantage of the TapuTapu Wristbands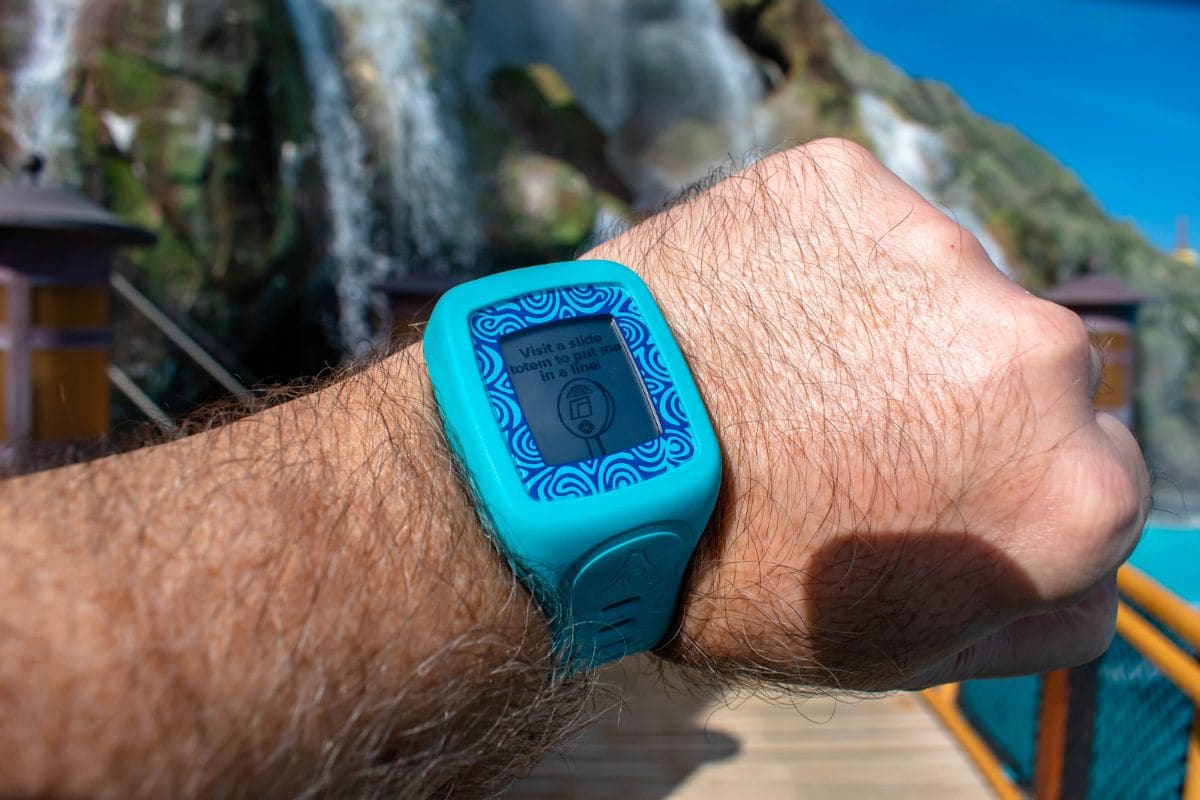 Everyone who visits Volcano Bay receives an electronic TapuTapu wristband that is connected to their tickets.
While they must be returned upon exiting the park, they're incredibly useful.
TapuTapu wristbands are primarily used to reserve spots in the Virtual Lines for rides and attractions at Volcano Bay. 
Instead of standing around in the hot sun, waiting for their turn, guests tap their TapuTapu wearable at the kiosks at an attraction to secure their place in line.
Guests can also use their TapuTapu bracelet to make purchases in the park by connecting it to their credit card using Universal Orlando's official app.
This way, parkgoers can lock their wallets in a locker and not worry about soggy cash or losing their credit card on a ride.
Visit During the Off-Season
The best time to visit Volcano Bay is in the winter off-season.
During the winter and the off-season, the park sees fewer visitors.
This has many benefits, including smaller crowds, lower ticket prices, and shorter lines for attractions.
The park also won't close if it rains and neither will most of the attractions.
Orlando experiences mild winters and many days will be warm enough to thoroughly enjoy the water park – especially if you come from a place with cold, harsh winters.
If it's raining, guests can reserve their space at attractions, then wait for their turn somewhere dry and comfortable (like a restaurant).
On top of that, all of the water at Volcano Bay is heated throughout the year, so guests won't be chilly if the weather isn't perfect.
Stay at a Universal Orlando Hotel
Staying onsite at Universal Orlando comes with a lot of perks, but the biggest one is free transportation. 
Visitors can hitch a ride whenever they wish directly from their hotel to Volcano Bay.
Conclusion
Visitors to Volcano Bay are free to wear water shoes throughout the park; however, tube rides and slides will require riders to remove their footwear and place them in lockers near the entrance of the attraction.
All these rides will have signage posted to inform visitors whether shoes are allowed.