What Should You Wear To Disney World in October?
October in Orlando has some of the best weather, making it one of the most pleasant months to visit Disney World.
However, Florida is known for its rain, and unfortunately, October is no exception.
Layering is the name of the game for Disney World in October. For sunny days, pack light clothing like t-shirts and shorts as it can hit 85ºF (30ºC). Nights and early mornings can be chilly, so you may want a light jacket/sweater or long pants. I also recommend raingear (like a waterproof jacket or plastic poncho) just in case it gets a bit wet.
If you want to go all out and wear a Halloween costume, make sure it's not obstructive, offensive, or violent, or security won't allow you into specific events.
Tops To Wear To Disney World
Your choice of tops depends on the weather forecast and your planned activities.
Because October weather can be variable throughout the day, I always recommend bringing lightweight layers.
If it's going to be sunny and warm during the day, you can probably get away with a short-sleeved shirt or a tank top (just throw a sweater in your bag in case it gets cool in the evening).
A tank top is more suitable if you plan to hit the water parks, but ensure it's made of a material that dries quickly.
Despite the warmness, October never misses some cool, rainy days, so it's good to have a lightweight waterproof jacket or plastic poncho on hand.
You won't need a heavy coat as it's not nearly as cold as, say, January, but you'll need some kind of protection if rain is in the forecast.
You can also carry an umbrella, but make sure it's not too breezy or you'll lose it to the wind.
If you're bringing a stroller, invest in a rain cover for it – they cost about $12 on Amazon.
Disney is glad to sell you any of these items, but they're likely to be at least twice the usual price.
Bottoms To Wear To Disney World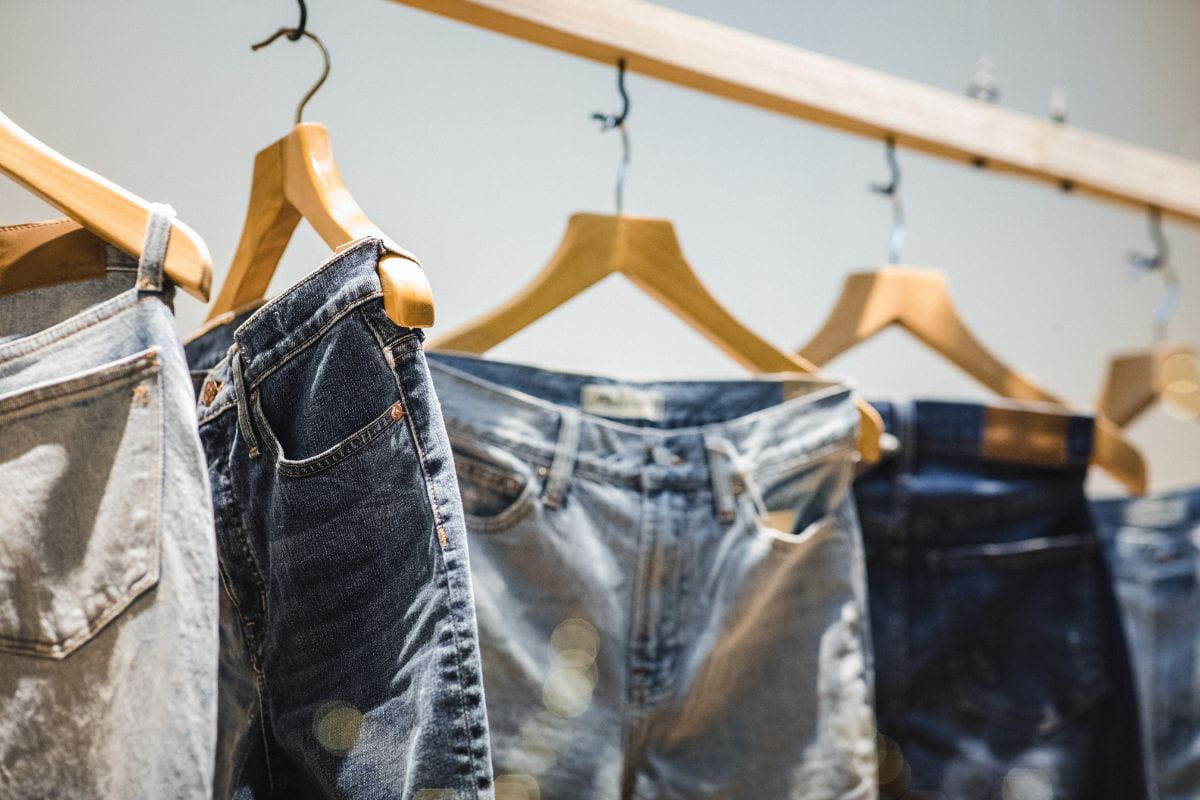 There's only one rule here: ensure your choice of bottoms is comfortable.
Whether it's jeans or sweatpants or shorts or capris, the most important thing is that your pants won't hinder you from enjoying yourself.
I wouldn't recommend jeans for a sunny day (capris or even shorts are better), but go for it if you're used to wearing them all day and they're comfortable to sit in.
In my experience, I'd save longer pants for cooler days and wear shorts or capris when the sun is out.
Women could consider a dress or a skirt if the weather is really hot, but I'd layer a pair of bike shorts or leggings underneath to ensure maximum coverage.
If you're wearing long pants (regardless of the weather), pick a pair with deeper pockets to keep your accessories safe.
October evenings at Disney World are generally cooler (think 67ºF/19ºC), so bring extra clothes according to how cold you might get.
Shoes To Wear To Disney World
Shoes, like pants, are about personal comfort.
But I'd also say the activities you've planned play a big part in what to wear.
For example, you probably shouldn't wear sneakers to a water park, and heels might not be suitable for a long day of walking.
Comfortable sandals are useful in both situations, and flip flops are best if your day is full of water-related activities.
Good tennis shoes are also perfect for the long walk around the park as they provide increased breathability, making them easy on your feet.
If you're expecting some rain, plan on wearing closed-toe shoes.
You might even want to consider an extra pair or some sandals for when your feet get soaking wet.
I also highly recommend bringing an extra pair of socks.
Even if it's sunny and warm and you're bopping around in your sandals all day, you might want to throw on some socks if it's cooler in the evening.
Finally, remember to pack some band-aids or blister patches to help with sore feet.
Accessories/Extras
Bags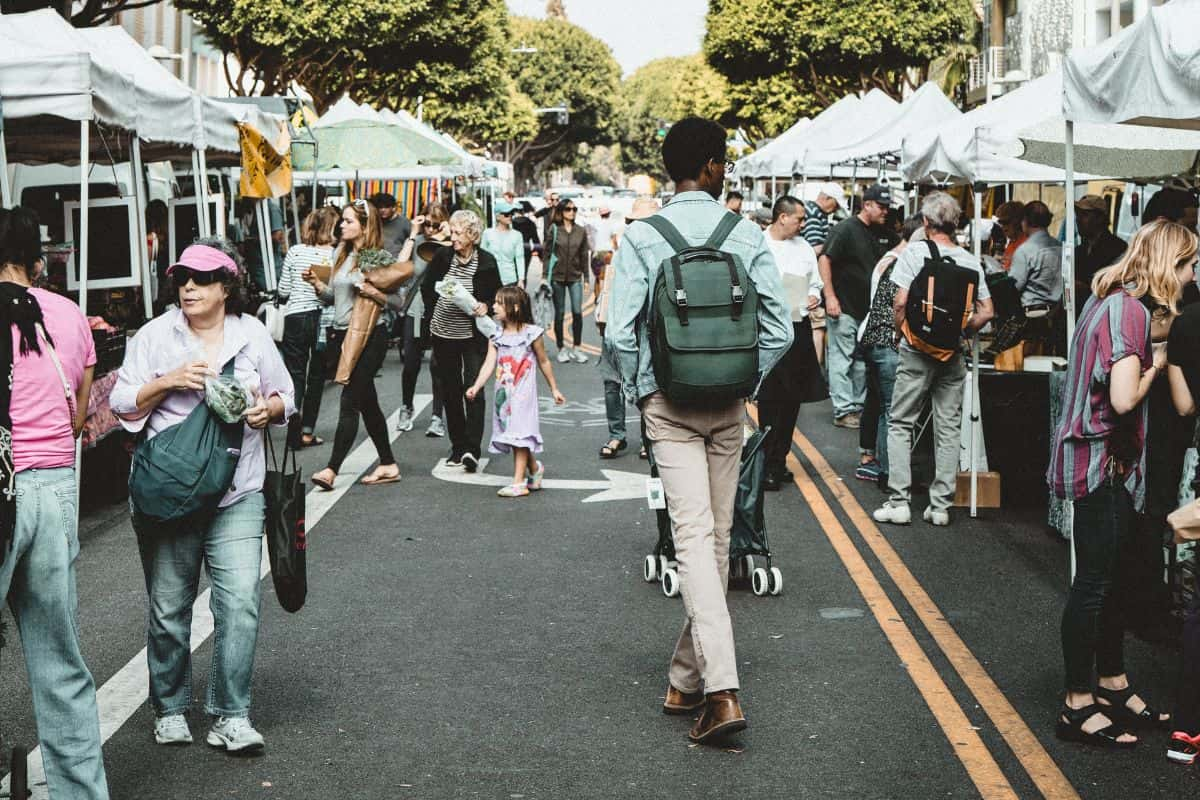 It's helpful to have a place to put your rain gear, extra clothes, and valuables.
A small backpack makes it way easier to carry around your stuff all day.
Just keep in mind that Disney is specific about the size of bags permitted.
The maximum size for suitcases and backpacks is 24″ long x 15″ wide x 18″ high (61 cm x 38 cm x 46 cm).
I'd recommend bringing a backpack spacious enough to fit your essentials and light enough to wear around the park.
Disney World also has lockers at various rides and locations, so you can rent one for the day if you don't want to drag all your extra stuff with you.
Sun Protection
Sunscreen is crucial in Florida as the sun can be intense.
Pack some for yourself and the kids, so painful sunburns don't ruin an otherwise great day at the park.
Sunglasses are also useful, and if you forget yours, they're available at various stores onsite.
Depending on the type (and level of goofiness), they can cost you $15–$20.
Hats are also perfect for avoiding direct afternoon sun.
You can buy some for the family before getting to the park or grab Disney-themed ones for $25–$50 each.
Costumes
Dress codes vary across the park, but Disney generally doesn't allow guests 14 years of age or older to wear costumes.
If your kids are young, you can get various Disney-themed costumes at several locations throughout the park.
Adults can also dress as characters, but there are pretty specific rules about what is and isn't allowed.
Double-check Disney's guidelines for costumes before you get to the park, or security may ask you to leave and change into more appropriate attire.
Nevertheless, if you're going to wear a Disney-approved costume, you can get good deals at Shop Disney and Jane.com.
Also, you should definitely get some Mickey ears if it's your first trip to Disney World.
Swimwear
Because of the warm October weather, a trip to the pool is almost necessary.
If swimming is on your itinerary, have enough swimsuits for the whole gang.
Disney can supply everything you need at the pool or water park, but gear bought at Disney can come at a hefty price.
I recommend bringing your own swimwear or buying what you need at a store off-site.
Visiting Disney World in October
An October visit to Disney World has its advantages, but it also has a few cons.
These are mainly increased crowds during Halloween and unpredictable weather on certain days.
However, these are not deal breakers as the upsides far surpass the disadvantages.
Crowds
In October, kids are in school, which trims down the crowds significantly because fewer families visit the park.
However, some days are still quite busy, with weekends being the most notorious because of special events like the Epcot Food & Wine Festival.
Mickey's Not-So-Scary Halloween Party also runs from mid-August to the last week of October, attracting a sizable number of people.
Overall, the best times to avoid crowds are weekdays.
The lines at most rides are shorter than usual, allowing you to enjoy your vacation at your own pace.
Weather
Unlike September, which is the peak of Orlando's rainy season, October's weather is drier.
You can usually expect sunshine during most of your visit, and even if it does rain – and it probably will – you're more likely to experience light showers than hazardous, stormy weather.
The temperatures are also higher during most of the month, though they start decreasing towards Halloween.
Regardless of what the weather forecast says, I always recommend bringing good rain gear to Disney World as a precaution against a surprise rainstorm.
Conclusion
The three main factors to consider when deciding what to wear to Disney World in October are activities, personal preferences/comfort, and, most importantly, the weather.
In October, the sun is the star, though the rain is likely to make a few cameos, and the evenings can be quite cool.
Most rides remain open on rainy days, so if you've got your rain gear, you can take advantage of shorter lines when the crowds rush inside.
The pools are also not full in October, making it easy to have a good time in the warm weather.
Overall, pack comfortable clothing that's easy to layer, and you'll have the best possible experience at Disney World in October.