What Should You Wear To Disney World in January?
One of the best times of year to go to theme parks is in the dead of winter in January. The parks are usually much less crowded and you can get great discounts on tickets.

Even the ever-popular and magical Disney World isn't immune to the January lull. Once the holiday special events are over and kids are back at school, the parks see below-average attendance.
Visiting Disney in January is different than visiting in the summer in that you'll need to bring different clothes to wear at the parks. While northerners might feel comfortable in regular T-shirts, temperatures dip at night so you'll need a jacket.
January at Disney World
Disney World is located in Orlando, Florida and January is usually the coldest month of the year in Florida. Thankfully, Disney World and Orlando generally experience very mild winters.
Average daily highs in January at Disney World reach around 71 degrees Fahrenheit and nightly lows dip to the mid-'50s.
On rare occasions, nighttime temperatures can get into the 40s if the wind chill is included.
This can make Disney the perfect winter getaway for northern residents. The parks essentially never see snow, with the lowest daily highs almost never going below 52 degrees Fahrenheit.
During a warmer winter, daily highs can get up to nearly 80 degrees Fahrenheit!
In the mornings, the temperature will still be warming up for the day. It's smart to bring along a light jacket or sweatshirt, especially for smaller children who can get cold easier than adults.
By noon, the parks will all be reaching their daily highs. Most people will feel completely comfortable walking around in shorts and a T-shirt.
Jeans are usually a great choice as well, as it isn't too hot during the day, but they're good for when the temperature dips.
Once the sun sets, the temperature can begin dropping fast. At night, the windchill can make the parks feel like it's around 40 degrees.
Sweatpants or jeans are a good option for cold nighttime park trips that you can also wear throughout the day.
You'll need a sweater, sweatshirt, or solid jacket if you plan to be in the parks after dark.
Best Options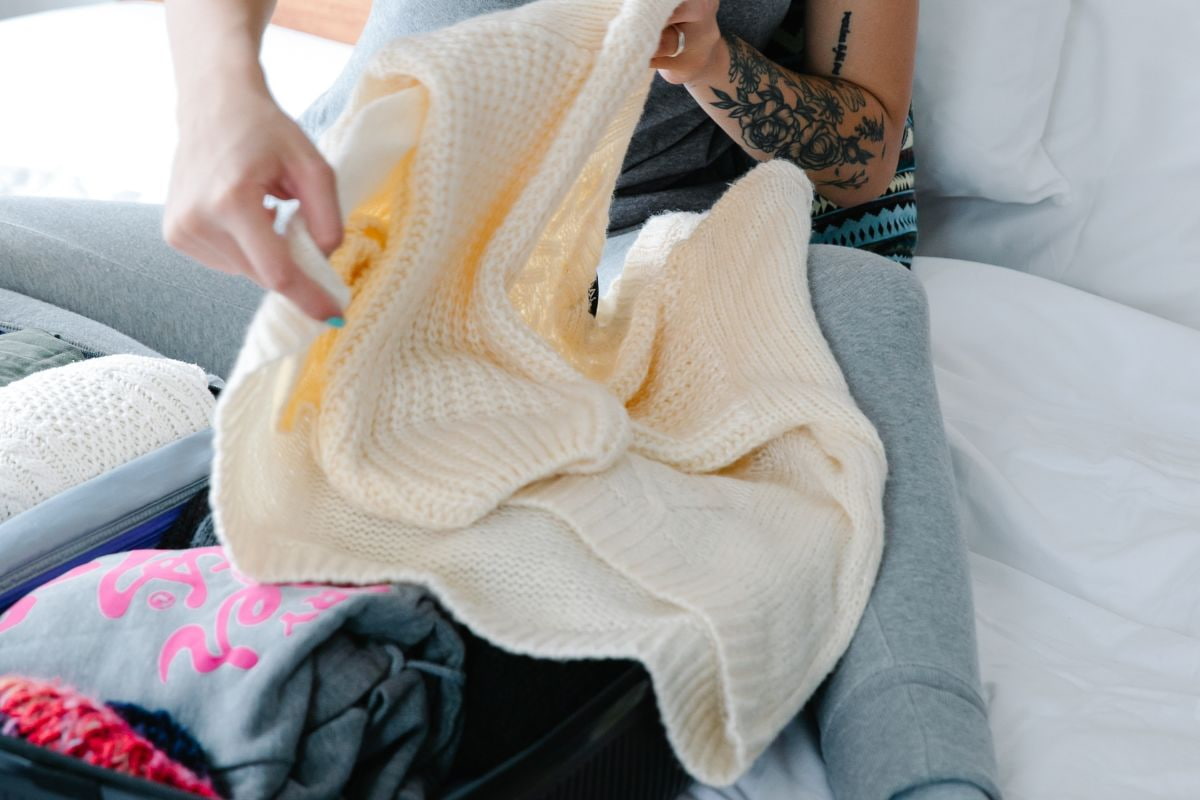 Packing for vacations can be hard, even if you check the weather forecast beforehand.
The best way to be comfortable at Disney World throughout the day is to layer your clothes. You want things you can easily put on or take off as the temperature changes.
Jeans and a T-shirt are a good base. A sweatshirt or sweater will get you through the morning chill and can easily be taken off and carried through the warmer parts of the day.
Once it begins cooling off, you can put it right back on.
Whatever shoes you decide to bring should be sturdy and comfortable to walk in. Disney Parks are massive and you'll be on your feet, walking around most of the day.
Since it's cooler in January, sandals aren't a great choice. It can also get rainy so wear a pair of shoes that keep your feet dry.
Tennis shoes or sneakers are generally going to be your best footwear options in the parks.
Some winter gear can be a lifesaver at night as well. Hats, mittens, or even a blanket are all good things to have with you.
Additional Things to Consider
January is one of the rainier months for Orlando and Florida weather can change quickly.
While most rain showers are going to be short-lived, it's a good idea to bring along an umbrella or some ponchos.
These are items you can pick up at the parks or in your hotel, but it'll save you some extra money if you bring them from home.
Also, keep in mind, that it doesn't matter if it's cloudy or wintertime, the UV index in Florida is high. Bring along sunscreen and be sure to use it on the trip to help avoid sunburns.
Remember that you're going to be colder while you're on rides. All the extra airflow cools you off so it's a good idea to wear those extra layers.
Most of the area in Disney parks is fairly open. Even if it's only in the fifties at night, if it's windy it's going to feel a lot colder. There's no shame in bundling up once the temperatures drop.
Small children get cold much easier than adults. Make sure you have winter gear for the kids to keep them warm. A good blanket is especially good for kids who will be riding in strollers.
Since it's the off-season, it's the best time for Disney to do maintenance. Some rides may be closed in January since there are fewer people trying to get on them.
Disney World parks also have shorter hours during the off-season. They're going to close down earlier than normal, so don't expect to stay until midnight.
What Should You Not Wear at Disney World?
Disney provides their theme park dress and costume guidelines on their website. This can both help you pack and avoid any sticky situations that may cause a problem.
Remember that Disney is a family-oriented environment and keeping things family-friendly is very important to the parks.
Guests age 14 or over are not allowed to wear costumes or masks in the parks. The only exceptions to this rule are during their Halloween special event and some outfits inspired by Star Wars.
Disney also provides a few guidelines for normal clothing as well.
Don't wear anything with objectionable material that may not be considered family-friendly, nothing that shows gratuitous amounts of skin, or anything that drags across the ground.
While layering is a great thing to do in January, be sure not to wear too many layers at the entrance.
If you appear to be wearing layers upon entering, it is subject to a search before you can go in.
People with objectionable tattoos can also get into some trouble at the parks. If you happen to have any of these, try to make sure you keep them covered to avoid the ire of the Mouse.
Are Disney's Water Parks open in January?
While Disney's Blizzard Beach closes during January, Typhoon Lagoon usually stays open.
All of the hotel pools in the Disney resort, as well as at Typhoon Lagoon, are always heated and stay open throughout the year as well.
If temperatures drop too low, the water parks close as allowing guests in is unsafe.
For the most part, you shouldn't have any problems visiting the water parks in January, though nighttime will be too cold to enjoy them.
How Busy is Disney World in January?
January is one of the best times to visit Disney World for people who don't like huge crowds.
All of the holiday special events are over, kids are back at school, and the parks settle into an offseason lull.
The parks may have average attendance numbers on the weekends, but it's well below average during the week.
Disney World is always going to be busy and have plenty of people in its parks. January is just the off-season and typically sees much lower visitor numbers.
You should expect to see much shorter queues for rides and most of the time tickets can be purchased at a discounted price since attendance is expected to be lower.
To see what expected attendance will be for your Disney vacation, check out a crowd calendar.
Conclusion
Layers are your best bet if you plan to visit Disney World in January. A good pair of walking shoes, pants, a shirt, and a sweatshirt or sweater is all you should need on most days.
During the day, the parks are pretty warm, but nighttime temperatures can get quite chilly.
Be sure to bring along some winter clothing and rain gear to get the most out of your time in the parks.