Can You Wear Homemade Disney Shirts to Disney World?
Now that your family is all set to visit Disney World for the first time, you seem to have cooked up the idea of making matching Disney shirts for the entire family.
But, there's something bothering you—are you legally allowed to wear homemade Disney shirts? Won't you get into trouble for using Disney's copyrighted image?
Disney World is not a place that discourages people from getting creative with their outfits, especially when their apparel has been designed in honor of famous Disney characters. Therefore, you can wear homemade Disney shirts to Disney World as long as you don't attempt to sell them.
However, you should bear in mind that there is a certain dress code for Disney World.
Now, I'm not too certain how strictly Disney enforces their dress code, but I do know that it's always better to be safe than sorry.
So, it's best to follow the dress code.
To give you a better idea of what to wear and what you should avoid wearing, I've listed clothing items that could prevent you from entering Disney World.
Clothing Items that Disney World Deems as Inappropriate
Outfits Conveying Obscene or Vulgar Messages
Make no mistake, you'll be denied entry if you show up at Disney World wearing an outfit that conveys obscene or vulgar messages.
Although you won't receive a fine, you'll be asked to wear your outfit inside out.
And, if that's not something you can comply with, you will have to leave the premises immediately.
Costumes
You, as an adult (14 years and above), are prohibited from dressing up in costumes.
This is done to keep the magic of the park alive. After all, Disney wouldn't be all too magical if everyone dressed up as their favorite characters, would it?
On the bright side, you're allowed to style your hair and do your makeup like your favorite Disney.
Certain Face Coverings
Disney discourages their visitors from wearing certain face coverings such as neck gaiters, coverings with valves, holes, or mesh material, and open-chin triangle bandanas, for safety purposes.
Skimpy Outfits
Outfits that expose too much skin are also deemed inappropriate by Disney. Some examples of such outfits include G-strings, bikini tops and bottoms, etc.
And, as far as water theme parks are concerned, they have their own criteria in place.
When it comes to skimpy outfits, keep in mind that even a crop top can sometimes be categorized as inappropriate.
Recently, TikTok star, Amanda DiMeo, uploaded a video where she said that she had received a $75 Disney shirt for free after wearing a crop top.
In other words—Disney subtly told her to wear the appropriate Disney shirt instead of her crop top.
Now, let's be honest here—the only reason she was given such a nice treatment was because of her influencer status.
If we, the average people, were in her position, we'd have to purchase the expensive Disney shirt to enter the theme parks.
So, if you don't want to make such forceful purchases, it's best to dress safely.
Clothing That Touches the Ground
Disney World doesn't give entry to visitors who wear clothing that touches or drags on the ground, mainly for safety reasons.
Elaborate, Grand Outfits
Elaborate, grand outfits such as wedding dresses are also not allowed in Disney World.
If you want to be on the safe side, I'd recommend casual clothes and a comfortable pair of walking shoes.
You should understand that Disney, as a family-oriented theme park, aims to keep its environment casual and family-friendly.
As long as you don't wear something that can ruin the 'family' vibe, you're good to go.
Can You Wear Homemade Disney Shirts to Signature Dining Restaurants?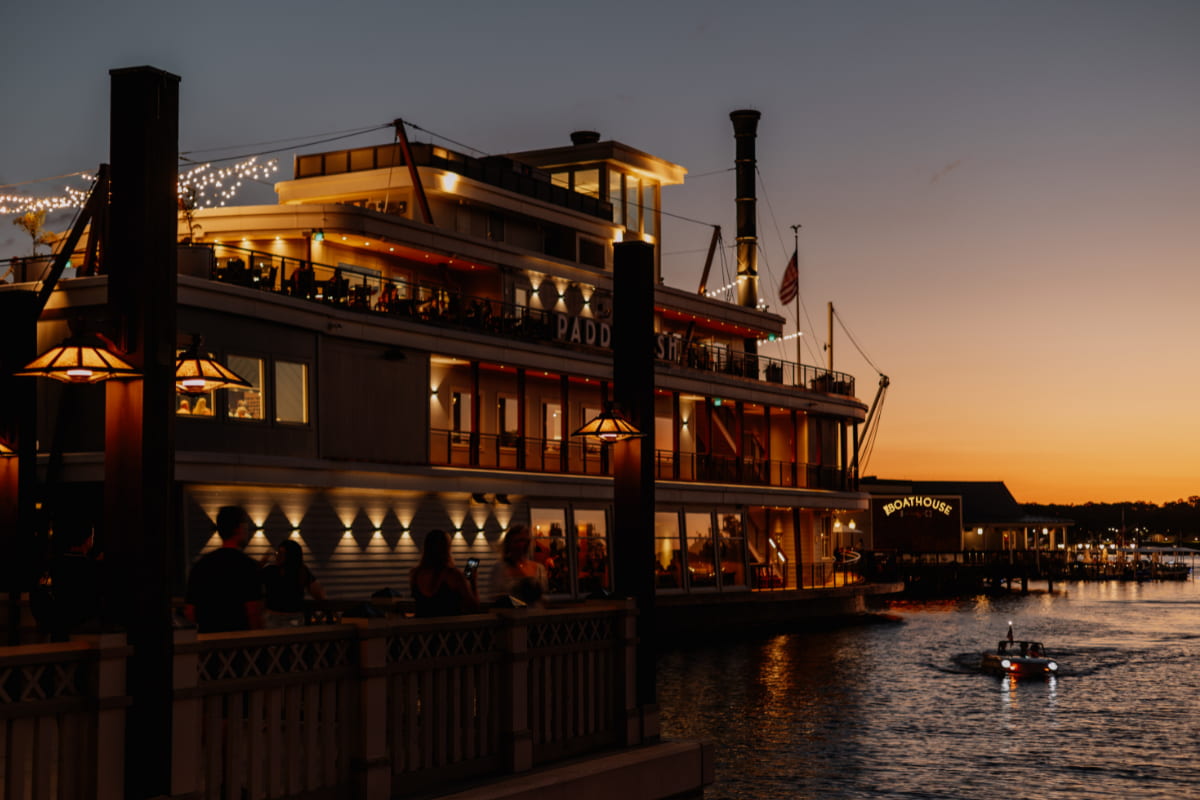 Disney-themed shirts, swimsuits, hats, tank tops, and ripped outfits are not allowed in signature dining restaurants such as the California Grill, Flying Fish, Cinderella's Royal Table, Monsieur Paul, Paddlefish, Morimoto Asia, The Boathouse, etc.
Signature dining restaurants, like the ones mentioned above, have a "business casual" dress code in effect.
For that reason, a man would be required to wear dress pants, shorts, or jeans with a long sleeve collared shirt or T-shirt, and a woman would need to dress in jeans, dress shorts, blouse, skirts, or a dress.
Where Can you Buy Homemade (Custom) Disney Shirts?
If you don't have the time or expertise to make Disney shirts on your own, you can opt to purchase custom shirts from the online marketplace, Etsy.
The online platform has hundreds of shops to choose from, which translates to infinite scrolling of Disney designs.
And, if you have a specific design in mind, you can also request the shops for custom apparel.
However, keep in mind that you'll have to do your online shopping a few weeks ahead of time, especially if you want something very custom.
Can You Print Disney Shirts in Disney World?
Let's say that you hadn't planned anything in advance, which is why you are currently wearing a basic T-shirt at Disney World.
Now that you've seen others wearing fun Disney t-shirts, you seem to feel left out.
At that moment, a question arises—Is there something you can do to get in on the fun?
Well, thankfully there is. It's possible for you to design and print your own t-shirt in Disney World!
To customize your t-shirt, you need to head to the Uniqlo outlet in Disney Springs.
Once there, you'll see that you can customize your t-shirt by taking references from a variety of fun and unique designs.
Conclusion
Now that we've reached the end of the article, let's go through some of the key takeaways to refresh our memories.
Disney World doesn't forbid visitors from donning homemade Disney outfits while visiting parks.
Therefore, you and your family can wear custom Disney apparel without worrying about getting sued or turned away at the entrance.
However, you need to bear in mind that Disney does have a dress code.
For instance, Disney World doesn't allow clothing items that relay obscene messages, costumes, revealing outfits, clothing that touches or drags on the ground, and grand outfits.
You should also be aware that signature dining restaurants have their own "business casual" dress code.
So, if you want to dine in such restaurants, you need to dress the part.