Is Volcano Bay Worth Visiting in 2023?
Volcano Bay is Universal Orlando's water park, offering guests a lush paradise where they can splash around, relax, and unwind no matter the time of year.
Universal considered every detail when designing Volcano Bay, and the park has a charming atmosphere that appeals to visitors of all ages.
With Universal Studios and Islands of Adventure right next door, potential visitors to Universal Orlando may wonder if Volcano Bay is worth the trip.
Volcano Bay is definitely worth it for visitors who love water parks. It hosts rides catering to groups of all ages and offers a variety of amenities, such as in-park dining, lockers, rentable cabanas, Virtual Lines, and contactless payments with TapuTapu wearables. The water at Volcano Bay is also heated, providing guests with maximum comfort all year round.
This article highlights the rides and amenities at Volcano Bay to help guests decide if the park is right for them.
What Is Volcano Bay?
Volcano Bay is the newest addition to Universal Orlando, and it's not just any old water park – it's a uniquely themed water-based experience enjoyable for guests of any age.
The rides and ambiance at Volcano Bay revolve around a special myth created by Universal themselves.
They depict the adventures of the fictional Waturi people, who discovered the park when they set out to explore the Pacific Ocean in search of Kunuku, a legendary Golden Fish.
Upon finding Kunuku, the Waturi were led to a tropical paradise, later known as Volcano Bay.
At the park's center is the 200 ft (61 m) Krakatau Volcano, which is home to several rides and attractions and completes the park's vision in style.
What Makes Volcano Bay Different?
The origin story of Volcano Bay is only one of many things that sets it apart from other water parks.
Another is its use of TapuTapu wearables and Virtual Lines.
A TapuTapu wearable is a waterproof bracelet given to guests upon entry.
It serves as an identification card, allowing visitors to access Virtual Lines, open lockers, and pay for food, drinks, and merchandise.
Virtual Lines make things easier for Volcano Bay guests by removing physical lines for rides and attractions.
Parkgoers just have to walk to the ride of their choice and "tap in" using their TapuTapu to receive a return time.
Once they have an 'appointment' for their desired attraction, guests are free to leave and participate in the many other things the park has to offer.
Visitors can add their credit card info to their TapuTapus using the Universal Orlando app and can even load certain dollar amounts for their children to spend at the park.
Payments are protected by a PIN, so even if guests misplace their bracelets, they don't have to worry about someone using their accounts.
What Kinds of Rides Are at Volcano Bay?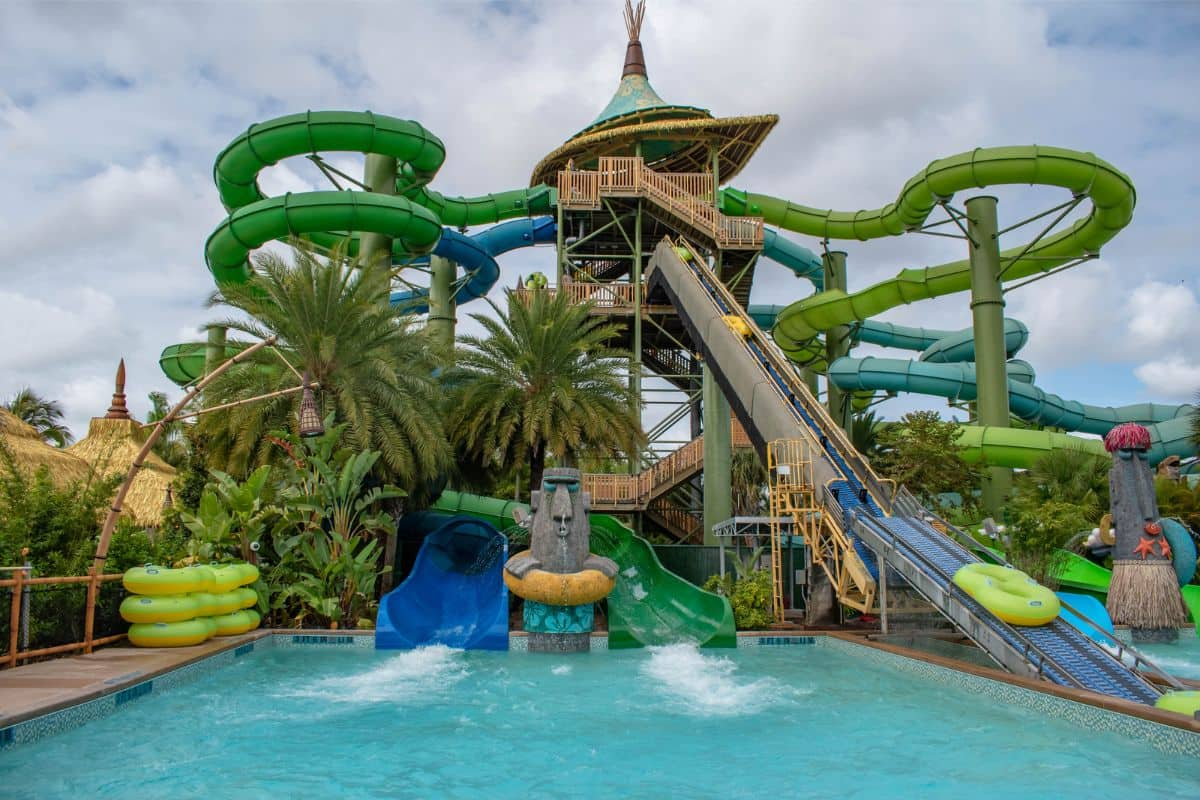 Volcano Bay is separated into multiple sections, each with roller coasters, water slides, lazy rivers, and more inspired by a different tropical element.
The following explains these areas in turn and lists the rides available in each.
Wave Village
The 200 ft (61 m) tall Krakatau Volcano sits in the center of Wave Village, the most relaxing area of Volcano Bay.
However, this park area isn't just beachfront and splash pools – it's also home to the Ko'okiri Body Plunge, a mind-blowing water slide that launches riders 125 feet (38 m) through a 70-degree drop door.
River Village
The River Village has a few different rides whose colorful designs were made especially for a younger crowd.
Waterslides, like the ika Moana of the Honu ika Moana and the Honu of the Honu ika Moana, explore coral reefs and hidden caves.
The Kopiko Wai Winding River offers parkgoers a lazy river where they can relax and enjoy the Florida weather all year round.
At the back of the Krakatau Volcano, guests will find the Krakatau Aqua Coaster, a canoe-based roller coaster that zooms through waterfalls.
There are also two kid-friendly splash areas in the River Village: the Runamukka Reef and the Tot Tiki Reef.
Rainforest Village
Found at the base of Krakatau, the Rainforest Village offers guests a wide range of water rides.
The Kala & Tai Nui Serpentine Body Slides and the Ohyah of Ohyah & Ohno Drop Slides are Rainforest Village's most thrilling water slides.
Guests can race to the bottom on the Punga Racers, a four-lane water slide that zips through underwater sea caves, or strap on a life jacket and brave the rapids in TeAwa The Fearless River that jostles guests through the heart of the volcano.
Parkgoers looking for tube rides will not be disappointed at the Rainforest Village.
The Puihi of the Maku Puihi Round Raft Rides hurdles up to five guests into lava tubes and dark caverns, ending with a zero-gravity launch into a pool below.
Riders can twist and turn on a two-person inflatable as they speed down the tracks at the Raki of Taniwha Tubes or the Tonga of Taniwha Tubes.
Can Guests Find Areas to Relax at Volcano Bay?
Volcano Bay makes it easy for everyone to move at their own pace.
Guests looking to kick back and relax can skip the water rides and head to any of Volcano Bay's calmer theme park attractions.
The most notable area to relax is Waturi Beach, a multi-directional wave pool with a sandy beachfront located in the Wave Village.
Adults looking to take it easy and kids who want to skip high-intensity rides can visit the leisure pools at The Reef in the Wave Village and the Puka Uli Lagoon in the Rainforest Village.
What Amenities Does Volcano Bay Offer?
Volcano Bay prides itself on being a tropical paradise, equipped with several features that make any visit the best it can be.
Guests don't need to worry about their belongings as they can store them in the rental lockers found in five different locations throughout the park.
There are three different sizes of lockers available, which range in price from $10 to $20 for the day.
While some parkgoers bring snacks and drinks, Volcano Bay offers several Polynesian and Pacific Islander-inspired dining options.
Visitors can enjoy creative cocktails and easy takeaway snacks or sit down to a delicious meal while waiting to ride.
Along the shores of Waturi Beach, guests can find Premium Seating and Single or Family-Sized Cabanas to rent on a first-come, first-served basis.
Premium Seating includes an umbrella and two lounge chairs and allows visitors to order food and drinks directly to their seats.
Cabanas come in one or two stories and are equipped with two lounge chairs, a lockbox (locker), bottled water, and a welcome basket of fruit and pastries.
Renting a cabana also includes an exclusive menu of food and drinks delivered by a private concierge.
Can You Buy Volcano Bay Tickets at the Gate?
It's possible to buy tickets to Volcano Bay at the gate, provided the park hasn't reached maximum capacity for the day.
Guests can purchase single-day or multi-park, multi-day passes to either two or three of Universal Orlando's theme parks.
Visitors purchasing tickets at the door will need a valid photo ID (Driver's License or Passport) and can pay using a credit card or cash.
Parkgoers can also purchase Universal Express Passes at the gate, which are added to the TapuTapu wearable and allow guests to skip the Virtual Line at participating rides and attractions.
Can You Visit Volcano Bay Year Round?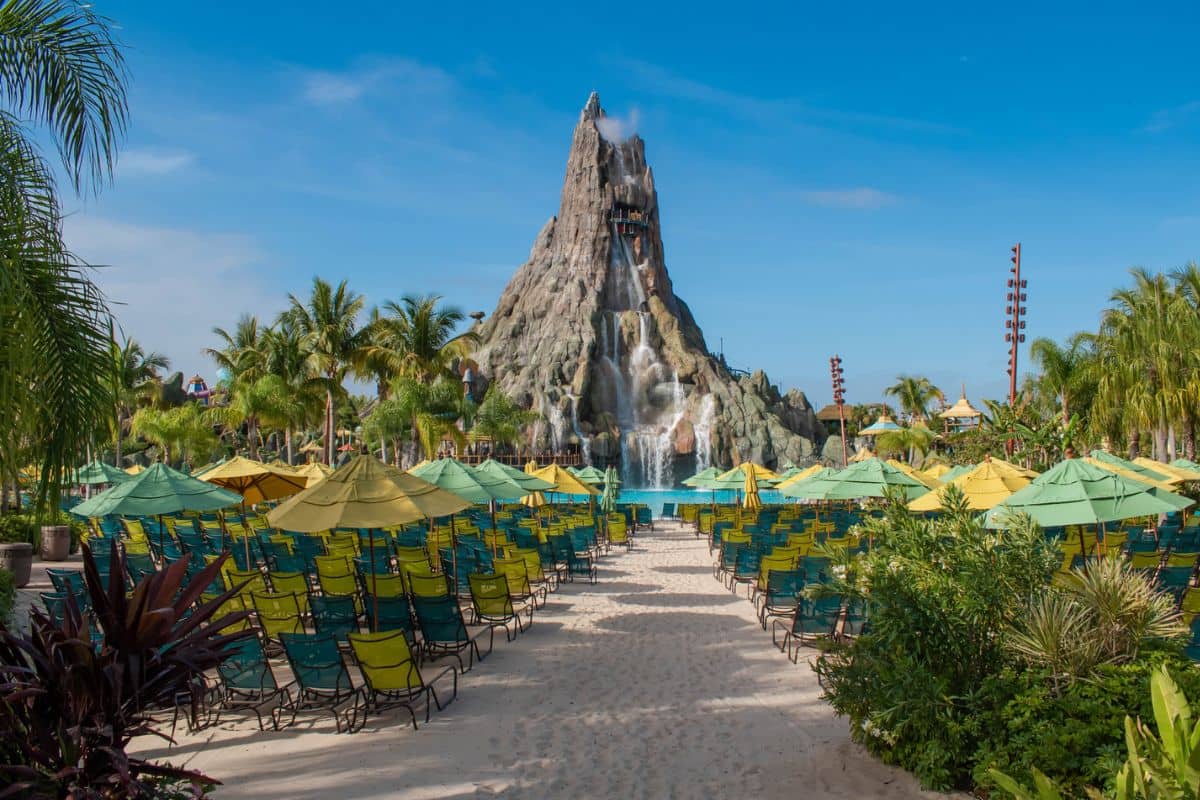 Florida's hot summers and warm winters allow Volcano Bay to remain open all year round.
All the water in the park is heated to 80ºF (26.7ºC) year-round, keeping guests comfortable even in the middle of January!
Volcano Bay will close for bad weather, like thunder and lightning storms, or if the daytime temperature drops below 60ºF (15.5ºC).
Weather closures happen last minute and can force guests out of the park during their visit.
When deciding whether to visit Volcano Bay, it's best to plan ahead and check the upcoming weather when choosing a date.
Should Any Groups Avoid Volcano Bay?
When deciding whether to visit Volcano Bay, the biggest thing to remember is that it's a water park.
Groups with guests who don't know how to swim or aren't confident swimmers may not enjoy their time at the park.
That said, Volcano Bay has taken several precautions to ensure everyone is comfortable and safe, no matter their swimming ability.
Lifeguards are on duty throughout the park, lifevests are provided free of charge, and rides will post signs to indicate whether participating guests should be strong swimmers.
Conclusion
Volcano Bay is an exciting, impressively-themed water park with something for everyone.
It includes roller coasters and water slides for adrenaline chasers and relaxing lagoons and lazy rivers for those looking to slow down.
TapuTapu wearables allow guests to reserve spots in Virtual Lines and pay for services throughout the park, so they don't need to carry wallets or bags while bouncing from ride to ride.
With multiple dining options and lockers, premium seating, and cabanas to rent, visitors can unwind knowing their needs are taken care of.
The park is also open all year round and takes special care to reassure those who aren't confident swimmers.