Does Volcano Bay Close When It Rains?
Florida is well-known for seemingly random and fast-moving rain showers, which can be incredibly inconvenient for parkgoers at resorts like Universal Orlando.
While Universal Studios Florida and Islands of Adventure may need to shut down rides when it rains, Universal's water park, Volcano Bay, operates by a different set of rules.
Volcano Bay does not close when it rains. However, if lightning is spotted in the surrounding areas, guests will have to get out of the water until the storm has safely passed. None of the rides will be shut down for rain, and the pools will also remain open.
In this article, we'll go over what can cause Volcano Bay to close for the day and discuss whether rain can ruin the experience at the water park.
What Can Cause Volcano Bay to Close?
Rain by itself won't cause Volcano Bay to close or shut down any rides.
Just about everyone in the park is already wet anyway, so a little rain isn't going to hurt anything.
Lightning is a different story.
Staff at Universal Orlando monitor potential weather systems for lightning strikes in the area.
If there are any strikes within ten miles of the park, it's deemed unsafe for visitors to be in the water or at attractions.
Once there haven't been any lightning strikes for a minimum of thirty minutes, rides will start back up, and guests will be allowed back into the water.
During that time, visitors aren't required to leave the park; they must only adhere to Universal's safety guidelines.
Other inclement weather, like hurricanes and other major storms, could also shut down Volcano Bay – these aren't common, but they do happen.
It would be unsafe and irresponsible to allow parkgoers into Volcano Bay during one of these events, so the park will close until it has passed.
If a major event like a hurricane disrupts a vacation, it's usually possible for guests to change the dates of their tickets.
There are no refunds for normal events like rain showers and thunderstorms, and ticket changes are made on a case-by-case basis.
(A good rule of thumb is if the weather causes the Orlando airport to shut down, tickets can probably be changed or refunded.)
While the park will remain open on even the most scorching summer day, it can be shut down on cold days in the winter.
If the daily high temperature is at or below 60ºF (15.5ºC), Volcano Bay may close for the day.
Seasonal maintenance can also cause the water park to shut down for a few days.
During seasonal maintenance, Volcano Bay staff make routine repairs, clean all the pools and slides, and update the existing attractions in the park.
Importantly, seasonal maintenance isn't random; these dates will be clearly blocked off on Universal Orlando's website.
No one's vacation will be interrupted, though the water park may be closed if guests visit during that time.
Aside from major events, little will cause Volcano Bay to shut down completely.
All decisions to shut down or restrict access to attractions inside the water park are made to prioritize guest safety.
Does Rain Ruin the Experience at Volcano Bay?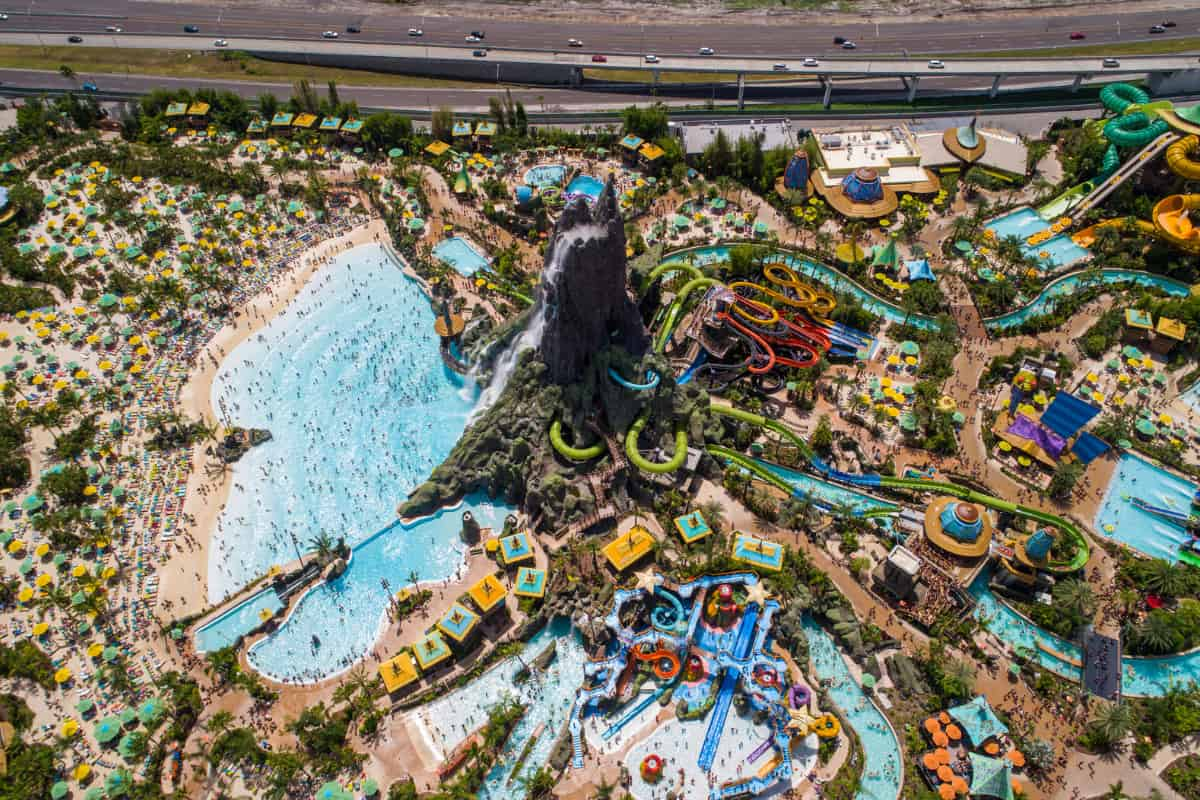 Rain at Volcano Bay isn't a big deal at all.
It's a water park, so pretty much everything is designed to get wet and operate as normal – even the sidewalks are sprayed with water constantly to keep them cool in the summer.
Outdoor attractions like water slides and raft rides wouldn't need to close to avoid getting wet because, like nearly everything in the park, they're constantly wet already.
That means rain won't cause guests to miss out on any attractions.
Additionally, all of the restaurants and snack stands in the park have some sort of covered seating to let customers get out of the rain for a bit as well.
Upon entering the park, each person is given a TapuTapu wristband connected to their tickets.
These wristbands allow guests to reserve their spot for rides using virtual lines, so they're free to roam around the park until it's their turn.
In the rain, guests can book their place in line, then find a dry spot in the park to wait.
The only visitors who may be negatively impacted by a rain shower are those that want to spend most of the day tanning beside the pool.
Conclusion
Volcano Bay will not close when it rains, but if there is thunder and lightning in the area, guests will be asked to get out of the water, and attractions will suspend activity.
Afternoon showers are common in Florida but usually pass quickly and shouldn't affect the quality of any visitor's park experience.