Should You Visit Islands of Adventure or Universal Studios Florida First?
Universal Orlando is one of Florida's largest resorts.
When visiting for the first time, it's difficult to decide which of its most popular theme parks to visit first, Universal Studios or Islands of Adventure.
Ultimately, the length of your stay and the interests of your group will determine which park to live it up in first.
Luckily, it's possible to have a good time at both on the same day. Due to different closing times, visiting Universal Studios first and spending the afternoon at Islands of Adventure maximizes your time at each park. If you have two or more days, we recommend visiting Islands of Adventure first before ending your trip enjoying shows and slower paced rides at Universal Studios.
This article will investigate the highlights and differences of the two parks. We'll explore how to visit both parks on the same day and the best times to visit.
What is the difference between Universal Studios and Islands of Adventure?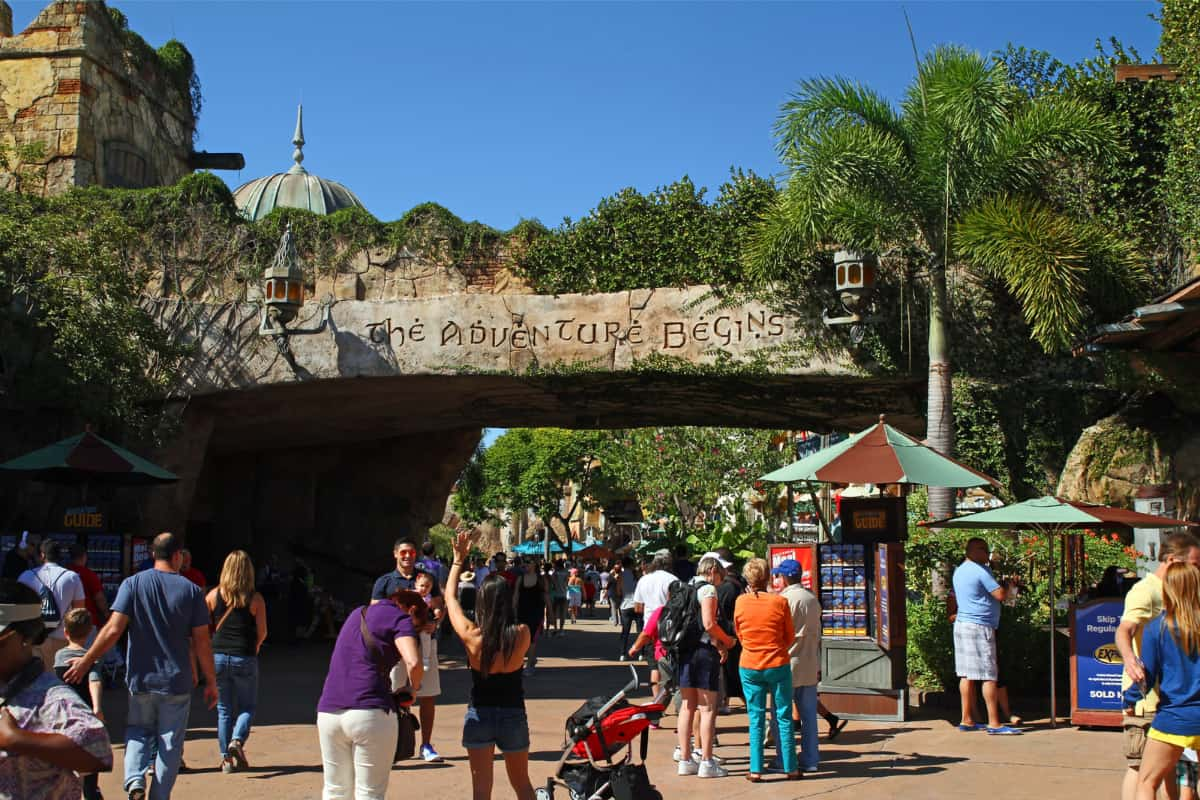 The biggest difference between the two parks is their concept.
Universal Studios focuses on TV shows and movies, giving visitors a chance to "ride the movies" and see live shows.
Islands of Adventure is more of a traditional theme park, with rollercoasters, water rides, and thrills inspired by Universal's movies.
Which park is better?
It's difficult to crown a winner because both parks cater to different demographics and have different concepts.
Islands of Adventure is your classic adventure theme park with 19 rides, while Universal Studios only has 13.
However, Universal Studios offers more live shows than Islands of Adventure.
It all depends on what kind of experience you're looking for.
What are the main attractions in each park?
Universal Studios' main attractions include Revenge of the Mummy and E.T. Adventure (both rides), as well as The Bourne Spectacular – an action stunt show.
All of the rides and shows in Universal Studios take you through film and TV plots.
Islands of Adventure includes Popeye and Bluto's Bilge-Rat Barges and Jurassic Park River Adventure, both water themed rides.
The park also offers several roller coasters centered on different movies, including The Amazing Spiderman, Jurassic Park, and King Kong.
Because of its waterpark element, it may be best to visit Islands of Adventure in the afternoon, when it's easiest to dry off in the sun.
The rides in each park set their tone. Islands of Adventure is faster paced, with adventurous roller coasters while Universal Studios provides an easier pace, with story-focused rides.
The Wizarding World of Harry Potter is one of Universal's biggest attractions and is located in both theme parks.
The Hogwarts Express connects the two parks and is an alternative to walking between park entrances.
Who would prefer going to one park over the other?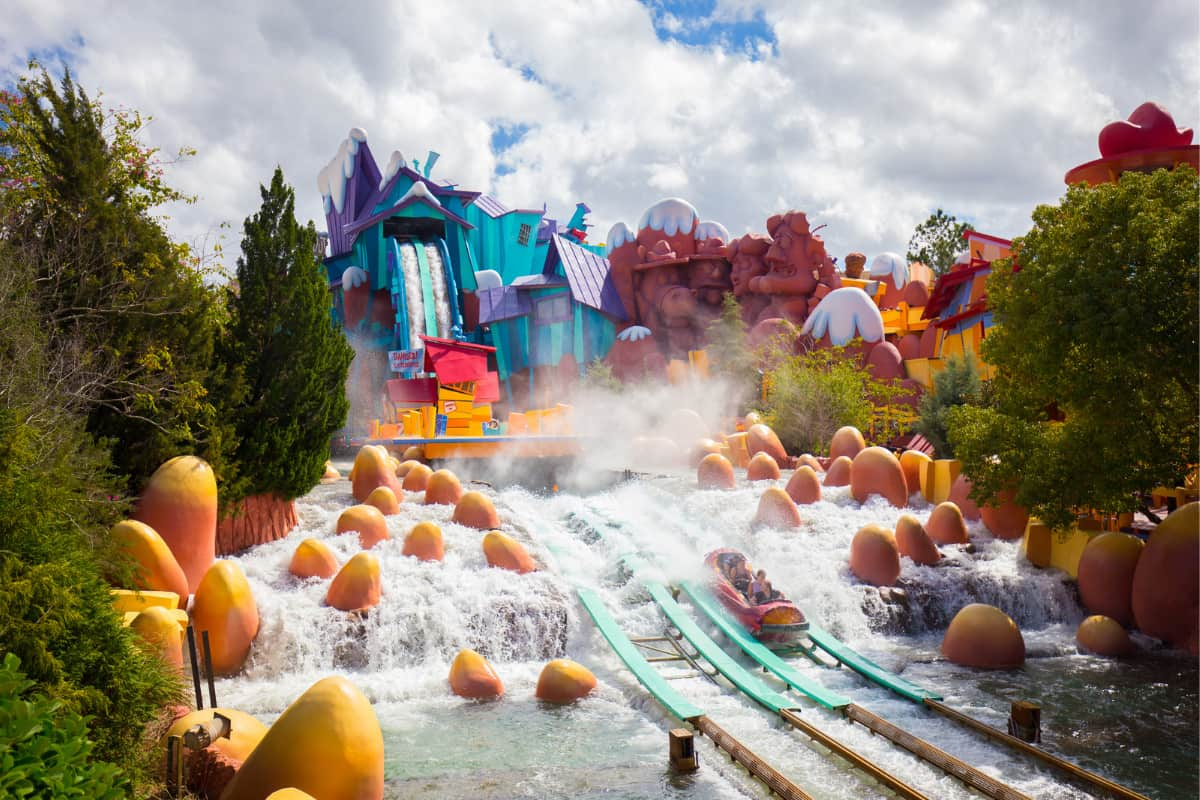 Universal Studios includes rides like Despicable Me: Minion Mayhem and shows like Animal Actors on Location, making it more inviting to children.
The rides at Islands of Adventure are thrilling, attracting a more mature crowd.
At the same time, Islands of Adventure also has Seuss Landing, dedicated to kids but appealing to Dr. Suess fans of all ages.
Overall, Islands of Adventure has more for a large group of different ages to enjoy.
But if you're traveling with children, Universal Studios may be a better place to visit first.
Based on the number of rides and range of appeal, Islands of Adventure has more to offer visitors who may have limited time to visit Universal Orlando.
Do you need separate tickets for Islands of Adventure and Universal Studios?
No, you do not need separate tickets.
Universal Studios offers four ticket options, including one and two day passes ranging from $109.00 to $265.00.
Ultimately, if you want to visit Universal Studios and Islands of Adventure, the Park-Hopper tickets are your best choice.
With a Park-Hopper ticket, you can visit either park as many times as you'd like during your stay.
Be sure to purchase your tickets in advance, either from Universal directly or through travel sites offering discounted tickets.
This saves you money and time, allowing you to head straight for the park entrance.
Can you do Universal Studios and Islands of Adventure on the same day?
If you are short on time, or only have one extra day in Orlando, you can still visit both parks!
Islands of Adventure and Universal Studios both open at 9:00 am and are located right next to each other.
You can walk or take the Hogwarts Express to the other park entrance!
Universal Studios closes at 5:00 pm (depending on their parade schedule) and Islands of Adventure closes at 8:00 pm.
If you're looking to do both parks on the same day, visiting Universal Studios first allows you a half-day there and at Islands of Adventure.
Only two of three Universal parks offer Early Admissions Passes per season (8:00 am entrance), so check their website to see current availability.
What is the best time to visit each park?
The entrance is often crowded at opening.
Wait time to enter each park tends to decrease around 11 am.
How many days do you need for each park?
Each park can easily fill up an entire day.
The best plan of action is to purchase a two-day, two-park Park-Hopper ticket for $265.
This way you can spend a day in each park, or hop between the two depending on the crowds.
Conclusion
Which park you should visit first depends on the age of your group and how much time you have to visit.
No matter the length of your stay, a Park-Hopper ticket is the best option for park entrance.
Islands of Adventure offers a wide variety of rides and shows for all ages; however, with more roller coasters the park, it is geared toward a mature audience.
Universal Studios focuses on the stories in movies, offering more shows and slower rides.
With only one day, you should visit Universal Studios first then Islands of Adventure to best maximize your time at each park.
Given two days at Universal Resorts Orlando, you should visit Islands of Adventure first to enjoy roller coasters, waterpark rides, and a later closing time.
Then spend your second day at Universal Studios seeing shows and "riding through movies."