Universal Orlando vs SeaWorld: Which Is Better?
Universal Studios Florida and SeaWorld, both located in Orlando, are two of the most visited theme parks in the world.
What makes these theme parks so popular is the fact that they're entertaining and offer people an escape from their everyday lives.
They allow children to experience the magic of fantasy worlds and give adults the freedom to connect with their inner child.
Also, many of the rides can help reduce stress.
They expose you to 'good' fear – that fun kind of fear that forces you to release tension through screaming at the top of your lungs.
Really, who doesn't like a place where it's perfectly normal to let yourself go and yell as loud as you can?!
Of course, Universal Orlando and SeaWorld Orlando aren't the same types of theme parks.
They both have different attractions, ride offerings, target visitors, etc.
Let's see how they compare.
Comparing Universal Studios Orlando to SeaWorld
Primary attractions
Universal Orlando operates similarly to Disney World in that there are multiple parks, including a water park, for guests to indulge in.
Universal Orlando offers visitors a chance to experience the cinematic universe of blockbuster movies and popular shows such as Jurassic Park, E.T., King Kong, Despicable Me, Harry Potter, Dr. Seuss, and The Simpsons.
The rides at Universal Studios Florida and Universal's Islands of Adventure have been designed primarily to execute the vision and thrill of such fictional worlds.
It's a bit of a different vibe at SeaWorld.
In addition to its variety of exciting rides and Sesame Street-themed attractions for children, this open-air aquarium allows visitors to enjoy close encounters with a stunning array of aquatic life through its diverse habitats, live shows, and presentations.
Ride offerings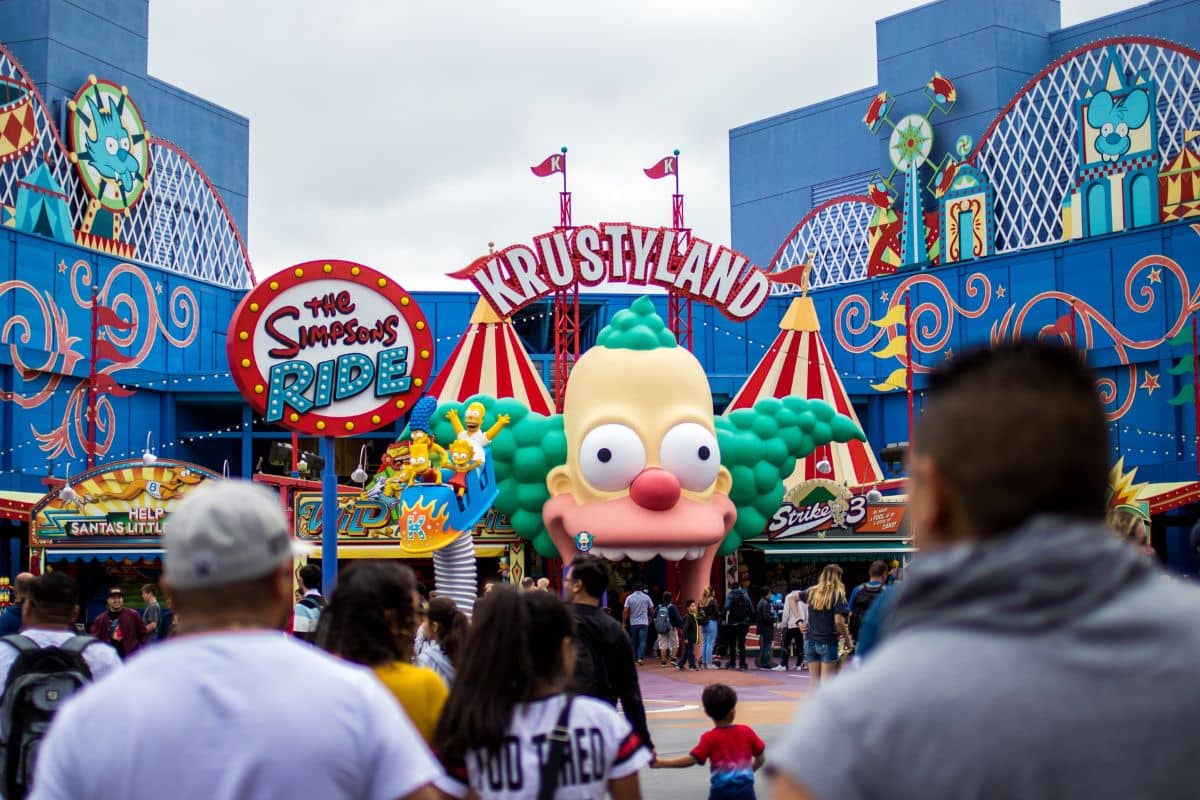 Universal Studios Florida has made a name by offering exhilarating rides and immersive experiences.
Some of the fear-inducing rides at Universal Orlando (that always seem to have wildly impressive queues) include Revenge of the Mummy, Harry Potter and the Escape from Gringotts, The Wizarding World of Harry Potter – Diagon Alley, Men in Black Alien Attack, Hollywood Rip Ride Rockit, and The Simpsons Ride.
Many of the attractions at Universal Orlando have minimum height requirements for the safety of their guests, making the park less ideal for families with younger children.
Though SeaWorld cannot rival Universal Orlando in terms of the intensity of its rides, it does boast a fair number of attractions that can get the pulse racing.
For instance, the Kraken roller coaster, Ice Breaker, Infinity Falls, and Mako hyper-coaster are all capable of satisfying the most daring adrenaline-seekers.
Moreover, what SeaWorld may lack in intensity, they make up in variety.
SeaWorld Orlando offers a comprehensive mix of attractions, such as water rides, kid-oriented rides, dark rides, simulators, and even Flamingo paddle boats to tour their large central lake.
Target audience
If you plan to visit a theme park with something for everybody, especially if you have younger children, SeaWorld is a much better option than Universal Studios Florida.
Since SeaWorld provides the theme park experience in addition to its impressive offerings of the aquatic world, it appeals to a broader range of guests.
At SeaWorld, it's possible for families old and young to feed dolphins and sea lions, get up close and personal with penguins in their icy cold habitat, and explore sea life in the touch-pools at the Stingray Lagoon.
Then kids can discover the beloved neighborhood of Sesame Street through family-friendly rides and various interactive elements.
There's also plenty for seniors to enjoy at SeaWorld.
Not only can they watch exciting, live shows such as Dolphin Adventures, Orca Encounter, and Sea Lion & Otter Spotlight, but they can also enjoy the 360-degree view of Orlando from the Sky Tower.
Turtle Trek, a walk-through exhibit that showcases sea turtles, is also a favorite among families of all ages.
As mentioned, Universal Orlando is renowned for its action-packed, fear-inducing, and blood-pumping rides and, as such, isn't really suitable for little ones or senior citizens.
That said, it definitely has something for everyone from tweens, to teens, to adult thrill-seekers.
Area
Universal Orlando is spread over 840 acres, meaning it isn't possible to cover all areas of the park in a day.
You'd likely need 3 to 4 days to cover every nook and cranny.
On the other hand, SeaWorld is considerably smaller – it only covers an area of 200 acres, and you can visit the entire marine park in a day.
Whether this proves to be a pro or a con depends on your priorities.
It is worth noting that Universal offers a one-day theme park experience via Universal Studios Hollywood in California.
If you find yourself on the other side of the country and want to experience Universal Studios in one day, check it out.
Conclusion
As you can tell, both Universal Studios Florida and SeaWorld have their fair share of attractions.
Deciding on which one to visit comes down to personal preference and priorities.
If you have a broad range of travelers, visiting SeaWorld would be a more reasonable bet as there's something for everyone, regardless of age.
It also helps that SeaWorld is less popular than Universal Orlando and that generally, the park has fewer visitors and shorter waiting times for rides.
Price-wise, SeaWorld is slightly less expensive.
Tickets cost around $100 as opposed to Universal Orlando's base rate of $110, which makes them more budget-friendly for families.
The food at SeaWorld also costs less than at Universal Orlando.
There's even a ticket option for All-Day Dining in selected SeaWorld restaurants, which could save families with children under 10 quite a bit of money (they can receive a kids meal every 90 mins!).
However, if the group you're traveling with is keen on releasing a healthy level of adrenaline, you will have a much better time at Universal Orlando.