Universal Studios Orlando vs Disney's Hollywood Studios: Which Is Better?
Disney's Hollywood Studios and Universal Studios Orlando are both world-class theme parks that have stood the test of time.
While Disney's Hollywood Studios started operations in 1989, Universal Studios followed shortly after in 1990.
Since their inception, both parks have undergone many changes in a bid to lure crowds and keep things fresh.
And, so far, it's worked like a charm.
Despite the rise in ticket prices almost annually, both parks attract visitors by the millions every year.
In this review, we'll stack them against each other and see who offers the best bang for your buck.
Comparing Universal Studios Orlando and Disney's Hollywood Studios
Rides
Universal Studios Orlando comes second to none in terms of frightful rides.
This theme park is renowned for its plethora of attractions, including Harry Potter and the Escape from Gringotts, Men in Black Alien Attack, Revenge of the Mummy, and Hollywood Rip Ride Rockit.
All the rides mentioned above can get your pulse racing and give you an adrenaline rush.
So, if fear-inducing rides are what you're after, Universal Studios Orlando is the place to go.
Of course, Disney's Hollywood Studios also boasts a handful of thrill rides such as Slinky Dog Dash and Rock 'n' Roller Coaster.
However, they are less intense compared to rides at Universal and, as such, aren't as appealing to thrill-seekers.
Sci-Fi attractions
Both Universal Studios and Hollywood Studios have stellar attractions for sci-fi fanatics.
While Hollywood Studios has Star Tours and Galaxy's Edge, Universal Studios has E.T Adventure.
When comparing the sci-fi attractions at both theme parks, I'd say that Universal Studios gets the nod as it offers a more immersive experience.
Its E.T. adventure ride, where you're on a flying bicycle through a jungle to reach E.T.'s home planet, is simply on another level – you feel like you're in the actual movie!
Shows and events
Disney's Hollywood Studios gives you a chance to rub elbows with many popular Disney characters, including Mickey Mouse, Buzz Lightyear, the Incredibles, and more.
These famous characters perform in breathtaking shows, and while numerous events take place on the regular, there are a couple that really stand out.
The first Hollywood Studios event worth visiting is Star Wars: A Galactic Spectacular, a 14-minute Star Wars-themed firework display with thrilling lighting, pyrotechnics, and visual effects.
It is certain to blow your mind.
This spectacle will take you through some of the most iconic scenes in the Star Wars film franchise, so if you're a megafan of Star Wars, you can't afford to miss it.
The other show worth seeing is Fantasmic.
This elaborate musical event will take you inside Mickey Mouse's ethereal dream world, where the forces of good and evil do battle with each other.
All the sets in this show are a visual treat because of the outstanding special effects and pyrotechnics.
Universal Studios Orlando also has its fair share of attractive shows and events.
If you're a Harry Potter fan, you'll love the lights projected on Hogwarts Castle after dark.
This light show boasts a wonderful mix of light projections and music that primarily highlights the four Hogwarts houses: Ravenclaw, Hufflepuff, Gryffindor, and Slytherin.
Universal Orlando's newest Cinematic Celebration nighttime show also offers a feast for the eyes.
As the show's name suggests, it celebrates the success of Universal's most popular, exciting, and iconic movies.
You can expect appearances from some of Universal's most beloved characters, such as Minions, the dinosaurs from Jurassic World, and more.
Additionally, The Blue Man Group Show has been on display for over a decade.
This theatrical performance art is certain to wow people of all ages with its dance routines, visually-stunning light show performances, and friendly crowd interactions.
Play areas for kids
In the past, Hollywood Studios had the Honey I Shrunk The Kids play area for kids, but unfortunately, it doesn't have it anymore.
In fact, Hollywood Studios doesn't have a playground right now.
On the other hand, Universal Studios has a couple of play areas for kids (Fievel's Playland and Curious George Goes to Town) where you can rest, and your toddler releases pent-up energy.
So, with Hollywood Studios not having a play area, Universal Studios wins this round by default.
Food and beverage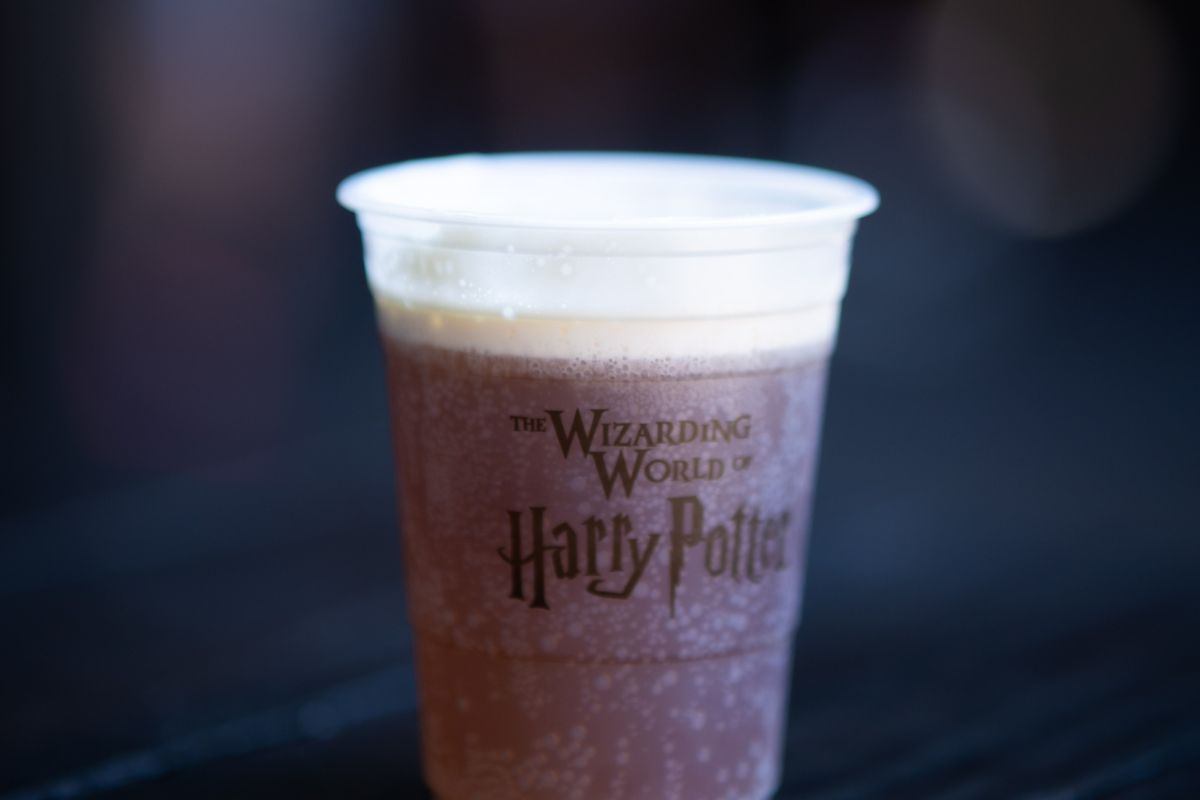 Since the food at Universal Studios is often compared to carnival food or just barely a step above, I think Disney's Hollywood Studios takes the cake in terms of food offerings and a better dining experience.
However, that's not to say that all exclusive sit-down restos at Universal are bad.
Places such as Vivo, Toothsome, Palm Restaurant, The Kitchen, Mythos, Confisco, and Finn's all offer good food.
Plus, if the food at Universal doesn't satisfy your palate, you can always visit a plethora of delicious restaurants in the nearby entertainment district, CityWalk.
Meanwhile, most restaurants at Hollywood Studios are worth a visit.
Some of the notable ones include Ronto Restaurant, Baseline Taphouse, The Hollywood Brown Derby, and Woody's Lunch Box.
Just note that many restaurants in Hollywood Studios require a reservation, so if you intend to dine in, ensure you book your table in advance.
When it comes to beverages, let's compare the best of what both theme parks have to offer.
For Hollywood Studios, it's Blue Bantha Milk from Galaxy's Edge. Meanwhile, Universal Studios has Butterbeer.
Personally, I prefer the Butterbeer, which is sold in Diagon Alley.
This frozen drink tastes like ice-cold cream soda with a butterscotch soft serve topping.
As you may have guessed, it is extremely sweet and surprisingly satisfying.
Park layout
The layout at Disney's Hollywood Studios Park initially started with the wagon-wheel design.
However, over the years, the park has grown to accommodate new attractions such as Galaxy's Edge and Toy Story Land, which has distorted the once easy-to-follow layout.
Thankfully, reading the layout at Universal Studios Orlando is as easy as whistling dixies.
The park has a straightforward rectangular layout and, thus, is easier to get around.
Trip duration
While Universal Studios Orlando is conceived as a multi-day theme park resort, Disney's Hollywood Studios isn't.
Universal Studios Orlando covers an area of 840 acres, which means it's impossible to cover the whole park in a day.
A minimum of 3 to 4 days or multiple visits will be required to see and experience Universal Studios Orlando in its entirety.
Meanwhile, Hollywood Studios only spans 135 acres, making it ideal for a one-day visit.
Ultimately, the theme park you visit could depend on how much time you have.
Conclusion
Choosing between Universal Studios and Hollywood Studios boils down to priorities and preferences.
With similar calibers of shows and events, it may come down to which fandom you belong to or if you have small children to consider.
If you're a fan of Disney characters and the Star Wars film franchise, you should opt for Disney's Hollywood Studios.
However, if you want to experience the realm of Harry Potter and E.T., the attractions at Universal Studios Orlando are where the fun's at.
You may also have to factor in vacation days when choosing between the two.
Disney's Hollywood Studios is a one-day theme park, making it ideal for a weekend get-a-way.
In contrast, Universal Studios Orlando, with its bigger area and more attractions, takes longer to explore.