Universal Studios Hollywood vs Disneyland: Which Is Better?
Disneyland and Universal Studios Hollywood are two of the most well-known destinations in California.
Close in proximity to one another, these theme parks are popular attractions for tourists and locals alike.
Both parks boast numerous rides, attractions, shows, dining, and entertainment options, and both parks can be enjoyed by adults and children alike.
As these parks are direct competitors, the price of admission is about the same.
A basic park ticket at Disneyland starts at around $105, while entry to Universal is roughly $110.
Similar in many ways, Disneyland and Universal Studios Hollywood also have distinct differences.
If you can't decide which one you want to visit, I've created this guide to walk you through some key features of each park.
I've grouped these features into eight categories: location, atmosphere and layout, crowds, express pass options, kid-friendliness, rides, shows, and characters.
Depending on your preferences, some might be more important than others, but they all contribute to the unique experience at either park.
1. Location
Disneyland is in Anaheim, California.
Many people mistake Disneyland as being within the Los Angeles area, but Anaheim is actually about an hour's drive south of LA in Orange County.
Anaheim is home to about 350,000 people (compared to 4 million in LA), making Disneyland the number one reason people visit the city.
To accommodate the many visitors to Disneyland every year, Anaheim hosts several world-class hotels and has all the services and amenities you might need for your trip.
Universal Studios Hollywood is in Hollywood, CA.
It's only 10 miles away from Downtown LA and is on top of a hill overlooking the city.
The theme park is also embedded in the world's largest movie studio, explaining why it's located in Hollywood's entertainment hub.
It's slightly more accessible than Disneyland due to its proximity to the City of Los Angeles and all it has to offer, as well as its proximity to the Los Angeles International Airport (LAX).
Overall, the parks are about an hour's drive from each other, and you definitely can visit both if you're planning a longer stay in the LA area.
2. Atmosphere and Layout
Disneyland is "the happiest place on earth" for a reason – the atmosphere is truly magical.
The 'vibe' is an essential part of any theme park, and the surroundings and layout at Disneyland do an unbelievable job of making you feel lost in a fantasy world.
You can walk around without hopping on a single ride and still have an amazing day enjoying the beautiful scenery.
Disneyland hosts two main parks: Disneyland Park and Disney California Adventure.
Disney has their own hotels on-site, and the theme park also has a 'shopping center' called Downtown Disney.
You can check out some excellent boutiques and restaurants and even experience events and festivals, most notably the Food and Wine Festival.
The theme around the park is central to the Disney characters we're all familiar with: Mickey, Minnie, Donald, Goofy – the whole original gang is there.
Other Disney franchises like Marvel and Star Wars also provide something a little different for Disney superfans.
Universal Studios Hollywood has an entirely different vibe and layout to Disneyland.
First, the atmosphere is more mature.
While a glance at anything Disney will remind you of your childhood, a trip to Universal won't make you forget you're a fully grown adult with bills to pay.
Universal Hollywood is also a fully-functioning movie studio, so the experience isn't entirely immersive.
That said, the overall atmosphere at Universal is not one to gloss over.
Universal Studios Hollywood boasts The Wizarding World of Harry Potter as its biggest draw to those who visit the park.
It's a well-designed attraction and does a fantastic job of bringing the books to life.
The park also features themes inspired by some of Universal's most popular films in recent years.
From Jurassic Park and Despicable Me to The Simpsons and the Secret Life of Pets, most franchises at Universal Studios Hollywood are as familiar as those at Disneyland.
One critique of Universal is that the staging of its attractions has nowhere near the same depth of detail as those at Disneyland.
However, if you're just looking for a fun day at a world-class theme park, this probably won't actually bother you.
3. Crowds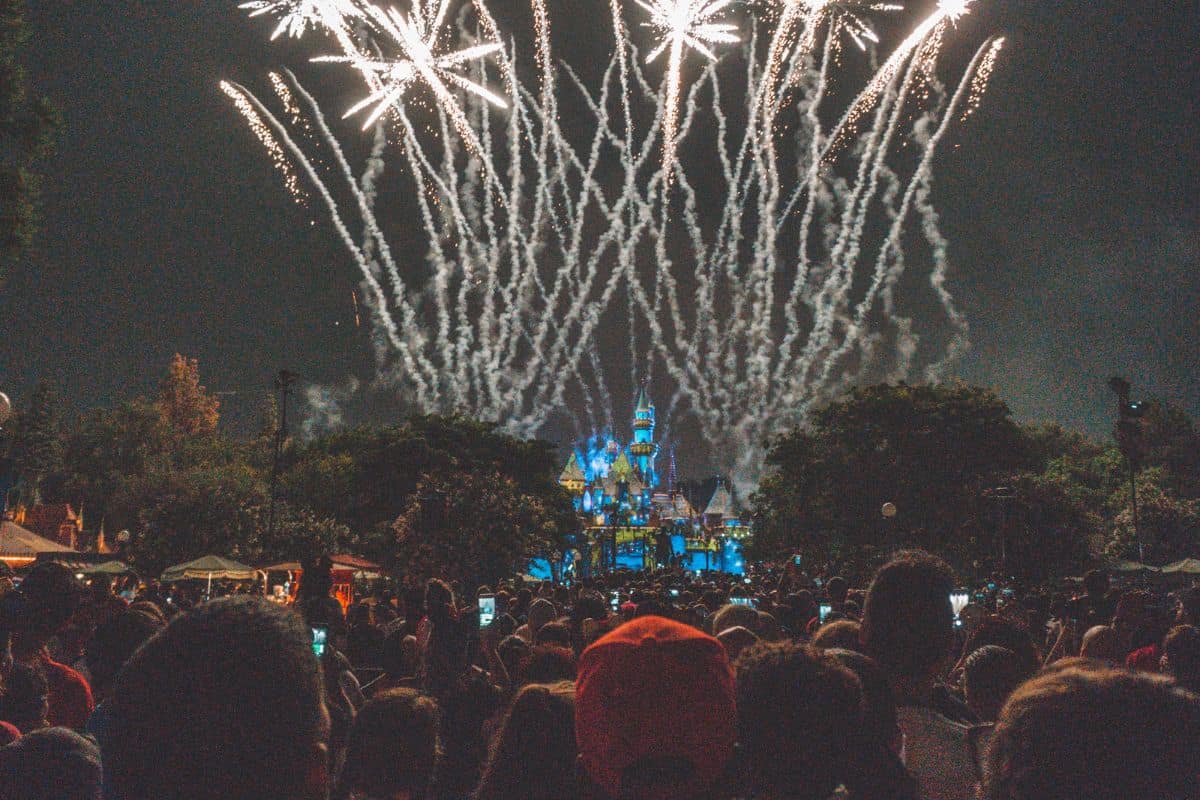 Disneyland has consistently bigger crowds than Universal Studios Hollywood, making the park busier and more packed.
Massive crowds can be a drawback for some people, but it just goes to show how popular the park is.
When visiting Disneyland, it can take about an hour to get through parking alone, and you still need to get through security and the long park entry lines.
This doesn't even factor in California traffic, especially if you're coming down from LA.
One way to avoid some of these headaches is to stay on-site at one of the Disney hotels.
However, on-site park access doesn't necessarily equal salvation, as you still have to deal with the considerable crowds and lines everywhere you go inside the park.
If you aren't prepared for the crowds, fighting through the throngs of people can make you lose sense of the magic for a minute.
But I promise it's only for a minute.
Universal Studios Hollywood has smaller crowds and little to no lines depending on the time of year.
While it takes 60-90 minutes to hop on a 3-4 minute ride at Disneyland, it can take you 5-10 minutes to get on an attraction at Universal, especially if you visit nearing closing time (9 pm).
Parking is also breezy at Universal Studios Hollywood, and park entry lines are rarely long.
You may still face some long lines at the attractions during the day, particularly if you visit during peak seasons, but overall, Universal Hollywood is generally less busy.
Regardless of which park you attend, lines can be an issue, but luckily both Disneyland and Universal Hollywood offer a solution.
4. Express Passes
Disneyland offers the Disney Genie+ Service (previously FastPass) that allows you to bypass lines and get to a ride quicker.
It's a lifesaver, and I recommend getting it whether or not you're short on time.
You can greatly enhance your experience by avoiding lines at every ride in the park.
The Disney Genie+ Service is $20 per person per day – a great price, but it's limited to specific attractions.
I still recommend getting it as it's good value for the price, but I'm sure some are willing to pay more if it means express access to all rides.
That's where Disney's Private VIP Tour comes in.
Disney's VIP Tours come at a premium price, but they are fully customizable packages that offer immediate access to most rides, a personal tour guide, and special access to shows and events around the park.
You'll still need separate admission to the park, but if you can afford a VIP tour, the price of admission is a drop in the ocean.
Reserving your VIP tour involves calling or emailing the park, and they'll work with you directly to build the day of your dreams.
Universal Studios Hollywood also offers the chance to bypass rides through its Universal Express ticket option.
Available for $189, it gives you one-time access to every ride and show and includes your general park admission for the day.
Overall, Universal Express is not something I'd say is crucial to your experience unless you visit during busy periods.
Universal also offers a VIP experience that's much more affordable than Disneyland's VIP Tour.
Starting at $350 per day, it gets you a tour guide, unlimited express access to all rides and shows, complimentary valet parking, a private VIP dining experience, and other sweet benefits.
It also includes your general park admission for the day.
When it comes to the VIP experience, Universal wins hands down.
5. Kid-Friendliness
Disneyland is the most kid-friendly park of the two.
It makes sense as Disney, in general, is geared toward children.
Multiple rides at Disneyland have minimum height requirements, but many attractions suit children aged 2-10.
It's not to say older people can't have fun at the theme park, but if you're a thrill-seeking individual, Disneyland is not for you.
Alcohol consumption is restricted at Disney to the few spots that sell it.
You're not allowed to walk around the park with your drink, highlighting the importance of a family-friendly environment.
If your child can't get on a ride, Disney offers the Rider Switch Service that allows an adult in your party to hop on while another watches the kid.
Once done, the watcher can get on the ride without going back in line while the other adult stays with the child.
Universal Studios Hollywood targets an older crowd, such as teenagers and adults.
The rides at Universal are more thrilling and feature screen-based experiences, flight simulations, and realistic (sometimes terrifying) graphics.
Universal Studios Hollywood also has minimum height requirements for many of its rides and attractions.
You can get yourself an alcoholic beverage at several spots, and they don't have a policy on whether or not you can walk around the park with it.
Universal also offers a child swap service called Child Switch, similarly structured to Rider Switch at Disneyland, allowing guests to tag-team childcare at rides not appropriate for their children.
Universal also has fewer strollers at the park, while Disney offers a ton of them to their visitors.
It's not to say that Universal doesn't have rides and attractions for children of all ages, but its overall vibe is more mature than Disneyland.
6. Rides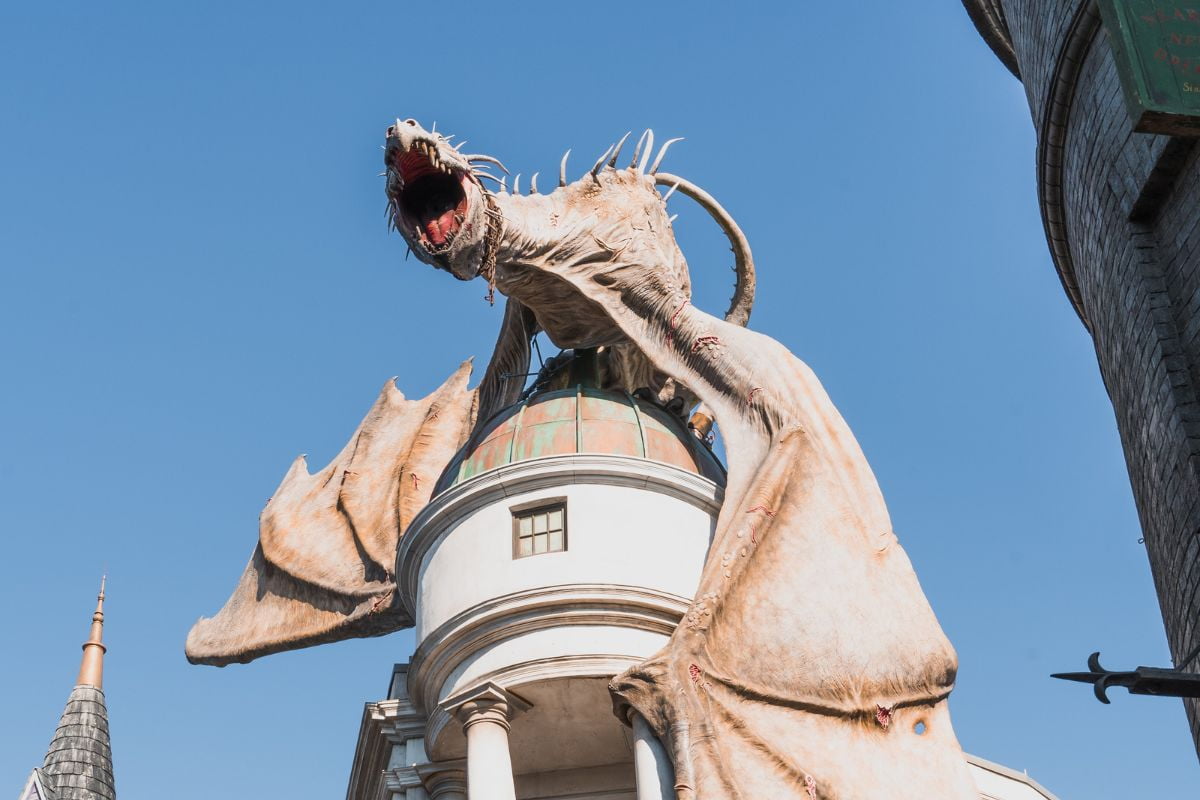 Disneyland offers way more rides, by far.
Splash Mountain, Pirates of the Caribbean, and Indiana Jones Adventure are part of a roster of 80+ attractions in both Disney parks combined.
Trying to see Disneyland in one day is futile, considering the lines and number of rides at the park.
Even with a Disney Genie+ pass, you need at least two days to get through most attractions.
It's all worth it as Disneyland has some of the best attractions in the theme park world.
Cars Land is one of the best destinations, and though the lines are long, it's worth the wait.
Universal Studios Hollywood covers about 400 acres, but most of this land is allocated to the studios.
The studio tour is a prominent attraction at Universal Hollywood and grants you access to a number of movie sets.
The theme park itself features around ten attractions, a significantly more manageable number when compared to Disneyland.
Most of the rides are located on the park's upper level, while the remaining are found at the lower level, and it takes about ten minutes to move between the two using escalators.
The best attraction, in my opinion, is The Wizarding World of Harry Potter, as Universal built a whole world to make the experience as realistic as possible.
From the Three Broomsticks to Hogwarts Castle, it's a must-visit if you're a superfan (and even if you're not).
7. Shows
Disneyland offers a variety of shows, though they're mainly geared toward small children.
These are incredible productions, and you're likely to pay top dollar for them anywhere else.
Frozen is the most popular, while Fantasmic and World of Color are worthy mentions.
Younger kids are sure to enjoy the stories and adventures, while adults will appreciate the artistic side and complexities behind the productions.
On the other hand, older kids may feel like they've outgrown the shows and might not enjoy them as much.
Disneyland also offers parades and spectacular fireworks shows, bringing together a great live experience.
Universal Studios Hollywood also offers some good live shows.
The Special Effects Show is a fantastic attraction showcasing how movie special effects are created.
Waterworld also provides a great experience and stands as one of the more thrilling attractions at the park, featuring jet skiers and massive explosions.
Universal's third and final show is Animal Actors, which is live reenacted scenes from popular animal-centric films.
Both theme parks offer an excellent live experience, with Disneyland's family-friendly offerings likely to suit most age groups.
8. Characters
Disneyland's character meet and greets have pretty long lines.
It's all worth it, though, as your child will spend a reasonable amount of time hanging out with their favorite characters.
If you have a toddler who doesn't recognize the characters, they're still likely to enjoy the experience because of their bright and cheerful appearance.
Universal Studios Hollywood also has character meet and greets and features a wider variety of characters.
Most younger kids are unlikely to recognize some of them, highlighting the mature atmosphere at Universal.
The lines for character meet and greets are shorter, and you can even meet some of the characters walking around the theme park.
While Universal features some kid-friendly characters like Minions and The Simpsons, it also features acts like Optimus Prime and Raptor Encounter that might startle your toddler.
Overall, both parks feature great acts, so it comes down to which set of characters appeals to you the most.
Conclusion
Here's a summary of the main differences between each park:
Location – Universal Studios Hollywood is in an easier location due to its proximity to a major city. You'll likely need to stay on-site at Disneyland for a much better experience.
Theme – Disneyland has a far more immersive atmosphere and a significantly better layout. Universal's design is a bit all over the place, with the exception of The Wizarding World of Harry Potter.
Audience – Disneyland is more family-friendly and is geared toward kids aged 2-10. Universal Studios Hollywood is tailored toward older teenagers and adults.
Time – You need at least two days to get through most of Disneyland, while Universal Studios Hollywood is manageable in a day.
People – Disneyland is busy throughout most of the year, while Universal Studios Hollywood has some low seasons you can plan your visit around.
You can also visit both parks if you stay in the area and have the time (and budget).
You'll get the best of both worlds and make the most out of your vacation in Southern California.