Universal Studios Florida vs EPCOT: Differences & Which One Is Better?
Orlando is home to the Universal Orlando and Walt Disney World Resorts, both containing incredible theme parks and world-class attractions.
Two of their most notable parks are Universal Studios Florida and EPCOT.
Comparing the two is somewhat difficult because each park provides a very different guest experience.
Deciding which is best depends on individual preferences and the overall needs of the group.
Due to its walkability, thrilling rides, and price point, Universal Studios comes out on top for families or guests looking for a day immersed in movie magic. EPCOT is bigger and has more attractions, but tends to draw a more mature crowd with its laid-back atmosphere and focus on educational attractions and world-class cuisine.
This article will highlight the different features of Universal Studios Florida and Disney's EPCOT to help potential guests choose which is best for their Orlando vacation.
What is EPCOT?
EPCOT stands for Experimental Prototype Community of Tomorrow.
Most of the park is dedicated to international, futuristic, and natural experiences celebrating human achievement.
EPCOT's signature giant silver golf ball is actually Spaceship Earth, a slow-paced ride that takes visitors through time exploring different innovations in communication technology.
The park itself focuses on cultural experiences much more than a typical theme park.
Known for its fantastic restaurants, EPCOT even hosts a months-long food and wine festival every year.
What is Universal Studios Florida?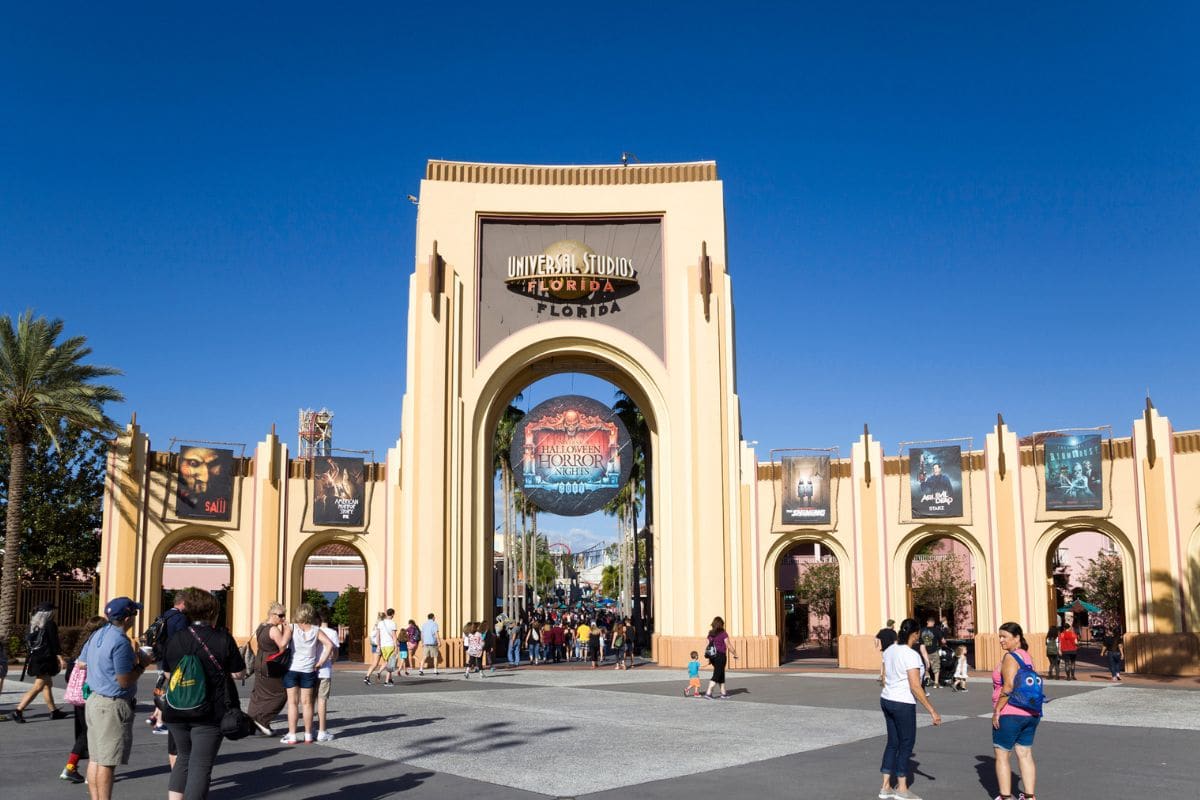 Universal Studios Florida is your classic theme park with a variety of rides, attractions, and live performances for fans of NBCUniversal's movie and television franchises.
The park's mission is to give visitors a peek behind the scenes of their favorite films and TV shows and make them feel like part of the story.
Universal Studios Florida also has an array of dining options centered around the park's attractions.
What Do Universal Studios Florida and EPCOT Have in Common?
Both Universal Studios Florida and Disney's EPCOT are family-friendly theme parks with exciting rides, fun shopping areas, great hotels, and satisfying restaurants.
They're located in the Orlando area, only 14 miles (22.5 km) away from each other, and every day at the parks ends with a fireworks display!
No matter which park you attend, you can always find a comfortable spot to enjoy the show.
Universal Studios Florida and EPCOT each offer a variety of attractions and amenities inspired by the movie/television studios associated with them.
Generally, they provide a unique and memorable experience, but they are very different parks.
What are the Biggest Differences Between Universal Studios Florida and EPCOT?
The biggest difference between Universal Studios Florida and EPCOT is their theming.
Universal Studios brings visitors behind the scenes of blockbuster movies and popular television shows, while EPCOT uses Disney franchises to offer cultural experiences.
What Movie/TV Franchises Can You See at Universal Studios Florida and EPCOT?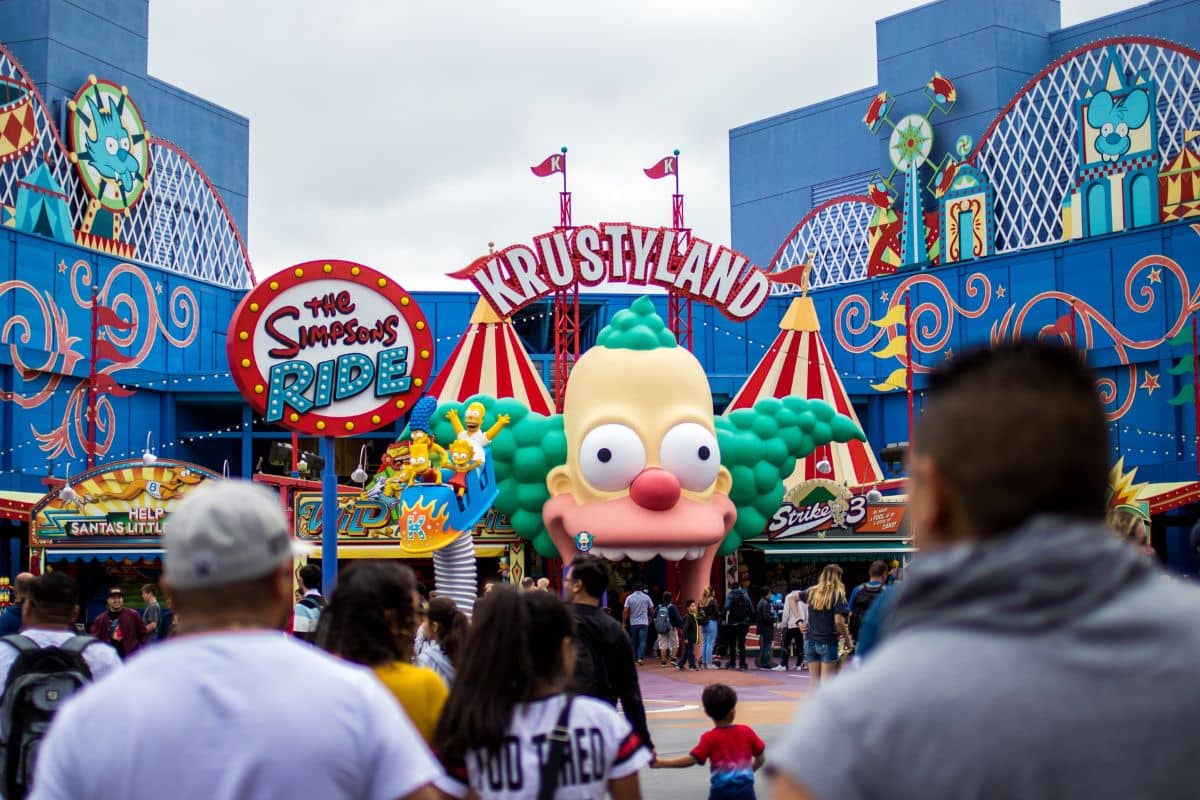 The rides, attractions, and amenities at Universal Studios Florida and EPCOT are based on movies and television series produced by NBCUniversal or Disney.
When choosing between the two, understanding which franchises are represented can help shape your decision.
At EPCOT, guests interact with Marvel movies like Guardians of the Galaxy, Pixar films such as Finding Nemo and Ratatouille, and other Disney classics like Frozen.
Universal Studios Florida is home to famous franchises like Jurassic Park, The Simpsons, Harry Potter, and Despicable Me.
Are Universal Studios Florida and EPCOT in the Same Park?
Universal Studios Florida and EPCOT are not located in the same park.
EPCOT is part of Walt Disney World, whereas Universal Studios belongs to Universal Orlando.
Disney World and Universal Orlando both contain multiple theme parks and are multi-day adventures for any visitor.
The two parks are a 30-minute drive apart, making it difficult – but not impossible – to visit both on the same day.
They also have different ticket options and different onsite hotels.
To visit both parks during a trip to Orlando, guests should plan for at least 1-2 days at each.
Is Universal Studios Florida Bigger than EPCOT?
Universal Studios Florida is smaller than EPCOT, which has its advantages and disadvantages.
While Universal Studios may have fewer attractions on its 125-acre property, it is easier to see most of the park in one visit, and there is more than enough to keep guests entertained for multiple days.
EPCOT takes up 330 acres, almost twice as much as Universal Studios, but surprisingly it only has 11 attractions, whereas Universal Studios has 13.
The rest of EPCOT hosts restaurants, artistic and cinematic experiences, and pavilions celebrating other countries.
Can You Visit Both Universal Studios Florida and EPCOT on the Same Day?
Guests can visit both Universal Studios Florida and EPCOT on the same day, as the parks are relatively close to each other.
However, guests may sell their visit short by splitting their day between the two.
Between waiting in lines and traveling between the two parks, visitors will be forced to miss out on most of the attractions if only visiting for a few hours.
If possible, devote at least one day to each park.
That said, some guests may only have one day to spend at theme parks while in Orlando.
If that's the case, we recommend visiting Universal Studios in the morning, then going to EPCOT at night.
Typically, EPCOT is open later in the evening, and Universal Studios opens earlier in the morning.
This way, guests can spend the first half of the day exploring Universal's thrilling rides and then wrap up their visit by wandering through EPCOT at a slower pace.
Which is Better, Universal Studios Florida or EPCOT?
Both parks are one-of-a-kind, but determining which is best depends on the interests and ages of the visitors.
Which Park is Better for Adults?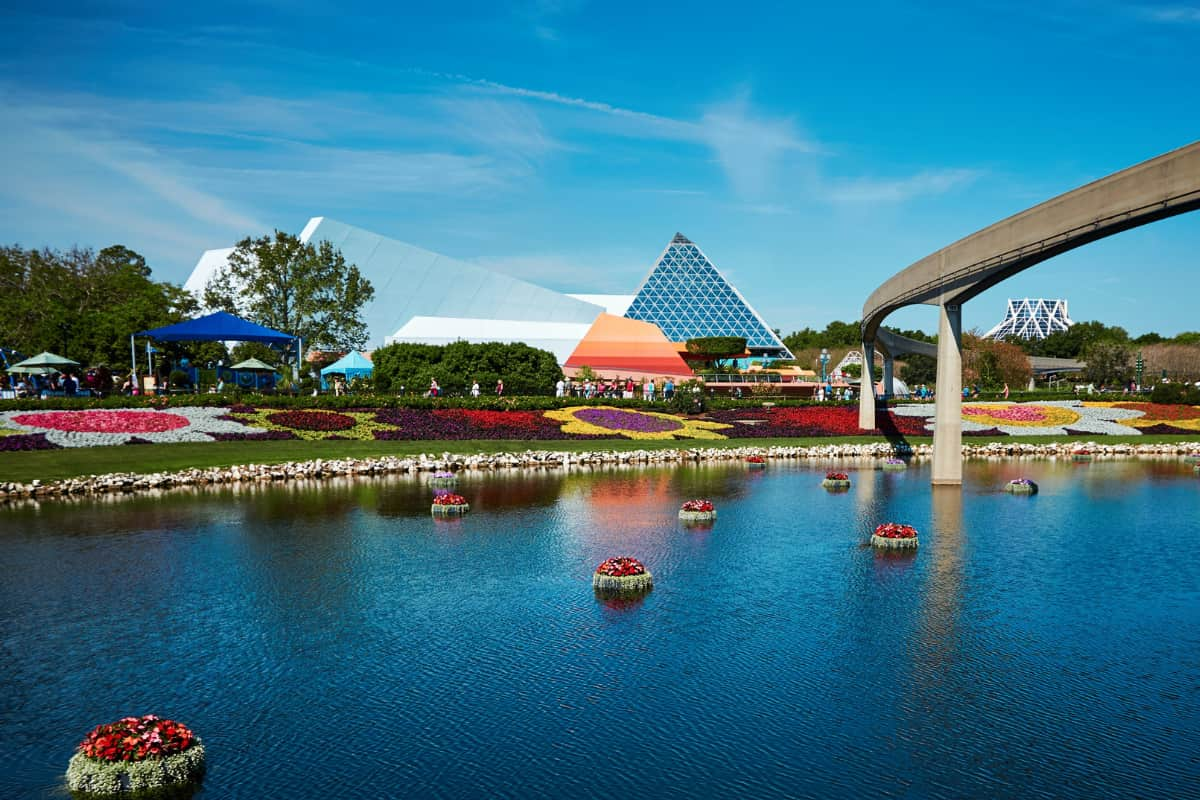 Overall, EPCOT is more enjoyable for adults.
The park's focus on cultural experience and exchange lends itself to a leisurely pace and a refined quality.
It allows guests to enjoy the international pavilions, have a long meal, sample unique alcoholic beverages, and hop on rides – if they like.
The pace and lack of constant thrills can be a little too slow for some children and teens.
EPCOT's size also makes it much more suitable for a more mature crowd. Guests cover a lot of ground walking during their visit.
While most adults can manage this and may even enjoy it, younger visitors might find the distance difficult.
All of this being said, EPCOT still has 11 wonderful rides.
Each one is based on a different Disney movie, ranging from Marvel films to Pixar to Frozen, ensuring no one will be disappointed visiting the park.
The most popular rides at EPCOT are Guardians of the Galaxy: Cosmic Rewind and the Test Track – both fast-paced, futuristic rides.
However, adults shouldn't write off Universal Studios Florida.
Older park-goers looking for fun roller coasters, action-packed shows, and great dining options will definitely find that Universal has it covered.
Is Universal Studios Florida Better for Families?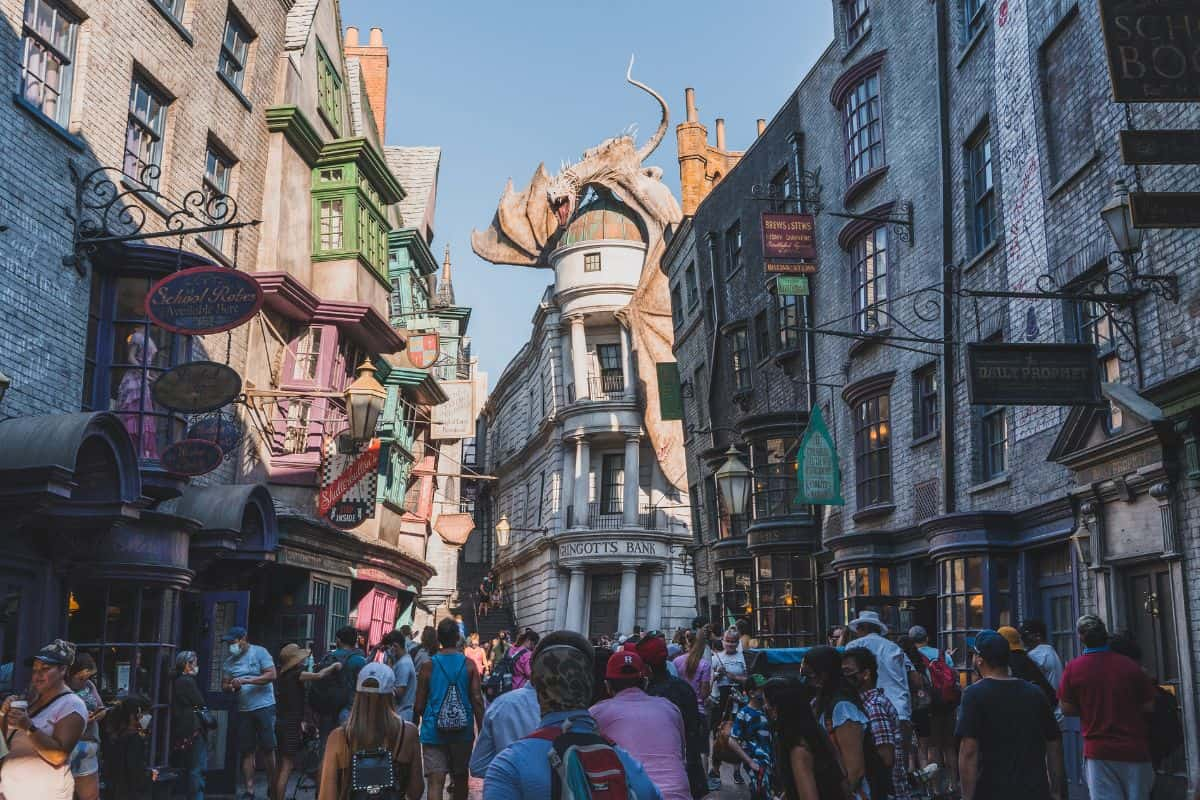 The attractions, shops, and restaurants at Universal Studios Florida are themed after Universal's movies and television shows, many of which are popular with children and teenagers.
The park has rides for kids, like Despicable Me Minion Mayhem, and The Wizarding World of Harry Potter – Diagon Alley is well-suited for teens.
Universal Studios may have more thrills compared to EPCOT, but it also has quite a few live performances that give visitors a chance to slow down.
Aside from live shows, guests can visit the Studio Area to do some shopping.
At half the size of EPCOT, Universal Studios is much easier to explore on foot.
Every attraction is within walking distance, allowing guests to see more of the park without tiring out too early.
Which is More Expensive, Universal Studios Florida or EPCOT?
Universal Orlando and Walt Disney World have similar prices for visiting one park in one day.
Currently, the base rate to visit Universal Studios Florida or EPCOT is $109, but prices can change without notice.
Universal Studios' ticket prices generally stay consistent throughout the year and are available for purchase when entering the park.
On the other hand, EPCOT's ticket prices can fluctuate on peak dates, and guests are required to purchase their tickets in advance.
Both parks can offer discounted rates during the offseason, especially midweek (i.e., Tuesday to Thursday).
Guests can easily spend two or more days at EPCOT and Universal Studios Florida, and purchasing multi-day passes lowers the price per day at the parks.
The biggest price difference between the two parks is their hotel pricing.
A night at a Universal hotel starts at less than $100 per night, whereas Disney World Resorts charges at least $170 per night.
When considering which park to visit, it's best to compare vacation packages and the perks offered at each property.
Conclusion
Universal Studios and EPCOT are both world-class theme parks offering incredible attractions and amenities, so guests can't go wrong visiting either one.
EPCOT's focus on cuisine and culture provides a slower-paced experience better suited for adults.
With more rides and shows, Universal Studios Florida is sure to entertain adrenaline-seeking adults and families with children.
Ultimately, group age and interests will be the deciding factors when determining which park is truly better.