Is Universal Studios Orlando Busy at Christmas?
Universal Studios Orlando is very busy at Christmas time. In fact, this is often considered one of the busiest times of the year.
The Christmas decorations and shows attract many people to Universal Orlando.
Many children and adults also have vacations from school and work during the winter holiday season, giving them more time to visit the park.
Even though Universal Studios Orlando is busy at Christmas, the decor, events, shows, and rides immerse you in the magic of the holidays, so you barely notice the crowds around you.
When Does Christmas Start At Universal Studios Orlando?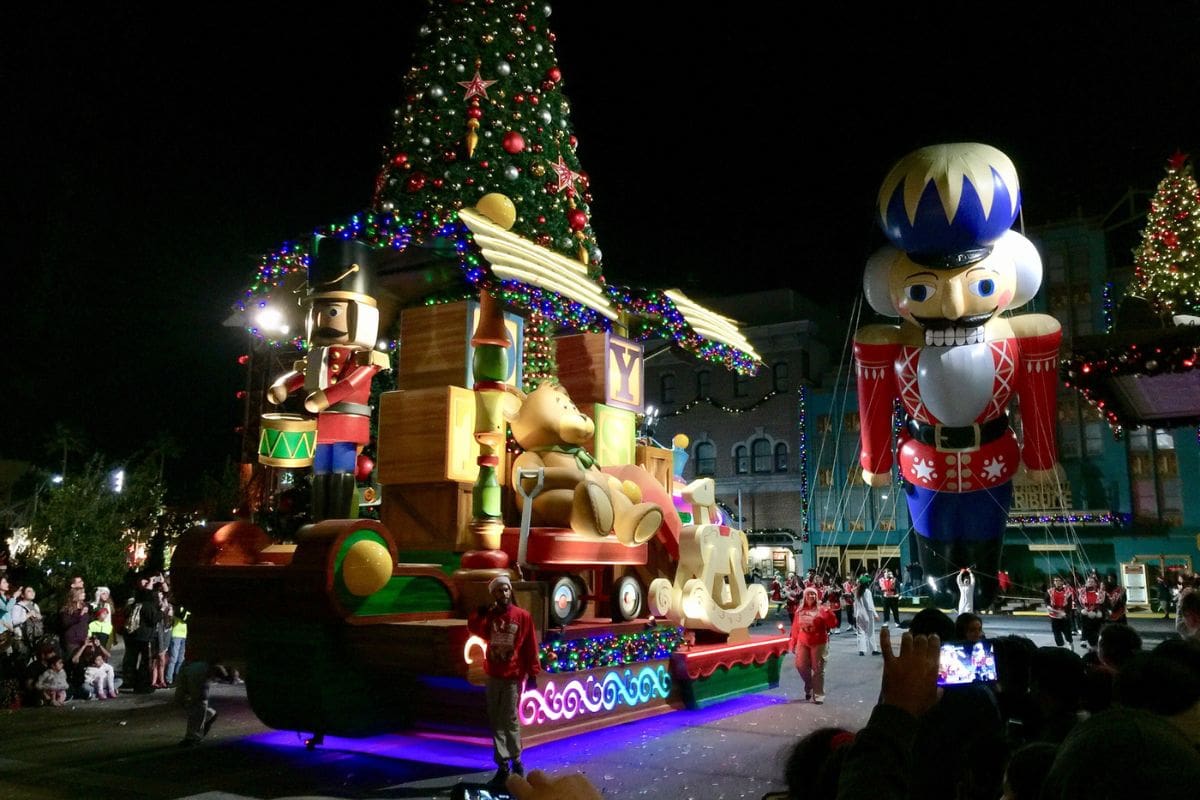 The holiday season starts in November at Universal Studios Orlando.
While the schedule can change from one year to the next, it generally runs from mid-November to early January.
The 2022 season starts on November 13, 2022, and runs through January 2, 2023.
In early November, the park starts setting up lights and changing sets to fit the winter theme.
Shows will cross over to their holiday versions on the winter festivities opening date.
All the decor will come down at the end of the holiday season, and the park shows and sets will return to their original themes.
What Does Universal Studios Orlando Do For Christmas?
Universal Studios does many special things around the Christmas season.
If you have ever wanted to experience the magic of Christmas in a unique way, a visit to Universal Studios Orlando is just the thing for you and your family.
Holiday Parade
Macy's sponsors a holiday parade at Universal Studios, and it's a great way to kick off the holidays or get into the Christmas spirit.
The parade features many floats and musical numbers with a variety of Universal Studios characters all dressed up in their Christmas best.
Santa Claus also makes an appearance to the delight of children.
The parade occurs several times throughout the holiday season, but the schedule can vary.
It's best to check the timetable in advance if you want to catch the parade during your visit.
Shows
Many of the shows and entertainment at Universal Studios have a holiday twist in honor of the Christmas season.
You will find performances such as The Blues Brothers Holiday Show and the Marilyn Monroe and the (Holiday) Diamond Bellas street show.
A Grinchmas Show features a live retelling by all your favorite Grinch characters of the classic Dr. Seuss story everyone loves.
There are also many characters and performers lining the streets of Universal Studios Orlando.
Decorations
It's hard to ignore all the Christmas decorations around Universal Studios.
In true park nature, the decor is over the top and gorgeous.
All sections of the park have special Christmas and holiday decor, from lights to trees to wreaths.
Once you step inside the park, you are immersed in the Christmas season, and there is something special and unique around every corner.
Is The Wizarding World Of Harry Potter Open For The Holidays?
The Wizarding World of Harry Potter is not only open for the holidays – it also celebrates them in an enchanting way.
You can enjoy such things as live entertainment, carolers, special holiday treats, and of course, plenty of lights and decorations.
Wear your favorite knitted sweater and step into a world that brings a new meaning to the phrase 'Christmas magic.'
Stop by Diagon Alley for live Christmas music performed by singing sorceress Celestina Warbeck and the Banshees, or enjoy traditional choral music from the Frog Choir.
Be sure to turn your attention to Hogwart Castle at night to see an amazing light show.
Lights, scenes, and special effects are projected onto the castle, displaying your favorite movie clips and captivating scenery that can only be found in the magical world of Harry Potter.
Are There Any Holiday Meals At Universal Studios Orlando During Christmas?
Universal Studios Orlando has always been a place for foodies to try new things and savor their traditional favorites, and the Christmas holiday is no exception.
Café La Bamba offers an add-on special where guests can feast on an all-you-can-eat buffet with some traditional and unique holiday food options.
This add-on can be enjoyed while watching the Holiday Parade, so you can have dinner and a show at the same time.
Another foodie event is Sweets and Sounds, which allows guests to sample a variety of sweets while watching the Holiday Parade from a special viewing area or while enjoying the Mannheim Steamroller concert.
If you plan to hit the holiday celebrations earlier in the season or after Christmas, you can also take advantage of the buffets available during Thanksgiving and New Year's.
Are Special Tickets Required For Universal Studios Orlando Around The Holidays?
There are no special tickets required for Universal Studios Orlando at Christmas time, but you will need to buy regular park tickets.
Because this time of year is very busy and popular, it's a good idea to buy tickets in advance.
If you plan to take advantage of any add-ons such as dining experiences, you should also order those tickets as soon as possible.
Keep in mind that holiday celebrations take place all over the park during the holiday season.
To experience everything Universal Orlando has to offer, buying park-hopper tickets is advantageous.
A park-to-park pass allows you access to all sections of the park to have a truly amazing holiday experience.
If you are looking to celebrate the holidays at Universal Studios Orlando but don't want to buy a ticket to visit one of the parks, you can still have some fun at Universal CityWalk.
Many CityWalk restaurants change their menus to offer holiday-themed meals and snacks, and some of the entertainment features holiday themes.
The CityWalk is also lit up with thousands of Christmas lights, and there are wreaths, trees, and other Christmas decorations spread around the area to remind you how special the holiday season is.
Is It Worth It To Visit Universal Studios Orlando During Christmas?
If you want to visit Universal Studios Orlando just to enjoy the rides and traditional shows, it may not be a good idea to visit during the holiday season.
Many of the shows have holiday themes during this time, so you won't get to experience the original version.
The same can be said for the many scenes and photo-ops throughout the theme park.
The park's popularity during this time of year also means longer weight times at your favorite rides.
If you aren't interested in celebrating the Christmas season at Universal Orlando, it may be better to put off your trip until the holidays are over.
If you love the Christmas holidays and want a unique and magical experience, then a visit to Universal Studios Orlando is more than worth the expense and extra crowds.
It's sure to be a place where you make many new memories and feel the Christmas spirit all around you.
If you do the proper planning, order your tickets, and make reservations ahead of time, your trip to Universal Orlando during the holiday season can be a wonderful and charming adventure.
Conclusion
The holiday season at Universal Studios Orlando is usually one of the busiest times of the year.
The beautiful decorations, captivating shows, and delightful food attract thousands of guests to the park between Thanksgiving and New Year's.
If you intend to visit Universal Studios Orlando during the holidays, check out the holiday schedule to find out which shows and experiences are available and which ones require add-on tickets.
Busier seasons mean more people and require more planning, but if you love Christmas and Universal Studios Orlando, combining the two for the holiday season can be an amazing experience for you and your family.