Are Universal Studios Orlando and Disney World the Same?
Many people are confused about the differences between Universal Studios Orlando and Disney World.
After all, they're both world-class theme park resorts with state-of-the-art attractions.
The fact they're located roughly 10 miles from one another in the Greater Orlando area only makes things more confusing.
Though these parks have a lot in common in terms of multiple rides, attractions, dining, and special events, they aren't the same.
Universal Studios Orlando and Disney World are different resorts owned by separate companies, and they offer distinct experiences for their guests.
The following article discusses the similarities and differences between these two famous theme parks and answers some common questions about each one.
How is Universal Studios similar to Disney World?
Multiple themes
Both Universal Studios Orlando and Disney World boast multiple theme parks.
Disney World attracts visitors by the millions to its Magic Kingdom, EPCOT, Disney's Animal Kingdom, and Disney's Hollywood Studios theme parks.
Disney World is also home to two water parks, Disney's Typhoon Lagoon and Disney's Blizzard Beach.
Universal Studios Orlando is home to Universal Studios Florida, Universal's Islands of Adventure, and its water park named Volcano Bay.
At Disney World, you can expect to see rides and attractions based on the classic Disney franchise – think Mickey and Minnie Mouse, Donald Duck, Star Wars, Pirates of the Caribbean, Avatar, and its famous animated films such as Finding Nemo, The Incredibles, and Toy Story.
Universal Studios hosts rides and attractions that cater to fans of blockbuster movies and well-known television shows such as Harry Potter, Jurassic Park, E.T., King Kong, Transformers, Despicable Me, The Simpsons, and Dr. Seuss.
Cost of tickets
Both Universal Studios Orlando and Disney World cost just over $100 per ticket per park.
The more theme parks you visit at both sites, the higher the price, but both Universal Studios and Disney World offer ticket options that allow visitors to access multiple parks on the same day.
Universal Orlando calls their multi-park pass a two or three park ticket, and Disney calls theirs the Park Hopper pass.
If you're visiting either Universal Studios Orlando or Disney World over multiple days, the price per day decreases the more days you plan to go.
How is Universal Studios different from Disney World?
Area Size
As far as area size is concerned, Disney World wins by a landslide.
Disney World Resort, which includes its hotels and attractions, covers an area of over 27,000 acres, which is twice the size of Manhattan!
It's not possible to see and experience everything Disney World offers in one or even two days. Usually, to cover every nook and cranny, visitors return multiple times.
On the other hand, Universal Orlando Resort is only about 840 acres meaning it's doable to cover all areas of the park in 3 to 4 days or in one to two trips.
Difference in atmosphere
Though Disney World can be thrilling and upbeat, it is more known for its relaxed, family-oriented, and nostalgic atmosphere.
It boasts an innocent undertone that appeals to the emotions of adults and older kids who've grown up watching Star Wars, Indiana Jones, and Pixar animations.
It's also a favorite amongst kids who are enamored by the magic and beauty of Disney's vast selection of animated movies and television shows.
Since this park is aimed at families and kids, most Disney rides don't come with height requirements. The flip side is that Disney World isn't as attractive to thrill-seekers looking for adrenaline-pumping rides.
Universal Orlando offers a more risky and exhilarating vibe with its wide array of fear-inducing rides. For that reason, Universal is often the preferred destination for older teens and adults.
It's not to say that Universal isn't family-friendly, but it offers a different experience as a number of its rides do have minimum height requirements for the safety of its visitors.
Locker for personal belongings
Both parks provide all-day, multi-access lockers (for a cost) to store the personal belongings you don't want to carry around with you.
These can be found at various locations around both sites and are on a first-come-first-serve basis.
At Disney World, you are permitted to bring small items (like a purse) on your rides with you, and many attractions provide an area to place your belongings safely within the ride itself.
Due to the nature of the attractions at Universal, you are not allowed to bring much with you inside the ride.
Many rides offer free standard-sized (14 in x 5.5 in x 16.9 in) single-use lockers to store any small belongings you aren't permitted to bring along.
Universal also offers larger lockers (12 in x 13 in x 16.9 in) for oversized items for an additional fee.
Parking space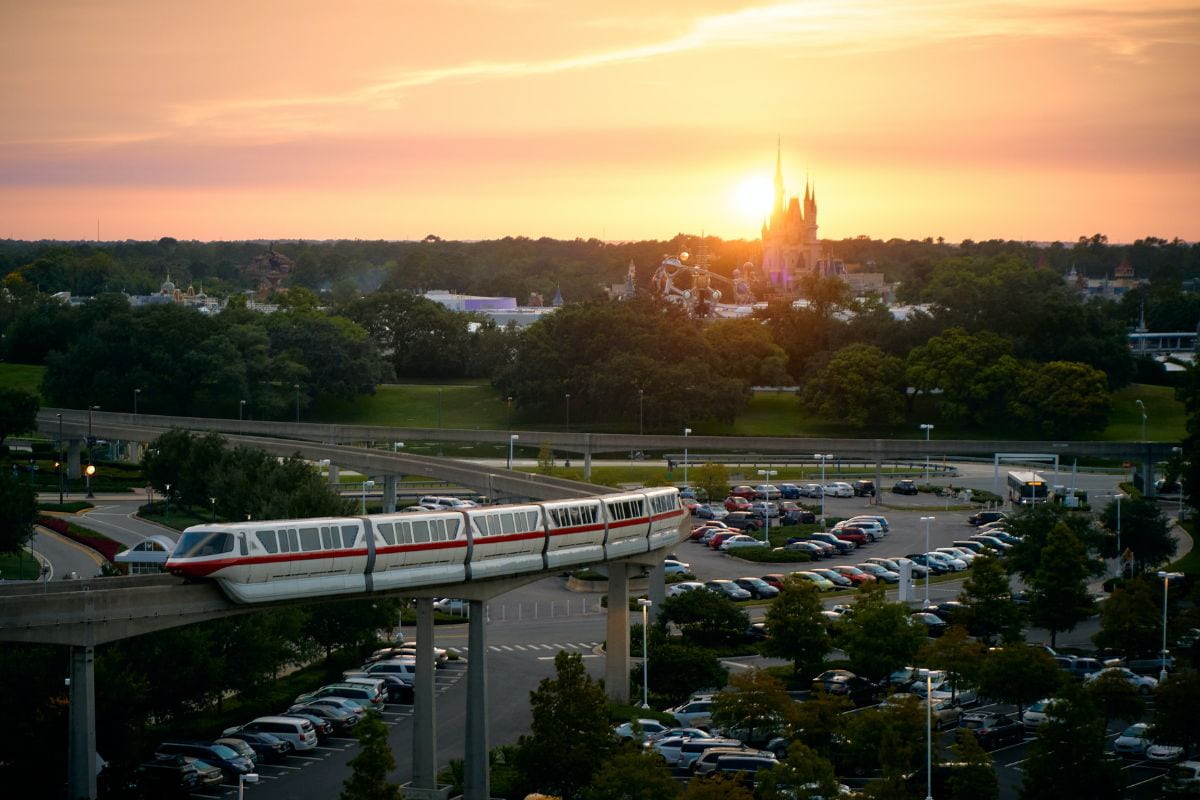 Disney World offers a huge parking area for its four theme parks and two water parks.
Trams are available to shuttle visitors from the parking lots to the entrance gates.
There's one parking complex for guests at Universal Studios with multiple parking options, including general, prime, and even valet!
You'll find moving walkways and escalators from the parking lot that'll take you to the transportation hub.
From there, it's a 15-minute walk to any of the Universal theme parks.
Conclusion
Though Universal Studios Orlando and Disney World are both world-famous theme parks in Florida, they offer different atmospheres and ride experiences.
Deciding on which one to visit really boils down to personal preference.
If you're planning a long, family-friendly vacation with smaller children, Disney is likely the better choice as it's bigger, more varied, and offers great amenities for all ages.
For a weekend trip with friends or if you're a family with older teens, you may prefer the smaller scale and more thrilling rides at Universal.
Ultimately both parks have a lot to offer their guests, so you can't go wrong, whichever you choose.