Is Universal Orlando VIP Tour Worth It?
Anyone visiting Universal Orlando knows it's packed with things to do, and there are many ways to experience the theme parks.
Guests can spend their day any way they want or opt for a guided tour led by an expert who knows every nook and cranny.
VIP Tours at Universal Orlando give guests behind-the-scenes access and include several perks.
Whether a tour is the best option for your visit depends on what you plan to do at the parks.
Overall, the guided VIP Tours at Universal Orlando are worth it for guests who plan to purchase other add-ons like Express Passes and want to make their visit to the parks extra special. With the tour, visitors get access to behind-the-scenes activities, a planned itinerary so they don't miss anything, and get to skip the lines at some of the most popular attractions.
This article will discuss what's included with a VIP tour at Universal Orlando and highlight the pros and cons of choosing this perk.
What is the Universal Orlando VIP Tour?
The Universal Orlando VIP Tour gives guests the opportunity to experience the park through the eyes of someone who knows it better than anyone.
Visitors receive tons of insider information and learn everything there is to know about the parks and the attractions.
Some of the tips will even be helpful for guests who return to Universal Orlando without a guide.
Different tours are available for Universal Studios, Islands of Adventure, or both.
There are single-day tours in one park, a single-day tour in two parks, or a two-day tour for both parks.
The one-day, one-park tour lasts five hours, and the one-day, two-park experience is a seven-hour tour.
There are also two different options within each tour: private and non-private.
Non-private tours are shared with up to twelve people, whereas private tours are not shared with other unfamiliar parkgoers.
The private tour also offers guests dinner in a restaurant of their choice and allows them to customize their itinerary.
Every other feature of the tours is the same, and Universal really does roll out the red carpet for its VIP guests.
With all the tours, VIPs receive complimentary valet parking, breakfast and lunch are included, and the day is planned out from beginning to end.
The guide will help keep you on schedule, but don't worry – there's no pressure or rushing around.
With the one-park experience, guests get front-of-the-line access to a minimum of ten rides. With the two-park tour, it's a minimum of eight rides.
Front-of-the-line access is different from Express Passes. Express Passes give parkgoers access to a significantly shorter line that helps reduce wait times.
On VIP tours, you skip the lines entirely.
VIPs also receive reserved seating for shows throughout the park. This perk guarantees an amazing seat, and the guide ensures you make it to the shows on time.
The behind-the-scenes access is legitimate as well. Visitors tour famous backlots used to shoot real movies like War of the Worlds and receive access to other areas of the park that would normally be off-limits.
Once the tour is over, the fun doesn't stop. VIPs get Unlimited Express Passes, and a CityWalk Party Pass as well!
It's important to note that a VIP tour is an add-on. Guests first have to buy theme park admission tickets for everyone attending the parks before purchasing their tour.
Is It Worth It To Do a Tour?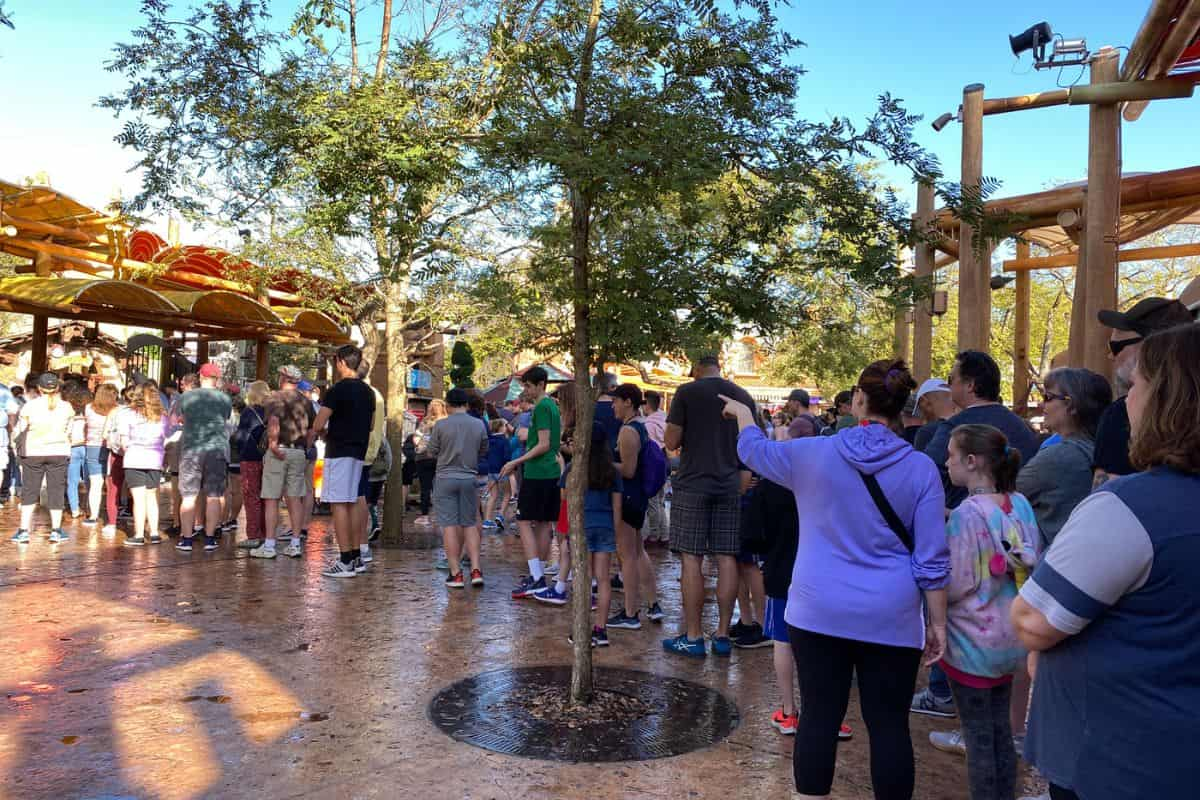 A VIP tour is worth it for guests who want to get behind the scenes, maximize their time at the park, and not miss out on anything, especially if they're looking for priority seating and skipping the lines entirely at popular attractions.
But putting aside the experiential aspects, let's look at it from just the perspective of the total cost.
Currently, VIP tour packages start at around $240, per person, per day (not including park passes).
Without a tour package,
Valet Parking will run about $75 for the full day.
Unlimited Express Passes run about $110.
Meals cost around $20 per person (at a minimum), so two meals cost at least $40 per person.
Parkgoers could easily spend $200 per person per day just to get these basic benefits and a couple of meals.
From a total-cost perspective, most guests will spend about the same as a tour but for fewer bonuses – and they'd be missing out on quite a lot that Universal Orlando has to offer.
They won't skip the lines at popular rides or have a guide to walk them through the parks, telling them all kinds of cool facts about everything.
Moreover, reserved seating is rarely available for regular park guests, nor are they permitted in the backstage areas, like active film lots or the massive prop room on the property.
When Is It Not Worth It To Do a Tour?
Just because the tour's pricing makes sense doesn't mean it's the right choice for everyone.
Having a guide is great, but only some people want a history lesson or to adhere to a schedule.
On a non-private tour, for example, guests lose the freedom to decide where they want to go and when.
The tour is also not worth it for visitors who don't plan on buying Express Passes, aren't driving a vehicle to the parks, or don't care about the behind-the-scenes.
Some people just want to ride fun rides whenever they feel like it.
It's also important to remember that taking a tour doesn't save that much money.
The value is certainly there when compared to the cost of buying the benefits individually, but it still costs quite a bit.
After taxes, it's nearly $250 per person for the privilege of taking the tour. That's more than double the cost of the park ticket, which isn't included in the tour.
Including park passes, a VIP tour costs well over $350 per day per person.
Conclusion
When it comes to value for money, the VIP Tour at Universal Orlando is well worth the price.
It offers guests an outstanding guide through the parks, priority on rides, and tons of other benefits, such as valet parking, free meals, and reserved seating at shows.
There are several options for the VIP Experience at Universal Orlando, including single- and multi-day tours, one- and two-park tours, private tours, and non-private group tours of up to 12 people.
The downsides of the tours are that they are an expensive add-on and restrict parkgoers' freedom to do whatever they want, whenever they want while visiting Universal Orlando.