Do Any Universal Orlando Hotels Have Balconies?
One of the best parts about visiting a warm climate like Florida is enjoying the outdoors.
Having a balcony at your hotel only enhances the experience.
So if a hotel with a balcony at Universal Studios is on your wish list it's good to find one ahead of time.
We'll take a look at Universal's hotels and find out which ones offer this amenity.
Unfortunately, only the Portofino Bay hotel offers guests rooms that feature a handful of rooms with balconies. Since they are few and far between, they're almost always occupied by guests.
How to Reserve a Room With a Balcony at Universal Studios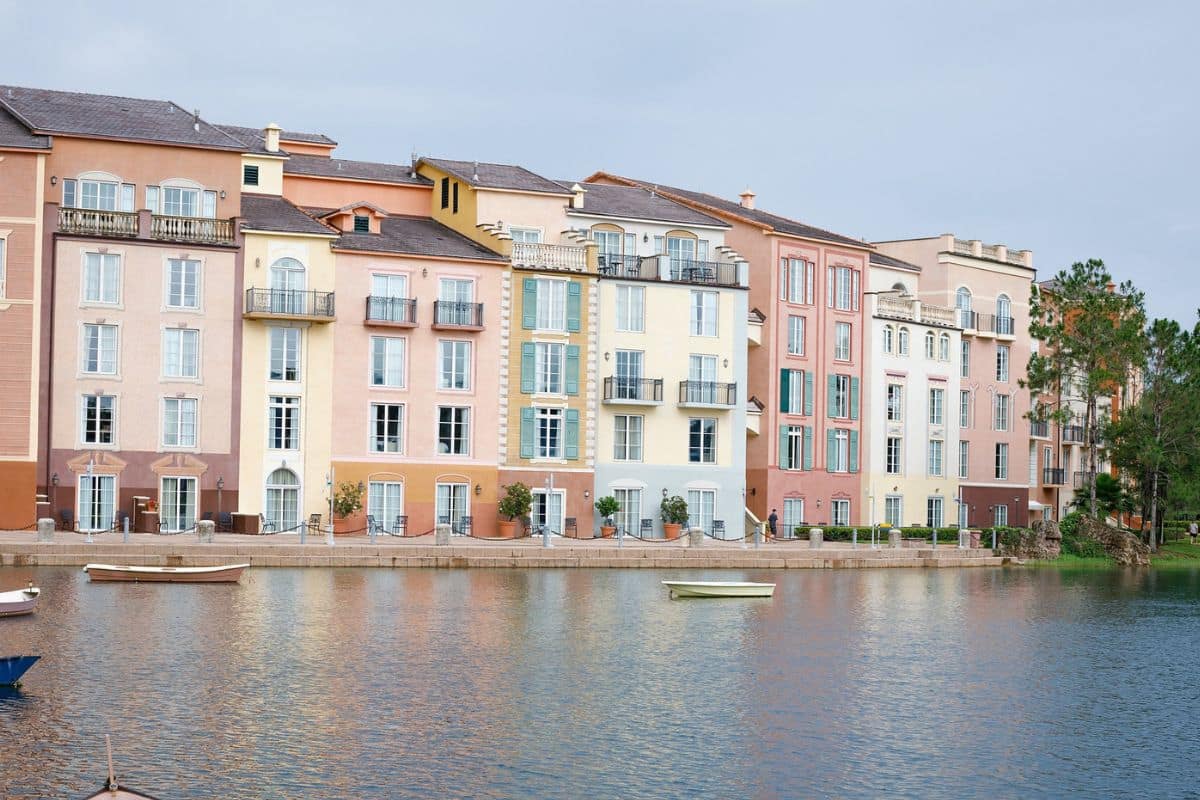 Booking a room at Portofino Bay, the only hotel at Universal Studios that offers balconies can be a challenge.
Thankfully, it isn't impossible for you to manage such a room despite the odds.
If you visit Universal during less-busy dates (January, February, late April, early May, late August, early September, and November), you have every chance of getting a room with a balcony.
You should also know that rooms with balconies can only be offered as an upgrade at check-in. For a room with a 'Juliette' balcony, you'd have to spend an extra $15 per night.
And, if you want a room with a full balcony, get ready to shell out an extra $30 per night.
Advantages of Staying at a Universal Studios Hotel
It isn't compulsory to stay at an on-site Universal Orlando hotel but there are many exclusive theme park benefits you and your family will be missing out on.
Keep in mind you'll be missing out on things like early park admission to Volcano Bay and The Wizarding World of Harry Potter, access to more rides, free transport to the theme parks, and Universal City Walk.
You won't be able to enjoy charging privileges throughout the resort, priority seating at specific restaurants, and the delivery of merchandise purchased throughout the resort directly to your room.
You'd also miss out on a Universal Express Unlimited Pass — a pass that allows you to skip the ride lines as many times as you want.
If you were to purchase this pass separately, it'd set you back $110. Knowing this, are you still unwilling to budge on your request for a room with a balcony?
Nearby Accommodations with Balconies
The Point Hotel & Suites
Should you decide to try other nearby hotels that feature rooms with balconies, the 4-star hotel, The Point Hotel & Suites is a good option.
This hotel operates as a Universal Partner Hotel and is renowned for its standard, reputation, and proximity to Universal Orlando Resort.
Plus, the fact that it has an ample number of rooms with balconies, unlike the on-site hotels at Universal Resort, only makes it more attractive.
And, since it's partnered with Universal, The Point also offers benefits such as discounts on merchandise, food, beverages, and souvenirs at specific Universal Orlando theme park locations and Universal City Walk.
This hotel also schedules free transport to Universal Orlando theme parks.
Avanti International Resort
If you don't like what The Point has to offer, you can look at Avanti International Resort.
Like The Point, Avanti is also a Universal Partner Hotel and as such, offers the same bonus benefits as The Point.
Avanti is located on International Drive, around 2.8 miles from Universal Orlando.
This hotel is particularly suitable for a large traveling party as its group room blocks simplify travel plans.
Plus, it also helps that the hotel offers numerous on-site amenities such as a full arcade room, fitness center, beach volleyball, and a large pool with a hot tub and shuffleboard.
And, yes, the hotel does have many rooms with balconies.
Mystic Dunes Resort & Golf Club
Lastly, before heading towards the end of the article, let me leave you with one last option—the Mystic Dunes Resort & Golf Club.
Like the aforementioned hotels, this resort is also partnered with Universal due to its proximity; it takes only 25 minutes to reach Universal Orlando.
Some of the amenities offered by this resort include fully-appointed villas, resort pools, private cabanas, a sandy beach play area, a two-story water slide, and a humongous two-acre recreation area.
And, as its name suggests, the resort also has a 60,000 square feet golf practice facility including a driving range, practice bunkers, and chipping and putting greens.
In hindsight, you could say that the Mystic Dunes Resort & Golf Club would set you up nicely to enjoy the overwhelming experience at Universal Orlando.
Conclusion
Although Universal Orlando has several on-site hotels, not all of them boast rooms with balconies.
To be more specific, only one hotel (Loews Portofino Bay Hotel) offers a few rooms with balconies.
So, you'd have to be blessed by Lady Luck to stand a chance at staying in a balcony room.
Fortunately, there are numerous Universal Partner hotels around that offer you balcony rooms.
So, don't restrict yourself to only Universal Orlando Hotels if you want a balcony room.