Is A Universal Orlando Annual Pass Worth It in 2023?
Universal Orlando theme parks have a ton of amazing rides, attractions, restaurants, gift shops, live performances, and character meet and greets.
Considering the property's size and the sheer number of things to do at all three parks, it definitely takes more than one day to see and do everything in any one of them.
Thankfully, Universal offers annual passes that allow guests to access the parks (almost) as much as they want. However, whether an annual pass is worth the cost depends on several factors.
Buying a Universal Orlando Annual Pass in 2023 is worth it if you plan to visit the parks more than once or twice a year. Annual passes are valid for a full year from their first use, so guests can also use them through 2024. If you live in the Orlando area or visit Universal often, an Annual Pass more than pays for itself. 
Continue reading to learn more about how annual passes work at Universal Orlando, the different tiers available for purchase, and whether a pass is worth it (or not).
How Do Universal Orlando Annual Passes Work?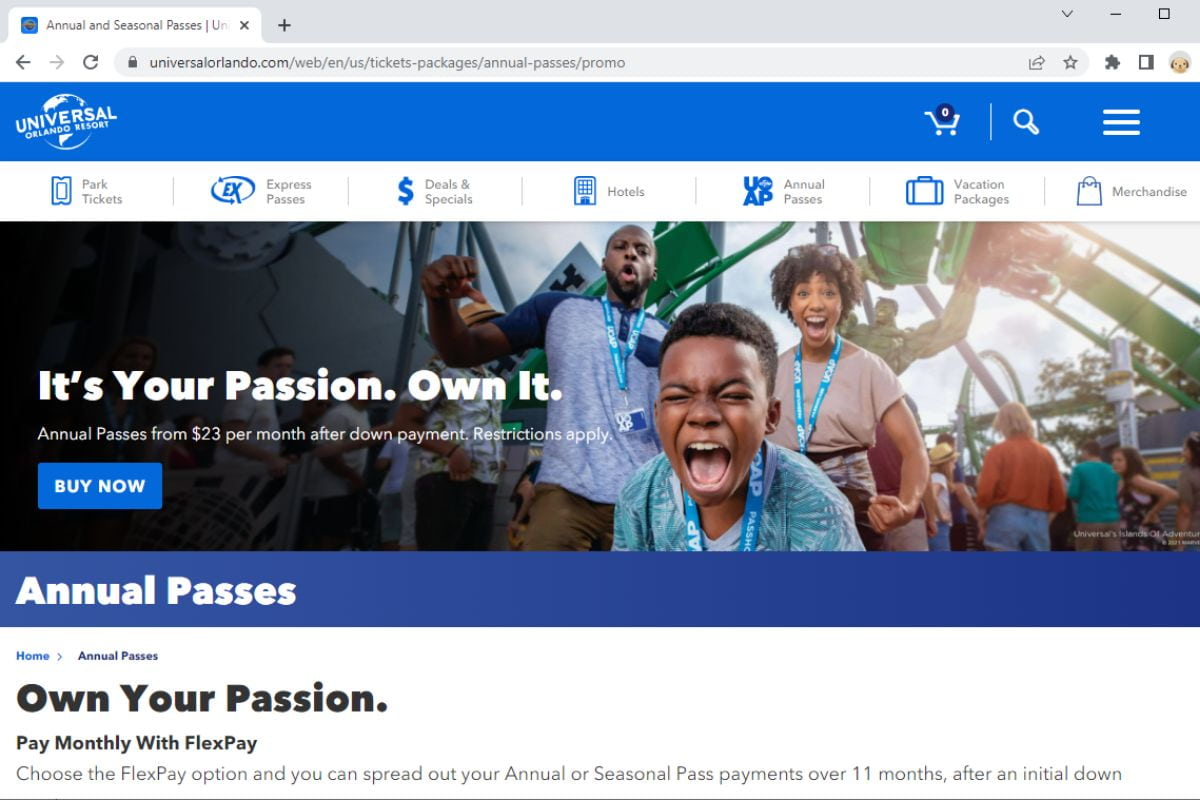 Annual Passes at Universal Orlando are multi-use tickets valid for one full year, starting from when they're first used to enter the park.
For example, if you purchase an Annual Pass in October 2023 and first use it in November 2024, it's valid until November 2023.
Guests can pay full price for their passes or opt for FlexPay and spread out the payments over 11 months (after an initial down payment).
There are different tiers of Annual Passes, and they come in 2- or 3-Park variants.
2-Park Passes cover Universal Studios Florida and Islands of Adventure. 3-park Passes include those two and the Volcano Bay water park when it's open.
Prices can change without notice, so check the Universal website for up-to-date information. Also note that Florida residents receive special pricing for Annual Passes.
Unlike standard park tickets that are only valid for a set number of days, Annual Passes are active for 365 days, though blackout dates apply.
Blackout dates are days that Annual Passes can't be used. The lower-tier Annual Passes have more blackout dates than the higher-tier ones.
You can view a full list of blackout dates here.
Wait, Universal Orlando Annual Passes Have Tiers?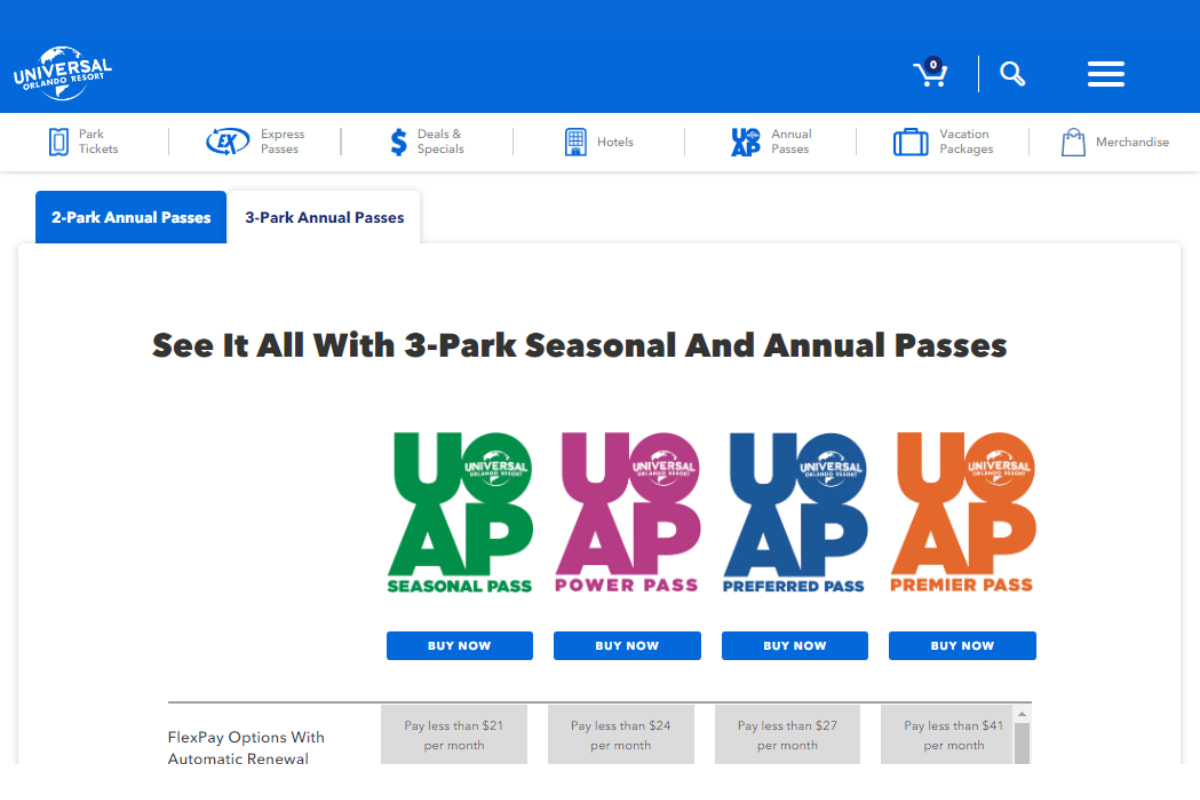 Yes, Universal Orlando Annual Passes are sold at different tier levels. Currently available passes are Premier, Preferred, Power, and Seasonal.
Each pass comes with different perks and benefits depending on the year of purchase.
Passholder benefits for 2023 Annual Passes are listed here:
Premier Annual Passes:
Preferred Annual Passes:
Power Annual Passes:
Seasonal Pass:
In addition to the above, Annual Passholders can get varying discounts at shops and restaurants in CityWalk and special treats like rechargeable Coca-Cola Freestyle cups.
There's also Universal's annual Passholder Appreciation Days, which offer Passholders exclusive benefits.
So is it Worth it to Buy an Annual Pass to Universal Orlando?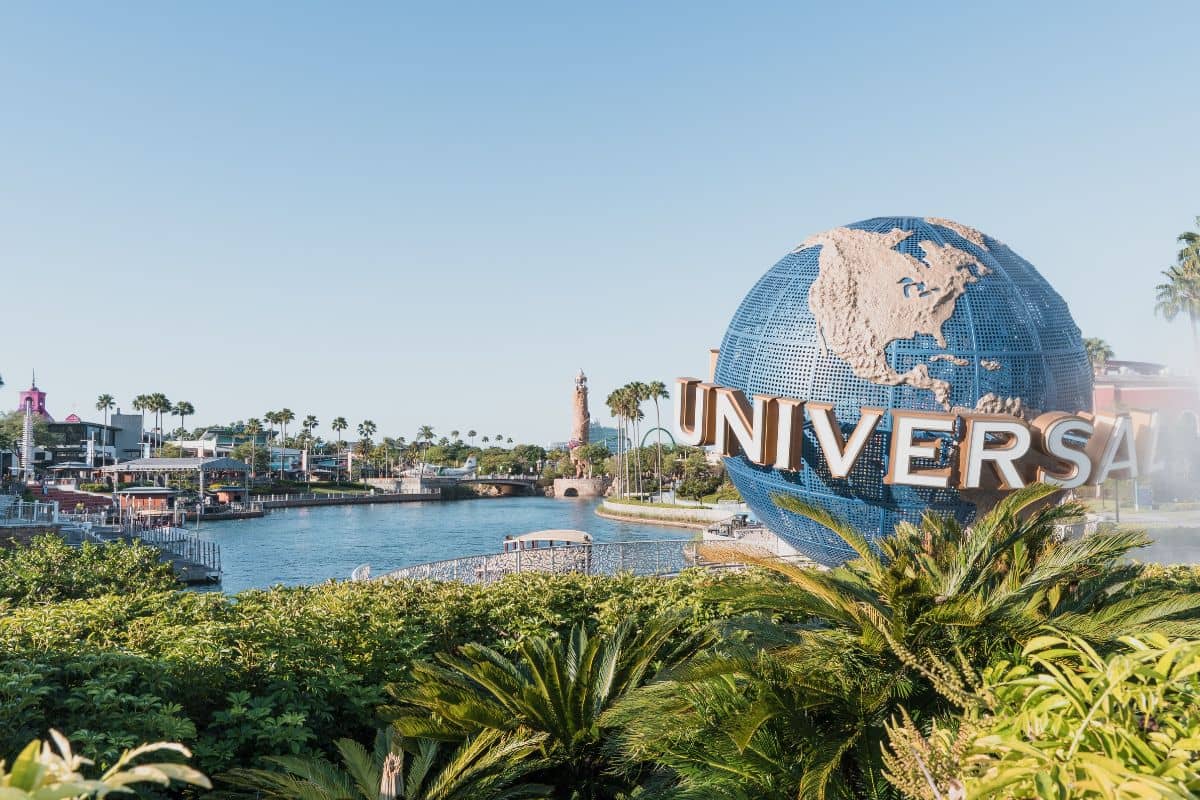 Whether a Universal Orlando Annual Pass (at any tier) is worth it depends on how often guests plan to visit the parks.
Most passes pay for themselves after four to ten visits to the parks in a year. Since most guests visit at least two parks over multiple days, it can be worth it if visiting more than twice in 365 days.
That doesn't even factor in the savings on rental cars, hotels, dining, or events inside the parks.
Also, Premier Passholders get free Express Passes, which are an additional cost to the standard park ticket and definitely make the tier worth it when attending the parks multiple times over the course of a year.
The extra bonuses Annual Passholders get are also pretty sweet. They're enough to enhance any Universal Orlando vacation quite a bit.
In general, an Annual Pass to Universal Orlando is worth it in many cases. But not always.
Guests who can't or won't visit the parks more than a few times in a year won't maximize the discounts that come with the passes.
It's also not recommended to buy an Annual Pass for a weeklong vacation or a trip of just a few days. Nor is it worth it to buy an Annual Pass just to get a good discount on resort hotels.
Hotel rooms can be bundled with park tickets at booking to get the same lower nightly rate.
Conclusion
For parkgoers who plan on spending more than three or four days at Universal Orlando theme parks or want to visit multiple times per year, Annual Passes are definitively worth it.
They'll pay for themselves and save a lot of money in the long run.
Guests visiting Universal Orlando once or twice a year for only one or two days may find the passes less beneficial.
These visitors are better off looking for savings elsewhere, like booking Universal vacation packages or taking advantage of special one-off deals.