What Time Should You Get To Universal Studios Orlando?
The best time to arrive at Universal Studios Orlando is around 30 minutes before rope drop (when the park opens).
This extra half hour accounts for the time it takes to walk to the entrance (15-20 minutes) and the 10-15 minutes required to get past security checks.
Guests staying at on-site hotels can take advantage of Early Park Admission, which allows access to the parks up to an hour before rope drop.
This perk highlights the importance of getting to Universal Orlando early if you stay off-site.
By the time the gates open, guests will already be there, having a good time, and you're better off joining the fun before the crowds get bigger.
There are ways to maximize your time before and during your visit to the park, so keep reading for more info!
Universal Orlando Opening Times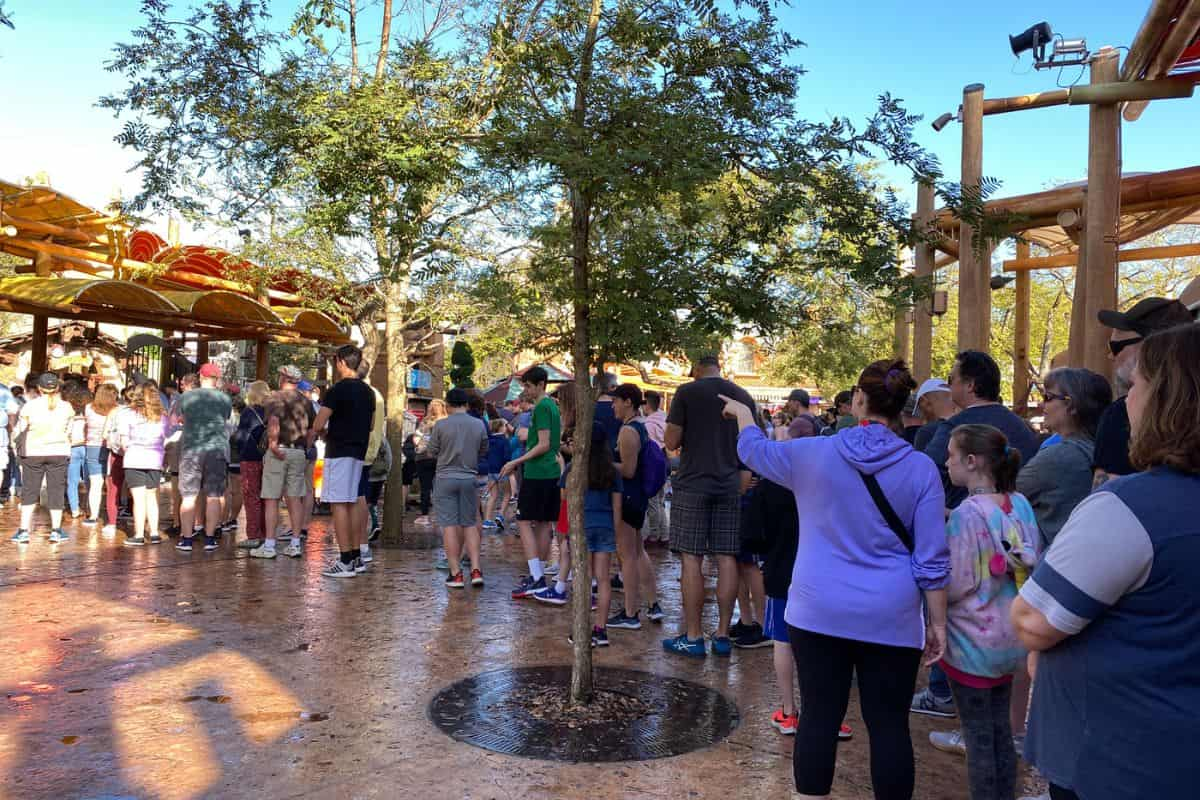 Universal Orlando doesn't have a set opening time.
Universal Studios Florida and Islands of Adventure operate from 8:00 am or 9:00 am.
Operational hours at Volcano Bay are a little later, starting at around 10:00 am.
To know the exact time your park of choice opens, check out Universal Orlando's Theme Park Hours and navigate to your planned visit date.
You can also find information about the park's opening hours on the official app.
If you find the opening hours are later than usual, it's because of a special event or holiday celebration.
Be sure to check the website regularly, as the times can change up to 30 days before your intended visit.
Taking Advantage of Early Park Admission
The primary recipients of Early Park Admission are on-location resort guests and annual pass holders.
Universal Studios allows these guests to enjoy the parks up to an hour before opening, proving they're well aware of how crowded the parks get during the day.
This perk is most beneficial to guests who can only spare about a day but still want to see most of the park.
With Early Park Admission, visitors partake in the most popular attractions before everyone else arrives, saving up to three hours in their day.
The Wizarding World of Harry Potter has the longest wait times, and getting to it early enough can save guests around an hour or two.
If you're planning an extended holiday at Universal Orlando, Early Park Admission is not essential unless you simply want to experience the theme park in the morning.
What Time Should I Get To Universal Studios If I Hold An Express Pass?
An Express Pass allows you to cut lines and get to the attractions sooner than other guests.
Regardless of the season or what time you arrive, you'll still save time in your day using your Express Pass.
During the slower, less busy season, lines are almost non-existent in the mornings, so you won't necessarily need your Express Pass for most rides.
It shouldn't keep you from arriving early, but you're more likely to see its value later in the day.
During busy periods, most guests try to take advantage of arriving early, knowing the park fills up during the day, so you're likely to use your Express Pass on some or most of the rides if you come early, too.
How Long Does It Take To Get To Universal Studios From Different Locations?
Parking and Security
The time it takes to walk from the parking lot to the entrance depends on where you parked your car.
Prime Parking ($33 more expensive than regular parking) gets you close to the park's entrance, while Valet Parking ($27 for the first two hours and $75 for over two hours) gets you closest to the turnstiles.
In these situations, the walk to security is shorter than if you pay for regular parking (base rate $27).
From a regular parking spot, you're likely to spend 20-30 minutes walking to the park.
Once you arrive at the gates, you'll need 10 to 15 minutes to get through security.
If these wait times seem too long, consider upgrading to Prime or Valet Parking.
Hotels
It doesn't take longer than about 45 minutes to get to the park's entrance from most nearby off-site hotels.
The hotels that take the most time have shuttles to Universal CityWalk, where guests then board a boat to the theme park's entrance.
Some hotels are close to CityWalk, reducing the time to get to the park's entrance to around 30 minutes.
It still takes a while to get to the gates of Universal because the boats at CityWalk sometimes have long queues, though the distance itself is not that long.
The Hard Rock Hotel is closest to the park, and it only takes 5-10 minutes to walk to the gates.
Other off-site hotels are also close to Universal Orlando, where walking takes approximately 10-15 minutes.
As mentioned, driving yourself to the theme park increases the overall time, as you'll need to navigate the parking lot to get to security.
What Time Should I Arrive at Universal Studios During Halloween Horror Nights?
Attending Universal's Halloween Horror Nights requires getting to the park earlier than the advised times.
It's the most popular event at Universal Orlando, and the park almost always reaches full capacity.
Get to the park at least an hour in advance to avoid getting held up at the gate – Universal doesn't allow admission when the park reaches its maximum capacity.
Security is also extra tight during Halloween Horror Nights, so remember to account for lengthy lines and thorough checks at the entrance.
What Are The Most Crowded Times at Universal Studios?
The days around major events/holidays like Halloween, Thanksgiving, and Christmas are the busiest seasons to visit Universal Studios Orlando.
People take time off, and school is out during these times, making the summer months also some of the busiest on the Universal calendar.
Before you book your visit, I suggest referring to crowd calendars to make an informed decision on the best day(s) to attend.
It's also recommended to keep a close eye on when Universal Orlando opens new rides as the park fills up quickly during these debuts.
Why Does Universal Studios Orlando Close Early?
Unlike Disney World, where the parks close between 9:00 pm and 11:00 pm, Universal Studios Orlando closes between 6:00 pm and 9:00 pm.
It can close at 10:00 pm on specific days, but they're the exception.
The primary reason for early closing times is the high operational costs beyond 6:00 pm, especially during the off-season.
Universal Orlando also has fewer rides than Disney World, meaning fewer attractions are suited to after-hours events.
It's why arriving in the early morning gives you a better chance of maximizing your experience.
How To Save Time at Universal Studios
Arriving before rope drop saves you valuable hours, but you can also take a few extra measures to free up more of your day.
1. Eat breakfast before arriving
There are only a few spots at Universal Studios Orlando that offer good breakfast options, so you'll spend time looking for them or opting for Starbucks.
The Three Broomsticks, Jamba Juice, and Voodoo Doughnut are worthy mentions, but you're better off having breakfast at your hotel.
The hotels offer much better choices, and you can allocate most of your time at the park to enjoying the rides.
2. Pay for Premium Parking
If you only have one day at Universal Orlando, Prime or Valet Parking shaves at least 20 minutes off getting to the turnstiles.
Valet Parking takes it a notch higher, offering a separate parking area and separate security stations for guests using the service.
Because fewer people take advantage of this option, and because parking spaces are limited, you get inside the park in a flash if you do opt-in.
However, I don't recommend upgrading if you're attending Universal for a few days – you'll have plenty of time to experience everything you'd like without the extra cost.
3. Check Ride Times on the Official App
Universal Orlando shows wait times for specific rides on its official app.
The feature helps you plan your day effectively, as taking lunch can be preferable to waiting 45 minutes for a ride.
The crowds generally decrease as evening approaches, so you'll spend less time in lines by planning your day with this in mind.
Conclusion
The best time to arrive at Universal Studios Orlando is in the morning before rope drop.
Universal is busy most of the year, so stick to the half-hour-before-opening rule even in the off-season.
To account for large crowds and prolonged security checks during the busiest months, you may even want to up that time to an hour before rope drop.
It might seem like a lot of planning and logistics to get to the park, but scheduling your day with these realities in mind makes your visit to Universal Orlando smoother and more pleasant.
You'll know what to expect to fully enjoy the Universal Studios Orlando theme park experience.