How Scary Is Expedition Everest At Disney World?
Located in Animal Kingdom, Expedition Everest – Legend of the Forbidden Mountain is one of the most thrilling roller coasters at Disney World.
On a steel track, riders explore the twists and turns of the Himalayas while trying to escape the clutches of a Yeti protecting the Forbidden Mountain.
This attraction isn't for every parkgoer, though – while it starts easy in a tranquil Tibetan village, parts of it can be a bit intense as passengers make their way to the top of Mount Everest.
Expedition Everest is one of the most exhilarating attractions at Disney World, and the quick turns, steep drops, loud noises, and startling imagery make it a heart-pounding ride. While Disney doesn't recommend Expedition Everest for children, this attraction is suitable for teens and adults who enjoy intense roller coasters.
This article describes what to expect from Expedition Everest – Legend of the Forbidden Mountain to help guests decide whether it's too scary for their group.
Is Expedition Everest Scary?
Whether Expedition Everest – Legend of the Forbidden Mountain is scary depends on the age and interests of the riders.
This attraction is often compared to The Twilight Zone Tower of Terror, another Disney World ride known for its intensity.
Both rides are considered quite frightening but attract adults and teens looking for an adrenaline rush.
Disney's website warns that parts of Expedition Everest may be alarming, especially the high speed, loud noises, dark turns, fast drops, and chilling Yeti effects.
Ultimately, individual passengers must decide whether these features are terrifying or exciting.
That said, regardless of how brave you are, the mythical Yeti at the center of the mountain is likely to give you an old-fashioned jump.
What To Expect on Expedition Everest
Inspired by climbs to the top of the world, Expedition Everest weaves Tibetan culture and mountaineering with Disney magic.
The ride's queue is an informational guide preparing climbers for their ascent of Everest.
Real information about the famous mountain is combined with fantastical accounts of Yeti sightings, mixing popular myth with educational material.
Once onboard, passengers travel from a Himalayan village at the base of Mount Everest but must pass through the Forbidden Mountain on their way to the top.
Confronted by a Yeti tasked with protecting the mountain from intruders, the ride vehicle speeds up to evade the dangerous creature.
Guests embark on a wild adventure through the Himalayas before escaping the beast unscathed.
Seating
Guests board the Anandapur Rail Service, a replica steam engine whose name continues Expedition Everest's Tibetan theme.
Each train car holds up to 6 people in three rows of two, for a total of 34 passengers per train.
In preparation for a bumpy ride, seats are equipped with pouches for loose items and individual lap bars to keep riders safe.
How Fast Does Expedition Everest Go?
Expedition Everest lasts about 3 minutes, and considering how fast the train goes, this begins to feel even longer once the suspense kicks in.
The ride maxes out at 50 mph (80 kph) while racing down its biggest drop – it slows when turning but maintains a quick pace throughout the rest of the journey.
For most guests, however, it's not the speed that scares them.
What Kind of Drops and Thrills Can I Expect on Expedition Everest?
After zooming around the base of the mountain, the ride begins a gradual ascent through a Tibetan temple filled with warnings of Yeti sightings.
Expedition Everest is Disney World's tallest attraction, measuring 199.5 ft (61 m), and at the top of the ride, guests get an amazing view of the entire Animal Kingdom theme park.
However, once reaching the top, riders realize the track has been ripped out, and the train suddenly stops before racing backward through a dark passage to the center of the mountain.
Yeti shadows dance around the walls as the train switches directions to escape the monster.
Moving forward again, riders descend 80 ft (24 m) going 50 mph (80 kph).
After several exciting twists and turns, the train finally rides past the Yeti.
Making a daring escape, guests race out of the mountain and back to the start of the ride.
Recommended Ages
In the attraction description, Disney lists kids, tweens, teens, and adults as potential riders.
Expedition Everest has a minimum height requirement of 44 inches (112 cm).
Otherwise, there are no age requirements to ride.
However, Disney does warn that the ride may be frightening for children, and it's best to check with younger visitors before boarding to see if they can handle its intense speed and special effects.
That said, the ride's seating arrangement allows younger guests to sit next to older siblings or parents, and Cast Members have no problem seating families together for the comfort of more fearful riders.
Is Expedition Everest Worth Riding?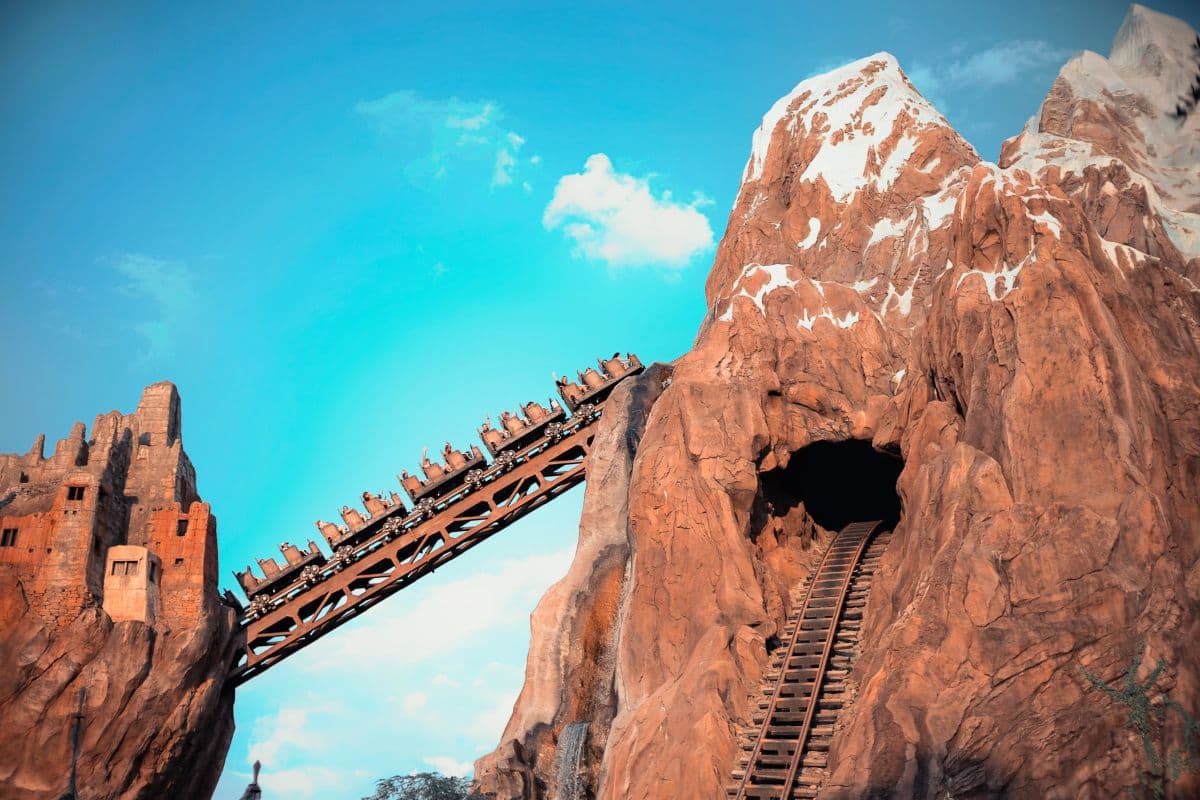 Expedition Everest is absolutely worth riding! The attraction's constant thrills and elaborate theme make for an unforgettable experience.
Guests who enjoy roller coasters are sure to love this ride – there is never a dull moment on Expedition Everest.
As long as passengers meet the minimum height requirement and are informed of any frightening effects, Expedition Everest is worth riding at least once.
Conclusion
Expedition Everest – Legend of the Forbidden Mountain is an intense roller coaster experience located in Animal Kingdom at Disney World.
Filled with twists and dark turns, Yetis, and broken tracks, this attraction can be a little scary for more timid visitors.
This ride isn't recommended for young children and has a minimum height requirement of 44 inches (112 cm).
Parents should check with younger riders before boarding to see if they can handle its fast pace and intensity.
However, this roller coaster is one of the most fun rides at Disney World, and its design is exciting and beautifully executed.