Can You Rent A Scooter At Universal Orlando?
Universal Orlando includes two large land-based theme parks – Universal Studios Florida and Islands of Adventure. Between the two, there's almost too much ground to cover.
To be sure guests with special needs have access to all the fun at Universal Orlando, it's important to check if the parks are accessible to all.
One of the best tools to guarantee a visitor's mobility is an Electric Conveyance Vehicle (ECV) or scooter.
Just like always, Universal Orlando has it covered. Guests can rent scooters at both Universal Studios Florida and Islands of Adventure. Unfortunately, the parks won't allow visitors to take the scooters back to their hotels; however, an easy fix is to rent an ECV from a third party. Universal allows all ECVs to enter the park.
This article will explain where and how to rent a scooter at Universal Orlando, as well as the advantages of renting from third-party companies.
It will also discuss the benefits of the Admissions Assistance Pass for those using scooters.
Where Can You Rent a Scooter at Universal Orlando?
Universal Orlando is committed to providing accessibility options for all their guests.
As such, guests can rent a scooter as soon as they enter either Universal Studios Florida or Islands of Adventure.
The Electronic Conveyance Vehicle (ECV), strollers, and wheelchair rental kiosk is to the left of both entrances.
Parkgoers can also find manual wheelchairs in the rotunda near the parking structures.
Unfortunately, Universal's Volcano Bay does not have ECVs to rent. However, they do provide manual wheelchairs for guests in need at the Concierge Booths located throughout the park.
All ECVs, strollers, and wheelchairs are rented on a first-come, first-served basis. So if you need one of these, be sure this is your first stop when entering the park!
How Do You Reserve Scooters at Universal Orlando?
Scooters at Universal Orlando have been known to sell out quickly. Luckily, guests can reserve them up to one week in advance.
Visitors can call Guest Services toll-free at 1-877-589-4783 before their trip to reserve a scooter at each park they attend.
How Much Does It Cost to Rent a Scooter at Universal Orlando?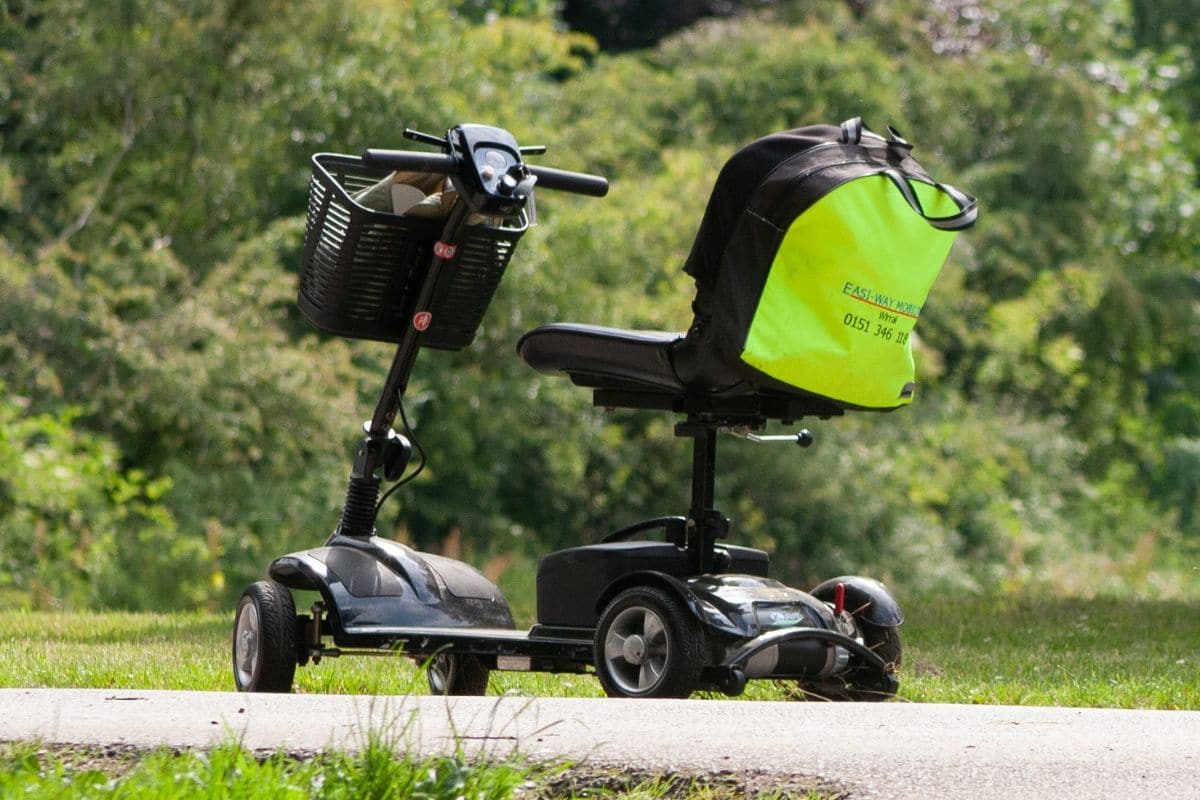 It costs around $50 per day to rent a scooter at Universal Studios Florida or Islands of Adventure and requires a $50 deposit.
Costs can change without notice, so confirm the price with Guest Services when reserving your scooter.
Can You Use a Scooter To Go From Your Hotel to a Universal Orlando Theme Park?
Guests cannot take scooters rented at the parks to their hotels, even if staying at one of Universal Orlando's resorts.
In fact, Universal doesn't allow the scooters to leave their parks at all.
Before leaving the park, visitors have to return their scooters or wheelchairs.
Can You Travel Between Universal Orlando Parks With a Scooter?
As mentioned, Universal Orlando does not allow guests to leave the parks with their scooters, even if they're staying within Universal's complex.
For example, if you rent a scooter at Universal Studios Florida and decide to park-hop to Islands of Adventure, you'll need to return your scooter and rent another one when you enter the next park.
Can You Take a Third-Party Scooter into Universal Orlando Theme Parks?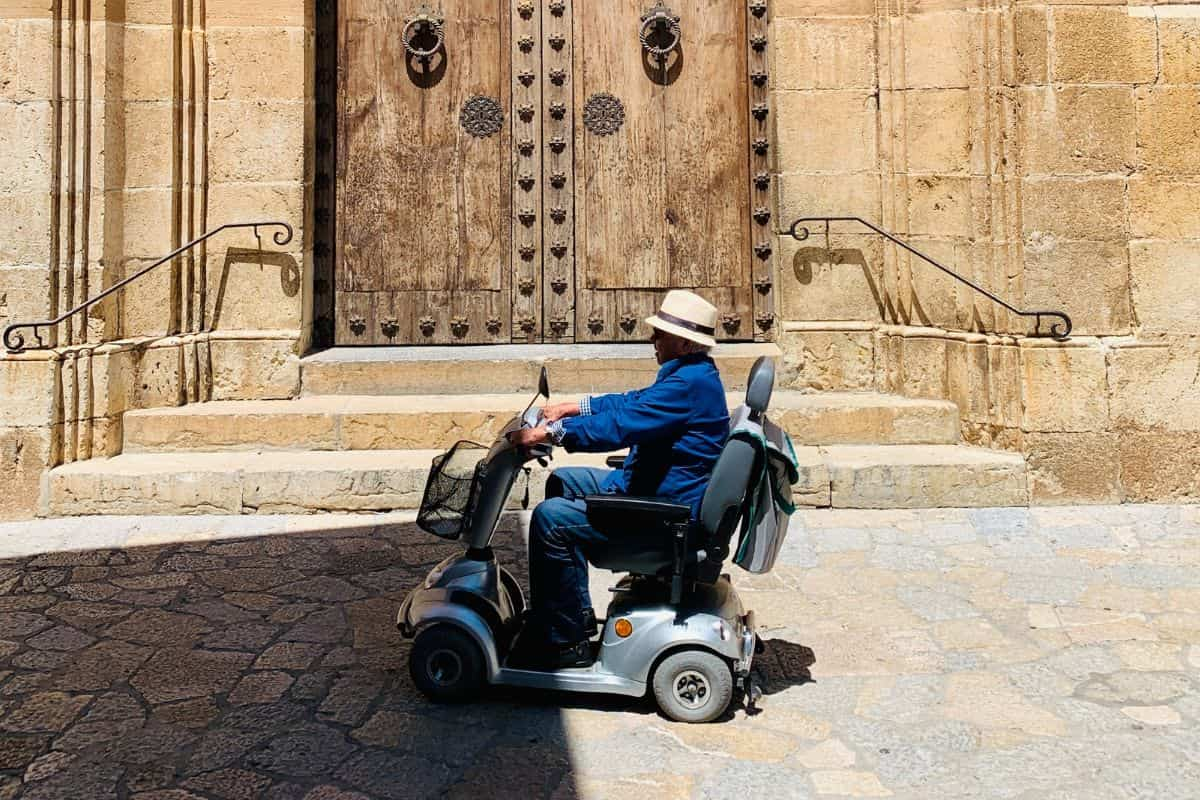 The best way around Universal's limitations on onsite scooter rentals is to rent one from a third party.
Renting from an outside source is a great option for visitors that require the assistance of an ECV and are either park-hopping or staying in an onsite hotel.
Due to the popularity of this option, ECV rental companies often cater to Universal visitors.
Third-party rental packages typically come with a choice of scooter, wheelchair, or other ECV.
They also deliver to your door wherever you're staying, even at campgrounds!
You can read about one company's package for Universal Orlando guests here.
Can You Wait In Line for Rides at Universal Orlando While Using a Scooter?
Except for the Hogwarts Express, none of the lines at Universal Orlando can accommodate scooters.
At attractions that accommodate standard wheelchairs, guests can transfer from their ECV into a standard wheelchair at each location.
Additionally, visitors can stop by Guest Relations upon arrival to get an Attraction Assistance Pass. This pass is given to guests who require a little extra help while waiting in line.
With this pass, visitors are redirected to a special line that is often a bit shorter than the regular wait time. If the wait is longer than 30 minutes, you'll be issued a ticket with a return time.
For more information on Universal Orlando's accessibility options, please see their Guide for Rider Safety and Accessibility.
Can You Take Your Scooter on Rides?
Besides the Hogwarts Express, guests cannot take ECVs or scooters on rides.
Universal requires guests to transfer from their scooter into a wheelchair and then into the ride's seat. This policy is due to safety concerns for the rider.
By transferring to a seat, guests can be safely fastened using the seatbelts or harnesses provided.
However, Universal Orlando does provide special accessible seating on most rides, ensuring guests are comfortable no matter what.
Additionally, the following attractions can accommodate guests remaining in a standard wheelchair:
Islands of Adventure
Camp Jurassic
Caro-Seuss-el
The Cat in the Hat
Hogwarts Express – Hogsmeade Station
If I Ran the Zoo
Jurassic Park Discovery Center
Me Ship, The Olive
One Fish, Two Fish, Red Fish, Blue Fish
Poseidon's Fury
Skull Island: Reign of Kong
Universal Studios
Animal Actors On Location!
The Bourne Stuntacular
Curious George Goes to Town
Despicable Me Minion Mayhem (stationary seating only)
E.T. Adventure
FEAR FACTOR LIVE
Fievel's Playland
Hogwarts Express – King's Cross Station
MEN IN BLACK Alien Attack
Race Through New York, Starring Jimmy Fallon
Shrek 4-D
Universal Orlando's Horror Make-up Show
Conclusion
With so much to see and do at Universal Orlando's parks, it's important for guests to have all the assistance they need.
Luckily, parkgoers with reduced mobility can rent scooters at both Universal Studios and Islands of Adventure.
They can also reserve scooters by calling Guest Services before their trip.
Onsite scooter rentals do have some limitations, however.
They aren't available at Universal's Volcano Bay, and they cannot leave the park they're rented from.
The best option for guests looking for more flexibility is to rent a scooter from a third-party provider.
Universal Orlando also makes it easy and comfortable for guests to wait in line and transfer onto rides while using a scooter or wheelchair.
Additionally, visitors can opt for an Attraction Assistance Pass from Guest Services locations within the parks.
With a little planning, any guest can be set for a great visit to Universal Orlando!