How Much Are Premium Seating And Cabanas At Volcano Bay?
People visit Universal Orlando's Volcano Bay for its thrilling rides, fast slides, and refreshing pools.
Spending a day at Volcano Bay is the perfect way to beat the heat of a Florida summer or enjoy a different Universal Orlando theme park experience.
Volcano Bay also offers guests exclusive access to certain add-ons and perks to make their visits even more special.
Guests looking to elevate their visit to Volcano Bay can reserve Premium Seating, Single Cabanas, and Family Cabanas. The prices vary depending on the day of the week and time of year. Before taxes, Premium Seating generally ranges from $30 to $100 and up, Single Cabanas are about $160 to over $500, and Family Cabanas cost anywhere from $300 to more than $600.
Anyone planning a visit to Volcano Bay can take advantage of reserved seating by calling ahead to check the price and make their reservation.
In the rest of this article, we delve into the special perks that come with each type of reserved seating at Universal Orlando's Volcano Bay.
What Is the Cost of Reserved Seating at Volcano Bay?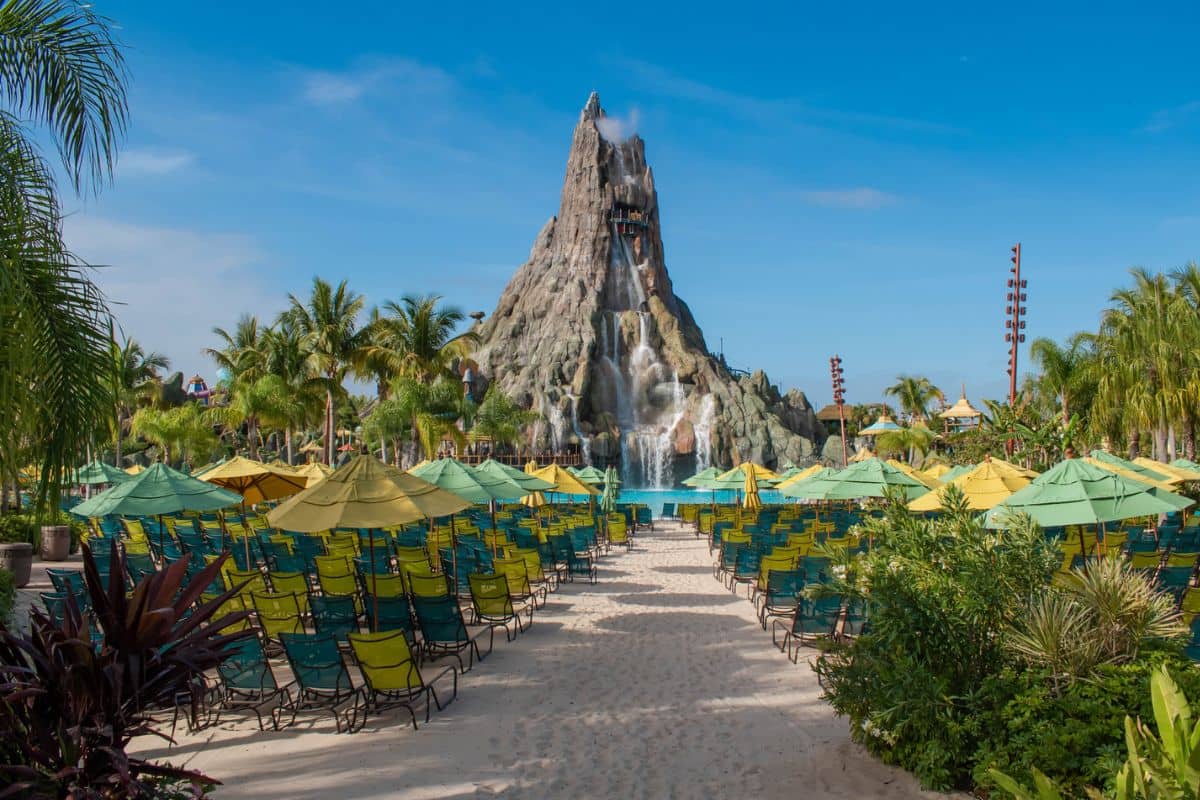 The cost of reserved seating at Universal Orlando's Volcano Bay depends on the season.
During Volcano Bay's peak season, the cost of reservations increases – as attendance goes up, so does the price.
The base price for Premium Seating is around $30 for two chairs.
For Single Cabanas and Family Cabanas, prices start at $160 and $300 respectively.
These prices do not include taxes, and the costs can go much higher depending on availability and interest, with no listed limit.
Visitors can check the cost and make their reservation for Premium Seating and Cabana Rentals by calling 1-877-801-9720 or 1-877-489-8068.
Guests can also make reservations on the day of their visit at the Volcano Bay Front Gate or a Concierge Hut.
Just keep in mind that on busier days, there may not be available reservations for reserved seating.
What Comes With Premium Seating?
Guests who reserve Premium Seating get a personal locker and two comfortable lounge chairs under a beach umbrella.
Premium Seating is actually a great deal at the base price ($30) since the locker rental alone costs $15 plus tax per day.
In addition to locker rental, guests can take advantage of Premium Seating Dining, which allows guests to order food directly to their chairs.
Premium Dining Menus contain various items, including sushi, burgers, pizza, salads, desserts, and both alcoholic and non-alcoholic drinks.
Visitors can also order foods that meet various dietary restrictions.
When they're ready to order, guests seated in the Premium lounge chairs just flip their flag to notify the wait staff.
Is Premium Seating Worth the Cost?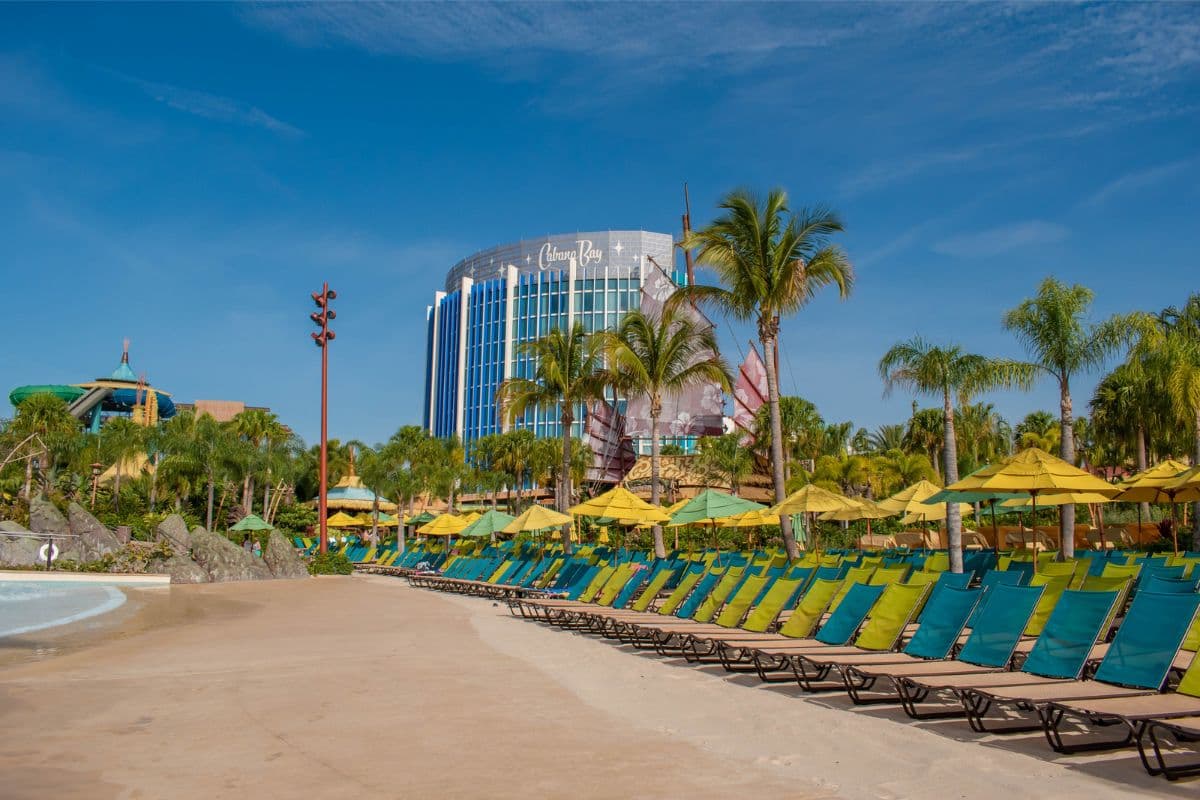 Premium Seating is worth the cost to guests who want a place to return to throughout the day.
It's great for families or groups that may like to go their separate ways but want a convenient meeting point to check in with each other.
Because Volcano Bay offers virtual lines allowing guests to make ride reservations instead of standing in a queue, Premium Seating gives parkgoers a guaranteed place to sit while waiting for their turn.
In addition, the convenience of a locker at the reserved Premium Seating means that guests don't have to walk to the locker areas to retrieve their wallet, phone, camera, or any other items they have stored for safekeeping.
What Comes With a Single Cabana Rental?
Visitors who rent Single Cabanas can choose from stand-alone cabanas, single-story cabanas, and second-story cabanas.
Cabanas are offered on a first-come, first-served basis, so the sooner guests make a reservation, the more likely they'll get a cabana in a location they like.
Stand-alone cabanas offer some privacy away from the crowds.
Single-story cabanas are great for visitors who need accessible accommodations for strollers, wheelchairs, or walkers.
Second-story cabanas offer scenic views overlooking the park.
Single Cabana Units hold up to six people, and the padded seating inside is luxurious and comfortable, providing guests with a nice place to relax and get out of the sun.
The small refrigerator in each cabana contains cold, bottled water, and guests will also find a fruit and snack basket included in the cost.
Visitors can expect a top-notch experience when renting a cabana, as each comes with concierge service, towels, and locker rentals.
Volcano Bay also provides cabana guests an exclusive menu of food and beverages.
The concierge service takes the order and delivers it to the cabana when it's ready.
What Comes With a Family Cabana Rental?
Family Cabanas hold up to sixteen guests.
These large, stand-alone structures offer guests a private place to enjoy a party or gathering with family and friends, where they can bring party decorations and decorate for their event.
With comfortable, padded seats and loads of privacy, guests can relax between rides on the slides and attractions in the park.
Just like with Single Cabanas, guests can order food from the exclusive menu, take advantage of the towels and lockers provided, and enjoy the complimentary bottled water, fruit, and snack basket.
Are Single or Family Cabanas Worth the Cost?
Cabanas are worth it for guests looking to enjoy the perks of Volcano Bay in a more private, intimate setting.
The curtains around the cabana can be drawn, providing even more privacy (and shade) for the occupants.
Guests of the Single and Family Cabanas also have access to a kiosk inside their cabana to get in the virtual line for specific rides.
After reserving their spot, they can sit back, relax with a cocktail, and eat food while they wait.
Families with young children may find a Single Cabana is worth the cost, as infants and toddlers (and their parents) can nap out of the sun and away from the crowds.
Guests celebrating a special event may find renting the Family Cabana worth the cost.
The large cabana provides seats, a table, and a place to decorate, and concierge service helps make the day extra special.
Do I Have to Reserve a Seat at Volcano Bay?
Unreserved seating is available throughout the park for guests who do not want to pay for reserved seating at Volcano Bay.
Guests who don't reserve seats typically leave their towels and bags on a chair and store their valuables in a locker while wandering around the park.
Many guests claim they don't need a seat while visiting the park.
Between rides, many guests prefer relaxing in a tube on the river rapids of TeAwa The Fearless River instead of lounging in a chair.
Some visitors can wander the park all day without needing a seat.
When people need a break from the rides or a place to cool off, many restaurants, bars, and snack shacks offer a place to sit inside or in the shade.
Conclusion
Visitors to Universal Orlando's Volcano Bay can upgrade their park experience by reserving Premium Seating, a Single Cabana, or a Family Cabana.
These luxurious accommodations provide exclusive perks that make the extra cost worthwhile for some guests.
Prices for reservations vary, depending on the season, but Premium Seating typically starts at $30, Single Cabanas start at $160, and Family Cabanas start at $300, before taxes.
All rentals are first-come, first-served. Visitors can call Volcano Bay in advance to check the price and make a reservation, or they can reserve their spot by visiting a Concierge Hut or Guest Services at the Front Gate.