Where To Pick Up Disney World Tickets?
If you order your Disney World tickets in advance, you can choose to pick them up at the park.
This system is known as Will Call, and many people use this option instead of printing them at home.
You can pick up your Will Call tickets at Disney World theme park and water park ticket booths. You can also pick them up at Disney Springs, any Guest Relations location, and any Disney Resort Lobby Concierge. Just bring your ticket confirmation number and a valid photo ID.
You can only pick up annual passes at the ticket booths and Guest Services locations.
You can't pick them up at the resorts.
Can Disney World Send Me My Tickets?
Yes, they can, and it's more convenient than picking them up at the park.
Disney World offers three shipping options; domestic standard shipping, domestic express shipping, and international shipping.
If you opt for standard shipping, your tickets will arrive in 14 days, though they can arrive sooner.
It's rare for tickets to arrive later than 14 days, but if it happens, email [email protected] or call (407) 934-7639.
If you need your tickets in less than 14 days, you can opt for Express Shipping, but it comes at an extra cost.
Tickets and passes delivered through Express Shipping arrive in 1-2 business days.
International shipping is the only way to go if you live outside the United States, and costs vary wildly depending on your country of residence.
Disney World also doesn't deliver to specific countries and territories, so refer to the official website for more information.
If you can get your tickets shipped to your country of residence, know that you're liable for any taxes, duties, or added fees as per your country's regulations.
Can I Buy Disney World Tickets At The Front Gate?
Yes, you can, though I don't usually recommend buying your tickets at the gate.
Firstly, gate prices are usually higher than buying online.
The Disney World website often offers deals or promotions and has a best-price guarantee for online ticket purchases.
Secondly, and more importantly, to experience Disney World, you need to make a separate park reservation in addition to buying a ticket.
Depending on the date and time, there might be few or no reservations available at the ticket booths, forcing you to postpone your visit.
If you insist on buying your tickets at the park, plan your trip for a less crowded date, and arrive early in the morning.
You can check a crowd calendar for a better day to go, and it's always best to arrive at Disney World in the morning anyway.
So, while you can buy your Disney World tickets at the front gate, in my opinion, it's a bit of a gamble.
Do I Need To Link My Ticket To My Disney Experience Account?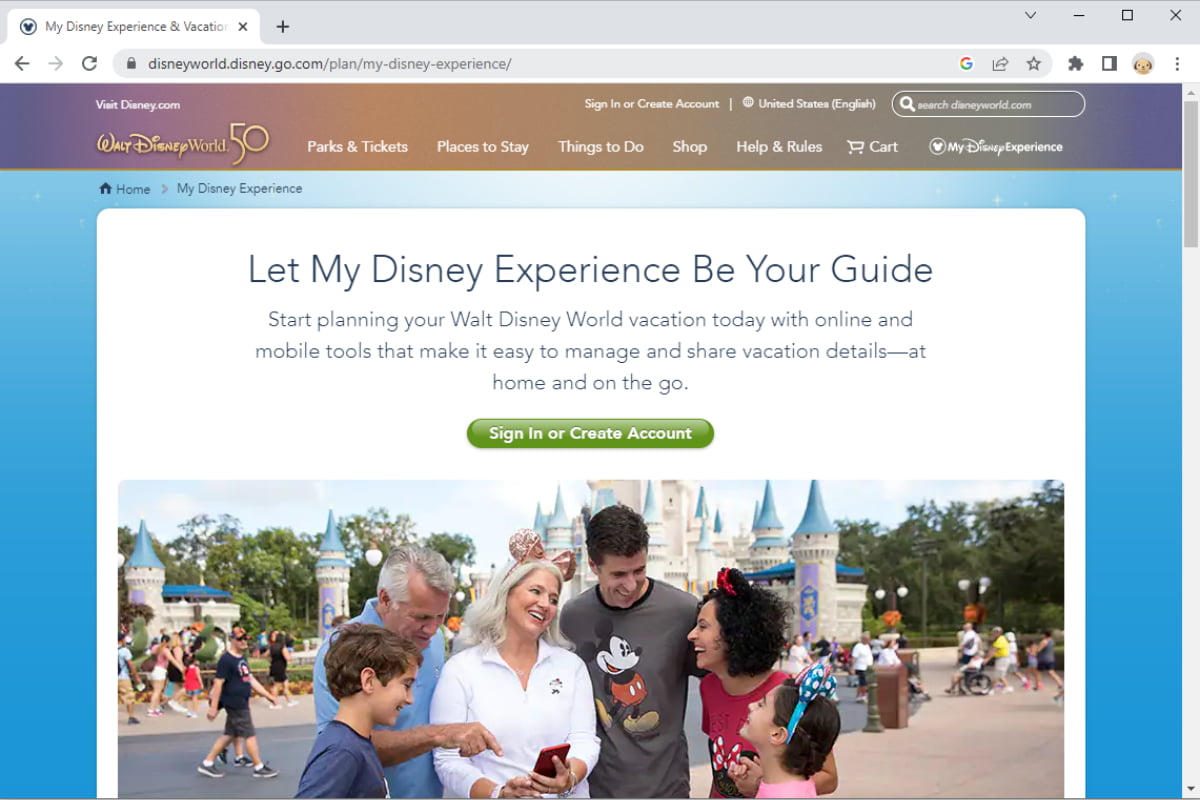 You don't have to link your ticket to your Disney Experience account, but doing so does help manage certain aspects of your Disney World vacation.
You can link park tickets, annual passes, and special event tickets to your Disney Experience account.
To do so, follow the below steps:
Go to 'My Disney Experience' and click 'My Plans'
Go to 'Park Tickets' and click 'Link Tickets'
Input your ticket ID number, click 'Next' and wait for an email confirmation message
If you have other tickets to add, click 'Add Another ID Number' and add the recipient's information on the next page
Once linked, proceed to make your park reservations.
If you've linked your tickets to your Disney Experience account, you can also access them through your MagicBand – meaning you don't need to bring physical tickets to the park.
(Note that first-time guests might still need to print their tickets as they're unlikely to have a MagicBand).
The advantage to this is that you don't lose your tickets if you lose your MagicBand.
You can just buy a new MagicBand and have all your information transferred, allowing you to easily access your tickets (or passes).
If you link an annual pass to your Disney Experience account, try your best not to lose the card.
You might need to show it (and a valid photo ID) if you're eligible for free parking or discounts on food and merchandise.
I Can't Find The ID Number On My Ticket. Can I Still Link It To My Disney Account?
Some tickets come without an ID number, and while you can still present them at the park, you can't link them to your Disney account.
If your ticket doesn't have an ID number, visit any Guest Relations station at the theme park's main entrance or call (407) 939-1289.
While unused tickets don't expire, you might find it impossible to link one to the account if it's from before 2005.
If you bought your ticket before 2005, and it's still valid for admission, contact Guest Relations to link it to your account.
Do I Need A Photo ID To Get Into Disney World?
You don't need a valid photo ID to get into Disney World, but you do need it to pick up your tickets at Will Call.
I suggest bringing a photo ID regardless of your ticket type, as you might need it at specific locations within the park.
Park attendants can also ask for ID if they need it, especially if a finger scan fails.
The other situation where a driver's license or other valid ID is needed is if you're a Florida resident and you bought resident tickets.
The attendants need the document to prove you're a local.
Conclusion
If you've ordered your tickets online but don't want to print them ahead of time, you can have them printed at the park or resort when you arrive.
Bring your ticket confirmation number and a valid photo ID to Will Call, your concierge, or any Guest Services location, and Disney staff will gladly issue your tickets.
Just make sure you've made a park reservation at the time of booking, so there are no surprises at the gate.