Do You Need To Bring Towels To Volcano Bay?
Universal Orlando's Volcano Bay offers guests a satisfying theme park experience where they can relax by a pool and/or enjoy thrilling rides and slides.
Parkgoers who want a carefree day with minimal effort may wonder if they need to bring their own towels to the park.
Visitors to Volcano Bay do not need to bring their own towels. Parkgoers can rent towels from one of the Concierge Huts in the park. Guests who reserve a Single or Family Cabana receive complimentary towels as part of their reservation.
Volcano Bay makes it convenient for guests to enjoy the park without needing a lot of stuff.
This article discusses what visitors should take to the park and what they can leave behind.
What Should Visitors Bring to Volcano Bay?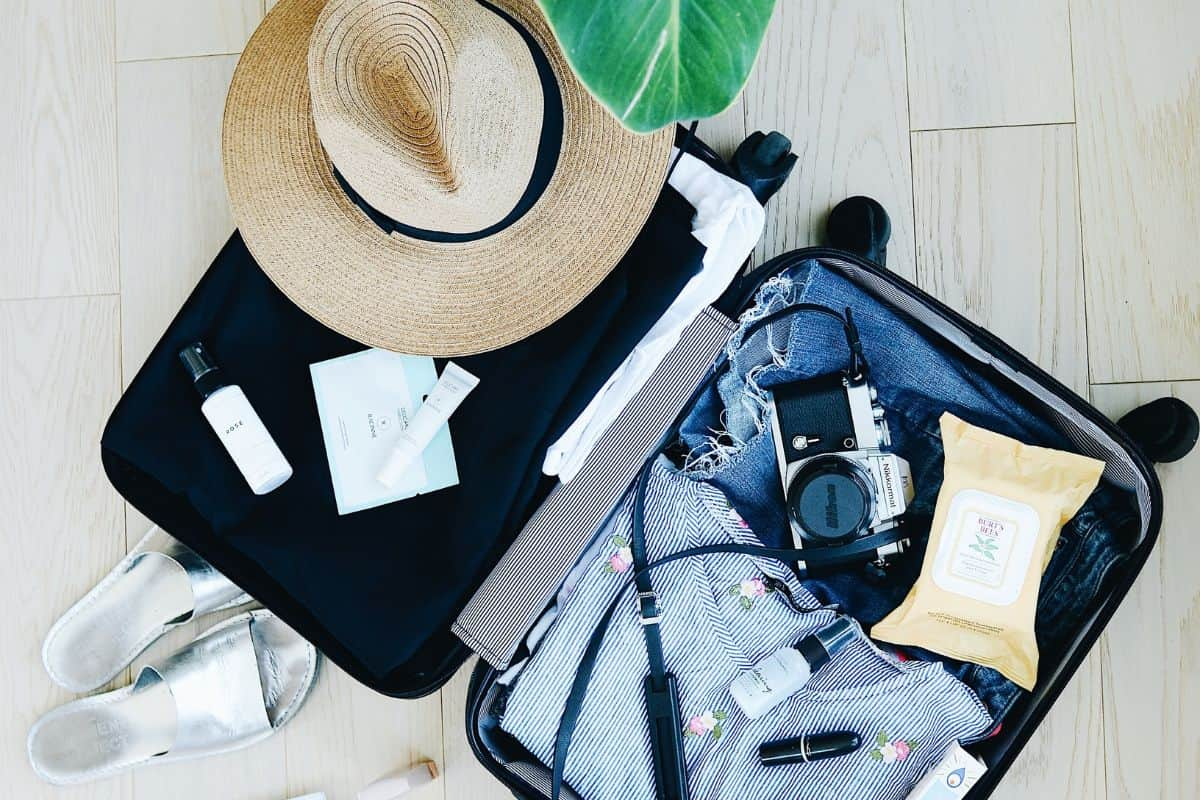 Volcano Bay makes it easy for guests to have a great experience without needing too much extra stuff.
Basically, the only things you'll need to bring to Volcano Bay are your swimsuit, waterproof shoes, sunscreen, and a change of clothes.
Everything else (like towels, chairs, umbrellas, etc.) is either provided or can be rented/purchased inside the park.
Parkgoers will also need a valid, government-issued photo ID and the credit card they used to purchase their admission tickets (for identification purposes when they enter the park).
Some guests also choose to bring bottled water and snacks – just keep in mind that permitted items are subject to Universal Orlando's policies on outside food and drinks.
Once in the park, visitors can rent a locker to store their bags, leaving them free to enjoy the rides and attractions without worrying about their belongings.
Additionally, upon entry to Volcano Bay, guests are given a TapuTapu bracelet, giving them a hands-free, worry-free way to access Virtual Lines and pay for things in the park.
What is a TapuTapu Bracelet at Volcano Bay?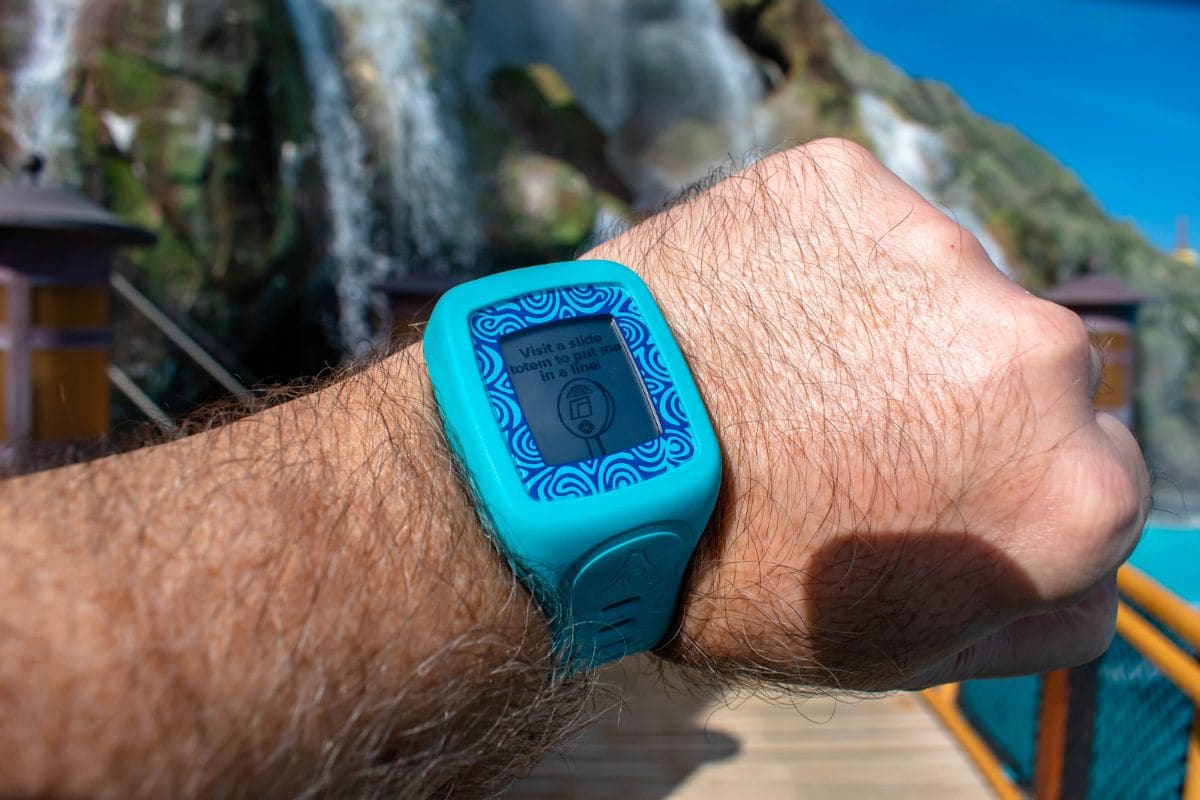 Volcano Bay's TapuTapu bracelets are waterproof wearables that visitors use to reserve their spot in line for rides and attractions, purchase food and drinks, open rental lockers, and more.
Visitors can link a credit card to their TapuTapu using Universal Orlando's official mobile app, allowing them to make cashless payments throughout the park using TapTu Pay.
Parents can load a certain amount of money on the TapuTapu wearables worn by their children, so they can buy snacks or drinks between rides without needing cash.
If guests lose their TapuTapu bracelet, they won't have to worry about someone else accessing their credit card.
All payments are protected by a PIN number chosen when they set up TapTu Pay using the app.
These wearables sometimes fall off, so visitors shouldn't be surprised if it happens to them – they just need to visit one of the Concierge Huts to replace it.
What if I Forgot My Swimsuit?
Sometimes, guests who visit Universal Orlando (or the Orlando area in general) choose to go to Volcano Bay at the last minute without having any supplies for swimming.
Fortunately, the park makes it painless to come on a whim.
Guests who need swim gear can stop at one of two stores at Volcano Bay to buy essentials like bathing suits, water shoes, goggles, nose plugs, ear plugs, swim diapers, etc., and can use their Tapu Tapu wearable to pay.
What Items Can Visitors Leave at Home?
Visitors to Volcano Bay can leave almost everything at home (or at their hotels).
Parkgoers can purchase food and beverages at several restaurants, snack shacks, and bars within the park that accommodate many food allergies and dietary restrictions.
Guests can also leave their towels behind and rent what they need for $4.99 each.
The best part about renting a towel from Volcano Bay is not having to pack it in your bag when it's heavy and wet at the end of the day.
Volcano Bay guests who rent Single or Family Cabanas need even less stuff.
These cabanas include rental towels, lockers, bottled water, and a snack basket in the price.
While everyone has a cell phone, carrying one on water rides is not a great idea, so leaving phones behind may make the day easier.
Prohibited Items at Volcano Bay
Volcano Bay prohibits several items from being brought into the park.
These include (but are not limited to) weapons, marijuana, illegal substances, outdoor speakers, chairs, hard-sided and larger soft-sided coolers, glass containers, power-driven vehicles like hoverboards and Segways, inflatables, water guns, and toy guns.
Before visiting Volcano Bay, guests should confirm what they are and are not permitted to bring with them.
Conclusion
Guests at Universal Orlando's Volcano Bay can enjoy a fun and relaxing day without bringing much more than their swimsuits – they can even leave their towels behind and rent them from the park.
Parkgoers will need a photo ID and the credit card they used to purchase their park tickets to enter Volcano Bay but can secure everything in a rental locker once inside.
As part of the experience, guests receive TapuTapu bracelets, a waterproof wearable used to reserve spots in Virtual Lines and pay for items in the park.
Visitors who reserve cabanas receive free towels, lockers, bottled water, and snacks as part of their rental.
Volcano Bay has made visiting the park as convenient as possible, so guests don't have to bring all that much stuff.