How Much Money To Bring To Universal Studios? (5 Costs to Consider)
Whether going to Universal Hollywood or Universal Orlando, it's possible to underestimate how much money you'll need at either theme park.
To avoid unwelcome surprises, your park budget should account for major expenses like food and parking and miscellaneous expenses like random spending and emergencies.
Overall, you're going to need between $200-$500 USD per person when visiting a Universal theme park for 2-3 days.
Compared to Universal Hollywood, your expenses at Universal Orlando are likely to be higher as there are way more attractions.
Also, this recommended budget does not include airline tickets, accommodations, or park passes.
If you haven't bought your park passes yet, you can save money by purchasing them online.
Airfare varies depending on which country or city you're coming from, and there are many sites online (e.g., AirfareWatchdog, Kayak, or Skyscanner) that help users filter for cheap(er) flights.
Accommodations for your trip depend on whether you stay on-site at Universal or off-site in the area or if you purchase a vacation package that includes things like rooms, airfare, and/or park passes.
There are several options for hotels (both on- and off-site) as well as the usual alternatives like Airbnb.
So after the big expenses of airfare, park tickets, and accommodation, the following are some additional costs to consider when planning a trip to Universal Studios.
5 Costs to Consider at Universal Studios
1. Transport
Transportation to the park primarily applies to off-site guests, as those who stay at a Universal Resort don't have to worry about getting to the park.
It's not an in-park expense, but the recurrent nature makes it similar to the other items on this list.
One option is the Universal shuttle, which picks up (and drops off) at some of the nearby partner hotels.
If you can't access the shuttle (or choose not to opt in), you'll have to account for the cost of traveling to and from the park during those two or three days.
Another option is renting a compact car in Hollywood and Orlando for around $26-$35 per day.
Larger vehicles like minivans and SUVs fall in the $45-$55 price range.
Some hotels also offer free transportation to the parks, so it's something to factor in when exploring your options.
2. Parking
If you're driving to Universal Studios, parking should be close to the top of your expense list.
At both Universal Hollywood and Universal Orlando, parking is charged per day, meaning once you pay for it, you can leave the park and come back (on the same day) without paying again.
Just hold on to your receipt.
General Parking costs around $30, while Prime/Preferred Parking costs around $60 at either location.
Prime/Preferred Parking gets you closer to the entrance, saving you the time it takes getting from your car to the park.
At Universal Orlando, RV/Bus parking is $32, and a Premier Annual Pass gets you complimentary valet parking.
There is also complimentary self-parking after 6 pm, excluding Halloween Horror Nights.
A Preferred Annual Pass at Universal Orlando grants you free self-parking all day long, while a Power Annual Pass gets you a 50% discount after your first visit.
At Universal Hollywood, Gold and Platinum Annual Pass holders receive free general parking until 6 pm.
After 5 pm, General Parking at Universal Hollywood is $10, and Preferred Parking is $20.
If you hold an Annual Pass with valid discounts, remember to use them to your advantage.
Prices can change depending on events, so see the park websites for up-to-date information.
3. Food and Drink
You'll hear this a lot, but the food at theme parks is pretty expensive.
However, the quality is also up there.
While price and value are still unlikely to exactly match, you won't regret your purchase decisions when opting for snacks and drinks around the park.
It's also worth pointing out that themed food is part of the memorable experience at a Universal Studios theme park.
You can bring your own food and drinks, but Universal Studios has some specific conditions:
Bottled water (maximum 2 liters)
Small snacks that don't require heating
Any food required for special dietary needs
Any food required for medical purposes and medically-indicated nutritional supplements
Baby food/baby formula
Soft-sided insulated bags no larger than 8.5" wide x 6" high x 6" deep.
If you're a family of four (or more), you'll save money by bringing some snacks with you and not relying entirely on the theme park delicacies.
Overall, you'll need a food and drink budget of around $60-$100 per person per day.
Here's a more specific breakdown:
Breakfast – $10 (or free depending on your hotel)
Lunch – $20
Snacks – $15-$30
Dinner – $15 (or $0 if you ate too many snacks during the day)
The snacks at Universal parks are also quite large, so, most of the time, you'll find yourself sharing them with your group.
You can also purchase a refillable cup for $16.99 or reuse one from previous visits and recharge it for $10.99.
The cups grant you unlimited soft drink refills throughout most of the park, allowing you to save on beverages.
Bottled water is an additional expense, but you are permitted to bring your own refillable water bottle to take advantage of the free water available throughout the parks.
4. The Wizarding World of Harry Potter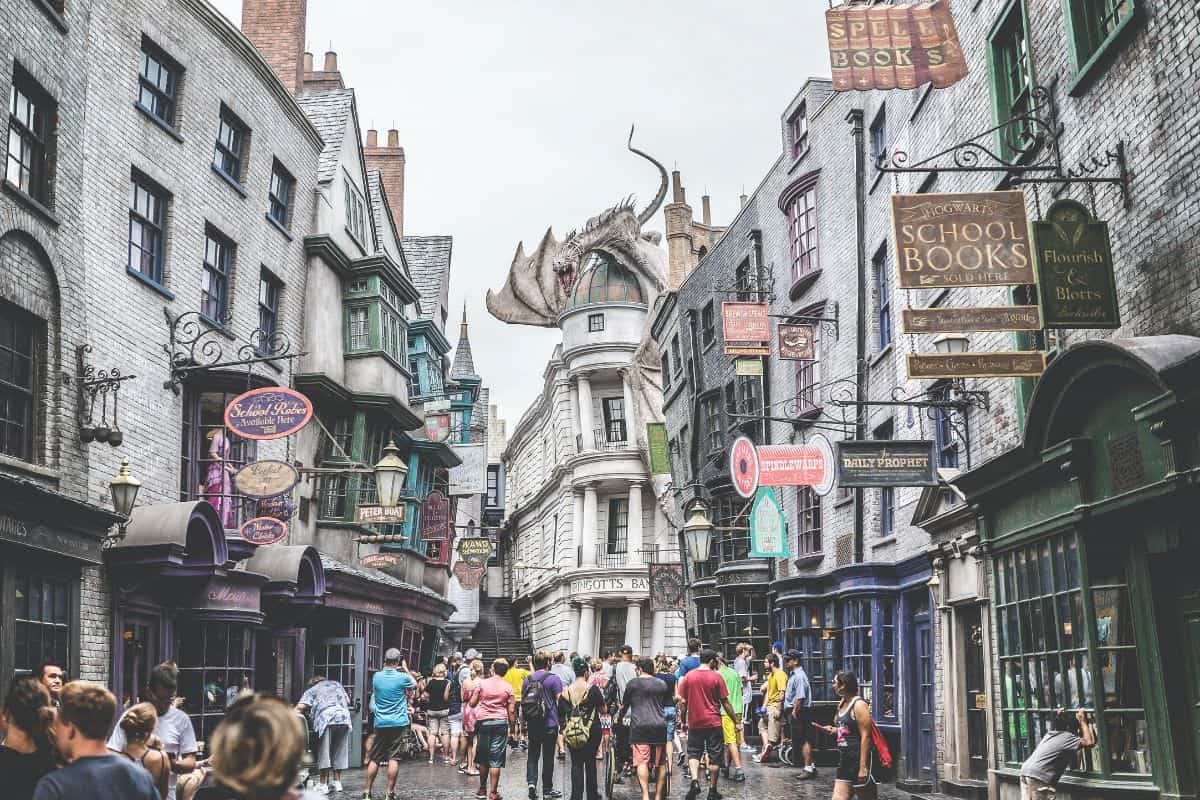 Undoubtedly the most intricate and aesthetic part of the park, The Wizarding World of Harry Potter is such a major part of both Universal Studios locations that it requires its own expense section.
From merchandise to signature beverages and snacks, the magic of the Wizarding World entices you to take out even more bills from your pocket.
It only makes sense to budget for it separately.
Regardless if you're a fan of the franchise, you're still likely to splash some cash on a couple of souvenirs.
I recommend $50-$100 per person.
Foodstuffs at The Three Broomsticks and The Leaky Cauldron are likely to fall into the food and drink budget described above, but you can also tack on extra if you want to splurge a little.
5. Merchandise and Random Spending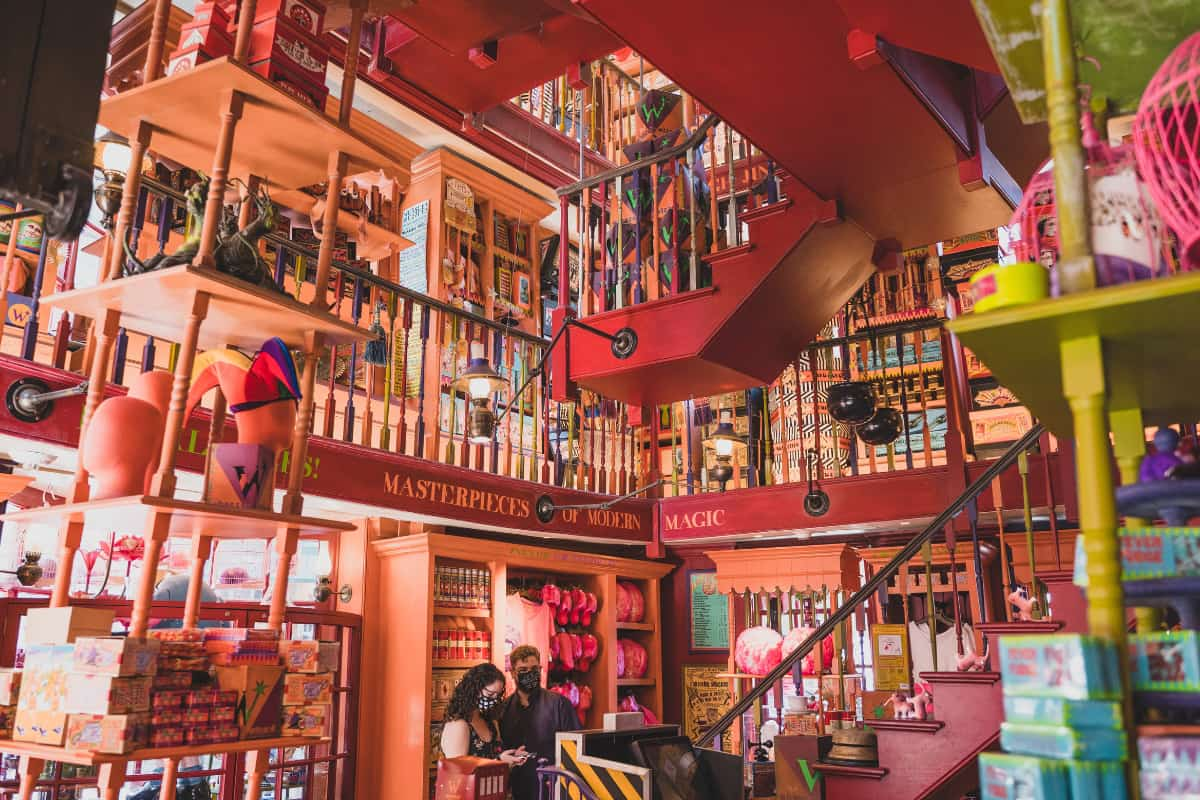 If you're likely to buy souvenirs in Harry Potter land, it's best to have an extra $50-$100 on hand for goodies from other areas of the park.
If the Wizarding World doesn't inspire you (and you don't end up buying anything), you'll have $100-$200 to spend on merch elsewhere.
And if you choose not to buy any souvenirs at all – and trust me, that's rare – you can put the merch budget back into your wallet for miscellaneous expenses.
However, don't rely on merch money to also act as your emergency reserves.
Depending on the number of people in your party, a low end of about $100 per day is good enough for extra expenses.
The higher-end is all up to you, but these are some costs to consider:
Tips
Evening entertainment
Extra costs at the hotel
Character dining
Lockers
Wheelchair/buggy chair (especially if you're with an older family member or a child – you'll do a lot of walking)
You should also factor in the park you're visiting, as Orlando has more activities than Hollywood (and a higher likelihood of surprise expenses).
Payment Methods at Universal Studios
Cash works well for most of the items on this list, but you're better off using a credit card.
If you lose your card at the park, you can easily have your provider block it against unauthorized purchases.
If you drop your hard-earned cash, that's it.
You should still consider keeping some cash just in case, but I wouldn't recommend it as your primary transaction method.
A quick note about credit cards: American Express and Universal have a partnership that offers 10% off to cardholders who spend $75 or more on merchandise.
You also get 10% off on specific dining plans if you pay using your American Express card.
If you're a US cardholder, it's something to keep in mind.
Other cardholders, unfortunately, may not benefit from these perks but double-check with your card provider to see if they offer other spending deals.
Tips on Saving Money at Universal Studios
Whether you're planning to drop some serious cash or aiming for a conservative budget, very few things compare to the feeling of spending significantly less than intended.
Here are a few tips to save money on your trip to Universal.
Stay off-site
Stay at a hotel that offers Express Passes (find out if you'll need them first)
Get discounted tickets from reputable sites
Bring a few snacks and your own water or refillable bottle
Currently suspended, but if they bring it back, consider a Quick Service Dining Plan (at Universal Orlando).
Annual passes are also worth considering as you're likely to save quite a bit on parking, food, and accommodation.
Be sure to check out the perks each tier offers to be confident of your chances to save money.
Conclusion
When assessing how much money to bring to Universal Studios, you will need to consider transportation to the park and several on-site expenses.
How much you spend will depend on your budget and what you choose to eat, drink, buy and do at the parks.
For a broader view, two adults going to Universal Orlando for three days will spend about $2000-$2500 (including park passes, accommodation, food, etc.).
You can use this figure as a benchmark for planning your trip to either Universal Studios location, but prices may fluctuate depending on the time of year or your personal preferences.
You can also save a bit of cash by taking advantage of special discounts and offers.
Remember that theme parks can get expensive if you go without a clear budget, so do a bit of research to know what to expect.