How Scary is Mission: SPACE at Disney World?
Most of the attractions at Disney World are easy-going, family-friendly, and filled with Disney magic.
Some guests, however, want a little more excitement when visiting Disney theme parks, and Disney Imagineers have risen to the challenge by designing rides like EPCOT's Mission: SPACE to keep thrill-seeking guests on their toes.
Mission: SPACE at EPCOT could be scary for riders uneasy about darkness, tight spaces, and simulated motions that may cause discomfort. While the ride is intended for kids, tweens, teens, and adults, everyone's thrill tolerance varies. Luckily, Mission: SPACE caters to different preferences by offering two versions of the ride: the more intense Orange Mission and the tamer Green Mission.
This article tackles where to find Mission: SPACE at EPCOT, what to expect on the ride, and how to decide if the ride is too scary.
Where is Mission: SPACE Located at Disney World?
Disney World guests can find Mission: SPACE in the World Discovery section of EPCOT.
For digital directions to Mission: SPACE, guests should download the My Disney Experience app.
What to Expect When Riding Mission: SPACE
Mission: SPACE is classified as a dark, spinning, motion-simulated thrill ride.
To prepare for their quest, guests train beforehand on the X-2 Deep Space Shuttle at the International Space Training Center (ISTC).
During their missions, each rider assumes one of four roles: navigator, pilot, commander, or engineer.
Each crew member is essential and will be instructed to perform specific tasks over the course of the mission.
There are two versions of Mission: SPACE for guests to enjoy – the Orange Mission, a NASA-style expedition to Mars, and the Green Mission, a scenic orbit around the Earth.
What is the Orange Mission at Mission: SPACE
The Orange Mission at Mission: SPACE is an intense journey to Mars perfect for thrill-seekers eager for a NASA-like experience.
This mission uses a centrifuge that spins and tilts the space capsule, simulating the speed and G-forces felt by astronauts during an actual space launch and reentry into Earth's atmosphere.
What is the Green Mission at Mission: SPACE
The Green Mission at Mission: SPACE is great for younger riders or those less keen on G-forces or high-speed spins.
As passengers gently orbit the Earth in a motion simulator, they receive an awe-inspiring view of our beautiful blue planet without the spinning or heart-pumping speeds.
Are There Big Drops in Mission: SPACE?
Since Mission: SPACE is a motion-simulated ride, not a roller coaster, there isn't a track with built-in drops.
There are, however, simulated drops created by video screens and the movements of the ride capsule.
These simulated drops are more intense in the Orange Mission because of the nature of centrifugal force.
How Fast Does Mission: SPACE Go?
Mission: SPACE only reaches moderate speeds.
The Orange Mission is the fastest, hitting speeds of up to 35 mph (56.3 kph) with G-forces of about 2.5 (about twice or three times the force we feel on a plane during lift-off).
The Green Mission is more family-friendly, with tame acceleration and no G-forces.
Who Can Ride Mission: SPACE?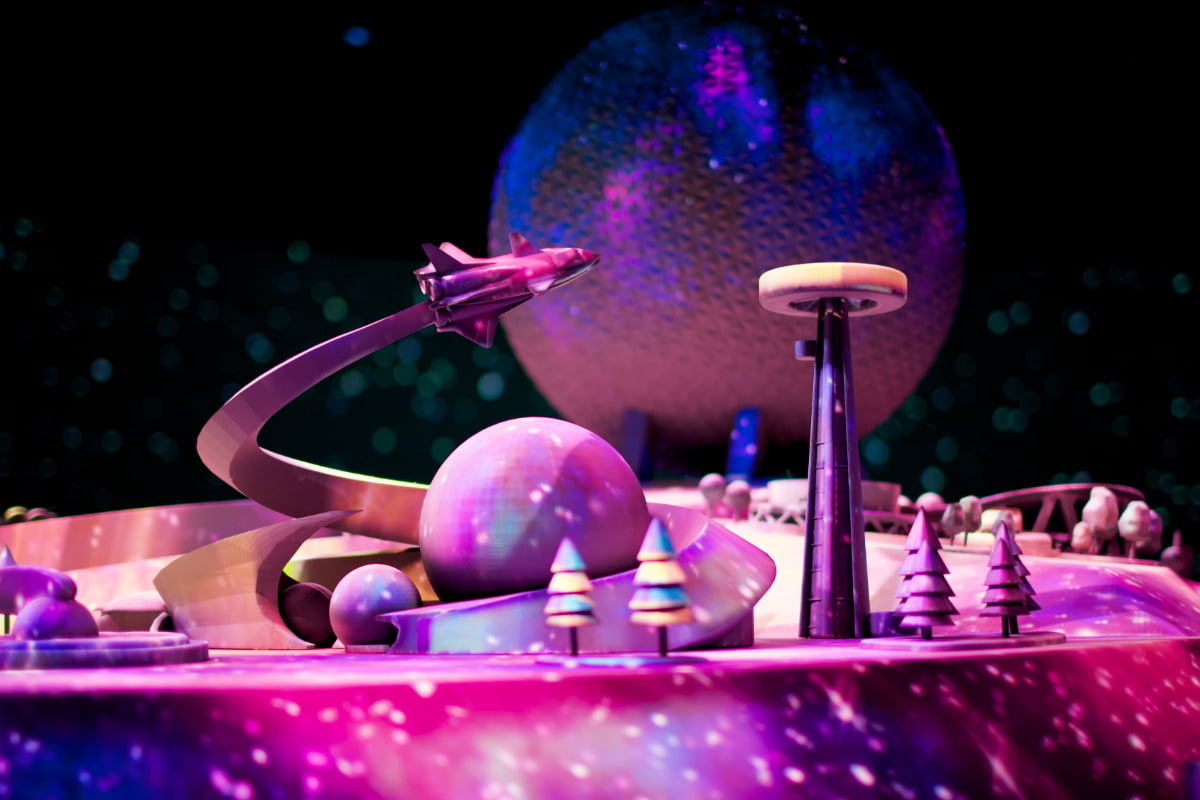 Mission: SPACE is intended for kids, tweens, teens, and adults.
All crew members on the Green Mission must be 40" (102 cm) or taller to board and to complete the Orange Mission, riders must measure at least 44" (122 cm) tall.
Regardless of the mission, children under the age of 7 must be accompanied by someone at least 14 years old.
Since the Orange Mission is more extreme, visitors will want to ensure they are in good health before boarding.
Parkgoers with high blood pressure, heart, back, or neck problems, motion sickness, or other conditions that could be triggered on the ride should avoid this mission.
Pregnant guests are also advised not to ride either mission.
What Is the Seating Like on Mission: SPACE?
Each space capsule can host four crew members, and the seats and armrests are padded for guests' safety and comfort.
Mission: SPACE features overhead shoulder restraints to secure riders during blast-off.
Fans are installed in the capsules to keep passengers cool and to help prevent motion sickness and headaches.
The space capsules are also equipped with motion sickness bags in the front of each seat, just in case guests get a little woozy.
When Can You Ride Mission SPACE?
Mission: SPACE's schedule is posted on the official Disney World website and the mobile app but is typically open during EPCOT's regular operating hours.
Disney Hotel and Resort guests can keep an eye out for Early Theme Park Entry to be the first crew to launch for the day.
How To Decide if Mission: SPACE Is Too Scary For Your Crew
Whether Mission: SPACE is right for certain riders depends on individual preferences.
The space capsules for each mission are small and enclosed, so guests who are uncomfortable with dark, tight areas or who experience claustrophobia should avoid Mission: SPACE.
Additionally, parkgoers prone to motion sickness likely will not enjoy their ride on either Mission: SPACE adventure, despite the Green Mission being less intense.
Sensitive riders and children may also be frightened by the intense themes, sharp movements, or eerie darkness during the ride.
Is There a Thrilling Alternative To Mission: SPACE at EPCOT?
For those looking to add more thrills to their EPCOT itinerary, Guardians of the Galaxy: Cosmic Rewind is a perfect choice.
Also located in World Discovery, Cosmic Rewind follows a similar theme to Mission: SPACE, offering guests a dark, intergalactic thrill ride.
It's also the first-ever reverse-launch coaster at Disney World and is one of the largest fully-enclosed roller coasters in the world.
Intended for tweens, teens, and adults 42" (107cm) or taller, this roller coaster is a bit more intense than Mission: SPACE but delivers that same otherworldly feel.
Is There a Tamer Alternative to Mission: SPACE at EPCOT?
To experience the wonder of motion simulation in a calmer atmosphere, guests should try Soarin' Around the World in World Nature at EPCOT.
Soarin' is a slower glider ride with breathtaking IMAX aerial views intended for kids, tweens, teens, and adults 40" (102cm) tall and up.
Conclusion
Mission: SPACE at EPCOT may be scary for young children or riders who get motion sickness or are uncomfortable with dark, enclosed spaces.
That said, the attraction offers two missions of varying intensity to better accommodate all guests.
The intense Orange Mission exposes passengers to high-speed spins and G-forces, while the gentler Green Mission orbits parkgoers around the Earth.
Guests who want more thrills while visiting EPCOT can also try out Guardians of the Galaxy: Cosmic Rewind for an intergalactic roller coaster experience.
Visitors who want a motion-simulated ride with a more serene environment should try Soarin' Around The World.