Magic Kingdom vs EPCOT: Differences & Which One Is Better?
Magic Kingdom was the first theme park built at Walt Disney World and offers the quintessential Disney experience to the millions of guests visiting each year.
EPCOT was the second park constructed at Disney World, and it differentiates itself by focusing on unique festivals, science and technology, and bringing together cultures from around the world.
Because each park has its own underlying concept and caters to a different type of visitor, it's difficult to say which is better.
Between Cinderella's Castle, character meet and greets, and popular rides and attractions, Magic Kingdom is ideal for young children and guests looking for the "classic" Disney experience. In contrast, EPCOT focuses on edutainment and is known for its world-class events and culinary offerings – as such, it's far more popular with more mature visitors.
This article highlights the differences between Magic Kingdom and EPCOT to help guests choose which is right for them.
What Are the Differences Between Magic Kingdom and EPCOT?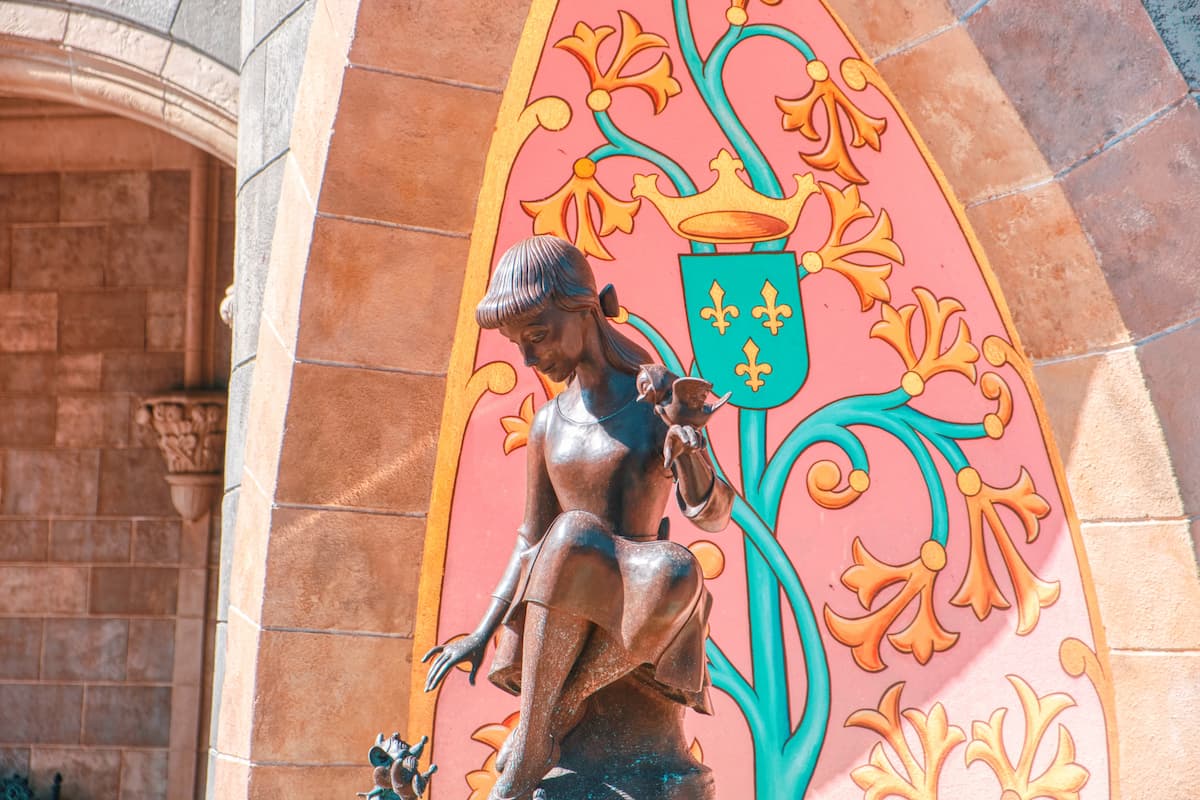 Magic Kingdom and EPCOT are vastly different theme parks offering particular themes and experiences for visitors to enjoy.
While both have that traditional Disney feel, they target different groups of parkgoers, and many find they prefer one park over the other.
What Are the Rides at Magic Kingdom and EPCOT?
Magic Kingdom has more than double the rides than EPCOT, and the theming of these attractions is quite different.
Rides at Magic Kingdom are true classics and some of the best-known in the world.
The park focuses on a more traditional, family-friendly experience, emphasizing storytelling and blurring the line between fantasy and reality.
Attractions like Splash Mountain, Space Mountain, "it's a small world," Dumbo the Flying Elephant, and the Pirates of the Caribbean all come to mind when thinking of Magic Kingdom. 
EPCOT takes a different approach to its rides and attractions, prioritizing sensory experiences and opportunities for learning. 
Of course, visitors can look forward to classic Disney storytelling, but EPCOT rides are geared towards the rider's experience and the combination of education and entertainment.
Rides such as Test Track, Soarin' Around the World, and Mission: Space throw parkgoers into a fast-paced adventure that stimulates the senses rather than telling a grand story. 
Spaceship Earth in EPCOT's iconic silver ball is part show, part ride, and teaches visitors about the evolution of human communications from the stone age until today.
What Shows, Dining, and Entertainment Options Do Magic Kingdom and EPCOT Have?
EPCOT and Magic Kingdom provide their guests with multiple shows, dining, and entertainment that fit with the concept of each park.
While there are a few shows at EPCOT, this Disney World park is centered around the experiences offered in its four main areas: World Discovery, World Nature, World Celebration, and World Showcase. 
Surrounding the lagoon at the center of EPCOT is the World Showcase, the most famous attraction in the park. 
This area hosts the nightly fireworks show and is home to 11 pavilions representing different countries from around the world.
These international pavilions have shops and restaurants representing their cultures and have
made EPCOT one of the best places to eat in all of Disney World.
Additionally, EPCOT presents numerous seasonal events that showcase nature's beauty, global cuisines, international artists, and holiday fun.
On the other hand, Magic Kingdom has tons of shows for visitors to sit and watch, including the welcome and opening parade, nightly parades, the Country Bears Jamboree, and the awe-inspiring Magic Kingdom fireworks above Cinderella's Castle. 
Visitors can sit down to magical dinners and enjoy feelings of nostalgia on Main Street, USA or treat themselves to high-end dining in the Be Our Guest Restaurant at Beast's Castle in Fantasyland.
While EPCOT is well-known for its international/seasonal festivals, Magic Kingdom doesn't disappoint with its after-hours or holiday-themed events.
How Different Are the Vibes at Magic Kingdom and EPCOT?
Magic Kingdom is so popular and authentically "Disney" because it's designed to allow guests to step out of the real world into a place of suspended reality – where all of their dreams could come true.
The atmosphere at Magic Kingdom is also familiar to Disney fans as it is home to rides, attractions, and entertainment based on the most familiar and beloved Disney films and television franchises.
EPCOT is more futuristic, focusing on science, technology, and how we interact with the world around us.
Its sci-fi vibes are great, lending themselves to a more sophisticated atmosphere that's more grounded in reality than one would feel at Magic Kingdom.
Which Park Is More Popular?
Magic Kingdom is more popular than EPCOT, according to visitor numbers from 2021.
Magic Kingdom sees around 57,000 visitors each day, with 21,170,000 guests welcomed in 2021.
EPCOT hosts around 34,000 visitors daily and admitted 12,410,000 guests in 2021.
Is There a Price Difference Between Magic Kingdom and EPCOT?
Starting December 8, 2022, Disney World is implementing park-specific pricing for single-day, single-park tickets.
It used to be that single-day, single-park tickets were the same price at all four Disney World theme parks – with this new policy, that has changed.
That means there might be a price difference between single-day tickets to Magic Kingdom and EPCOT on the same calendar date; however, there won't be any price changes for multi-day or park-hopper tickets.
Disney will likely use expected attendance to adjust ticket prices for individual parks on specific dates, and guests can confirm pricing by checking the official website.
Which Park Is Better: Magic Kingdom or EPCOT?
Whether Magic Kingdom or EPCOT is better depends on personal preference.
However, when it comes to the main aspects of each park, the "winner" can be broken down into the following:
Rides: Magic Kingdom
Shows: Magic Kingdom
Restaurants: EPCOT
Experiences: EPCOT
Popularity: Magic Kingdom
Magic Kingdom is the true "Disney World" experience, bringing guests into a world of make-believe and fantasy.
It features the traditional rides expected at a Disney park and is better suited for hardcore Disney fans and families with young children.
EPCOT is more of a look into the planet's future, highlighting scientific possibilities and how cultures interact with each other and the world around them.
There are still plenty of fun attractions at EPCOT, but the impetus is placed on exploration and experiences, making it a better choice for older children and adults.
Conclusion
Magic Kingdom and EPCOT are very different theme parks, offering guests a unique experience in each.
Magic Kingdom is called the "most magical place on Earth" for a reason, drawing visitors in with its enchanting atmosphere, family-friendly rides, and charming amenities.
The vision behind EPCOT is less about suspending reality and more about inviting parkgoers into a futuristic world based on scientific discovery, technological advancement, and bridging the gaps between cultures.
Either park delivers an incredible and memorable visit, so guests can't go wrong, regardless of which they choose.